A College Football Playoff Proposal to End the Controversy
June 13, 2012

Chris Graythen/Getty Images
With the all-important meetings about the future of college football upon us in Chicago, it's high-time to tell you what the future of college football should be.
So here I go...
The Bowl Championship Series is a selection system via computer and polls that attempts to get a No. 1 and No. 2 playing each other in the National Championship Game.
Unfortunately, it's been a mess for years. And years. And years.
The wreckage hasn't just been small schools like Boise State and Utah, either. Auburn, Miami, USC and Missouri have all bore the brunt of a system that was so imperfect that some writers have gone as far as saying that it's simply a money-making system for the big guns, and the small guns simply eat crumbs off the table.
If you want a list of BCS controversies, the list is long and (un)distinguished. Now, with Congress breathing down its neck to find out if what they are doing is a violation of antitrust laws and even Barack Obama himself wanting to sort something out, finally the gods/commissioners in college football have said they are going to have a playoff.
The worries about the amount of teams in a playoff has led to a college football arms race of gargantuan proportions, with conferences re-aligning more times than my father's back at the chiropractor's (that's a lot, by the way).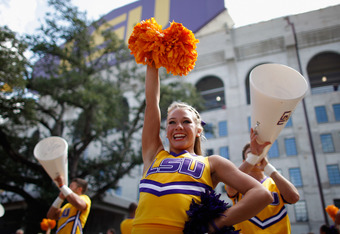 Chris Graythen/Getty Images
The Options
Several college football conferences have put up their playoff options:
The SEC wants the best four teams in a No. 1 vs. No. 4, No. 2 vs. No. 3 format.
The Big Ten wants to keep the status quo, instead of a playoff. They must love things messed up, considering they named their divisions "Leaders" and "Legends" (instead of "Cold" and "Slow").
The Big 12 also wants the Top Four overall, with a selection committee to decide the Top Four in a No. 1 vs. No. 4, No. 2 vs. No. 3 format. That's funny, because if the champions of the Big 12 and SEC play each other, they will play in the "special game" that's just been agreed between the two conferences.
The Pac-12 wants champions, but wants a conference champion requirement (a move that essentially would exclude all outside conferences, would force Notre Dame into a conference and would kill off smaller school football).
The ACC wants to see conference champions be "given precedence" in a No. 1 vs. No. 4, No. 2 vs. No. 3 format. It doesn't mind the selection committee idea.
The Big East (yes, the conference still exists, folks!) also wants a four-team playoff, mainly decided by conference champions, but it hates the idea of a selection committee.
What This Will Mean
A four-team playoff system decided by conference champions will mean four mega-conferences. Plus, if your conference is crappy and your conference champion has a crappy non-conference schedule, they don't deserve to make it to the playoffs.

 

This system will destroy traditional non-conference matchups; schools like Notre Dame and the armed forces will be forced into a conference, and it will also destroy small school football for players. Players not able to play for "big-time" universities will give up, because the NFL will simply look at the bigger schools for the fat of the land. 
A four-team playoff system decided by the four best teams may end up with one conference—say, the SEC—having three teams in the playoff and other conferences having none. It's great for the conference homers, but it's not great for TV viewers.
If you don't believe us, check out the viewing figures for January's National Championship Game. They were awful.
The selection committee idea is pretty dreadful. An Alabama side wouldn't want Phil Fulmer casting a final vote, and a Florida side probably wouldn't want Bobby Bowden with one, either. Bowden's Legends poll had FSU ranked at No. 20 last season when, in reality, no other school had them—or any other Florida school—ranked in the Top 25.
So, Here's a Proposal for You
A four-team playoff consisting of the Top Four teams in the country. 
However, a maximum of two teams from any one conference. That means, if you finish third, tough.

 

This will also eliminate any chance of "mega-conference" building. And to do that, eliminate any conference champions system, because otherwise, it'll start a flood of conference-swapping, which no lover of traditional college football should ever want.
The rankings will be determined by the Sagarin ratings system. That means no coaches polls, AP polls or Legends Polls. Sagarin's ratings have no bias—the polls do.

(Did you know Steve Spurrier always gives Duke a Top 25 berth?)
Non-conference strength of schedule will count MORE (and this will be done by computer) than in-conference, so as to stop the rot that's currently going on with non-conference schedules.

 

The fans want to see more LSU-Oregon, not less. A neutral-field victory will count less than an away victory and a little more than a home victory (i.e. an Ohio State win at Texas counts for more than a LSU win against Oregon in JerryWorld). 
Keep the BCS bowls. Three bowls at a time (on a loop) will host the semifinals and National Championship Game (i.e. Rose, Sugar, Fiesta one year, etc.). Where two teams play will depend on geography, not conference money.
Notre Dame/BYU will not receive any special preference for staying independent, but there will be no special reward for going into a conference, either (i.e. stops mega-conference building).