Penn State Football: Hypothetical Predictions for Game 1 vs. Ohio University
June 9, 2012

Some people make season record predictions. Me? I like to predict individual games. 
That's why I decided to get my "Miss Cleo" on and predict every individual game of Penn State football's 2012 season.
Here's how I see Game 1 against the Ohio University Bobcats playing out.
After a touching tribute to former coach Joe Paterno, Penn State roars out of the tunnel as Bill O'Brien walks out to the side in Penn State warmup clothes, track pants rolled up ankle-high. They win the coin toss and elect to receive. 
The first play is out of the shotgun in a two-back set. The ball is snapped and McGloin hands off to waiting fullback Michael Zordich for a two-yard gain. The fans in the stands give a polite, knowing clap.
Despite all of the emotion surrounding the first drive, Penn State settles for a field goal to make it 3-0, Nittany Lions. As they Bobcats await the kickoff, their return men jump up and down. Coming off of a 10-4 season in the MAC, they're just waiting for the Lions to give them an opportunity.
They take the opening kickoff to the 38 and promptly open up with a 23-yard bomb to senior WR Riley Dunlop from talented sophomore QB Tyler Tettleton. 
Everyone in the stands is nervous. The defense looks confused. Does new defensive coordinator Ted Roof know what he's doing? This is an elite defense, people from the crowd exclaim. They scream this and other Pennsylvanian slang when Tettleton scrambles in for the first score of the game to make it 7-3, Ohio.
Penn State opens their next drive from their 30, looking to put points on the board. Unfortunately, they struggle and go four-and-out after a mildly exciting kickoff return. Ohio does the same, somehow losing whatever upset magic they had on their first drive. The game gets flat, and people get tense. Going into halftime, the score is still 7-3, Ohio.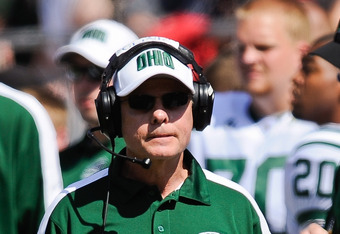 Jamie Sabau/Getty Images
People start to get nervous. Penn State isn't supposed to lose to Ohio, at least not this Ohio team. Ohio takes the opening kickoff out to the 35, and from there, put together a flawless eight-play drive to make the score 14-3.
Audible boo birds rain down from the stands. Senior quarterback Matt McGloin opens up the next drive and hits a couple of passes in a row—three to be exact. It's the best he's looked all day.
He continues to hit passes and gets into a rhythm, not at the pace of an Oregon or a Texas Tech but enough to excite the offense-starved fanbase. This keeps up, and the Nittany Lions score their first touchdown of the game off of a fade route to receiver Justin Brown to make the score 14-10, Ohio.
Both teams drive the ball some but are unable to score. Penn State starts their drive at the beginning of the fourth quarter with 14:55 left on the clock.
On a play-action fake, McGloin looks and sees receiver Devon Smith streaking deep. He tosses him the ball, but Smith gets tripped by an invisible man, and the ball falls harmlessly to the ground. McGloin steps to the line again on second down but sees something in the defense and audibles.
Again, it's a play-action fake, and it seems to be the same play. This time, McGloin catches receiver Justin Brown open. He breaks a few tackles and scores, making it 17-14.
The game remains at this score for some time, and the mood in the stands is tense. The majority of the students are hungover and were expecting to go home early and take a nap to prepare for their night. After all, isn't this just Ohio?
Despite this, the Bobcats drive deep into Penn State territory with just 1:30 left on the clock. They are at Penn State's 40 when Bill O'Brien calls for timeout.
After an intense come-to-Jesus moment with Bill, the defense looks recharged. Senior linebacker Gerald Hodges calls for the crowd to get louder, and for the first time all game, Beaver Stadium is rocking.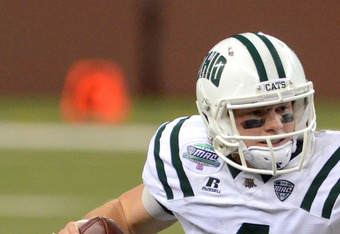 Mark A. Cunningham/Getty Images
With this newfound momentum, the defense forces a critical 3rd-and-12. Even if they stop them here, they still have to stop them again on fourth down.
Ohio QB Tyler Tettleton drops back and hits the tight end in the seam, who gains 10 yards, making it 4th-and-2. The entire stadium is on their feet. The press box sways violently, forcing 10s of jaded journalists to peek up from their iPads.
Snap. Tettleton steps back and pretends to survey the field. Underneath, RB Donte Harden awaits his shovel pass. Tettleton releases it, and Harden catches and turns to run. Unfortunately for Harden, he turns directly into a waiting and angry Jordan Hill, stopping Harden just short of the first. Game over.
Backup quarterback Paul Jones trots in to excited applause. He knees out the clock, and Penn State and Bill O'Brien get their first win together, 17-14.