College Football: 10 Mid-Major Coaches Poised to Jump to BCS Teams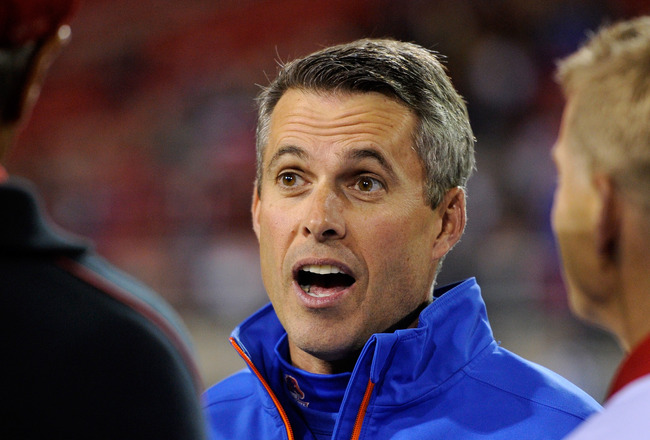 Ethan Miller/Getty Images
With how much money these college football coaches are making nowadays, it's getting to the point where the head coach is equally important as the players that are on the field. And with the competition, the pressure to succeed is at an all-time high.
If you don't land top recruits, help build the program and, most importantly, win games, there is a good chance you won't last very long in this business.
That's where mid-major head coaches come in. These guys may not have the flashiest names or a ridiculous overall record at their current school, but they are quickly on the rise. These coaches have oodles of potential and will eventually be the new faces of college football as far as head coaches are concerned.
If you are a fan of a BCS program, but the current head coach isn't getting it done, you may need to switch things up a bit. Here are 10 names that should be on your wish list when your team is looking for a new head coach.
10. Dave Doeren, Northern Illinois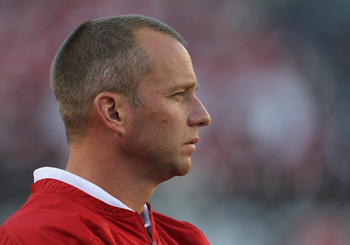 Jonathan Daniel/Getty Images
Dave Doeren has not been a head coach for a long time; in fact, he just took over Northern Illinois last season, which was his first year ever as a head coach. Despite no previous head coaching experience, Doeren led the Huskies to an 11-3 record and their first MAC championship in school history.
While it may seem like Doeren has a lot to prove before he is ready for a BCS school, he was a linebackers coach for Kansas for a few years, as well as the defensive coordinator for Wisconsin.
If Doeren can continue the success in the MAC, it's only a matter of time before he gets a job at a bigger program.
9. Tim Murphy, Harvard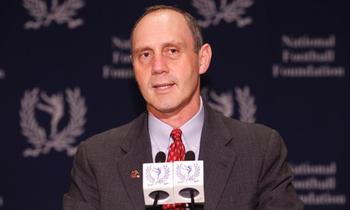 gocrimson.com
Harvard may not be known for its football, but Tim Murphy has done a fabulous job coaching the program for the last 18 seasons. He is Harvard's all-time winningest football coach, putting together a 119-59 record and winning five Ivy League Championships.
So far, every player that has played all four seasons under Murphy has experienced at least one Ivy League Championship.
Murphy has BCS experience after coaching Cincinnati for five seasons, but a 17-37-1 record wasn't enough to keep him around for very long. Still, you have to believe that Murphy has done all he can possibly do at Harvard and may be looking for a new challenge soon.
Just last year, there were rumors that he may become the new head coach of Penn State. Of course this never happened, but don't be surprised if he ends up somewhere else at some point.
8. Ron English, Eastern Michigan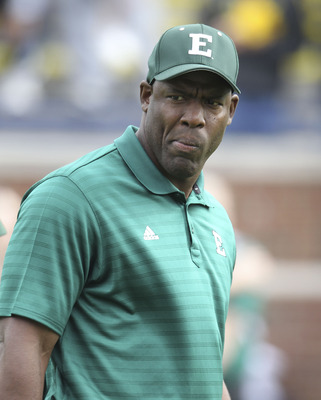 Leon Halip/Getty Images
Ron English took over for Eastern Michigan as his first head coaching job and struggled early on, winning just two games in two seasons combined. In 2011, he led the Eagles to a 6-6 record. While that still doesn't sound that impressive, that was the most victories for this school since 1995.
This team hasn't reached a bowl game since 1987. You can only imagine the type of players this guy is dealing with.
English has experience coaching defense for schools such as Michigan, Louisville and Arizona State. He is known as a tough-nosed coach and will likely get much better results at a bigger program, with just a little bit more talent on the roster.
7. Sonny Dykes, Louisiana Tech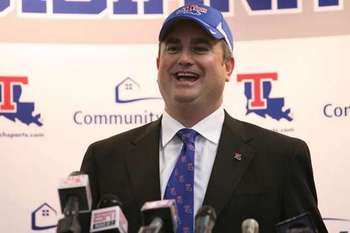 tucsoncitizen.com
It is really only a matter of time before Dykes is given an opportunity to coach on a much larger scale.
Sonny is the son of Texas Tech great, Spike Dykes. While he may be coaching in his father's shadow for now, Sonny has done a pretty good job himself, leading the Bulldogs to a 13-12 record in the last two seasons combined.
Last season, he took Louisiana Tech to only its third bowl game in 21 years. It also won its first WAC title since 2001.
Sonny is a great offensive mind that has learned a little bit from coaches such as Hal Mumme and Mike Leach. He has assistant coaching experience at Kentucky, Texas Tech and Arizona.
A lot of head coaches that end up getting fired are from teams that can't score the football. Give Sonny Dykes something to work with, and he will make things happen for your program.
6. Mark Hudspeth, Louisiana-Lafayette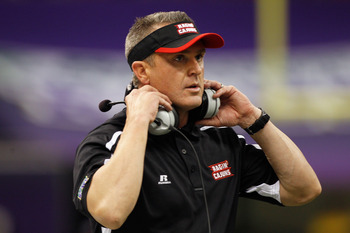 Chris Graythen/Getty Images
Hudspeth knows how to turn programs around, and it doesn't take him very long to do so. He was the head coach at North Alabama for seven years and finished with a 66-21 record. After that, he was a wide receivers coach for Mississippi State, under head coach Dan Mullen.
Hudspeth recently took over a Louisiana-Lafayette team that had won three games in 2010, and it ended up winning nine games and its first bowl victory as a Division I school.
Hudspeth is a competitive coach who really knows how to get your program excited about football again. At the young age of 43 and with a proven track record, it shouldn't take long before a big-name school comes knocking on his door.
5. Willie Taggart, Western Kentucky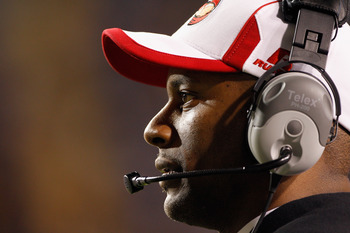 Chris Graythen/Getty Images
Taggart's 9-15 overall record at Western Kentucky may not get you excited, but it's the Hilltoppers, for crying out loud. The same school that had a 2-22 record in the two previous seasons before Taggart arrived on campus. The fact that he was able to win seven games last year in an improving Sun Belt Conference speaks for itself.
Taggart was the running backs coach at Stanford under Jim Harbaugh and helped develop Heisman runner-up Toby Gerhart. He also is a great recruiter and has ties down south, as he's from Palmetto, Fla.
At the age of 35 years old, Taggart is the youngest Division I coach. It's not a question of if he will get a crack at coaching a BCS program, it's when.
4. Carl Pelini, FAU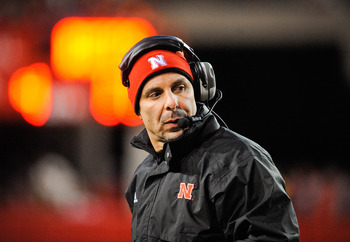 Eric Francis/Getty Images
We all know who Carl Pelini is, as he shouldn't really need any introduction. He was the defensive coordinator for Nebraska from 2008-2011, and in that time, he produced many All-Americans and put together some of the best defensive football in the country.
There were many defensive players that Pelini watched get drafted pretty high in the NFL.
With all that being said, it's hard to imagine him leaving a prestigious school such as Nebraska for Florida Atlantic for the long term. The Owls have several years before they even become a respectable team in the Sun Belt Conference.
3. Mario Cristobal, FIU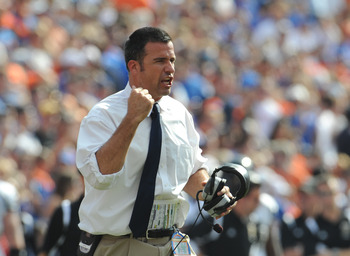 Al Messerschmidt/Getty Images
If you are a big-name program that is looking for a head coach, Mario Cristobal is the guy you want. He is still young at 41 years old, and he recruits extremely well for the competition he has to deal with in the state of Florida and gets results.
In five seasons, Cristobal has led the Panthers to a 24-38 record, including seven victories in 2010 and eight victories in 2011.
Florida International has made two straight bowl games, won the Sun Belt Conference in 2010 and earned victories over schools such as Central Florida and Louisville.
It was only last year that he was considered the favorite to become the new head coach at Pittsburgh, but he backed out at the last second to stay with FIU.
Cristobal is from the Miami area, so it will take a lot to get him to leave his hometown. But money talks...
2. Gus Malzahn, Arkansas State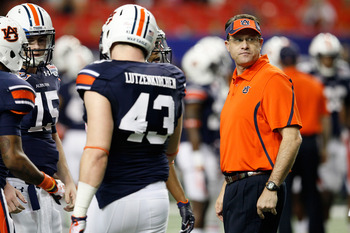 Kevin C. Cox/Getty Images
Gus Malzahn paid his dues at Auburn for a couple of seasons and is known throughout all of college football to have one of the greatest offensive minds in the game. He runs the no-huddle offense almost better than anybody and introduced the Wildcat formation when he spent 2006 in Arkansas.
Malzahn is a highly respected coach throughout college football and could have ended up possibly anywhere he would have liked. Instead of becoming a head coach of a BCS program, Malzahn chose to go back home and coach Arkansas State.
Many believe his wife had something to do with it, but in a couple of years, you will eventually see this offensive genius on the sidelines of a top program.
1. Chris Petersen, Boise State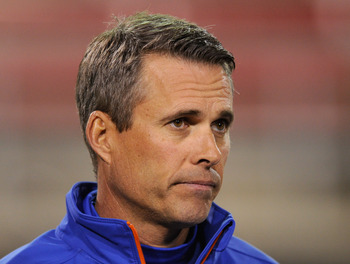 Ethan Miller/Getty Images
Chris Petersen is without question the top coach in the country that isn't running a BCS program. His combined record of 73-6 during the last seven seasons at Boise State speaks for itself. He is a two-time coach of the year winner and has won four WAC Conferences.
Sure, you can argue that the competition is weak, but show me another coach that is running through teams the way Petersen is.
This guy is a class act, great for the community and as we know it, he does everything the right way. While BCS programs would love to have him, it's starting to seem like he is just happy where he is at. Petersen recently signed a new five-year deal worth up to $12 million.
Whether Petersen stays with Boise forever or if he leaves, he may be the only coach on this list that doesn't have to leave his current program to coach a BCS school.
Keep Reading