Mississippi State Football: My Interview with Johnthan Banks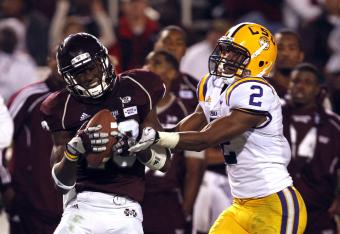 Butch Dill/Getty Images
Johnthan Banks may be the best cornerback available come April 2013 and the NFL draft.
This may seem like lofty praise, but Banks has earned the right to be involved in discussion surrounding the best players in the SEC and all of college football.
Rewind back to December 2011, and Bucky Brooks of NFL.com considered him a better prospect in the secondary than Janoris Jenkins and Mark Barron.
Barron went seventh overall and Jenkins went 39th overall in the 2012 NFL draft.
NFLDRAFTSCOUT.com rates the 6'2", 185-lb Banks as the best senior cornerback in America.
It was somewhat surprising to see Banks, a semifinalist for the Jim Thorpe award, fail to follow teammate Fletcher Cox into the NFL last year.
Banks is still a bit of an unknown because of the other talented cornerbacks in the SEC like Tyrann Mathieu. But his play during the last three years should give people reason to believe he could end up being a first-round pick next year.
Constantly lined up against great receiving threats like Reuben Randle and Alshon Jeffery, Banks always showed up well.
Banks finished with five interceptions last year as well as two sacks. He can also be effective when given the freedom to rush the passer.
Banks was happy to agree to a small interview with me. I hope you find it interesting.
Colan Lamont: What made you decide to return for your senior season?
Johnthan Banks: I came back to continue my development as a player and a person. I've always wanted to play football here, and I love the university, my coaches and teammates. I would love to play football for as long as I can, and my career goal of becoming a State Highway patrolman following my football career will be helped by getting my degree before I leave.
CL: You met with the NFL Draft Advisory Board. What did you think of their opinion on your draft status?
JB: I was humbled that they gave me the draft status they did. I feel very blessed that all of the work I put in at Mississippi State has been noticed. It's also been noticed because of the great players around me, Coach Smith and the entire program supporting my dreams.
CL: Do you see yourself as an elite prospect like other SEC cornerbacks Morris Claiborne and Stephon Gilmore?
JB: I see myself as Johnthan Banks. I don't like to compare myself to other corners because we're all different as players. I like to think there's only one Johnthan Banks, and I'm just going to be the best player that I can be.
CL: Do you think that playing in the SEC makes you a more prepared player for the next level because of the talent level?
JB: The SEC has definitely prepared me for the next level because of the level of talent that is in this league. Just look at all the NFL players that are from the SEC. Look at all the draft picks from 2012 alone. This year I'll be going up against more future NFL wide receivers, so the league is definitely a preview of what's to come at the next level.
CL: What have you been working on during the offseason?
JB: One thing I tried to work on was my leadership skills. Being a leader is hard, and it takes a lot. You have to be great all the time and you can't make mistakes. You got to lead by example, and that is the main thing I've tried to work on, be a main leader for the team.
CL: You have a knack for getting to the quarterback. Do you enjoy being given that freedom?
JB: I love the trust that the coaching staff puts in me when they call blitzes. We have a great defensive line year in and year out, and that combined with the defensive schemes makes it easy for me to get in the backfield when called upon.
CL: You are a really fast player. What is your current 40-yard dash time?
JB: I've never actually asked for my 40-yard dash time because that and game speed are two totally different things. I've gone up against guys with 4.3 speed and I've more than held my own, so times aren't really important to me. It's what you do in game situations.
CL: Do you enjoy man coverage or press the most?
JB: I really enjoy whatever coverage is going to help us win games. I want this team to be one of the top teams in the country, so I am going to keep working hard in whatever coverage is called.
CL: Which current/former NFL player do you admire most and why?
JB: Probably former Bulldog Fred Smoot. We talk a lot and have gotten close and he helped me out with the whole draft process last year. Just to hear him talk gives me motivation and he gives me tips and stuff. He is like one of us. He ain't gonna sugarcoat nothing, and if you are playing sorry he is going to tell you, and he is going to tell you when you need to work on something. He won't sugarcoat nothing, and I appreciate him for that. I could shoot him a text right now and he will have some good motivation for me.
CL: Favorite NFL team?
JB: I'm so busy with getting my degree, raising a child and focusing on the team here that I don't actually have a lot of time to watch the NFL. Because of that, I don't really have a favorite NFL team.
CL: What do you consider to be your best performance for Mississippi State?
JB: People will always remember my game against Florida where I had two interceptions returned for scores, so that's one of my favorite memories. But we've won a lot of big games here during my time, so I can't really pick a single game.
CL: Is there any game that stands out to to as your worst performance?
JB: The best trait a corner can have is having a short memory and moving on to the next play, so I can't remember a worst performance.
CL: Which opponent do you enjoy facing the most?
JB: I enjoy facing any team in the SEC just because I know it's going to be a war once we get on the field with them. The NFL-caliber talent is so high in this league that every Saturday just pushes you to the next level. The Egg Bowl is always fun, but so is going up against a top team in the country like Alabama, LSU or Arkansas.
CL: You have played safety before. Did that enhance your cornerback skills in any way?
JB: Playing safety really helped me because once I moved to corner I had a clear understanding of what the guys behind me were doing. That allowed me to mentally play faster, which led to better play from me.
CL: How much do you expect the defense to improve next season? Can you replace Fletcher Cox?
JB: We have a lot of athletes in the secondary—myself, Slay, Broom, Jamerson Love, Taveze Calhoun, Nickoe (Whitley). I can't name all of them, but we are deep in the secondary and we have a lot of athletes back there. That is something we haven't had in the past, and we have a lot of depth. I can remember playing Arkansas here a couple of years ago and I played 90-something snaps in that one game. Now that we have Love and Calhoun and guys like that, that is going to make our team that much better. I am not trying to brag, but I am going to be shocked if we are not the No. 1 secondary in the country.
CL: Do you have any personal goals that you have set?
JB: Breaking the school's interception record. I am looking forward to breaking that record, and if I don't I am going to be pretty disappointed. If I don't break, I hope I at least move up to second place. That way I won't feel too bad being behind a guy (Walt Harris) that played in the NFL like 15 years.
CL: What are your expectations for the team?
JB: Just win, baby. Just win.
Thanks to Johnthan for his great responses and to Joe Galbraith and Kyle Niblett for setting up the interview.
All quotes were obtained first-hand unless otherwise noted.
This article is
What is the duplicate article?
Why is this article offensive?
Where is this article plagiarized from?
Why is this article poorly edited?

Mississippi State Football: Like this team?