Nick Saban and 10 Other Coaches We'd Most Like to Skype with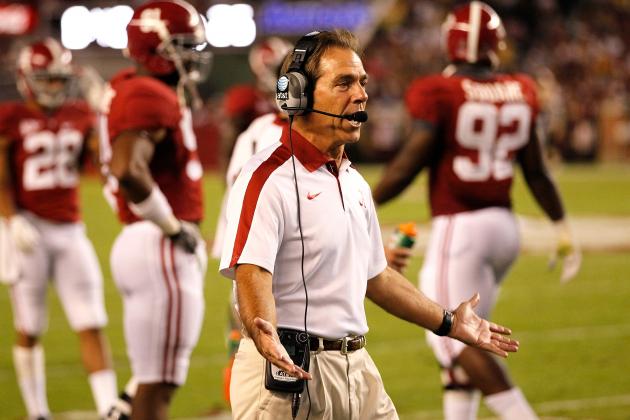 Kevin C. Cox/Getty Images

Alabama head coach Nick Saban isn't necessarily known for his talkative style with the media.
Apparently that doesn't extend to non-media types, such as Georgia recruit Brice Ramsey.
According to the Atlanta Journal-Constitution, Saban and Ramsey chatted it up via Skype for 90 minutes in early May.
It's no secret that top coaches try everything in the book to lure away top recruits, but this got us thinking. If we had our choice, with which coaches would we most like to Skype?
Saban is a given, but here are 10 other coaches to whom we'd dedicate some bandwidth.
Begin Slideshow

»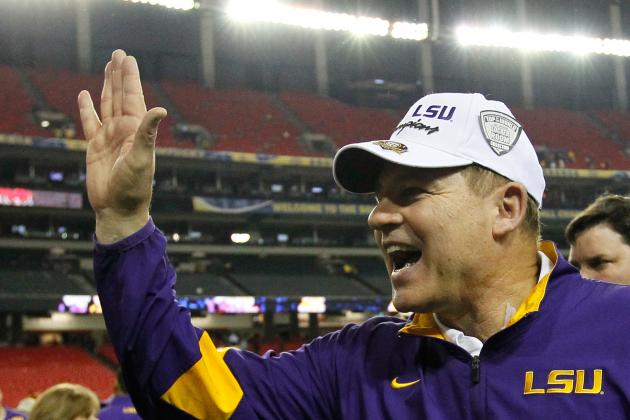 Kevin C. Cox/Getty Images

We'll start off with Les Miles.
Other than Nick Saban, Miles is probably the most sought-after interviewee in the SEC these days.
So what would we want to talk about with the Mad Hatter?
How about LSU's epic collapse in the BCS National Championship Game? How about his decision-making process in selecting (and sticking with) a quarterback for that game? What about his taste for grass?
In the end, the best thing about Skyping with Miles would be the brief glimpse we'd get into that crazy-go-nuts genius mind of his.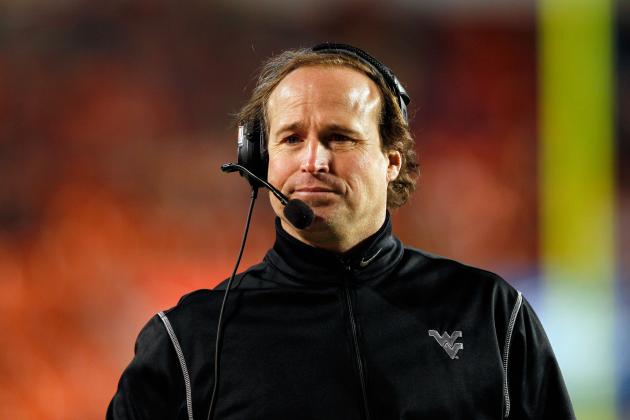 Mike Ehrmann/Getty Images

Dana Holgorsen is one of the newest FBS head coaches, with just one season under his belt so far at West Virginia.
His one season was pretty successful, though. The Mountaineers finished with a 10-3 record, won a share of the Big East championship and brought home the Orange Bowl trophy in impressive fashion.
But Holgorsen's love affair with WVU hasn't been without its sour moments.
Who could forget him criticizing West Virginia fans back in October?
And people had to be a little nervous after West Virginia laid an absolute egg against a terrible Syracuse team last season.
We'd really love to get in a little private face time with Holgorsen to inquire about the status of his relationship with the folks of West Virginia.
While we're at it, we'd also love to hear his thoughts on the messy WVU divorce from the Big East and what he thinks the future will hold for the Mountaineers in the Big 12.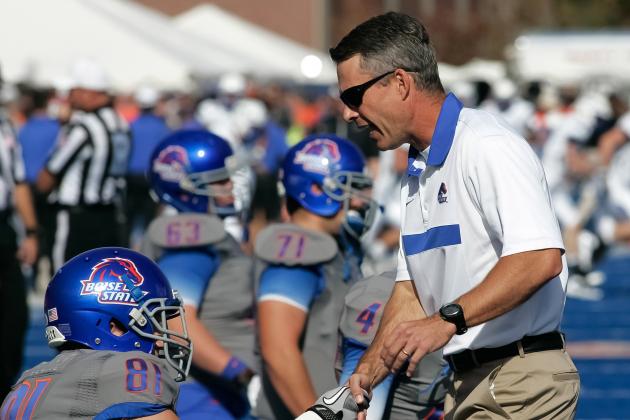 Otto Kitsinger III/Getty Images

After what seems like an eternity of BCS snubbing, Chris Petersen finally broke with his own rule about not criticizing the BCS.
With BCS changes almost certain to take effect when the current contract runs out after the 2013 season, Petersen finally decided to weigh in on the BCS.
Anyone notice how Boise State would have been part of most of the playoff in at least one of its two undefeated campaigns under Petersen (2006 and 2009)?
Petersen is 73-6 as a head coach, having lost multiple games in just one season (2007). His Broncos have also finished in the final AP Poll top 11 five times in his six seasons as head coach.
Quite simply, we want to know what the real secret is to success at a "small program" like Boise State.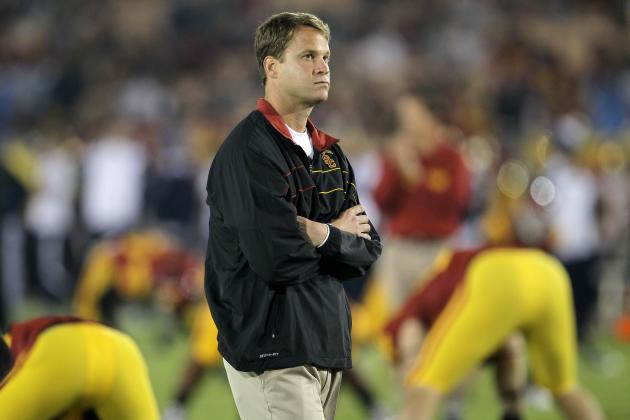 Stephen Dunn/Getty Images

You really have to hand it to Lane Kiffin.
After a less-than-impressive NFL stint with Oakland (posting a 5-15 record in just over one season), Kiffin found his way to a struggling Tennessee program.
The Vols were just 7-6 in Kiffin's only season at Tennessee, which included a 4-4 SEC mark and a beatdown at the hands of Virginia Tech in the Chick-fil-A Bowl.
Kiffin was then selected to succeed Pete Carroll at USC after the proverbial you-know-what hit the fan.
It's not like Kiffin hadn't been part of the USC family before; he was offensive coordinator and wide receivers coach from 2001 to 2006. But he somehow translated a combined 12-21 record as a head coach into nailing down one of the most coveted and high-profile football jobs—and not just college football—anywhere in the nation.
Sure, there is a lot we'd like to discuss, including the impressive 2011 season while still under NCAA sanction, and the expectations for 2012 that reside somewhere in the stratosphere.
But what we really want to know from Kiffin is when his book on turning mediocre performance into massive job promotions is going to be released.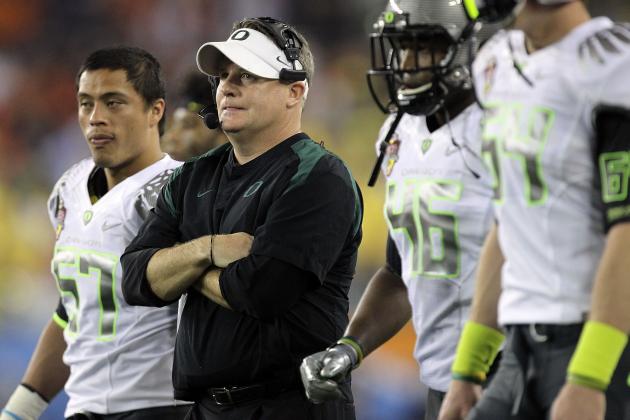 Ronald Martinez/Getty Images

There is no question that the Oregon Ducks have emerged as a national powerhouse under Chip Kelly.
So from that standpoint, it's understandable if every Oregon fan in the universe will quickly and wholeheartedly rush to his defense.
But when Spots Illustrated publishes an editorial about how Kelly isn't "doing things the right way," you really have to sit up and take notice.
After all, under Kelly, we've seen Oregon players sucker-punch opponents after a game, players arrested time and time again for marijuana possession, and even a felony burglary charge shows up on the Ducks' rap sheet.
While three-straight BCS bowls looks awesome, we really, really want to talk to Kelly about something he frequently dismisses when brought up by the media: Why does the Oregon football program have so many run-ins with the law?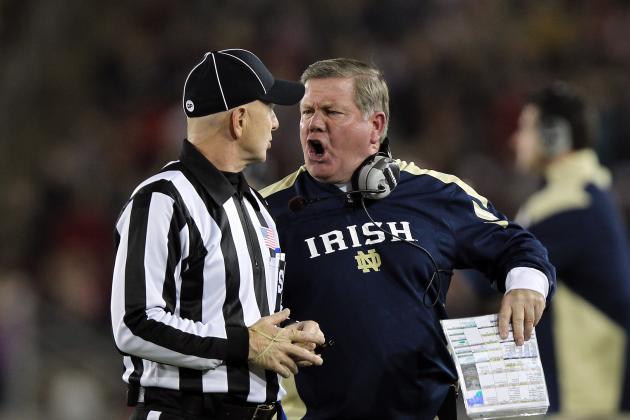 Ezra Shaw/Getty Images

Anyone who has ever seen Brian Kelly coach a game, either in person or on television, knows that he wears his heart on his sleeve.
Some coaches don't show any emotion on the sidelines, maintaining a constant scowl or a complete lack of expression while on the sideline. Kelly is definitely not one of those kind of guys.
With the way Notre Dame has played at times over the past two seasons, we've seen a wide range of outbursts from Kelly, from elated to downright explosive. Pictures and videos of his scarlet-red face are plentiful, and his antics have even been the subject of debate.
But the main focus of our chat with Kelly would likely be more focused on the plans for the future of Notre Dame; how can Kelly translate his successes at Grand Valley State, Central Michigan and Cincinnati into success at Notre Dame—the type of success Notre Dame fans recognize, that is.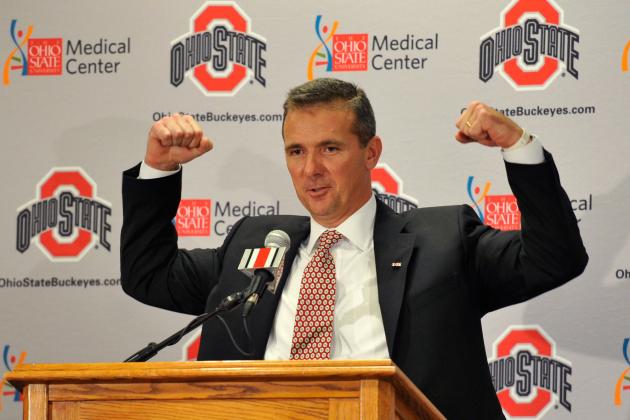 Jamie Sabau/Getty Images

There's no doubt that Ohio State is one of the top college football programs in the nation.
There's also no doubt that the Buckeyes have fallen on some hard times, and the reason behind the downturn is completely self-inflicted.
Ohio State is attempting to convince everyone that the program is cleaning itself up, and the 2012 season of NCAA-imposed sanctions will be an aberration.
But when OSU went out and hired Urban Meyer, it caused more than a few heads to tilt in confusion. Needless to say, not everyone was thrilled with the decision to hire Meyer.
Florida wasn't exactly the cleanest of programs under Meyer, and questions linger about how well he'll be able to put his past behind him in Columbus.
Speaking of his past, we'd really love to talk to him about his thought process on taking the Ohio State job—or any job post-Gainesville for that matter, including his short-lived gig at ESPN.
There were more than enough reasons for Meyer not to take the job at Ohio State. So why did he?
So much for spending more time with the family, eh?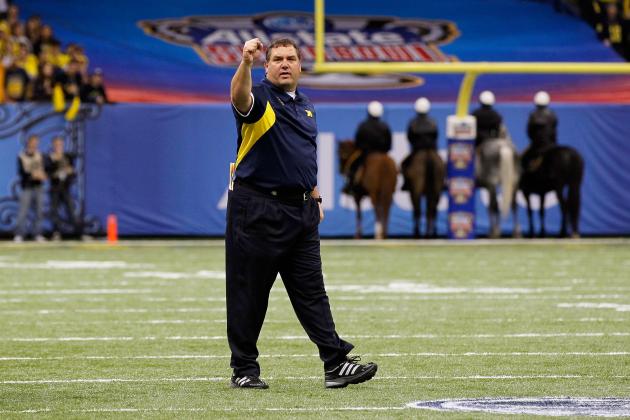 Kevin C. Cox/Getty Images

If we spend some time Skyping with the head coach at Ohio State, you know we're going to want to talk with his counterpart at "that school up north."
Brady Hoke is the new toast of Ann Arbor, and after guiding the Michigan Wolverines to an 11-2 record and Sugar Bowl championship in his first season as head coach, you can bet that in the eyes of the U-M faithful Hoke can do no wrong.
One of the great things about Hoke is the fact that he's perfectly willing to stoke the fires between Ohio State and Michigan—fires that many had seen as cooling over the previous half-decade or so (Hoke still refuses to say "Ohio State," referring to the Wolverines' rival simply as "Ohio").
Recently, a Michigan 2013 recruit torched a letter from Ohio State without even opening it, took a picture and posted it on Twitter.
Buckeyes fans quickly responded with death threats, confirming our suspicions that Ohio State fans simply ooze classiness (yes, sarcasm is definitely intended).
So what did Hoke do or say about the situation?
Nothing. Absolutely nothing.
Perhaps it's his way of letting the fire get just a bit bigger.
The college football world is a better place with a competitive Michgian-Ohio State series, and we won't blame Hoke too much for keeping his mouth shut over the Ohio State mud (and threat) slinging.
But we'd sure love to talk to him about it!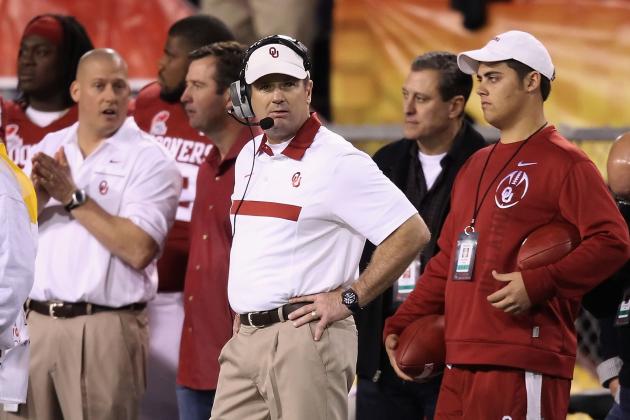 Christian Petersen/Getty Images

OK, this one is pretty simple.
Not only is Bob Stoops coach of one of the nation's premiere programs, he's been a long-term success at one of the nation's premiere programs.
So why is it, with the 139-34 record since 1999, the seven Big 12 titles and the BCS National Championship after the 2000 season that Oklahoma seems to have trouble winning BCS bowls these days?
Other than the 2011 Fiesta Bowl, where the Sooners took on lowly Connecticut, Oklahoma has lost five BCS games. Five!
Is there really a BCS curse in Norman? If there is, that's probably something Stoops would only admit in private—like say during a personal Skype session.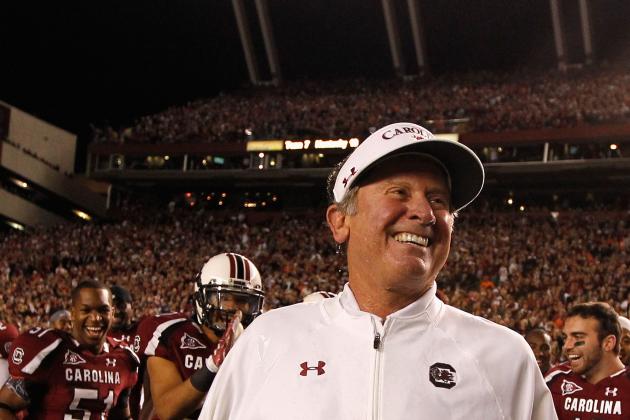 Streeter Lecka/Getty Images

Does anyone not want to have a football conversation with Steve Spurrier?
Well, Tom Morris probably doesn't.
Or maybe it's Spurrier doesn't want to talk to Morris.
But Spurrier unquestionably has one of the great interview styles in the game today, and we'd absolutely love to get a few of those Spurrier-isms lobbed our way in a Skype chat.