Big Ten Football: Power Ranking the Conference Contenders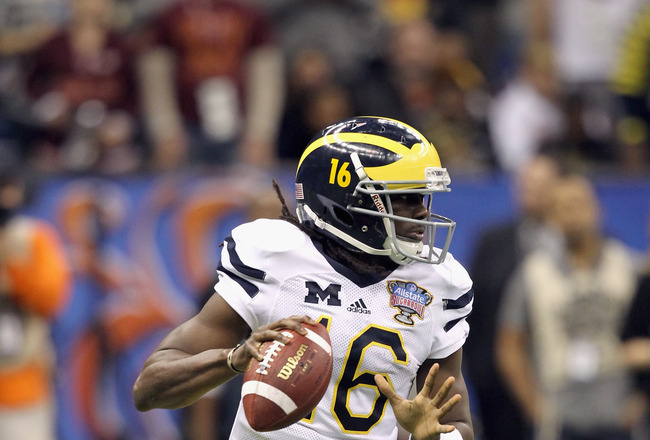 Michigan Quarterback Denard Robinson
Matthew Stockman/Getty Images
The 2011-2012 school year has recently ended, and for many that means looking forward to the 2012 college football season.
The fact that the Big Ten has lost five of the last six Rose Bowl games is something certainly not lost on fans of any school in the Big Ten and has left a bad taste in most of the teams' mouths.
This year, however, the Big Ten has a few teams that can make waves on the national college football scene.
First, though, they will need to get through their respective conference schedules and play a Big Ten Championship Game that is slated to be played December 1, 2012 at Lucas Oil Stadium in Indianapolis, Indiana.
Here is a quick look at how the conference should shake out.
12. Indiana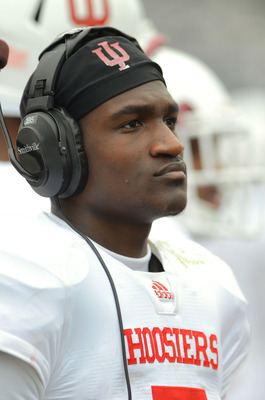 Indiana Quarterback Tre Roberson
Mark A. Cunningham/Getty Images
Indiana is known as a basketball school for a good reason: They stink at football.
The offense has some talent with returning quarterback Tre Roberson leading the way, but the defense simply can't keep teams from scoring.
The defense ranked the worst in the conference last year in total defense, rushing defense and pass-efficiency defense.
To top that off, they also have a very difficult conference slate, opening up against the extremely pass-happy Northwestern Wildcats and finishing the season with two road games against Penn State and Purdue.
It is completely viable to see this team going 0-8 in conference play this year.
Important games: October 27 at Illinois and November 24 at Purdue.
Indiana is going to end up being 12th in the conference and sixth in the Leaders Division.
11. Illinois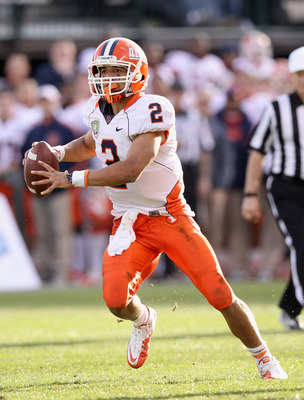 Illinois Quarterback Nathan Scheelhaase
Ezra Shaw/Getty Images
Illinois ranked second last season in total defense, but aside from that their 2011 season was mostly forgettable—mainly because they lost six straight to end the season.
The biggest problem for Illinois this season is its brutal conference schedule, opening up against Penn State at home followed by two road games at Wisconsin and Michigan.
Learning a new system certainly won't help much either, as Tim Beckham will be taking the reins for Illinois after being the head coach at Toledo.
The Illini are an extremely deep team, so the future looks bright for this young squad, but unfortunately that depth won't help them much in 2012.
Important games: October 27 against Indiana and November 17 against Purdue.
Illinois is going to end up 11th in the conference and fifth in the Leaders Division.
10. Purdue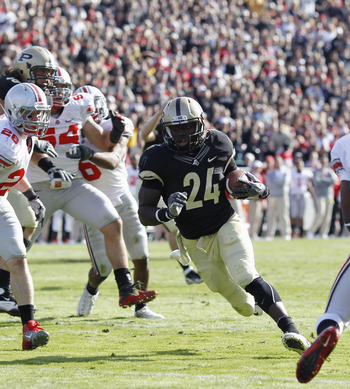 Purdue Running back Akeem Shavers
Joe Robbins/Getty Images
Purdue is returning much of its offense, but the problem is that the Boilermakers are returning almost none of their offensive line.
This is a hard team to place because of that fact. If they can figure out how to open holes for their running backs and manage to keep their quarterback upright, this could be a very good team. Unfortunately, losing four of five starters from their offensive line is just going to be too much for them to handle.
The defense last season was also nothing to be very happy about, ranking 10th in pass defense and ninth in rush defense.
What doesn't help matters much for Purdue is the first real winnable conference game comes on the road against Minnesota, a team that will be looking to return the favor of the embarrassment they felt last season, losing 45-17 in West Lafayette.
Important games: November 17 at Illinois and November 24 against Indiana.
Purdue will finish 10th in the conference and fourth in the Leaders Division.
9. Minnesota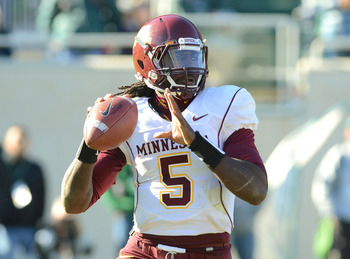 Minnesota Quarterback MarQueis Gray
Mark A. Cunningham/Getty Images
The Gophers are returning one of the most dynamic quarterbacks in the conference. While he has yet to show great talent with his arm, his feet are more than capable of making big plays and keeping the Gophers in games.
Another big plus for Minnesota in 2012 is the fact that they are not losing many big-time players. The biggest contributor they are losing is running back Duane Bennett, but considering that Gray had 327 more rushing yards than him, it shouldn't be that big an issue.
The defense last year showed some promise near the end of the season and should continue to build on having held Illinois to only 160 yards (78 passing, 82 rushing) and seven points.
Important games: September 29 at Iowa and October 27 against Purdue.
Expect the Gophers to finish ninth in the conference and sixth in the Legends Division.
8. Iowa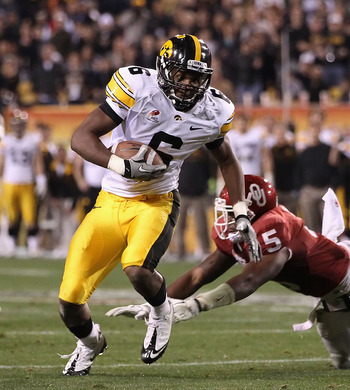 Iowa Wide Receiver Keenan Davis
Christian Petersen/Getty Images
Iowa has lost its two biggest offensive playmakers in Marvin McNutt and Marcus Coker and even though quarterback James Vandenberg is probably the best pure passer in the conference, he simply won't be able to accomplish much without those two weapons.
The other issue facing Vandenberg is the fact that the offensive line for the Hawkeyes apparently didn't realize they want to keep their quarterback on his feet last year, allowing 29 sacks in 13 games. When you consider that in conference play last season they played the bottom five ranked teams in sacks for, that is an unacceptable amount.
Last season the pass defense for Iowa was ranked 11th, and the rush defense was in the middle of the pack, ranked seventh.
Another big problem for this Iowa team was that last season they ranked 12th in rushing offense. With the questionable pass protection at best and the lack of a rushing offense, it could make for a lot of low-scoring affairs for the Hawkeyes.
Important games: September 29 against Minnesota and October 29 at Northwestern
Iowa is poised to finish the season eighth in the conference and fifth in the Legends Division.
7. Northwestern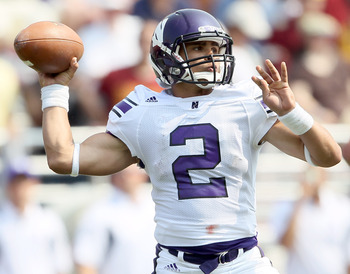 Northwestern Quarterback Kain Colter
Elsa/Getty Images
There is a fear that the loss of quarterback Dan Persa is going to haunt the Northwestern Wildcats. Most Wildcats fans have faith in new quarterback Kain Colter.
Colter is coming into a pass-happy system that returns a ton of talent.
The biggest positive for this Northwestern team is in the fact that they face four teams ranked in the bottom half of the conference in pass defense in the first five weeks of conference play. If Northwestern can gain some traction through that part of its schedule, they will be in a good position to compete in the conference.
It is a good thing that the Wildcats ranked second in total offense last season and they were able to score points because their defense is dismal, at best. They ranked 11th in total defense, 10th in rushing defense and 12th in pass defense.
The upside to being that bad on defense last season is there is only room to improve, which they should as they are only losing a few key members of the defense.
Important games: October 6 at Penn State and October 20 against Nebraska.
The Wildcats will finish seventh in the conference and fourth in the Legends Division.
6. Penn State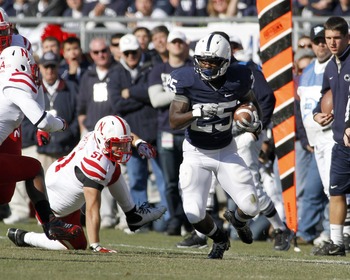 Penn State Running back Silas Redd
Justin K. Aller/Getty Images
This is going to be a very important season for the Penn State Nittany Lions. It is the first since 1950 that Joe Paterno won't be roaming the sidelines at Beaver Stadium, and with that comes a precedent for the future.
The best news for Penn State is that it is returning running back Silas Redd, who in his sophomore campaign in 2011 rushed 244 times for 1,241 yards. Having a running back with that type of production is going to help the Nittany Lions a great deal.
The defensive line is the only thing in question for Penn State on that side of the ball, but considering that Penn State has a fairly weak conference schedule it is easy to consider the team making a run for the top spot in the Leaders Division.
Unfortunately for them, the questions at quarterback are going to prove to be too much.
Important games: October 27 against Ohio State, November 10 at Nebraska and November 24 against Wisconsin.
Look for the Nittany Lions to finish sixth in the conference and third in the Leaders Division.
5. Nebraska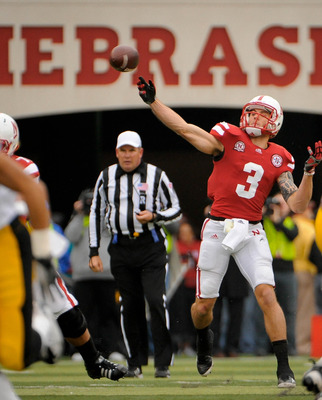 Nebraska Quarterback Taylor Martinez
Eric Francis/Getty Images
Nebraska had a solid showing in its first season in the Big Ten last year with a conference record of 5-3.
They return an extremely talented running back in Rex Burkhead, who rushed 284 times for 1,357 yards last night.
Alongside Burkhead in the backfield will be third-year starting quarterback Taylor Martinez, who besides his touchdown to interception ratio had a very solid campaign in 2011.
On offense, the biggest question will be the offensive line as they are losing two of their starters. If the line can continue to open holes for Burkhead, expect this team to have a solid year offensively.
On the other side of the ball, however, the Cornhuskers are losing an impact player at all three levels of the defense. Last season their rushing defense was ranked eighth in the conference and their passing defense seventh. Those types of ineptitude on the defensive side of the ball is something that head coach Bo Pelini will not tolerate this season.
Important games: September 29 against Wisconsin, October 6 at Ohio State and November 3 at Michigan State.
Expect Nebraska to end the season fifth in the conference and third in the Legends Division.
4. Michigan State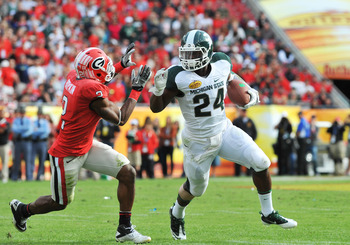 Michigan State Running back Le'Veon Bell
Al Messerschmidt/Getty Images
Michigan State is heading into the 2012 season with perhaps one of the biggest questions in the conference. How are the Spartans going to replace Kirk Cousins?
The answer, though, is fairly simple. They are going to do it by reducing the pressure on the new quarterback with a great running game lead by Le'Veon Bell.
The offensive line should be more than capable of opening big holes for Bell, and they will keep Andrew Maxwell, who is projected to be the new quarterback for the Spartans, upright.
The defense for Michigan State looks to be very good this year, returning their leader in tackles in linebacker Max Bullough and their leader in sacks in linebacker Denicos Allen.
They are also returning two great defensive backs in Isaiah Lewis and Darqueze Dennard.
Michigan State has put together a non-conference schedule with hopes of a major bowl game this season, facing both Boise State and Notre Dame. Neither team is expected to be as strong as they have been in recent memory but will give the Spartans a good early test anyway.
Important games: September 29 against Ohio State, October 20 at Michigan and October 27 at Wisconsin.
The Spartans finish the conference schedule ranked fourth while being second in the Legends Division.
3. Ohio State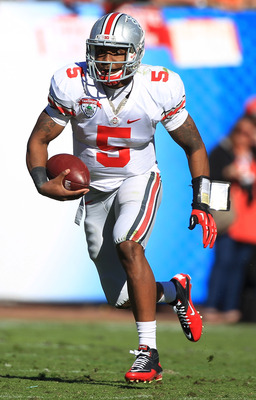 Ohio State Quarterback Braxton Miller
Scott Halleran/Getty Images
Ohio State is returning the vast majority of its starting defense from last year, a defense that ranked fifth in total defense, fifth in rushing defense and fourth in passing defense.
It is very easy to believe the defense will be even better than it was last season.
On the offensive side of the ball, the Buckeyes are returning quarterback Braxton Miller who had a very good freshman season in the Horseshoe.
Miller led the team in rushing last season with 159 carries and 715 yards, and with new head coach Urban Meyer in town, that could very likely be the way it shakes out again.
There is plenty of talent around Miller though, if his passing ability has developed more. The Buckeyes do return their three top receivers from last season.
Unfortunately for Buckeyes fans, the postseason ban is still on in Columbus, so the Buckeyes won't be playing in the Big Ten Championship regardless of how good they are.
Important games: September 29 at Michigan State, November 17 at Wisconsin and November 24 against Michigan.
Ohio State will end the season at number three in the conference and number two in the Leaders Division.
2. Wisconsin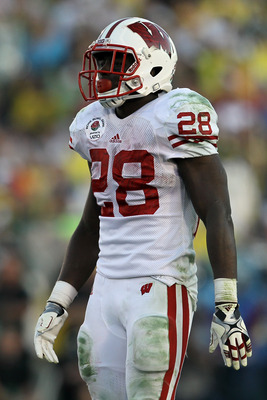 Wisconsin Running back Montee Ball
Stephen Dunn/Getty Images
Wisconsin has lost its starting quarterback for the second consecutive season, but once again it shouldn't really hurt them.
It is true that they don't have someone as talented as departed quarterback Russell Wilson coming in, but with the top rusher in the country returning to Madison there is plenty to be hopeful for.
Montee Ball lead the nation in rushing with 1,923 yards and 33 touchdowns, but there is a big question of who will be opening up the holes for him to rush through this year.
Three starters are gone from the offensive line of a year ago, and while Wisconsin always boasts a great rushing attack, it will be interesting to see how they rebuild after losing so much up front.
The questions at quarterback certainly won't help the rushing attack, but it really shouldn't matter as Montee Ball is the type of runner who can make things happen all on his own.
The only big losses for the defense of Wisconsin comes in the secondary, which means the Badgers might slip a little in pass defense, but since they were ranked second in that last season, a little slip wouldn't be a big deal.
The rushing defense was ranked sixth last year, and considering they return the conference tackles leader in Mike Taylor at linebacker as well as the team leader in tackles for loss in linebacker Chris Borland, this defense should be up to the task of keeping the team in the game.
Important games: September 29 at Nebraska, October 27 against Michigan State and November 17 against Ohio State.
The Badgers will end up second in the conference and first in the Leaders Division.
1. Michigan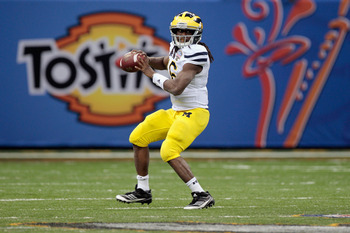 Michigan Quarterback Denard Robinson
Chris Graythen/Getty Images
Denard Robinson is not only hands-down the most athletic and electrifying quarterback in the conference, he is probably the best in the nation as well.
Wolverine fans are expecting big things in 2012, and it is tough to blame them.
With running back Fitzgerald Toussaint returning, Robinson will have plenty of help to carry this offense to the Big Ten Championship and possibly even on to the national championship.
The only real question for this Michigan team is up front on the defense, losing three starters from the defensive line of a year ago.
They do return a trio of very talented linebackers in Kenny Demens, Desmond Morgan and Jake Ryan, which will be a big help to rebuilding the defensive line. Having the talent and speed of those three will also greatly reduce the pressure on the defensive line to perform.
Michigan believes this is its year, and the only thing really standing in its way is the season-opening game against Alabama (at Cowboys Stadium, Arlington, TX).
Important games: October 20 against Michigan State, October 27 at Nebraska and November 24 at Ohio State.
The Wolverines finish first in the conference and first in the Legends Division.
Keep Reading