College Football 2012: 50 Players the SEC Wishes It Had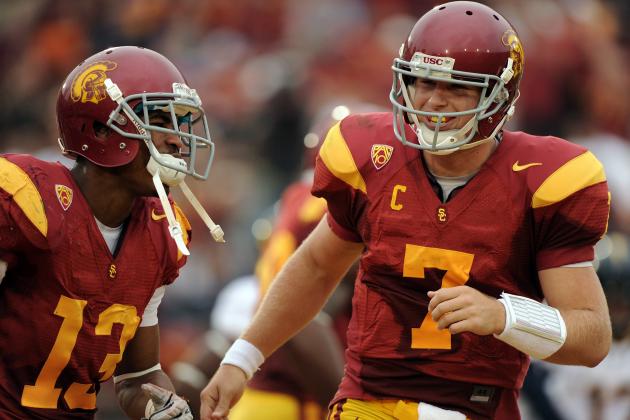 Harry How/Getty Images

The best teams and players in college football belong to the Southeastern Conference, and whether we love or despise that fact, respect is a must for the best conference in college football.
The SEC is looking at a seventh-straight BCS National Championship this upcoming season, and they have several stars returning in 2012.
However, which players in the current upcoming season that are not in the SEC would they love to grab if they could?
Think in terms of the NFL or any professional sport in which you could trade or sign any players when they are available. The SEC has dozens of future NFL stars playing on Saturdays, but there are a hundreds of other great college football players in other conferences.
So, here are your 50 players that the SEC wishes they had for this upcoming season.
Note: This is not a shot or jealousy of the SEC, I have stated several times that the SEC is by far the best conference in America (most may say I lean in favor too much). However, there are other BCS conferences that are loaded with stars and these 50 are the top candidates.
Begin Slideshow

»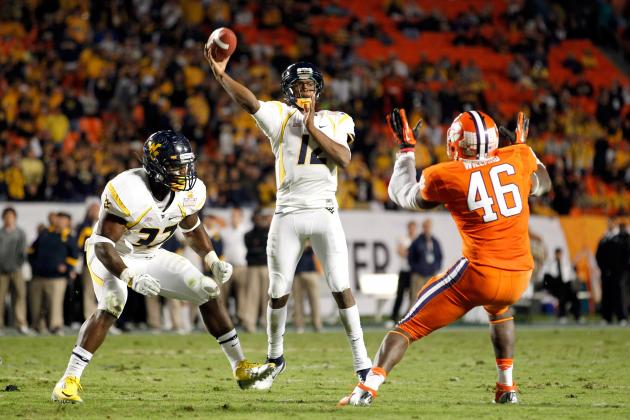 J. Meric/Getty Images

One of the best pocket passers in the country could even light up some of the SEC defenses with his current Mountaineer receivers.
West Virginia's defense could not slow down LSU's rushing attack one season ago as they were gashed for 186 yards, but Smith threw for 463 yards (LSU won 47-21).
However, Smith looks like a future All-American and the SEC would kill for another superstar signal-caller.
Christian Petersen/Getty Images

Although many will never get over the fact that Landry Jones could not throw a touchdown pass during the regular season's final three games without Ryan Broyles, this Boomer Sooner can still spin it with the best of them.
The SEC can always use star players and Jones is just that. Bank on a sensational 2012 from Jones and for the passing offense to get back to where they once were while Ryan Broyles was leading the way (all-time FBS reception leader).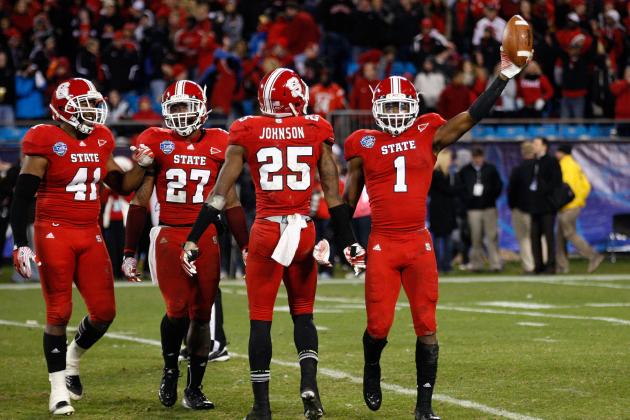 Streeter Lecka/Getty Images

The best defensive back in the country would help the SEC continue their successful and dominating ways of owning the best corner(s) in the country.
Amerson led the country in interceptions a season ago (13), and his ball-hawking skills would not all of a sudden disappear.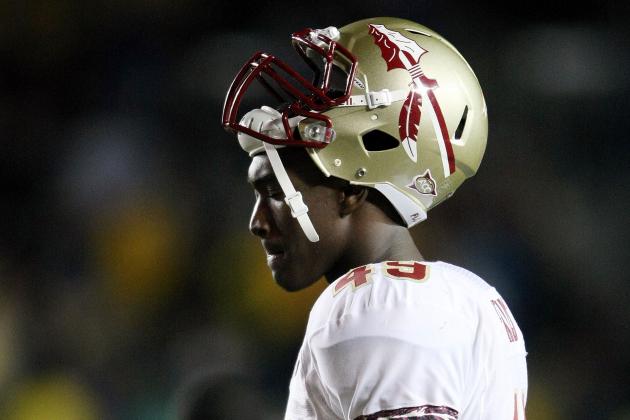 Elsa/Getty Images

Brandon Jenkins has been one of the elite pass-rushers in the country over the last two seasons. Jenkins would be used at defensive end as well as perhaps even outside linebacker.
Speed kills and Jenkins is not the only player on the Seminoles defense that is just as good as if not better than nearly all of the SEC defenses.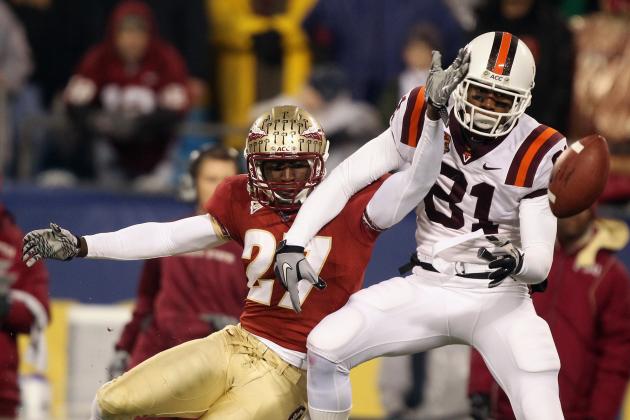 Streeter Lecka/Getty Images

David Amerson is a stud without a shadow of a doubt for NC State, but many believe Xavier Rhodes is every bit as good, if not better.
Rhodes has some help around him, but he is a big, physical and athletic freak that can cover any receiver in the country. That would right in with the rest of the stud defensive backs that the SEC has had over the last several seasons.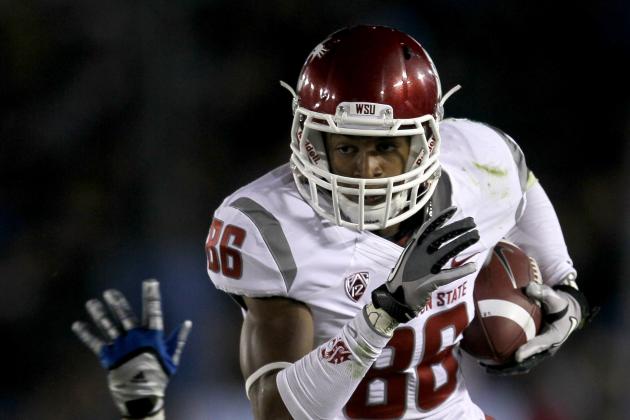 Stephen Dunn/Getty Images

The Cougars will be flying around on offense under Mike Leach's offense, but this underrated star receiver would shine in any conference.
Marquess Wilson is a guy that deserves to get his dues, and while he should in the 2012 season most believe he would be a superstar if he were in the SEC.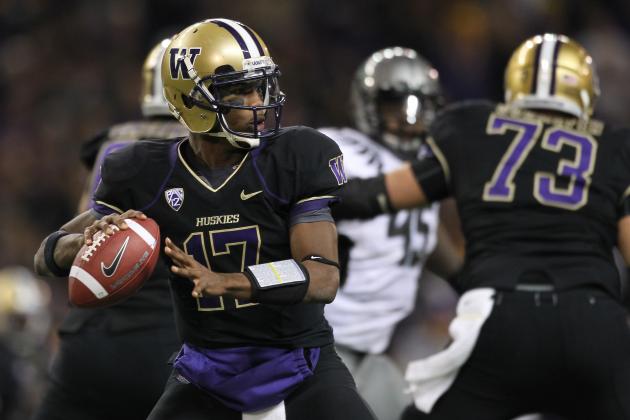 Otto Greule Jr/Getty Images

The Washington Huskies may have one of the toughest schedules in America next season, but Keith Price has the capability of stealing a few games.
Price will be tested by the Bayou Bengals when they visit Baton Rouge in September, but Price is the caliber of a quarterback that would be hyped up to be a Heisman candidate if he were on a team that could play some defense.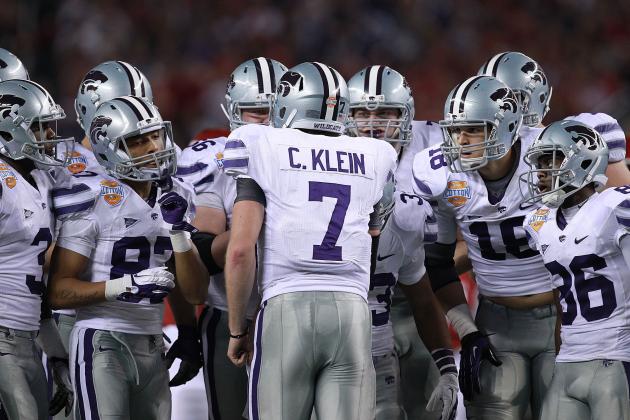 Ronald Martinez/Getty Images

Collin Klein just set the FBS record for most rushing touchdowns by a quarterback (29), so is there anything this guy could not do against the SEC competition?
Well, the Wildcats passing offense struggled a lot one season ago, but he did not exactly the best group of receivers around him.
Klein could do a number on the SEC if he had stars around him and many argue that there was not another player on the planet other than perhaps Andrew Luck and Robert Griffin III that meant more to their team.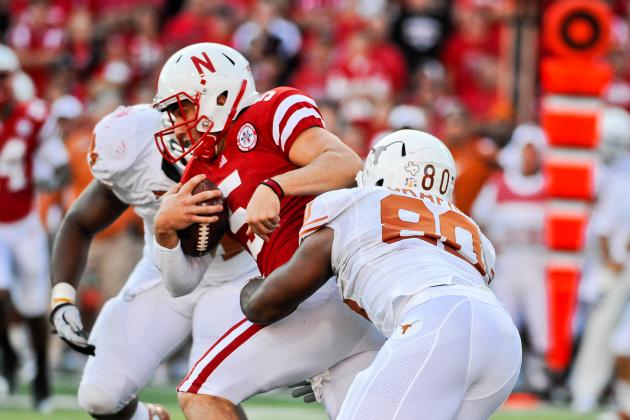 Eric Francis/Getty Images

This beast on the defensive line can do it all for the Longhorns. He can disrupt an opposing running game with his strength ability to shed blockers, but he also has the speed to notch up a boatload of sacks.
Texas' defense will be sensational in 2012 and the SEC would not mind on adding more elite lineman to their already stacked list.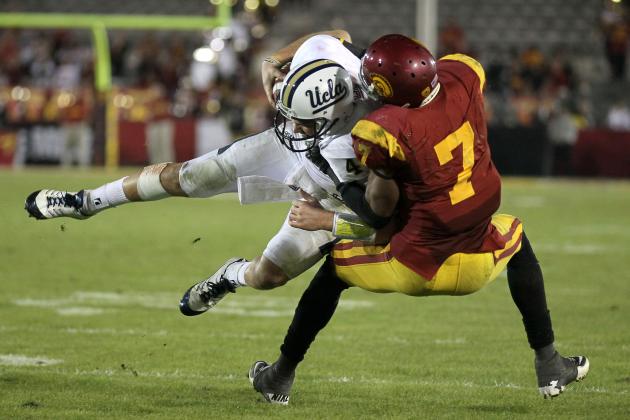 Stephen Dunn/Getty Images

One of the hardest hitters in the country is easily T.J. McDonald!
This Trojan safety can lay the wood with the best of them, but he also can track down running backs and receivers with ease.
If he can improve upon coverage, he will rank among the best defensive players in the nation.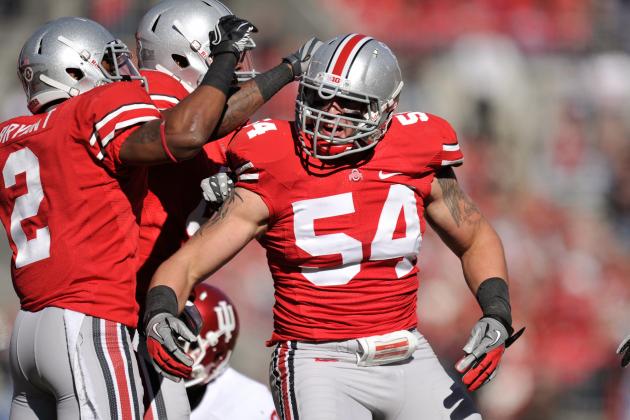 Jamie Sabau/Getty Images

John Simon should make several preseason All-American lists thanks to his ability to dominate Big Ten games in the trenches. While most will side with the SEC in terms of nearly anything, Simon would fit right in.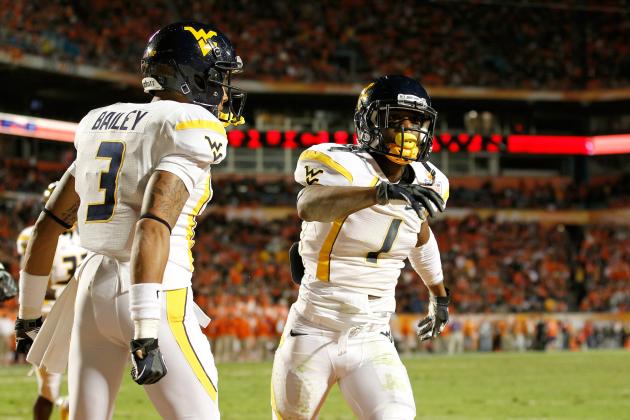 J. Meric/Getty Images

Arguably the best all-purpose player in America heading into the 2012 season, Tavon Austin should shine brightly with Geno Smith as his quarterback.
The key part is that he could make any quarterback look like a future NFL prospect thanks to his burst ability and more importantly his elusiveness and quickness.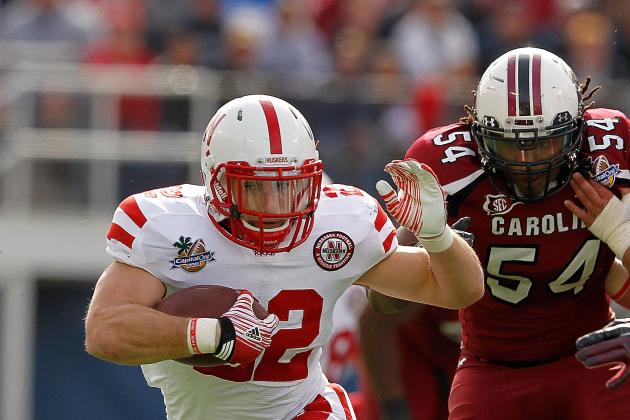 Mike Ehrmann/Getty Images

Rex Burkhead is the perfect Big Ten back to follow because he is a hard-nose runner that will never go down at first contact.
Several tacklers have to work together on bringing this Cornhusker down, and he would be loved dearly if he were in the SEC.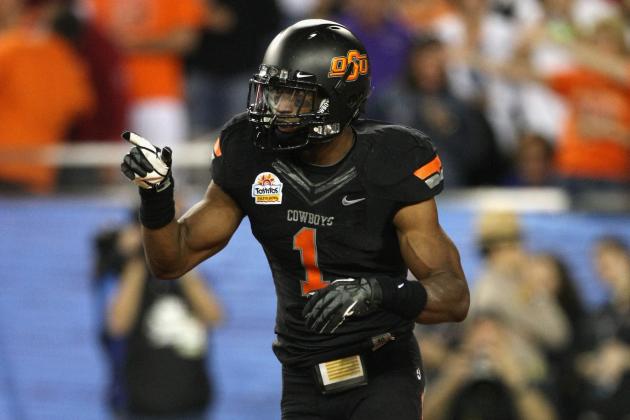 Donald Miralle/Getty Images

Had Montee Ball not gone bonkers and set the touchdown record with Wisconsin, Joseph Randle would have garnered a ton of national attention for what he accomplished at Oklahoma State.
Many will point to Justin Blackmon and their great passing attack, but Randle has great vision and can haul in passes out of the backfield as good as any back out there.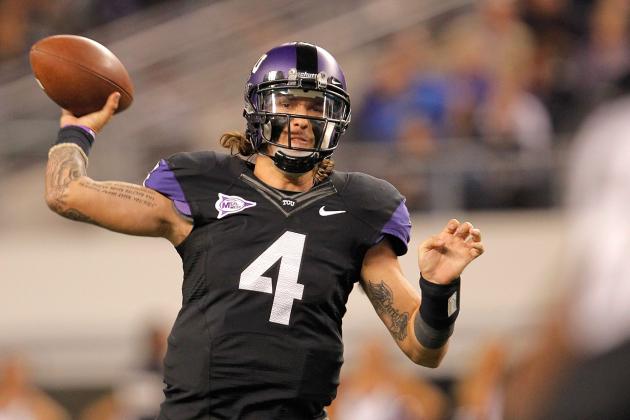 Sarah Glenn/Getty Images

This quarterback for TCU can sling it well, and heading to the Big 12 should help increase some of the deserved love.
The Big 12 may be known for great passing offenses and not so great passing defenses, but Casey Pachall would be able to thrive and make an impact in any conference out there.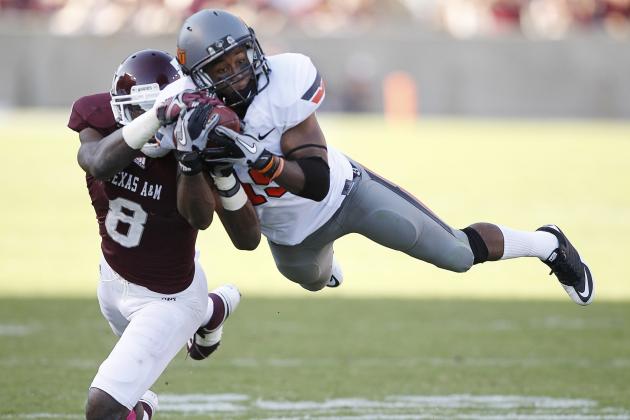 Bob Levey/Getty Images

The SEC always has several elite defensive backs, but with the loss of Dre Kirkpatrick and Morris Claiborne they would not mind adding a few more studs.
Brodrick Brown is no different for the Pokes and he would make his mark if he were playing in the SEC.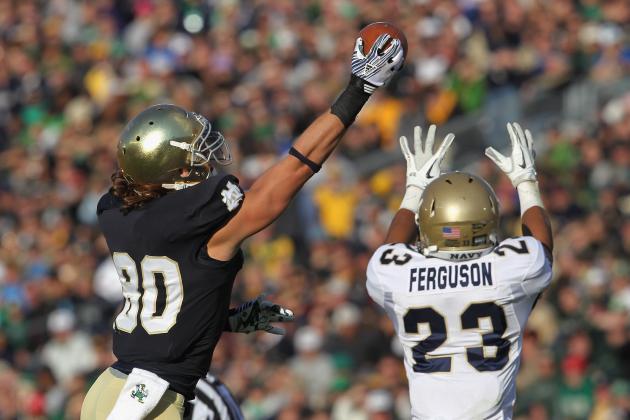 Jonathan Daniel/Getty Images

Whenever you have an All-American returning to college football there is a great chance he could play for any team.
Tyler Eifert is expected to become a superstar Golden Domer in 2012, but he truly is a guy that demands double coverage.
Even when the best of linebackers are covering him, Eifert can use his size, speed and overall awareness to become a factor in each and every game.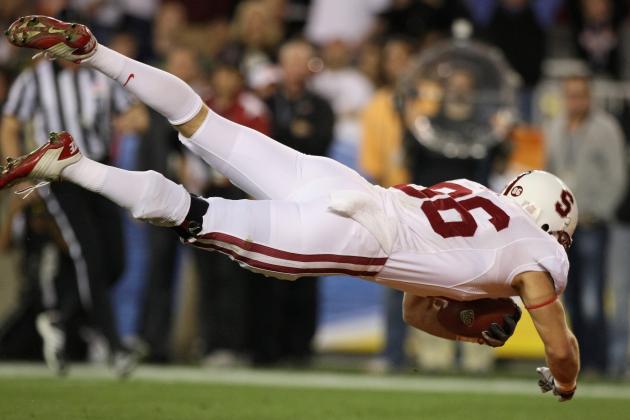 Donald Miralle/Getty Images

One of the better tight ends in the country helped Andrew Luck in the passing game last season. Even without Luck though, Ertz would be a reliable threat.
The SEC is chucking it around more and more these days, but Ertz is an underrated blocker that is not afraid to lower the boom.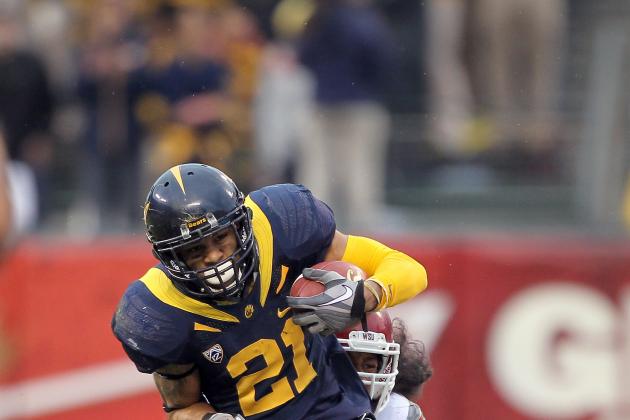 Ezra Shaw/Getty Images

This Cal Bear receiver has a knack of coming up with the big-time plays when his half-brother (Zach Maynard) can get him the ball.
Allen slowed up down the stretch of the season, but the Bears offense was not consistent as they could have been. The SEC loves their tall, athletic receivers that demand double teams and this Bear is no different.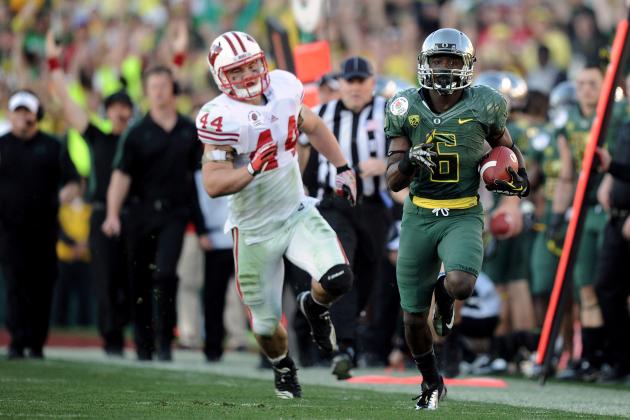 Harry How/Getty Images

This Badger alongside Mike Taylor might just be the best duo of linebackers in the entire country. Despite no off the chart skills, Chris Borland is solid in nearly everything: tackling ability, coverage, awareness, consistency.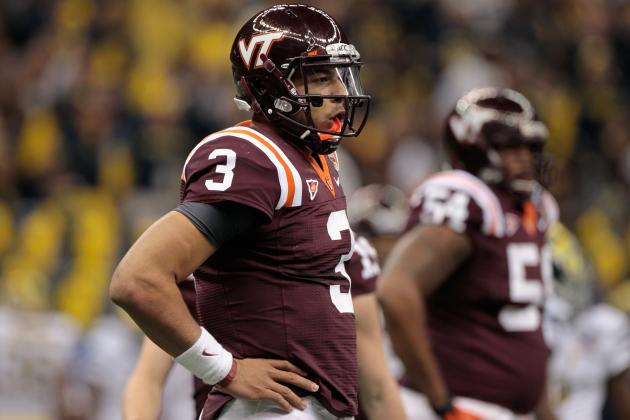 Chris Graythen/Getty Images

Logan Thomas is a beast of a quarterback (6'6", 254 pounds), that can dazzle in nearly every facet of the game. Thomas could be more of a factor as a throw, but he slowly improved as the season wore down.
Towards the goal line he become a red zone machine (11 TD) and we have seen a few running quarterbacks that have achieved some success before.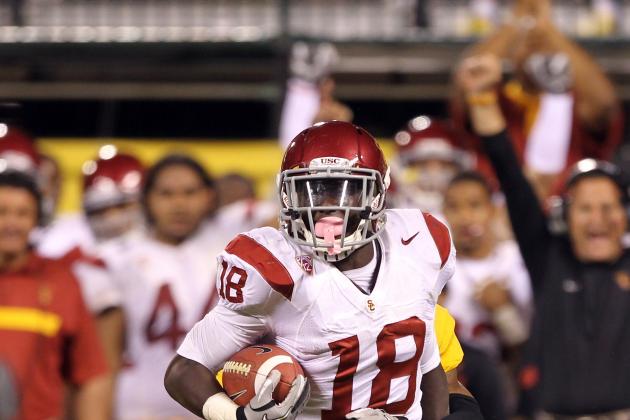 Ezra Shaw/Getty Images

Dion Bailey was just in his first full season as a stud for the Trojans, and boy was he all over the field.
His tenacious ability to lay the wood makes him a special caliber of a linebacker that would fit right in with the SEC.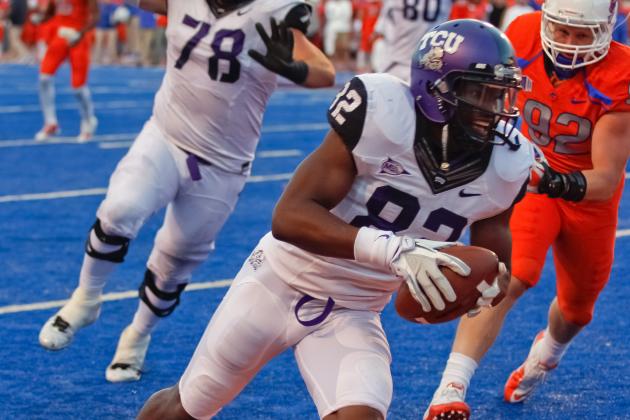 Otto Kitsinger III/Getty Images

Josh Boyce is a physical receiver that can abuse smaller corner thanks to his wide range of skills. Outside of having big mitts, Boyce also has the speed and after-the-catch ability to become a national factor in 2012.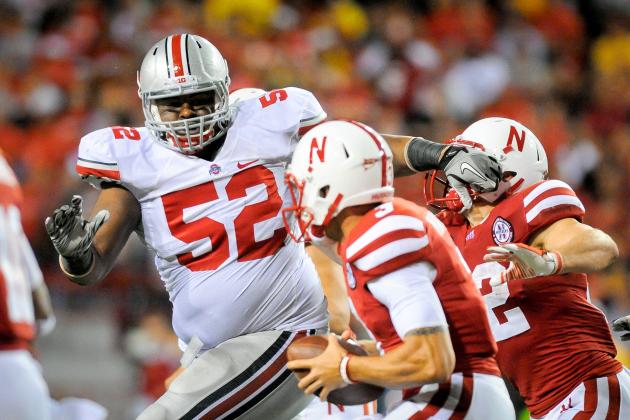 Eric Francis/Getty Images

One of the bigger linemen in the country makes Johnathan Hankins a can't-miss player that the SEC would seem destined to have.
Hankins anchors the Buckeyes defensive line and he could too may become a future first-rounder.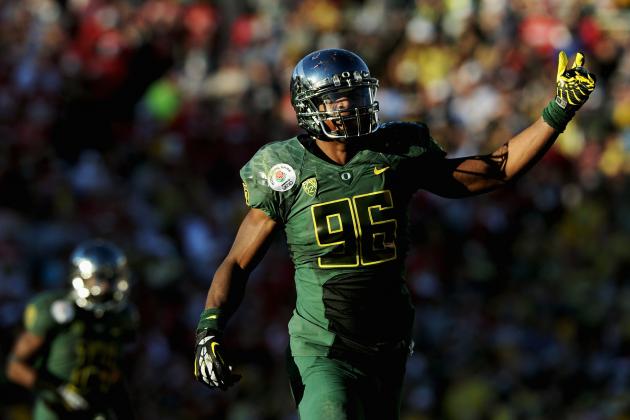 Harry How/Getty Images

Dion Jordan is a tall, lanky, and athletic defensive end that could make an impact in any conference. He really makes the Ducks front four one of the better ones in the country, but it is unfortunate that the defense never gets enough respect.
If they were to return to another BCS bowl and or win the Pac-12, Jordan and the Ducks defense will have accomplished everything they could dream of (other than playing in and winning the BCS NC).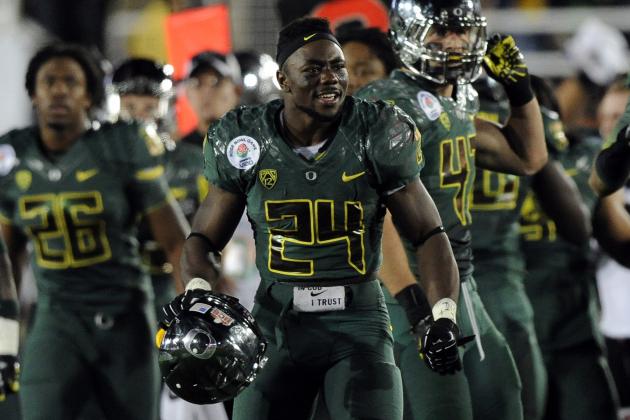 Harry How/Getty Images

Kenjon Barner is electric when he has the ball in his hands, and he often is running for paydirt in the Ducks explosive offense.
Can anybody stop this offense?
It has speed that simply kills and the playmakers in the backfield and out wide are just flat out unstoppable freaks. The SEC has a bit of speed of their own, but I have a feeling that Barner would fit right in.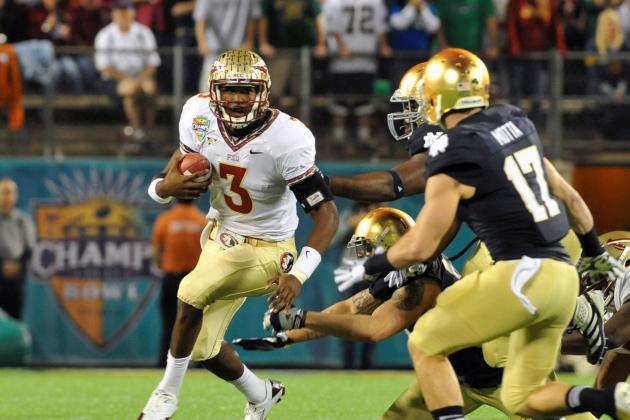 Al Messerschmidt/Getty Images

There are so many college football quarterbacks that come out of nowhere entering their senior season. Manuel has been around since starting in Bobby Bowden's final game (Gator Bowl, West Virginia) and he has seen the ups-and-downs in Tallahassee.
When Manuel went down against Oklahoma, FSU's season took an unfortunate turn for the worst.
The ability to throw on the run as well as avoid pressure makes Manuel one of the better duel-threats in the country. There is even a CBS mock draft out there that have him as the No. 2 overall pick in the 2013 NFL Draft (even for myself, that seems odd and EJ has star talent when healthy)
Throw in his rocket arm and E.J. may finally take the Noles to the promise land.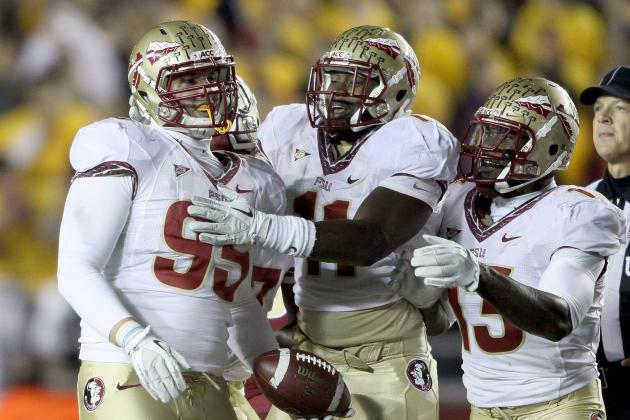 Elsa/Getty Images

The German beast off the edge for Florida State is a physically dominant defensive end that is vital to the Seminoles BCS hopes in 2012. The SEC has so many defensive ends that can harass passer thanks to their overwhelming assault of speed and size.
Werner is just that, and the SEC would sure as hell love getting even better up front in the trenches.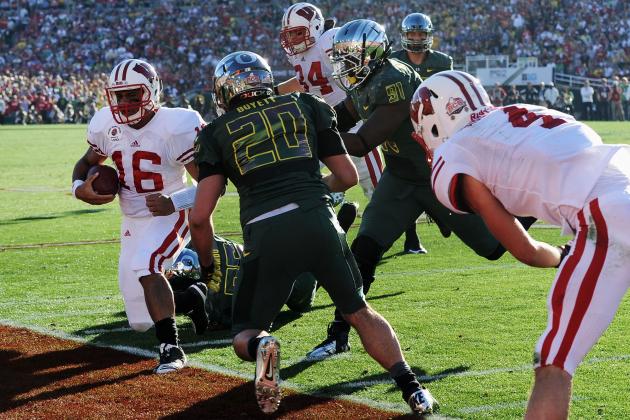 Harry How/Getty Images

Since playing his freshman season, John Boyett has been a stud.
He was first seen on the national level when he performed well in the Rose Bowl against Ohio State, but Boyett would catch your attention regardless of the team he played for.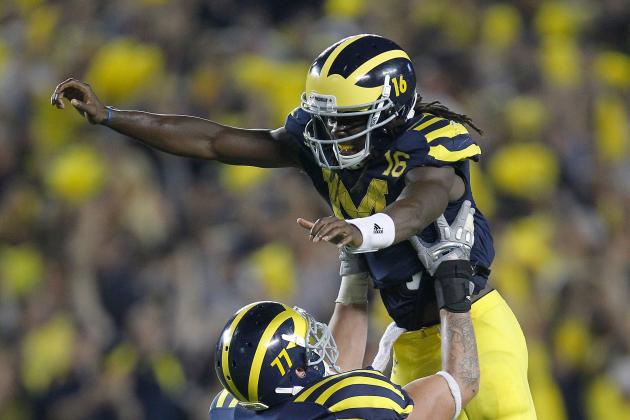 Gregory Shamus/Getty Images

One of the top draft prospects always could play for the SEC regardless of position, but the great teams truly are built from the inside-out.
Taylor Lewan is a special tackle for the Michigan Wolverines and he could be looked at as a true dark horse to win the Outland Trophy since many are still unaware of this stud lineman.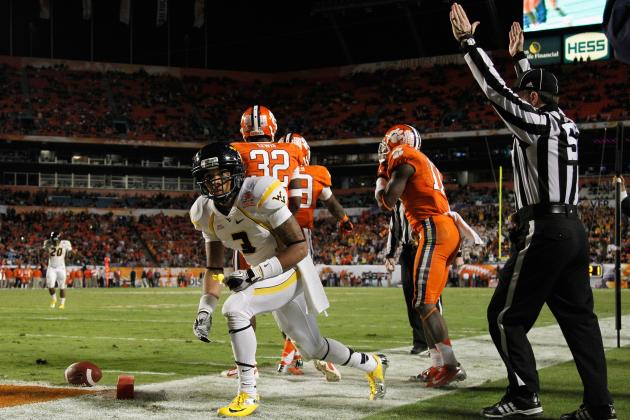 Mike Ehrmann/Getty Images

The talent at wide receiver really goes for days in Morgantown and my goodness they should be fun to watch next season. Stedman Bailey is not the biggest target (5'10"), but he sure knows how to draw separation and get open.
Bailey finishes well (12 TD) and would thrive in any sort of offense had he ever get an opportunity to play in the SEC.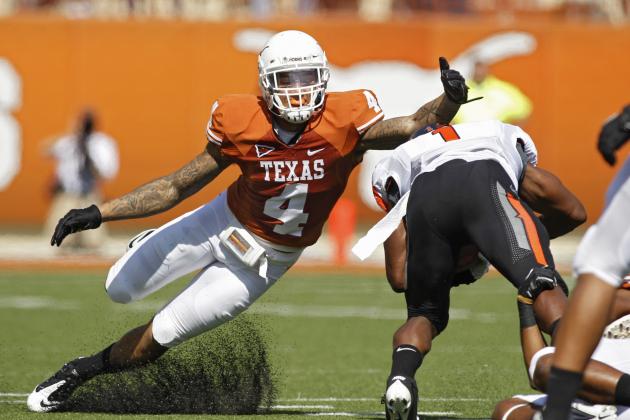 Erich Schlegel/Getty Images

The Longhorns defense is practically headlining on my can't miss watch list for 2012, but Kenny Vaccaro is one of the main reasons why.
Vaccaro has exceptional speed for a safety and he never seems to get lost out there. Many safeties do not make the right reads and angles to make a highlight reel play, but Vaccaro plays a smart and clean game.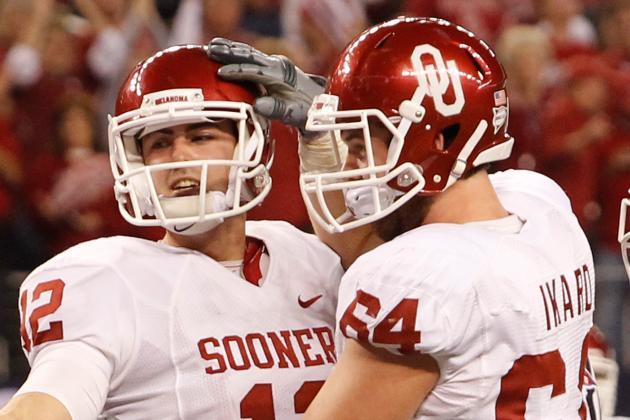 Tom Pennington/Getty Images

This Oklahoma Sooner lineman ranks among the elite in the game and all the clean throws you see Landry Jones make is because of this guy.
Jones often has a clean pocket and the Sooners offensive line has been dominant more times than not over the year. Gabe Ikard is a solid college football player and really could play anywhere.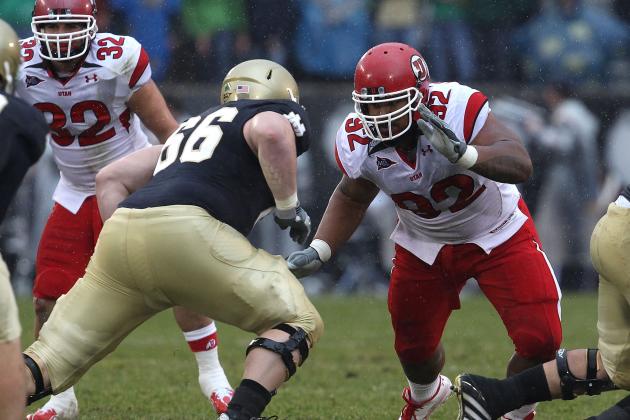 Jonathan Daniel/Getty Images

Star Lotuleli may just be the best defensive lineman in the country and although most SEC fans may have not even heard of this Ute, he has the talents to make himself a top-10 pick in next year's NFL Draft.
It is tough blocking a beast up front, but when he has a quick first step it only makes life that much tougher on you.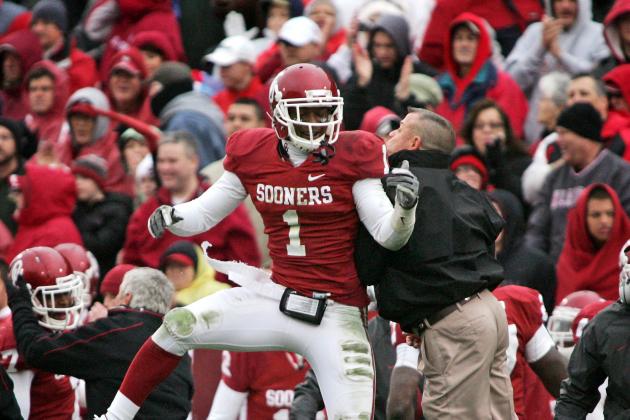 Brett Deering/Getty Images

The Sooner secondary was known as the "Sharks" one season ago, but Tony Jefferson was the biggest stud of the bunch to fear. As he will repeatedly say on his Twitter handle, the guy is about whatever!
He truly is a great tweeter and a hell of a teammate, but he can ball with the best of them (one of the more exciting players in all of college football) as he sure lays a licking on fall Saturdays.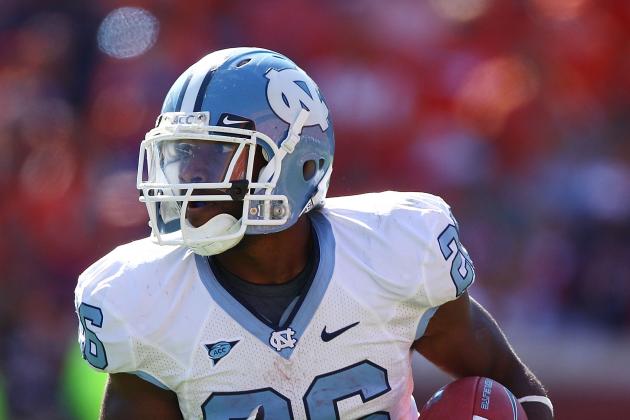 Scott Halleran/Getty Images

It is tough for freshman (redshirt) to come in and take over a backfield and then become the best runner in the ACC for the following season.
Bernard found the end zone 12 times and totaled for over 1,500 yards offense in the Tar Heels backfield last season. A young stud would be welcomed to join the SEC since they bring a bunch every season.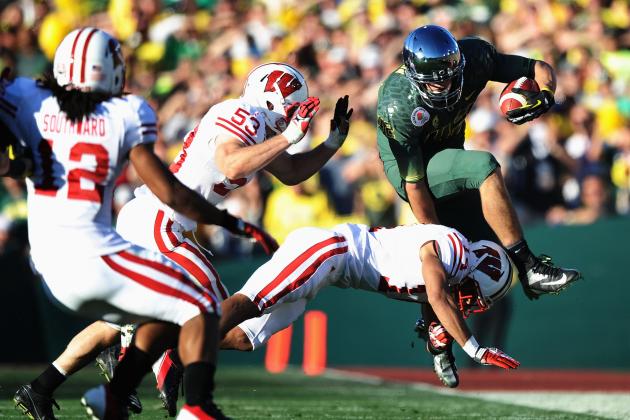 Harry How/Getty Images

Mike Taylor has been a productive linebacker in the Big Ten thus far, and productivity is not always easy to come by in college football on the defensive side of the ball.
The Badger linebacker can line up and tackle with such great form, but his awareness and nose for the ball does not get stated enough.
Some stud linebackers will just rely on their athleticism and burst to the ball, but Taylor is impressive for seemingly always being at the right place at the right time.
The SEC has plenty of talented players, but any dominant conference in collegiate sports could always use more instinctive and smart players.
Christian Petersen/Getty Images

Stepfan Taylor looks like he will become the most productive back in program history, but many argue he has a sensational offensive line blocking for him.
While that is true, Taylor has been a horse and then some for the Cardinal. A consistent, legit back has the vision to hit the hole and then find daylight in the blink of an eye.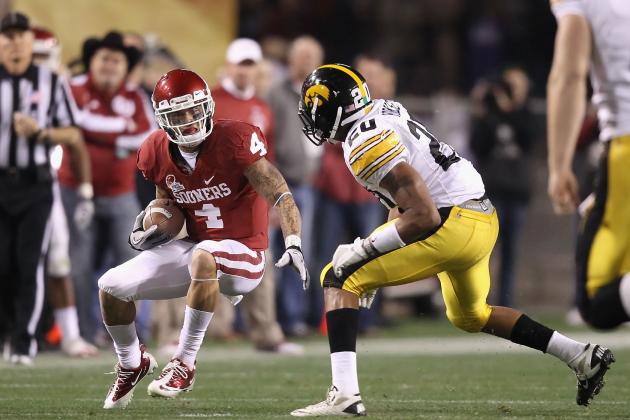 Christian Petersen/Getty Images

Kenny Stills struggled a tad in the slot while replacing Ryan Broyles, but the passing struggles for the Sooners really was about losing Broyles (and a defense that could not get key stops).
He meant so much for the team and Stills was growing into his own as a youngster. Now entering his junior season, Stills has the looks of becoming one of the best wideout in the entire Big 12.
He could arguably start for any team in the SEC and most would assume he could produce with the best of the current SEC receivers as well thanks to his legit speed and ball skills.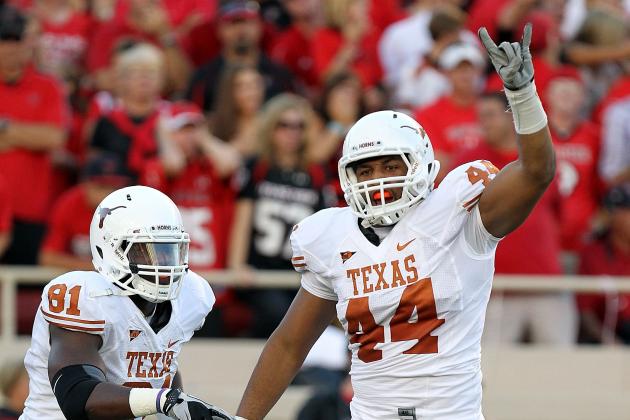 Ronald Martinez/Getty Images

This Longhorn is just another athletic performer that can make you scratch your head on how exactly he could be blocked.
The SEC is loaded with those type of studs every single season, but Jackson Jeffcoat could line up against any premier offensive lineman and give him fits.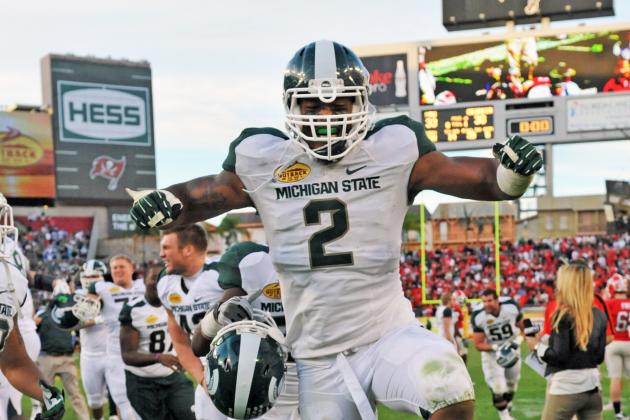 Al Messerschmidt/Getty Images

Many Wolverine fans are not exactly fans of William Gholston since he got a few late cheap shots in against Denard Robinson, but that does not take anything away from Gholston in terms of bursting past your offensive tackles.
The kid is a stud if he can continue to have a high motor in the big games against the elite competition. It starts off with Boise State, which will be a tone-setting game for a Spartan squad that could be smelling roses in 2012.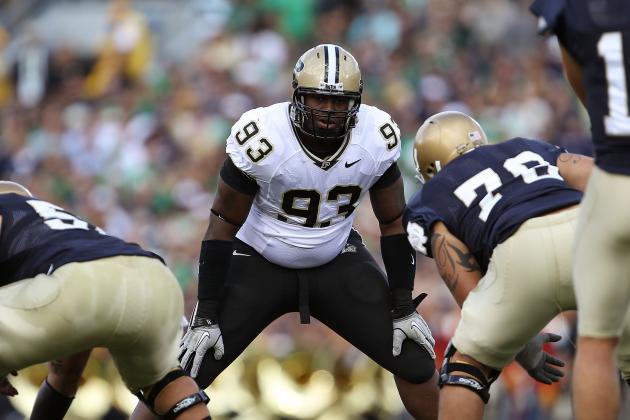 Jonathan Daniel/Getty Images

Another lineman that is the anchor of his squad, Kawann Short should become a legit NFL prospect heading into the 2013 NFL Draft.
The SEC will always have a few defensive tackle that can take over a game, but they do not seem to have an overload of them this season. Short is also a constant demand for a double team, and the SEC sure has had to put a few extra lineman on the beasts they see every Saturday.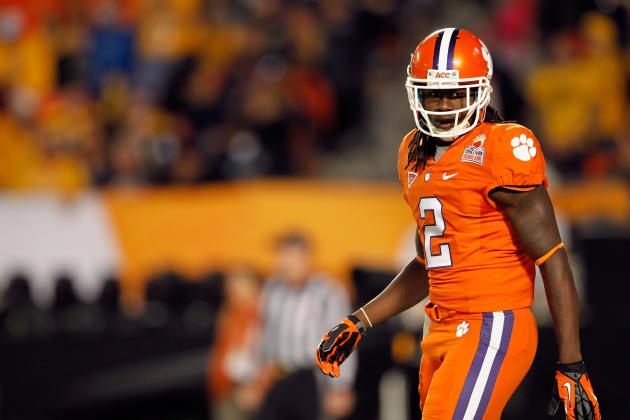 Mike Ehrmann/Getty Images

Although Mr. Sammy Watkins may be suspended to start off the 2012 season, the kid is still the most electrifying receiver on the planet.
He can bring back kicks and punts if you want him to, but his ability to torch your secondary makes him as reliable of a downfield receiver as there is in the game.
Watkins became just the third freshman in the history of college football to be named All-American (Adrian Peterson, Hershel Walker).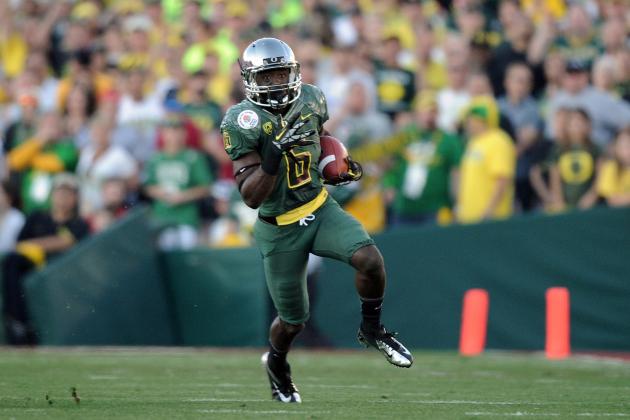 Harry How/Getty Images

The "Black Mamba" is arguably the most explosive and electrifying player on the planet. This back can tote the rock a few times as well as stretch the field as a receiver.
Oregon may use Kenjon Barner more as a back, but Thomas can flat out do it all in the Ducks spread offense.
Any offense you would use could feature Thomas as a star due to his blazing speed.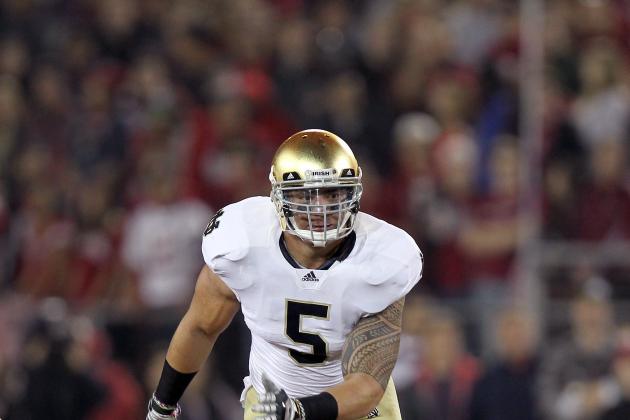 Ezra Shaw/Getty Images

Arguably the best defensive player in the country heading into the season has to be a player the SEC would love to have. We know how loaded the SEC is with defensive performers, but arguably the best linebacker on the planet would not make matters worse.
This Golden Domer could be a superstar in the best conference in the country, and the SEC would love to only get better each and every season.
Chris Graythen/Getty Images

"Shoelace" would be perfect in the SEC for a spread offense. Many of the talented teams love to run the ball, but can you imagine if the current Maize and Blue quarterback was competing against the top teams in the country?
Some may think Denard Robinson would struggle with his inability to consistently complete passes down the field, but he would arguably have more talent around him.
The punishment he would endure would not be easy, but the SEC has several new starting and or inexperienced quarterbacks. Robinson would rank among the top five without question albeit it may not exactly show in the opener against Alabama.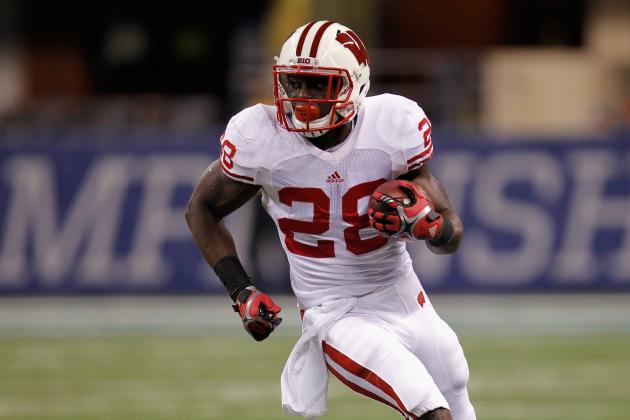 Gregory Shamus/Getty Images

When there is a running back returning that is coming off a FBS record 39 TD, normally he is an All-American.
Ball was just that and the SEC would have loved to see him toting the rock and breaking free past the secondary. One can only imagine how many shining moments we will see from him in 2012.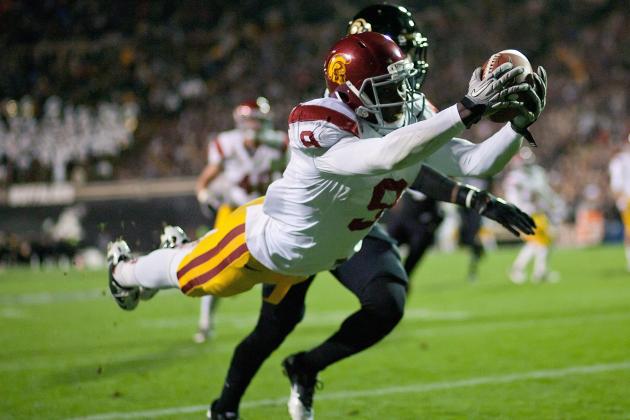 Justin Edmonds/Getty Images

USC's most talented is not Robert Woods according to most because it is Marqise Lee. Although he will just be a sophomore, many look at this Trojan receiver as the best future prospect in America for his position.
The SEC would die for a young superstar like this (Dorial Green-Beckham in a year perhaps), and Lee may become the best one out there in 2012.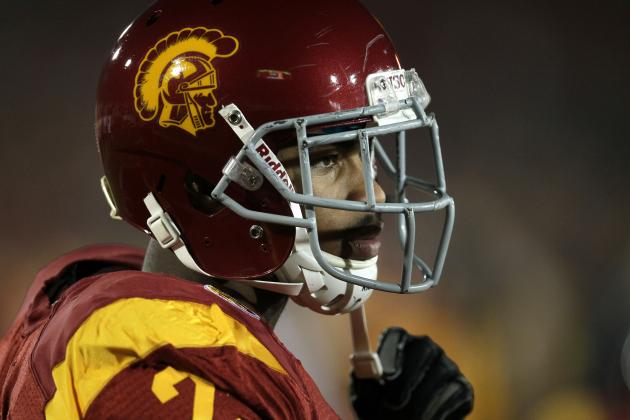 Stephen Dunn/Getty Images

The best receiver in America would be thriving in the SEC even in an offense that does not throw it around a bunch.
Robert Woods when healthy is a surefire superstar and even the best conference in the country would love to have an unstoppable receiver that runs routes so effortlessly.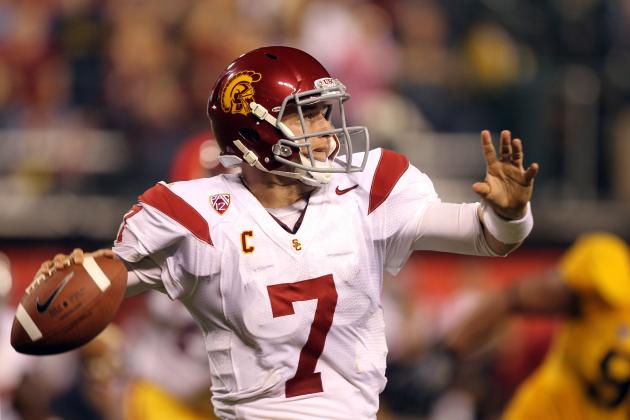 Ezra Shaw/Getty Images

There are a few SEC quarterbacks (Tyler Wilson, Aaron Murray, Tyler Bray and A.J. McCarron) that will garner national attention, but why wouldn't you want the best signal-caller in the country?
Matt Barkley is not only the best passer in the country, but he is also the best player out there.
The SEC does not need the best quarterbacks in the country to be successful since they have so much talent, but Barkley is a can't-miss superstar.