10 College Football Coaches Who Are the Most Fun to Play for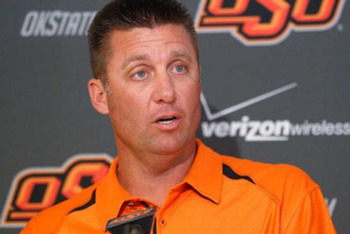 Not all coaches are created equal.
But head coaches are vastly underrated by the general populace.
What does it take to have a great program?
Wins, lots of them.
How do you get wins?
Player development, game planning, recruiting, in-game adjustments, exploiting match-ups, the list goes on.
But when you consider the things mentioned above, who is responsible?
That's right, the coaching staff, all the way up to the head man himself.
This list tries to shed a little light on which coaches are the most fun to play for.
The main criteria is a unique system, or winning, but each of the guys on this list is a head coach that keeps it fun for the players in some way.
10. Mike Leach: Washington State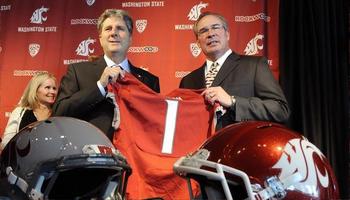 Besides his obvious entertaining relationship with the media, Leach brings the prospect of a high-powered offense that scores a ton of points in a short time.
His "Air-Raid" offense has been an effective mode of putting points on the board since his time as an assistant at Oklahoma, and different variations of the potent spread style are everywhere these days.
His ability to lead a team to high scoring, high flying, highlight worthy touchdowns is unquestioned, and anybody who has played the game at any level knows that scoring is what keeps it fun.
9. Bret Bielema: Wisconsin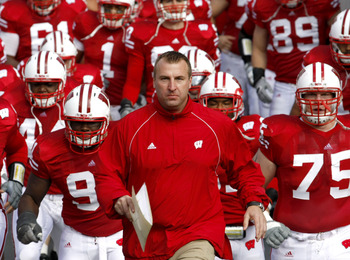 Apparently, there a few haters of Bielema, but the guys that play for him appear to have a good time.
You see, some of that hate arises from his supposed penchant for running up the score.
Tell me, what's more fun than scoring on offenses?
Not much.
On top of the whole scoring thing, Bielema wins. He's 60-19 in six years at Wisconsin, which averages out to double-digit wins every season.
For as much as people love to hate him, the guy seems to be doing something right.
8. Nick Saban: Alabama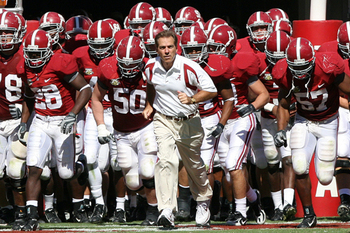 Why, you ask?
Some people would have you believe he is the devil, but it's simple, really.
Saban wins.
He has coached three of the last nine BCS champions, and two of the last three. He's 7-3 in bowl games as a head coach in the SEC, and his teams absolutely dominate people defensively.
Sure, the finesse style of offense is fun, but so is absolutely blowing up game plans.
7. Dana Holgorsen: West Virginia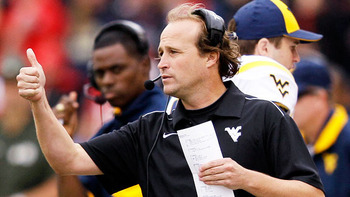 Holgorsen took over head coaching duties rather suddenly last season for West Virginia.
His impact was immediately evident.
The Mountaineers finished 15th in the nation in total yards per game at 469.9, and put up a ridiculous 533 yards on an LSU defense that allowed just 261.5 per game—good enough for second in the nation.
Holgorsen's style fits in well in the fast-paced, offensive-focused Big 12. With his team putting up numbers like that, it's easy to see why guys enjoy playing for him.
6. Kevin Sumlin: Texas A&M
Sumlin left Houston last season for the more lucrative, bigger, greener pastures of Texas A&M.
Good call.
He did some great things at Houston, including leading the team to a 12-0 record in 2011 before a loss to Southern Miss in the conference title game derailed dreams of going unbeaten.
His teams have been highlighted by an incredibly potent offense, which was at it's best last season when it generated 599.1 yards of offense per game—best in the nation.
Talk about having some fun. Any team that averages over 49 points per game is having fun, and you can expect Sumlin to bring that same style of potent offensive attack to Aggieland with him.
5. Urban Meyer: Ohio State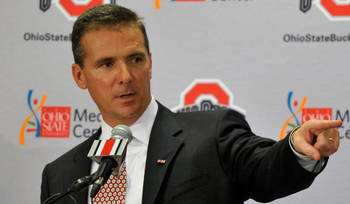 Another head honcho who knows how to win, Meyer has recently changed his digs, from Gainesville to Columbus, but hopefully not that winning combination.
Meyer has never coached a team that has won fewer than eight games in a season, and that includes stints at Bowling Green, Utah and Florida. He has taken two separate squads to a total of four BCS games, and won them all, including two BCS titles with Florida.
On top of that, his overall bowl record is a better than respectable 7-1.
Like him or not as a fan, the man has a way of getting the best talent to his program, and then getting them to produce.
4. Mike Gundy: Oklahoma State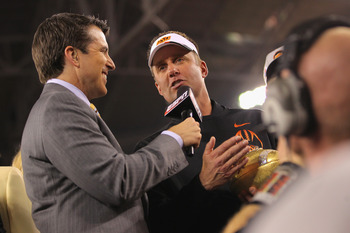 Doug Pensinger/Getty Images
Oklahoma State has been top seven in total offense in four of the past five seasons.
Credit for much of that success goes to the wide open, sling it everywhere style of head coach Mike Gundy.
Sure, he is more famous for his rant back in 2007, but after the Cowboys' first conference title last season, it's pretty clear that he should not be the butt of too many jokes.
When an offense is that exciting, everyone has fun, except, of course, the punter, who is incredibly bored.
3. Bob Stoops: Oklahoma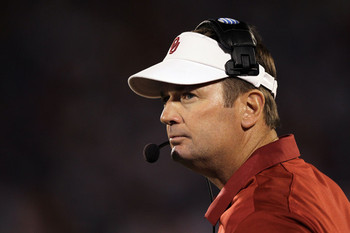 Stoops is a guy that does not get the credit he deserves.
He's coached in only one place, Oklahoma, since 1999. He's led the team to seven conference titles, 13 bowl games, and 10 double digit win seasons. He's also led them to a BCS title, back in 2000.
The Sooners consistently win, and they consistently put up big numbers on offense.
Those are two ingredients that work awfully well together towards having a good time.
On a side note, the transfer of wide receiver Jalen Saunders to the Sooners should scare the living daylights out of opposing coaches, as Saunders is one scary open-field threat.
2. Chris Petersen: Boise State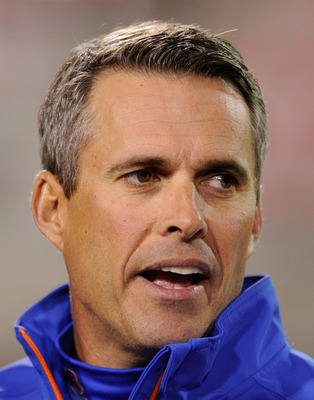 Ethan Miller/Getty Images
That's right—the man that has been behind the Boise State offense for the past 12 seasons.
Petersen's tenure at Boise started with a stint as offensive coordinator from 2001-2005, after which he took over as head coach.
If you want to talk about a winning head coach, this guy has to be near the top of the list. He is 73-6 in six seasons at Boise State. That's an average of 12.16 wins per year, and only one loss.
And you better believe those players enjoy winning just as much as the rest of us.
1. Chip Kelly: Oregon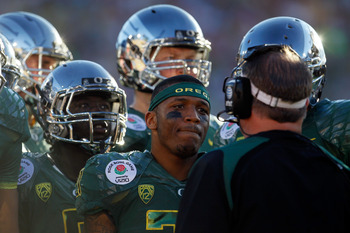 Jeff Gross/Getty Images
Chip Kelly's potent offense struggled to beat good teams for a few seasons, but it seems to be gaining traction entering his fourth season at the head coaching position.
Oregon ranks near the top of the country in points scored and total offense for every season since his arrival, and they show no signs of stopping with the explosive athletes he consistently recruits and fields.
On top of the powerful, entertaining offense, Kelly knows how to win.
Oregon is 34-6 since he took over as head coach, with the recent Rose Bowl victory becoming the icing on top of the cake.
The chance to play for the most explosive offense in football is extremely tempting.
Keep Reading