Big Ten Football: Tweets of the Week
May 25, 2012

Every Friday on the Big Ten Blog, we'll bring you the best Big Ten-related Tweets of the week.
Leading off the list today is a tweet by an NFL punter who went to school at UCLA and doesn't mention anything about the Big Ten in his tweet. It should not be eligible for anything on this blog, ever.
So why is it here? Because it's Chris Kluwe playing along with my idiot ideas and for that I did a lot of laughing: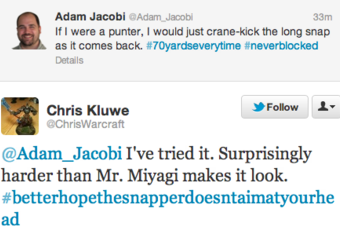 Okay, onto the real stuff.
Michigan's seniors are hanging out today with a totally routine group of people: the Navy SEALs. Wait, whatever the opposite of "routine" is, that's what we mean. At any rate, the official Michigan football Twitter account is there for the leadership training the Wolverine seniors are going through, and we've gotta say, it looks pretty easy--errrr holy lord no it does not: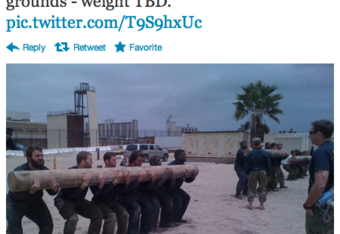 There's something oddly endearing about a lack of self-awareness when it comes to coaches and athletes, and it's especially odd considering how it just turns into a test of patience with regular people. So when the longest-tenured coach in the Big Ten by a country mile decides he needs to put on a nametag, what can you say but awwwwww.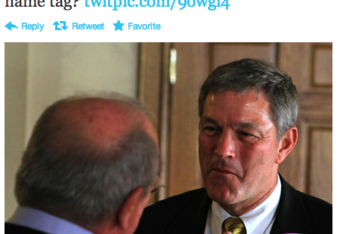 Also, hey sarcastic guy: do you need to circle what a nametag is? Kirk Ferentz might be recognizable, but he's probably not as popular as nametags.
And since we're on the topic of sarcastic "hey thanks for that" type of jokes, here's Ohio State's main Twitter feed, helping you the Twitter user navigate your way along the Information Superhighway: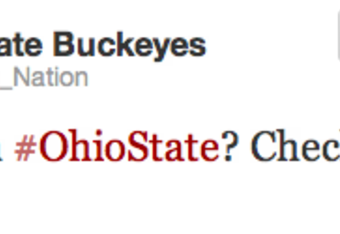 Thanks for the "Helpful Browsing Hint"! Apparently I was still using the school's old website, which was http://www.OhioState.GeoCities.com/SportsZone/CollegeSportsZone/51242/DancingBaby.webnet. Good to know. This new shorter address is a real "World Wide Wow"!