Preseason College Football Rankings 2012: Top Contenders for National Title
May 24, 2012

Andy Lyons/Getty Images
Alabama is loaded and ready to defend their national title. They are going to face some fierce competition, but any team hoping to win a championship is going to have a hard time dethroning them.
It may only be May, but that doesn't mean it's too early to start ranking teams. Below you will see my top 25.
Before we get to that, check out the three favorites to win the championship next season. 
Alabama
Alabama lost a ton of talent from last year's national championship team, but who cares? This team just reloads, and they are ready to roll. 
Trent Richardson was the focal point of this offense a year ago. He may be gone, but they have a stable of capable ball carriers to take his place—not to mention an incredible offensive line. 
RB Eddie Lacy will be entering his junior year next season and is ready to take on the load as the leading ball carrier. Lacy has 151 career carries for 1,080 yards, a YPC average of 7.2. Not too shabby. 'Bama also has great depth behind him with Jalston Fowlers.
With QB A.J. McCarron coming back, this offense shouldn't miss a beat.
The Tide lost a ton of talent defensively, but they have so much depth on that unit that it really isn't even fair. They also brought in a top freshman class which includes some of the best secondary prospects in the country. 
Combine that with Nick Saban's ability to coach up that side of the ball, and this will once again be a dominant unit. 
USC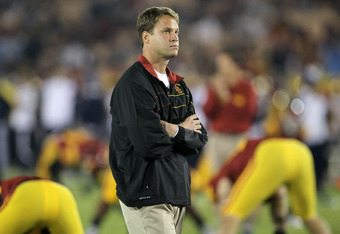 Stephen Dunn/Getty Images
You may not have heard, but QB Matt Barkley decided to come back for his senior season. This ensured the Trojans were going to return a lethal offense. 
Barkley is the best college QB in the country, and he has solid talent around him. The loss of LT Matt Kalil is a big blow to the offensive line, but this is still an experienced and talented unit that will be able to handle Kalil's departure. This offense is going to be just fine. 
On the other side of the ball, the Trojans have a strong and athletic defensive line. The secondary is talented, deep and experienced. There isn't a hole to be found. The linebackers are young, but they're also seasoned. Hayes Pullard and Dion Bailey led the team in tackles last year. 
This is a complete team. They will be able to win games with their offense or defense. 
LSU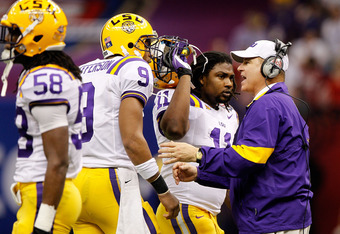 Chris Graythen/Getty Images
Yes, LSU is losing their two main options at QB from a season ago, but is that really a bad thing? QB was clearly not the strength of this team, and Zach Mettenberger looks ready to take over the job. 
Just like last year, he isn't going to have to do a lot. This offensive line is going to be one of the top units in the country, and they have a stable of RBs in Spencer Ware, Michael Ford and Kenny Hilliard. 
The offense is not going to be the strength of this team anyway. The Tigers defense is ready for another dominant year. 
Once again, the LSU defensive line is going to be amazing. They are experienced and overpowering. 
Morris Claiborne left the secondary, but the Tigers have more than enough depth to make up for that. CBs Tyrann Mathieu and Tharold Simon will lock down the outside and S Eric Reid is ready to wreak havoc over the middle. 
This is going to be a dominant defensive unit. 
Langford's Preseason Top 25
1. Alabama
2. USC
3. LSU
4. Oregon
5. Oklahoma
6. Florida State
7. Georgia
8. South Carolina
9. Michigan
10. Michigan State
11. West Virginia
12. Kansas State
13. Arkansas
14. Wisconsin
15. Stanford
16. Texas
17. Ohio State
18. Clemson
19. TCU
20. Oklahoma State
21. Virginia Tech
22. Boise State
23. Nebraska
24. Florida
25. Notre Dame