The 20 College Football Games Most Likely to Be Decided by a Field Goal or Less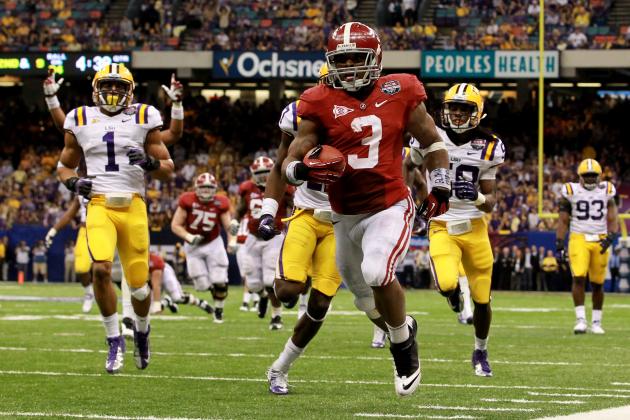 Ronald Martinez/Getty Images

When our favorite team is playing, most of us love to watch the utter and complete destruction of the opposition—particularly a rival.
But in reality, the best games are those between two great teams that battle down to the wire, where sometimes, the final play of the game marks the only difference between the joy of victory and the agony of defeat.
There are several games in the upcoming 2012 college football season that are shaping up to be instant classics, and we've selected 20 that you won't want to miss.
Warm up the DVR, turn off the cell phone and send the kids to grandma's house; these 20 games are the most likely to be decided by a field goal—or less!
Begin Slideshow

»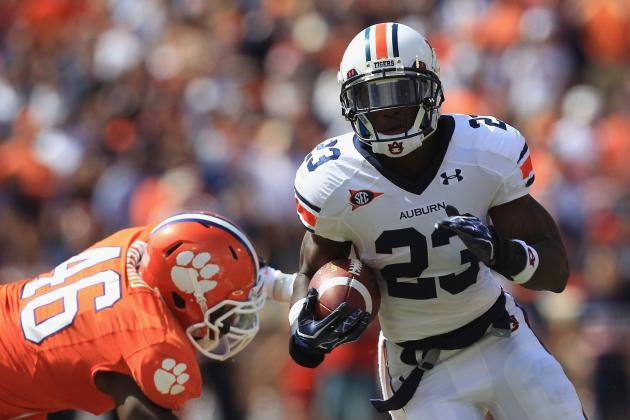 Streeter Lecka/Getty Images

This Week 1 rematch will be the third time in as many seasons as the two Tigers will face off, and this one will be at the neutral Georgia Dome in Atlanta on September 1.
The first installment of this series, at Auburn, was won by the Auburn Tigers en route to a BCS national championship.
What was lost in the story of that championship run was how it was almost derailed before anyone thought to consider Auburn as the top team in the nation. Clemson walked into Jordan-Hare Stadium and gave Auburn everything it could handle—and more.
It was only through the first of several Cam Newton-engineered comebacks that led Auburn to a three-point victory in overtime.
Last season, Clemson got payback and ended Auburn's win-streak by beating Auburn in Clemson, 38-24.
For 2012, both teams look to be returning more than enough talent to make this season's kickoff one to remember.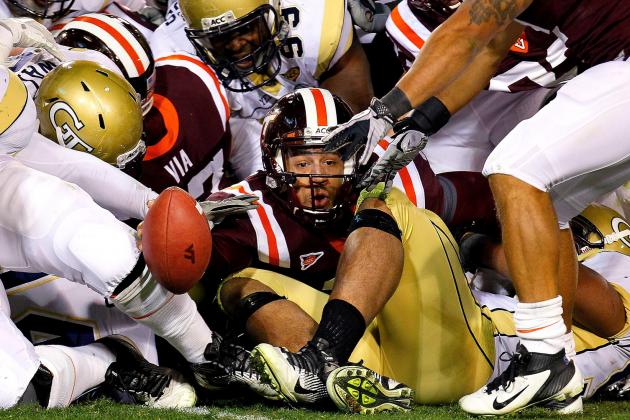 Kevin C. Cox/Getty Images

The ACC conference schedule gets an early start in 2012 with this Week 1 meeting between Coastal Division foes.
Last season, Virginia Tech won the division by two games, with the young Yellow Jackets finishing in a tie for second place.
Now, the tables may be turned. The Hokies are returning just three offensive starters, and the Jackets appear to be poised to make a major run for the division title with eight offensive starters coming back to a squad that put up some impressive numbers last season.
While many will expect Virginia Tech to easily handle the Rambling Wreck, don't be surprised if Georgia Tech pulls out a narrow victory to take the inside track in the Coastal Division for 2012.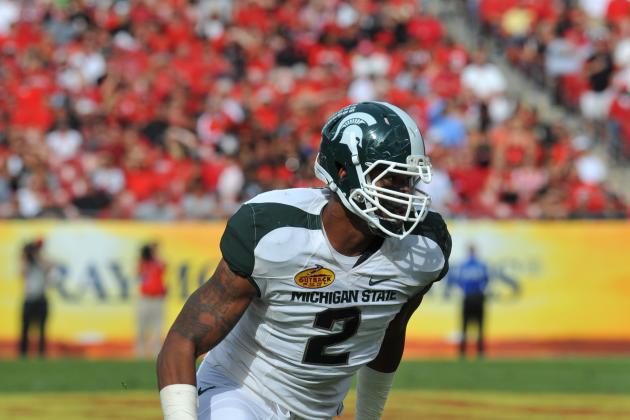 Al Messerschmidt/Getty Images

If you're looking for a game that's almost impossible to predict, you won't want to miss this first-ever meeting between Boise State and Michigan State.
The Spartans are coming off yet another 11-win season. Michigan State captured the Big Ten's Legends Division title last season and fell just short of a long-awaited Rose Bowl berth by losing to Wisconsin in the Big Ten championship game by three points.
MSU finished the season with a New Year's Day win over Georgia in the 2012 Outback Bowl.
Boise State similarly came up just short of a conference title in 2011, with the Broncos suffering their first home-conference loss since Thomas Jefferson was President.
Like MSU, Boise State went on to finish second in their conference and won the resulting bowl game.
Looking forward to 2012, both teams lose so much in terms of talent and on-field leadership, it's difficult to get a solid handle on how either squad will look come September.
A couple things we do know is that Michigan State has been impossible to beat at the very raucous Spartan Stadium in East Lansing (last home loss was November 21, 2009, against then-No. 14 Penn State), and Boise State has a reputation of knocking off top BCS-AQ programs on the road (Virginia Tech in 2009, Georgia in 2010).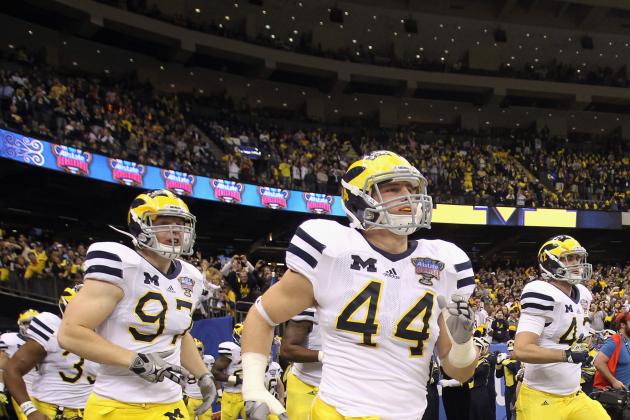 Matthew Stockman/Getty Images

Before the Alabama fanbase stages a nutty, we're not actually suggesting Michigan will beat the Crimson Tide. But we do give the Wolverines a much better chance of pulling off an upset than most SEC fans care to admit.
Like it or not, Michigan is a program on the rise. Not only that, but U-M seems to have hitched its wagon to a rocket, as Michigan posted a Sugar Bowl-winning record of 11-2 last season—a mark no one dared dream of back in August of 2011.
Brady Hoke clearly has the Maize and Blue thinking big again, and what better way to announce the return of Big Blue than a win over the defending BCS national champion on a neutral field to start the season?
That being said, Alabama is the defending champs, and the Tide will be prepared for any onslaught the Wolverines can manage. The Tide have some eye-popping talent lined up amongst the seven returning offensive starters, and the 2012 season will start with Alabama at or near the top in every major poll.
But Alabama's defense took quite a hit from graduations and NFL defections and returns just five starters from last season. While most SEC rosters carry nearly as much talent two-deep as the rest of the nation's starters, it takes more than raw talent to defend players like Denard Robinson.
Michigan will certainly be capable of putting up points on Alabama, and this game will finish too close for Tide fans to feel comfortable. Alabama has more to lose in this game than Michigan, and the Wolverines know it.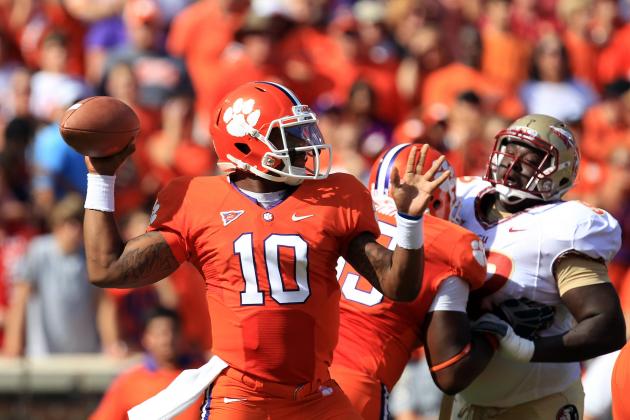 Streeter Lecka/Getty Images

The ACC-Atlantic may come down to one game in Week 4.
Last season's ACC champions, Clemson, will take on the likely preseason favorite in the conference, Florida State, on September 22, in Tallahassee.
Were it not for some untimely injuries, it's possible the Seminoles may have challenged the Tigers for a conference title last season, but Florida State finished 5-3 in the ACC—a game behind the Orange Bowl-bound Tigers.
Florida State is definitely looking for redemption, and this early opportunity to silence the nay-sayers will have Jimbo Fisher's team chomping at the bit.
Clemson, on the other hand, will need to stave off the conference championship hangover in a hurry if there's to be any chance of a repeat.
The problem for Clemson is lofty preseason expectations and championship hangovers have a way of really screwing up the Tigers. Will Dabo Swinney finally be able to shake the specter of "same old Clemson" by actually living up to expectations in 2012?
A trip to the ACC championship game will likely be on the line, so both teams will be fighting tooth-and-nail for every point.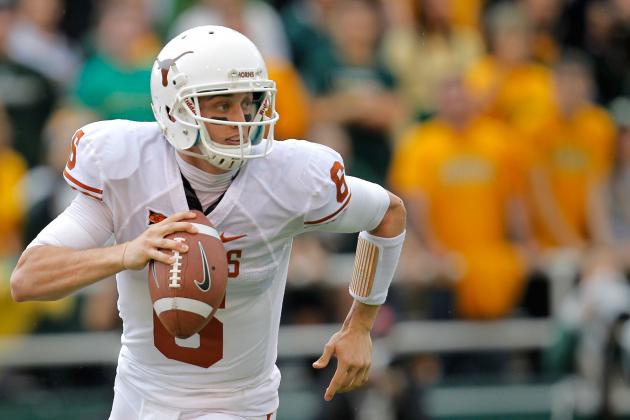 Sarah Glenn/Getty Images

It's been a while since TCU had a shot at Texas.
There have been 82 all-time meetings between the Horned Frogs and Longhorns, with Texas leading the series 61-20-1. The last meeting between the programs, in 2007, was won by the Longhorns, 34-13. The last conference meeting was way back in 1995, when the Longhorns again defeated TCU, 27-19, in the final hurrah for the Southwest Conference.
The biggest difference between then and now is that TCU is considered a emerging power while Texas has seemingly fallen on hard times.
The Longhorns have won just a paltry two conference titles in 14 seasons under Mack Brown. That record of conference championship-lessness will continue unless Brown can find a way to reverse recent trends.
TCU, on the other hand, will be only too happy to help keep those trophy cases in Austin empty.
With a bruised and battered Texas team facing an up-and-coming TCU squad with 13 returning starters, it's entirely possible this game will come down to one or two plays in the fourth quarter on November 24 at Darrell K. Royal Memorial Stadium.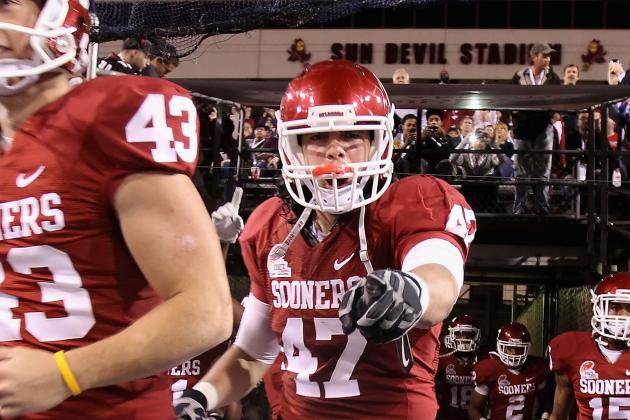 Christian Petersen/Getty Images

This game has all the makings of an instant classic between two classic college football powerhouses.
Notre Dame and Oklahoma will meet for just the 10th time, and Notre Dame holds a commanding 8-1 lead in the all-time series.
But for the 2012 matchup, the midseason, non-conference tilt will carry as much importance in terms of BCS rankings as any game these two teams play all season.
Oklahoma is looking to return to BCS glory after 2011's massive letdown. The preseason No. 1 Sooners stumbled against Texas Tech before losing to Baylor and Oklahoma State. Bob Stoops and company desperately need a return to the BCS to reaffirm their place among the nation's elite.
Notre Dame, on the other hand, probably hasn't been considered one of the elite teams in the nation for quite some time now.
Brian Kelly was hired expressly to remedy that situation. While it appears things have improved a bit in South Bend since the departure of Charlie Weis, Kelly's Fighting Irish look to be stuck in neutral with back-to-back 8-5 seasons over his first two seasons in command.
The BCS is the goal for both teams, and while Oklahoma has the ability to win out in the Big 12 to pave the BCS road, Notre Dame likely needs this win if there's to be any chance of a trip to Glendale, Miami, New Orleans or Pasadena.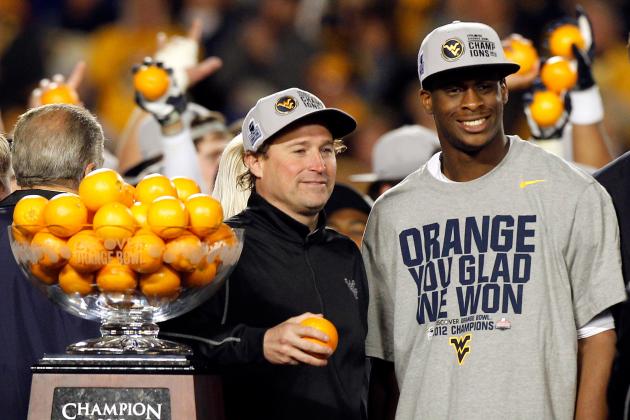 J. Meric/Getty Images

West Virginia may be new to the Big 12, but that doesn't mean the Mountaineers won't be able to compete for a conference championship right out of the gate.
Both West Virginia and Oklahoma have proficient offenses, and both teams can put up points in a hurry. Similarly, the defense for both teams seem to follow the Big 12 pattern of being suspect against the pass.
With this meeting occurring late in the season—Week 12—it could feature two top-10 teams with first place in the conference at stake.
It will also be an important game for West Virginia, as it could announce to the entire conference that the Mountaineers haven't been softened by years of substandard competition in the Big East.
For Oklahoma, a loss to WVU could easily derail any Big 12 title hopes and may signal the end of any BCS fantasies as well.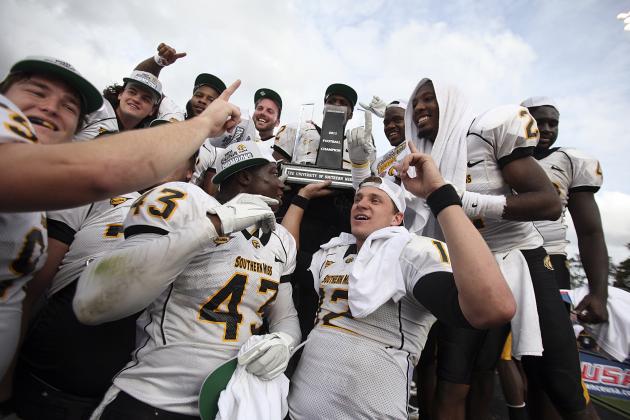 Bob Levey/Getty Images

Austin Davis had a great finish to his career as the Southern Mississippi quarterback. Who could imagine the Golden Eagles knocking off a top-10 Houston team in the Conference USA championship game last season to end any talk of the Cougars' inclusion in the BCS?
But as great as the moment was for Southern Miss, it's time to look to the future. And although Davis is gone, the Eagles return to the bulk of the skill position players on offense for their C-USA title defense.
On November 1, Southern Mississippi will make the trip to Dallas to take on a true up-and-comer in the conference—Southern Methodist.
After suffering through decades of futility, the Mustangs have finally found some sustained success, and SMU has now been to three straight bowl games after 20 straight seasons without a post-season berth.
SMU was even able to knock off Pittsburgh is the 2012 BBVA Compass Bowl.
These two cross-divisional foes have met just three times, with Southern Miss winning all three meetings by a combined 61 points.
But this is a dawn of a new era for SMU, and the long climb out of the abyss will take its next step with close, competitive games against the best teams in Conference USA.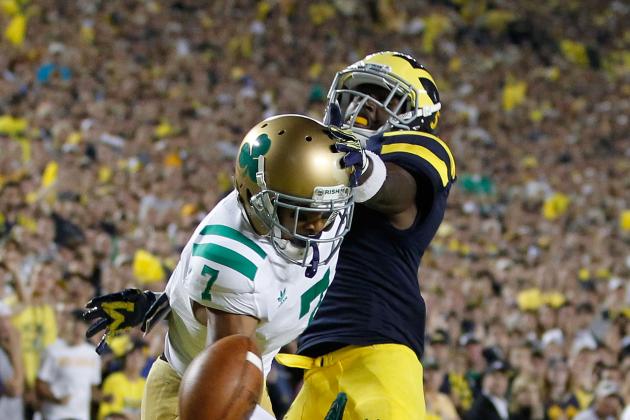 Gregory Shamus/Getty Images

The long history of the Michigan-Notre Dame series is filled with close nail-biters. Last season's installment was certainly a thrill-a-minute shoot-out that not only lived up to the pregame hype, but came down to one play in the final seconds.
As both teams continue their renaissance, you can bet that as the importance of this rivalry increases, so too will the competitiveness.
Each win could be a springboard to the BCS and a loss could be the difference between early January and late December.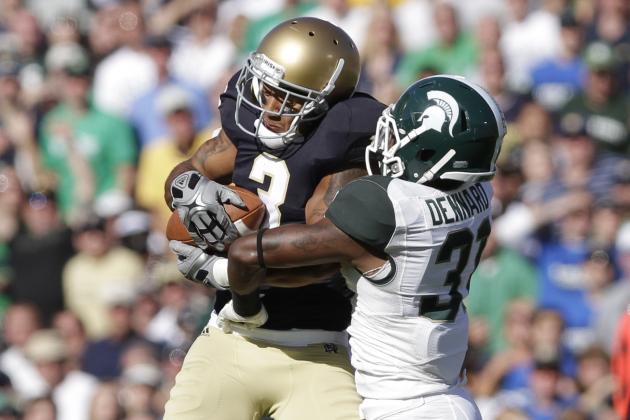 John Gress/Getty Images

Like the Michigan-Notre Dame series, the Notre Dame-MSU rivalry is filled with important games coming down to the final few plays.
Michigan State and Notre Dame have a tradition of close games, but the difference these days is the fact that both teams will usually enter the September showdown with high rankings and unbeaten records intact.
The three-way series between Michigan, Michigan State and Notre Dame shows what is right about college football. Michigan and Michigan State don't avoid Notre Dame simply because it is highly ranked and not a member of the Big Ten. Rather, on a yearly basis, Michigan and MSU throw caution to the wind and stake their season against a worthy opponent.
And every single year, the college football fan wins by being treated to close, entertaining contests.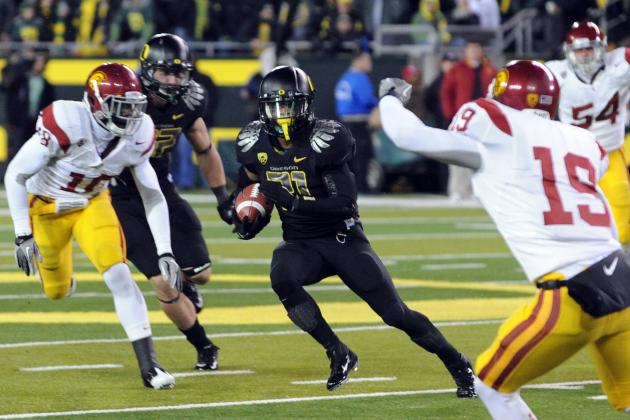 Steve Dykes/Getty Images

By Week 10, we should all have a pretty good idea as to where each team stands.
And you can bet, both USC and Oregon will likely be standing at or near the top of the BCS rankings.
These two Pac-12 powerhouses will undoubtedly begin 2012 with top-10 positions in every poll under the sun, and unless we've all be completely fooled, we should see these two teams maintain those lofty numbers into this November 3 showdown at the Coliseum in Los Angeles.
While this game may not decide anything within the Pac-12 (since both teams can conceivable make the conference title game, regardless of who wins), it's sure to have a huge impact on the BCS rankings.
USC is looking for a quick road to redemption, and Oregon will be trying to prove that it can still beat the best teams in the nation. With so much on the line, you can rest assured that both programs will bring their "A" game, and a national television audience will be treated to a true heavyweight fight.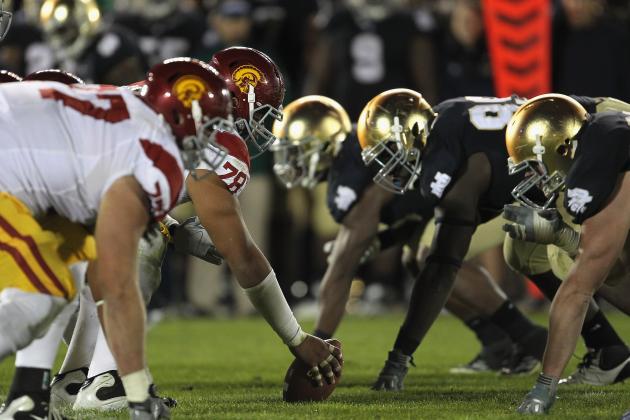 Jonathan Daniel/Getty Images

The Fighting Irish make yet another appearance on our list of close games for 2012 with their late-season grudge match.
When USC and Notre Dame tangle in November, it's obviously going to take place in L.A. (because heaven forbid, USC actually plays in cold weather for once), but it also means that the game could hold the key for both programs' bid to the BCS.
Notre Dame finally did away with that long losing streak to the Trojans back in 2010, only to be utterly humiliated at home last season.
Despite the professions of mutual respect, it's clear that these two teams do not like one another. After some controversial comments following the 2011 game, you can bet that Notre Dame will be out for revenge.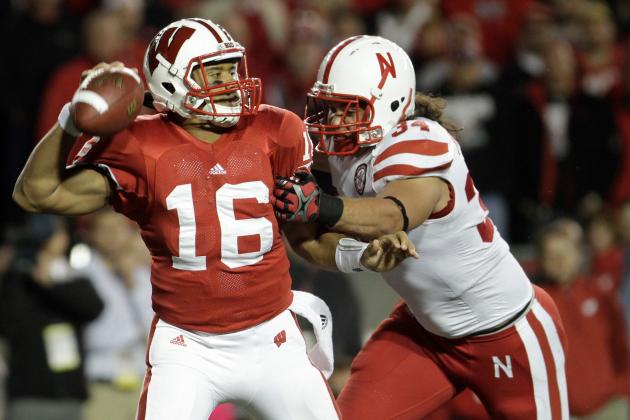 John Gress/Getty Images

Hopes were very high for Nebraska in its first Big Ten season last year.
Those hopes were dashed quickly when the Cornhuskers were thoroughly embarrassed in prime time at the hands of the Wisconsin Badgers.
After that opening setback, Nebraska never seemed to fully recover, and the Huskers finished a disappointing third in the Legends Division.
But in addition to the 16 returning starters for Bo Pelini, this season's game takes place in the hostile sea of red in Lincoln—a place that is every bit as difficult for opposing teams as Camp Randall.
And don't think for one moment that this Week 5 conference opener isn't already circled on the Cornhuskers' calendar. Why else would they make it the homecoming game?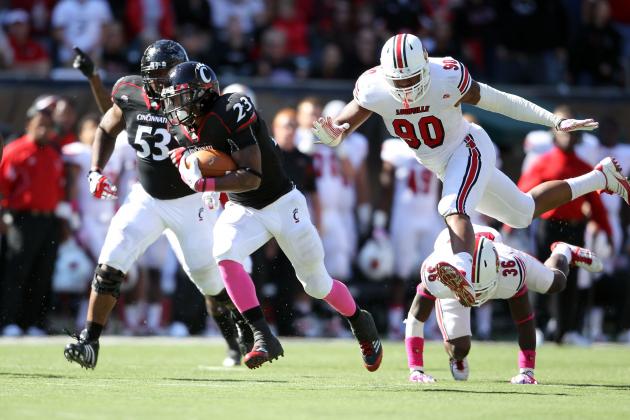 Andy Lyons/Getty Images

Time to face facts. The Big East has lost most of its credibility as a BCS automatic qualifying conference after the messy and public divorce with West Virginia.
When the Mountaineers left, they may have taken the Big East's last remaining hope of remaining nationally competitive with them.
But that doesn't mean there won't be any good games within the conference next season. Two teams who look to be capable of taking over center stage in the Big East are the two remaining conference co-champions from 2011—Louisville and Cincinnati.
The Cardinals probably have the inside track next season with 17 combined starters returning from last season, but Cincy has shows an ability to recruit some of the best payers from the northeastern Midwest.
The Bearcats won't be as hampered by the lack of offensive experience (just four returning starters) as some may think.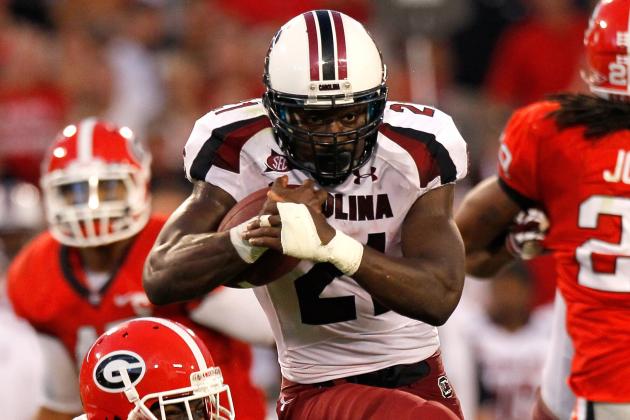 Kevin C. Cox/Getty Images

The SEC East is likely to come down to Georgia and South Carolina again this season, but unlike last year, there might actually be a chance for the East to finally shrug off the stigma of being the "JV" division in the conference.
Both USC and UGA will begin with lofty rankings, and the Week 6 meeting in Columbia will be the first real test for both programs.
The Bulldogs may be the highest-ranked team from the SEC East we've seen in a preseason poll in quite some time, and there's plenty of reason to be high on Georgia. The offense returns playmaker Aaron Murray at quarterback, and his list of favorite targets all return for 2012. But the real story behind the Bulldogs' 2012 conference title hopes is on defense.
With nine returning starters, the nation's No. 5 defense from last season is shaping up to be one of the country's best yet again.
But it's not all about Georgia. South Carolina has its own reason to get excited for 2012, and that reason is Marcus Lattimore.
After suffering a season-ending injury against Mississippi State, Lattimore's sophomore season was cut short just as he was hitting his stride. If he can come back at 100 percent in 2012, South Carolina will be the one team in the East Division that can challenge Georgia for a December trip to Atlanta.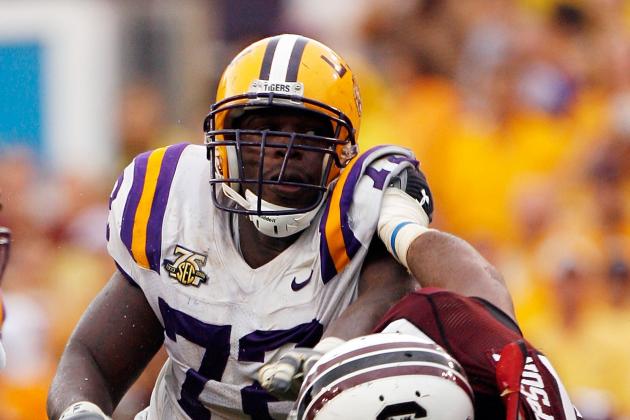 Chris Graythen/Getty Images

Looking back at 2011, South Carolina and LSU actually had pretty similar seasons. Both teams were just one game shy of achieving some stated goals, and both teams finished with that nagging, unfulfilled feeling like they had just purchased Facebook stock during its IPO.
Both teams will be returning a solid core of talent for 2012, and the October 13 meeting in Baton Rouge could be one of the best cross-divisional games in the conference all season long.
South Carolina and LSU will likely find themselves ranked pretty high come August (although LSU will admittedly be a bit higher than South Carolina), and both teams will have challenges to overcome before and after October 13.
But if previous big games in the SEC are any indication, make sure you watch this one all the way though, because it might not be decided until late in the fourth quarter—or even later.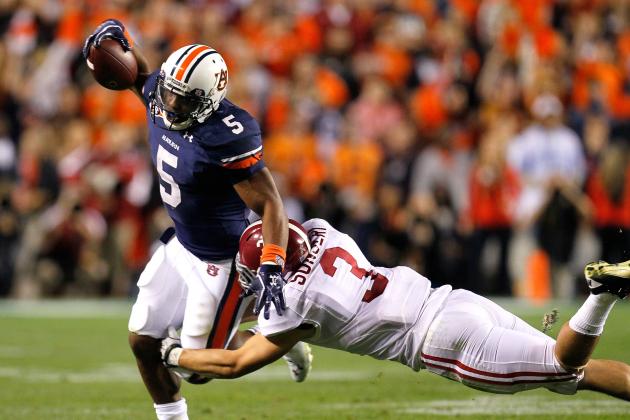 Kevin C. Cox/Getty Images

Say what you will about the SEC, no one can deny that Alabama-Auburn is one of the greatest rivalries in college football.
The Iron Bowl has taken on a new level of importance these past few seasons with the Crimson Tide and Tigers accounting for the last three BCS National Championship Game winners. Clearly, the importance of this game goes far beyond SEC-West standings.
Last season, Auburn finished with a 4-4 record in the SEC. As uninspiring as that is, we don't yet know if that was simply a blip on the radar or a sign of things to come.
One thing we do know is that Alabama will be an early favorite in the SEC, and any hope Auburn has will be closely tied to beating the Tide in the traditional season finale.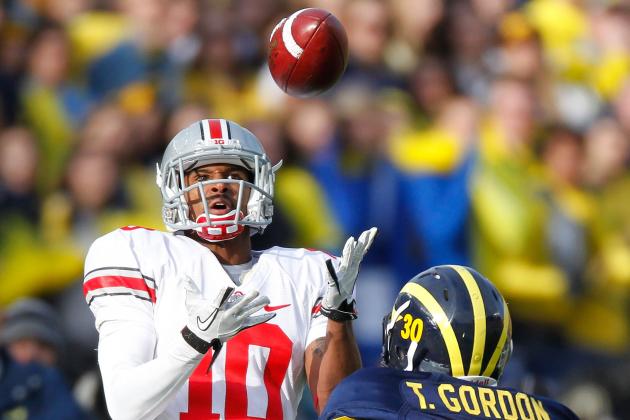 Gregory Shamus/Getty Images

Like the Iron Bowl, there are few games anywhere in the world of sport that approach the level of intensity and pure, unadulterated rivalry as Michigan-Ohio State.
The game between these two rivals is so heated, it's never been named—probably because you could never get someone from Ohio State to agree on something with someone from Michigan.
There's also no trophy for the winner, other than bragging rights.
The game also carries state pride with it, and Michiganders and Ohioans continue the tradition begun during the war "fought" between Ohio and the then-territory of Michigan.
Legendary Ohio State head coach Woody Hayes added fuel to the fire when he allegedly refused to stop to refuel his car on the way home from Ann Arbor until he crossed the state line because "I don't buy one [expletive] drop of gas in the state of Michigan. We'll coast and push this [expletive] car to the Ohio line before I give this state a nickel of my money!"
Hayes also referred to the University of Michigan as "that school up north," which lives on today with Ohio State fans referring to U-M as "TSUN." Similarly, current Michigan head coach Brady Hoke refers to Ohio State simply as "Ohio."
Michigan and Ohio State also feature one of the oldest college football rivalries. The 2012 game will be the 109th edition of the game, and the series is a close one: Michigan leads 58-43-6.
For lovers of great rivalries, 2012 may mark the beginning of a new era in this series. Both teams are now seen as "on the rise," and it's conceivable we'll be treated to a Michigan-Ohio State Big Ten championship game at some point (although the Buckeyes are ineligible this season due to NCAA sanctions).
There's no doubt Urban Meyer will have his team prepared to defend their home field against the invaders from Ann Arbor, and the college football world will once again be treated to a great game between a great Michigan team and great Ohio State team.
It's about time...
Kevin C. Cox/Getty Images

Is there anyone left who is not looking forward to this game in 2012?
After what transpired in 2011, the November 3 meeting between LSU and Alabama in Baton Rouge is sure to be one of the most anticipated games of the 2012 regular season.
OK, so the games themselves were actually pretty boring. But the consequences for each team in both of the games last season couldn't have been any bigger. It's entirely possible we'll see a similar situation again this year (although it's doubtful we'll ever see a BCS National Championship Game reprising a regular-season matchup after last season's snooze-fest).
Both LSU and Alabama return talent about which other program can only dream. Nick Saban and Les Miles are two of the very best in the history of the game, and hopefully, we'll be treated to these two giants slugging it out for years to come.
With so much talent and so much riding on the outcome, there can be no doubt that we'll see the very best each team has to offer in Week 10, and the result may be very similar to last season's November meeting.
Hopefully, it will be more fun to watch this year...