Florida State Football: Why Jimbo Fisher Must Lay Low on Conference Realignment
May 21, 2012

Al Messerschmidt/Getty Images
It is no longer a secret that numerous teams, mainly Florida State and Clemson, are interested in leaving the ACC to join the Big 12. Now, FSU head coach Jimbo Fisher has entered the tirade, but would be far better suited if he were to lay low and let his opinions go unheard.
It all began as speculation, which was attempted to be contained by Florida State's athletic director Randy Spetman. In response to the speculation that has been floating around in the media world for a couple weeks, Spetman told the Orlando Sentinel:
We're in the ACC. We're committed to the ACC. That's where our president and the board of trustees has committed to, so we're great partners in the ACC. The contract extension further strengthens the position of the ACC and each of our institutions in the college athletic landscape at a critical time. The additional revenue for each school will be significant as is the exposure for all our sports across the board.
The contract negotiations Spetman refers to is the newly signed contract between the schools, Atlantic Coastal Conference and ESPN—worth $17 million in television contracts per school, significantly less than what schools in the Big 12 gain.
Fisher later added his opinion of conference realignment and Florida State's possibility of leaving the ACC, as reported by Mike Bianchi of the Orlando Sentinel: "There have been no official talks, but I think you always have to look out there to see what's best for Florida State. If that [jumping to the Big 12] is what's best for Florida State, then that's what we need to do."
Although Fisher's comments seem innocent enough, it was all about the timing. Immediately after the athletic director expressed his strong inclination that the school was not exploring other opportunities, the head coach implies the opposite. In a battle between athletic director and coach, the director always wins.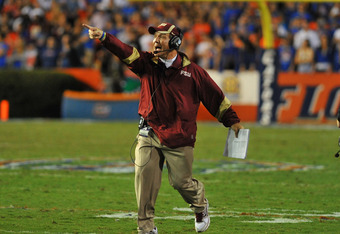 Al Messerschmidt/Getty Images
A day after expressing his opinion, Fisher told Sports Illustrated's Andy Staples, "I'm not a decision-maker."
Normally, this is exactly what you would want to see. Fisher was out of line in his statements after Spetman put any speculation to doubt, so he publicly stated he is not the one to consult by saying he is not a decision-maker in the matter. Unfortunately, there was a second part to this discussion. Staples later posted to his Twitter:
As I pointed out to Fisher after he said that "I'm not a decision-maker" quote, he is a decision influencer. He laughed.

— Andy Staples (@Andy_Staples) May 14, 2012
It seems as if Coach Fisher is not taking this as seriously as he should. Undermining your boss and publicly making it a laughing matter are hardly what you want to see your program's leader do.
Besides the poor media performance by Fisher, there is another reason he should be quiet about the speculation.
Moving to the Big 12 or another conference could be troublesome for Florida State, which has failed to find much success in the ACC. After all, from a monetary standpoint, there is not much to think about. The Big 12 pays more and will continue to do so for many years to come. However, with that money comes much tougher competition. Where the program currently stands, it would be a hurdle to tough to overcome in the near future—especially since it would also find more competition in recruitment.
When a high-profile coach such as Fisher states his interest in moving conferences, everyone listens and certain people make it at least possibility.
When it is all said and done, there is just one lesson to be learned: Let your boss do the talking, and just coach. Because of his outspoken behavior, the story has become the story of college football. With the season just months away, a conference realignment is the last thing a Florida State's coach should have on his mind.