Michigan Football: 5 Ways Denard Robinson Still Needs to Improve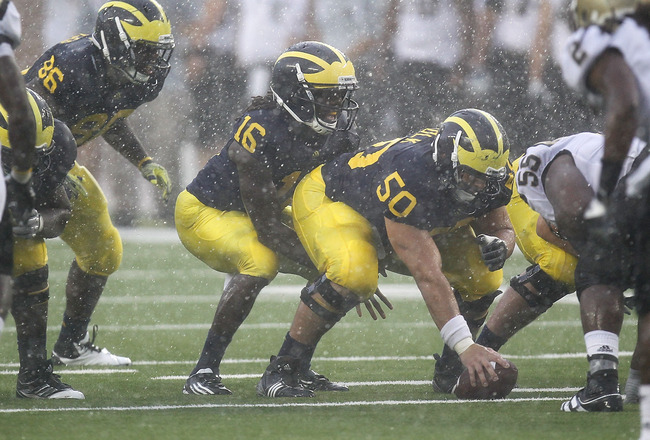 Gregory Shamus/Getty Images
Critics aside, Denard Robinson fared fairly well towards the end of last season. In his last three outings, Robinson accounted for 11 touchdowns, ran for 266 yards and completed 60.7 percent of his passes.
Those are decent numbers, considering they came against the likes of Nebraska, Ohio State and Virginia Tech.
But "Shoelace" has bigger fish to fry. In addition to pointing Michigan towards its first Big Ten championship since 2004, he's also planning on an NFL career.
"If he can take the next step as a passer, there will be a team that will tailor an offense to his skill level, just like the Denver Broncos did with Tim Tebow," offensive coordinator Al Borges told Sports Illustrated. "But Denard's got to improve in the passing game and he knows that."
With Robinson at quarterback, the Wolverines could indeed compete for the Legends and Big Ten titles.
To make a title run, Michigan must solve puzzles in both interior lines and in the receiving corps. Robinson must show marked improvement in a few critical areas.
Let's follow along on how Robinson might progress:
Mechanics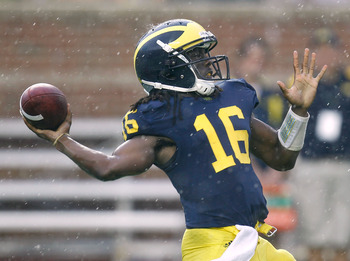 Gregory Shamus/Getty Images
There's normally a reason for acquiring bad habits.
Denard Robinson most likely acquired his habit of throwing off-balance from fear. And it most likely happened because the offensive line in 2009 and 2010 spent much of its time in Robinson's lap. Kidding aside, it's hard to follow through on your passes when you're about to get crushed by Jerel Worthy or William Gholston. The bad habit also comes from cracking your throwing hand against an enemy helmet too many times.
Robinson's passing motion has been a major topic since the conclusion of the 2011 season. The coaching staff knows how valuable it would be if the Heisman Trophy candidate put up numbers closer to those of 2010, when Robinson completed 62.5 percent of his passes for 2,570 yards and 18 touchdowns.
Coach Borges is satisfied with the progress thus far, and Robinson has all summer to continue his improvement.
"We should see it with the timing of his throws and him having a better grasp of route structures, audibles and protection checks," Borges told Sports Illustrated. "He'll also improve with decision-making, knowing when to throw it away and when not to run. And if he can get better with his footwork issues in the pocket, it should reduce interception and increase his completion percentage."
Progressions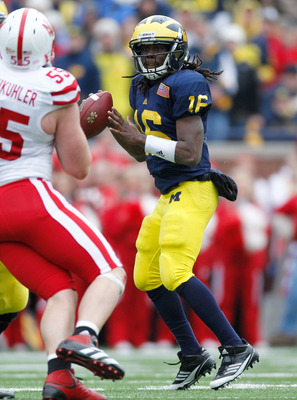 Gregory Shamus/Getty Images
With so many options in the Michigan offense, you'd wonder why Michigan wanted more.
The new options basically come from Robinson's need to do a better job with reading defenses and going through progressions.
Specifically, Robinson will have a primary receiver, secondary receiver and most likely a running-back outlet. He'll visually scan across the field to arrive at his target.
Allowing yourself the patience (and time) to do this isn't learned overnight.
Robinson talked about the difference from one year to the next. "It's like a day-and-night feeling," Robinson said. "It's a big difference because you've been in the offense a year, it's a year under your belt, you're used to everything.
"Last spring, we were doing a lot of learning. This spring, we're on the run now, the pace is coming faster."
Finding Comfort in the Pocket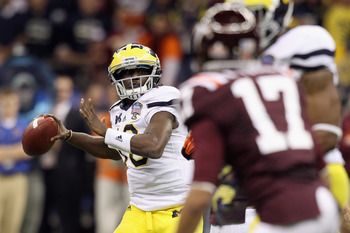 Matthew Stockman/Getty Images
As Michigan attempts to transition towards a pro-style attack, Denard Robinson will be throwing more from the pocket.
Acquiring confidence in the pocket comes from the following:
First, Robinson must be confident in his line sealing the front and his backs picking up blitzes;
Second, he must be able to see the field, despite the fact he's barely 6'0";
Third, not only is he a senior, his line should be improved, especially if Ricky Barnum can nail down the center position;
Fourth, another year in Al Borges' offense should help immeasurably;
Fifth, Denard's internal clock will let him know it's time to get the heck out.
Decision Making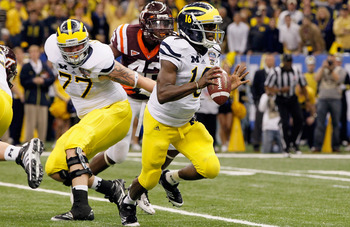 Throwing on the run
Kevin C. Cox/Getty Images
Let's not forget, Denard faces several decisions on any given play, especially when running the read-option attack.
First, he must identify the defense and decide whether the play called from the bench is the correct one;
Second, assuming it is a read-option play, he must decide on handing it to the running back or keeping it himself;
Third, then he decides to run toward the assigned hole or proceed to the next option, a potential pass;
Fourth, he now can find the correct receiver or tuck the ball away and run—that is, if he doesn't get sacked in the process.
This is a lot to think about, especially for a young quarterback. During these two years as a starter, Robinson has handled parts one through three without a flaw—it's part four that's become somewhat of a problem. Not only does the passing game trouble Robinson when he's on the run, it's difficult when he throws from the pro-set as well.
Leadership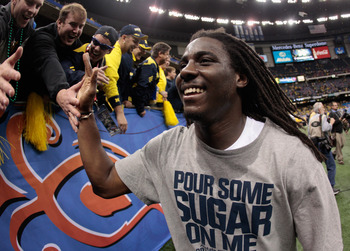 Denard's familiar smile after the Sugar Bowl
Chris Graythen/Getty Images
Denard Robinson is a born leader. With his infectious smile, he is well-liked and respected. His work ethic has added to that.
Asking more of Robinson seems like a bit of a stretch, but now he's a senior, and with that comes additional responsibilities.
Robinson has already encouraged his teammates to take part in voluntary drills, and he has recently become more vocal.
"I wasn't an outspoken person, didn't do a lot of yelling, telling people or patting them on the butt, stuff like that. That's one of the things I need to start doing, and that's what I'm taking on this spring," Robinson told ESPN.
"At practice I've been doing pretty well at it—talking to people, telling them what they need to do."
Offensive tackle Taylor Lewan has offered an excellent perspective.
"Denard doesn't need to stop smiling to be a leader," Lewan told the Detroit News. "He's doing a great job of controlling the offense and controlling the huddle. When he's around, he demands people listen. The way he walks and talks now, he's doing a great job."
Keep Reading

Michigan Wolverines Football: Like this team?