The 20 Best Hands in College Football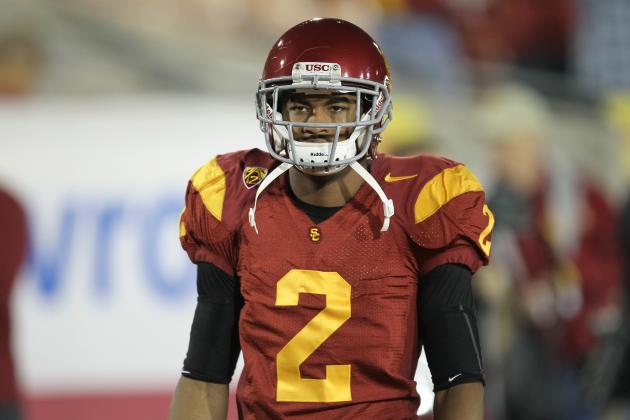 Stephen Dunn/Getty Images

Every year it seems as if the college football wide receiver talent pool takes a massive hit with graduations and early exits to the NFL.
But every season that pool is replenished by a new crop of amazing receivers ready to make their own mark on the game.
Over the years, wide receivers have become an increasingly important aspect of any top offense in the nation, and you can be sure that 2012 will be no different. Here are 20 receivers we believe will showcase their amazing abilities this season with the best hands in college football.
Begin Slideshow

»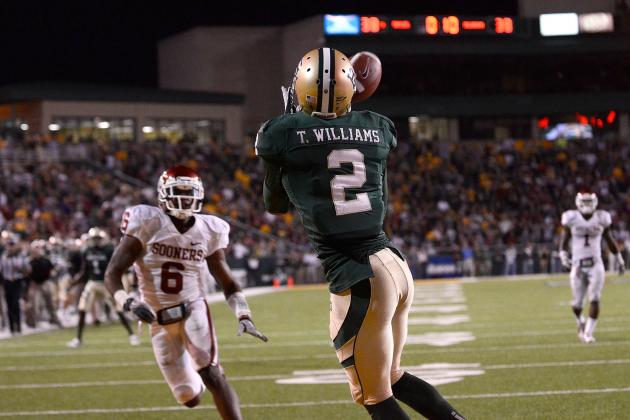 Sarah Glenn/Getty Images

We start our countdown with Baylor's Terrance Williams.
Last season, Williams finished just shy of the 1,000-yard receiving mark with 59 catches for 957 yards. He also accounted for 11 receiving touchdowns during one of the most successful seasons in Baylor football history.
While Williams' sure-handedness was a clear benefit to the Bears, it's going to be interesting to see him perform without the passes being thrown by departed Heisman Trophy winner Robert Griffin III.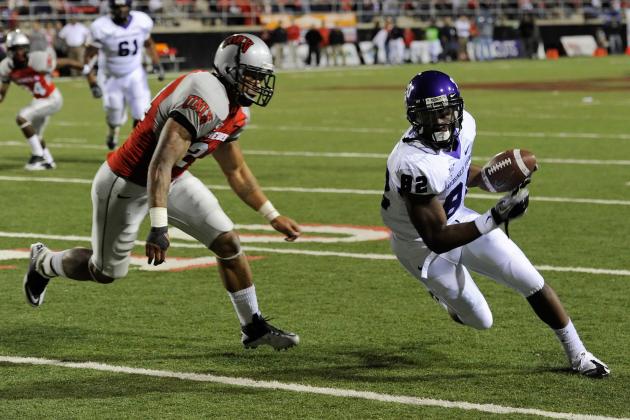 Ethan Miller/Getty Images

The next selection on our list of 20 best hands is TCU's Josh Boyce.
The Horned Frogs are moving up in class this season with their move to the Big 12, and TCU will need Boyce to have a monster year in the pass-happy conference if there's to be any talk of a conference championship run.
There are a number of players on our list who fell just shy of 1,000 yards last season, but Boyce missed the mark by just six measly feet.
With 998 yards on 61 receptions and nine touchdowns, you can be sure that Boyce will figure heavily into any passing attack put together by the TCU coaching staff for 2012.
Ed Zurga/Getty Images

With all of the excitement in Norman about the return of Landry Jones, it's easy to forget that Jones will need some quality receivers to catch his passes.
Returning junior receiver Kenny Stills is one such quality ball-catcher.
Stills hauled in 61 passes in 11 games last season for the Sooners, and averages over 77 yards per game.
He also added eight touchdowns to his 849 receiving yards to turn in a very solid underclassman performance.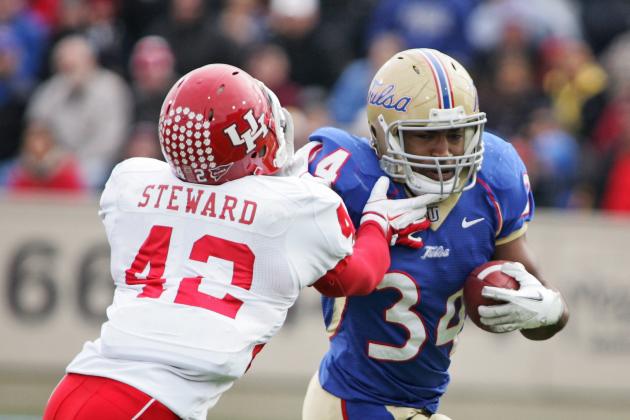 Brett Deering/Getty Images

Our first receiver from a BCS non-automatic qualifying program is Tulsa's Willie Carter.
Despite escaping the recruiting radar of the "big time" programs, Carter has proven to be a reliable receiver for the Golden Hurricane, and an indispensable component to their offense.
Last season, Carter had 868 receiving yards in just 11 games, averaging almost 79 yards per game.
Carter, a senior for 2012, will be a key on-field leader for the Hurricane, and his ability to haul in the critical pass on third down could be the difference between bowling or not for Tulsa.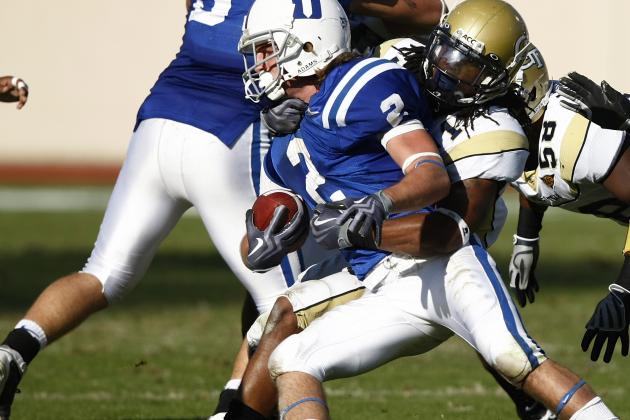 Joe Robbins/Getty Images

It's not often football players at Duke get much limelight, but Conner Vernon is certainly one who is deserving.
Vernon had 70 receptions for 956 yards and six touchdowns in 2011, and he's looking to break the 1,000-yard mark during his senior campaign in 2012.
Vernon possesses that killer instinct on the field, and has the much-desired ability to play up to the level of the competition.
Last season, Vernon averaged 75.8 yards per game against unranked opponents, but 91.3 yards against teams that were ranked in the AP Poll.
Vernon's output is also a direct reflection of how well the Blue Devils do on any given Saturday, as he averages over 100 yards per game in victories, but fewer than 70 in losses.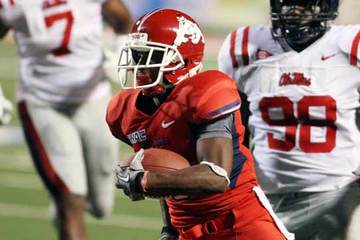 (Photo: AP)
Fresno State may not get a ton of national attention, but if you're a fan of big-play receivers, you need to start paying attention to Jalen Saunders.
Apparently Bob Stoops was.
This junior had a tremendous sophomore season in 2011, where his average reception went for 21.3 yards.
Saunders accounted for 1,065 yards and 12 touchdowns, all with just 50 receptions.
As he matures, you can bet he'll see the ball thrown his way much more often. And then his stats will really start to explode.
And he'll have ample opportunity to do so, now that he's transferred to Oklahoma.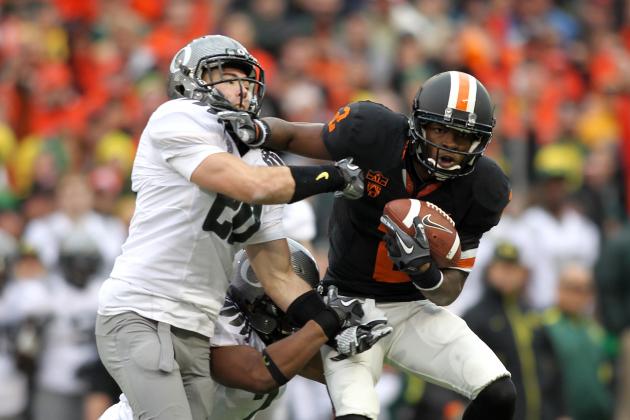 Jonathan Ferrey/Getty Images

Back for his senior season as a Beaver is Markus Wheaton.
Wheaton appeared in all 12 games for Oregon State last season, and was the recipient of 73 passes accounting for 986 yards.
While averaging over 82 yards per game and gaining better than 13.5 yards per reception, Wheaton only scored one receiving touchdown all season.
Wheaton will need to make a quantum leap in scoring ability during his final year in the black and orange if the Beavers are to make any kind of improvement in the win column in 2012.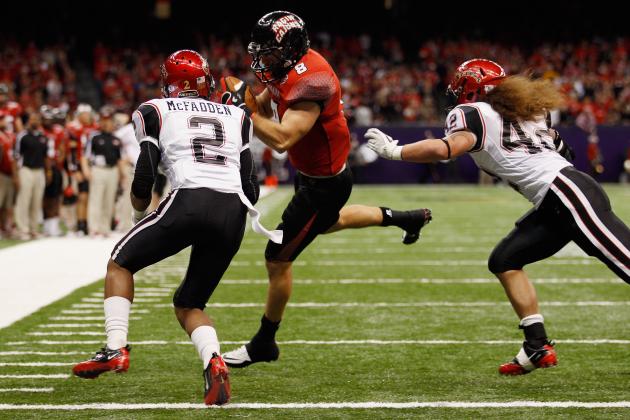 Chris Graythen/Getty Images

One of the nice surprises from 2011 was the impressive performance put on by the Ragin' Cajuns.
Not only did first year head coach Mark Hudspeth lead the team to a 9-4 finish, ULL was invited to the program's first-ever bowl game—a win over San Diego State in the New Orleans Bowl.
A big reason for that success was the performance of players like Javone Lawson.
Lawson cracked the 1,000-yard mark in receiving during his junior season, with 1,092 yards and eight touchdowns for the Cajuns.
If Lawson can hold par during his senior season, you can expect Lafayette to find its way into yet another bowl game. If Lawson can improve—even slightly—however, you may begin to hear rumblings of a Sun Belt championship contender in this once-maligned team from the University of Louisiana.
Ronald Martinez/Getty Images

Southern Methodist University once had a proud football tradition.
It turned out that the tradition was built on deceit, pay checks, rule-breaking, and outright lies.
Ever since the infamous death penalty years, SMU football has been the punchline in a very unfunny joke, suffering through two decades of futility against any and all comers.
Finally, at long last, the Mustangs seem to be waking from their long nightmare, and it's players like Darius Johnson who are making positive things happen for SMU.
Johnson had 1,118 receiving yards as a junior in 2011, and eight of his 79 receptions were hauled in for touchdowns.
Johnson is a new generation of excellent football players for SMU, and his on-field abilities will be remembered years from now as the beginning of the renaissance for SMU football.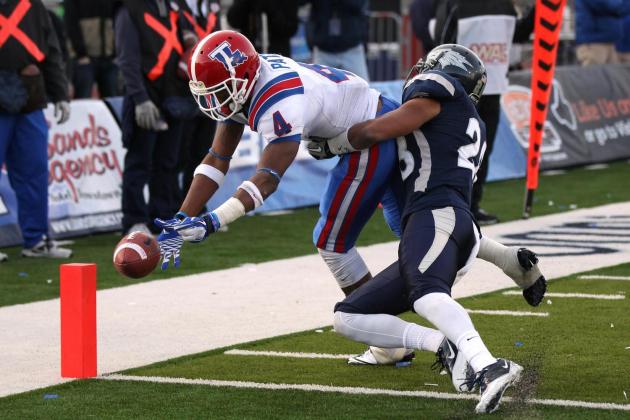 (Photo: AP)
The first player on our list to break the 1,200-yard mark is Louisiana Tech's Quinton Patton.
As a junior in 2011, Patton had 78 receptions for 1,202 yards and 11 touchdowns to emerge as the Bulldogs' top receiver.
Patton averaged 92.5 yards per game, and over 15.4 yards per reception for a Louisiana Tech team that was not only surprisingly good last season, but a few plays away from beating such well-known and respected programs like Mississippi State and TCU.
With some of the up-and-comers appearing around the state of Louisiana, it may not be too long before LSU finally has some in-state competition.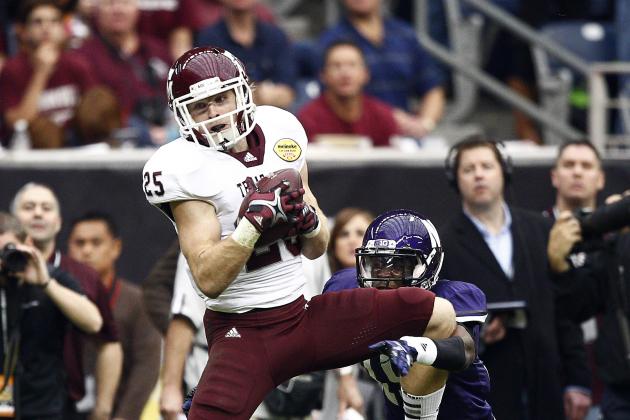 Bob Levey/Getty Images

As the Aggies move to the SEC this season, they're going to need all hands on deck if they stand any chance of surviving their first foray into the fire.
A key component to A&M's chances will be senior wide out Ryan Swope.
As a junior in 2011, Swope had 1,207 receiving yards and 11 touchdowns while averaging just shy of 93 yards per game.
Swope also showed his ability to rise to the occasion in Texas A&M's five games last season against AP-ranked opponents, where he averaged 122 yards per game.
Texas A&M will certainly be playing quite a few ranked opponents in the SEC-West this season, and Swope will need to continue his trend of stellar performances against ranked opponents.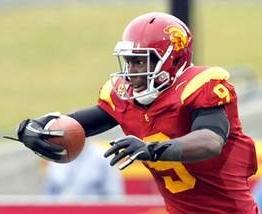 (Photo: AP)
There were few freshmen in the nation that had a better 2011 than USC's Marquise Lee.
In fact, there were few receivers of any class that had a better season, as Lee put up impressive numbers, including 1,143 yards and 11 touchdowns.
With senior quarterback Matt Barkley returning for the Trojans, Lee's sophomore season has nothing but upside, and Lee may feature in any USC run to the Pac-12 Championship Game in 2012.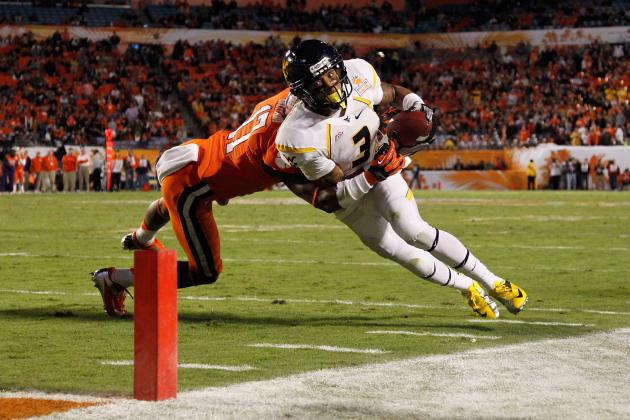 Mike Ehrmann/Getty Images

Stedman Bailey was one of the nation's top receivers in 2011, hauling in 72 receptions for 1,279 yards in his sophomore season.
Bailey was also responsible for 12 touchdowns in West Virginia's Big East co-championship and Orange Bowl victory.
As the Mountaineers will see tougher competition this season having moved to the Big 12, every point becomes that much more important in the pass-happy conference. Bailey will need to continue his trend upward in yards and touchdowns to give West Virginia a much-needed edge against the big boys of the Big 12.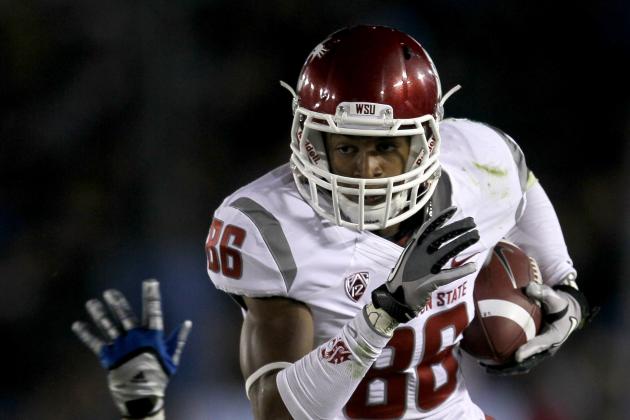 Stephen Dunn/Getty Images

Washington State fans haven't had too much to cheer about over the past few seasons, but the horizon is beginning to brighten in Pullman.
Not only are the Cougars under new leadership with the hiring of Mike Leach as head coach, but Leach will have a decent amount of talent returning in 2012.
Returning junior wide receiver Marquess Wilson is clearly a wide receiver with some of the best hands around, and those hands collected 82 receptions for Washington State in 2011.
Those 82 receptions accounted for a whopping 1,388 yards and 12 touchdowns.
While Wilson's exploits are certainly noteworthy, he's going to need some help from his teammates if the Cougars are to find any lasting success in the Pac-12. But having someone like Wilson—and his sticky hands—is a big help.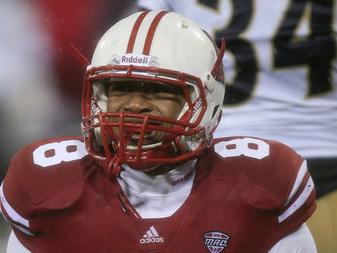 (Photo: AP)
The Mid-American Conference isn't really known for its high level of football, and teams from the MAC are frequently steamrolled by their BCS-AQ counterparts.
But if there's one thing the MAC does well, it's throw and catch the football.
Last season saw several MAC teams break 60 points on multiple occasions, and back-and-forth shootout fans will certainly enjoy the brand of football that's becoming commonplace in the conference.
Miami's Nick Harwell was just one of several receivers with monster numbers last season. Harwell, in fact, was second in the nation in average receiving yards per game with 129.5. The Redhawks only finished 4-8 last season, and Harwell appeared in only 11 games, yet he had a whopping 1.425 yards receiving, hauling in almost nine receptions per game.
Only Western Michigan's senior wide receiver Jordan White had more yards per game last season (an eye-popping 147.0), and only four players had bigger raw yardage numbers than Harwell.
All of 2011's receiving leaders with more yards than Harwell have either graduated or opted for an early start to their pro careers, so Harwell—only a junior in 2012—enters the season as the nation's top returning receiver...at least in terms of raw statistics.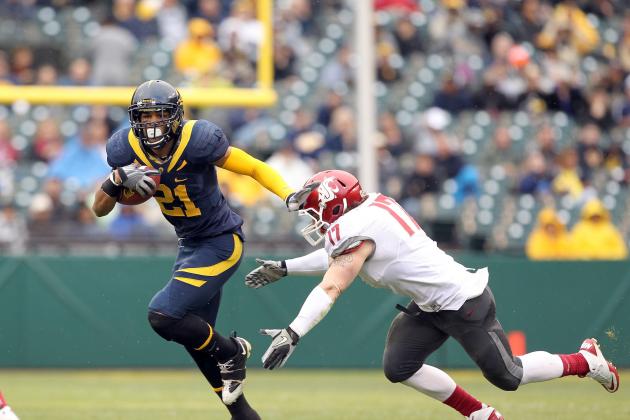 Ezra Shaw/Getty Images

Keenan Allen is one of only 12 FBS players to break 1,300 yards receiving in 2011, and he's just one of four who will return for 2012.
Allen was ninth in the nation last season with 1,343 yards, as he was just two receptions shy of 100 for the year.
Allen also averaged 103.3 yards per game while contributing six touchdowns for the Golden Bears.
The Pac-12 isn't particularly known as a "no defense" league, so any player who can break the 100 yards per game mark in receiving is a special receiver (only four Pac-12 players broke the century mark for average receiving yards last season).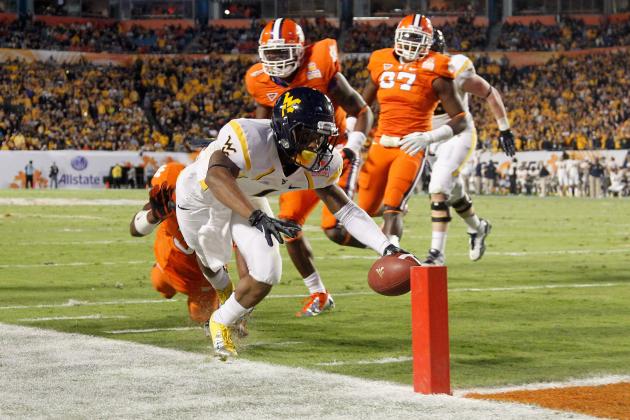 Mike Ehrmann/Getty Images

West Virginia's Tavon Austin has emerged as the favorite target for quarterback Geno Smith, and with the Mountaineers messy divorce from the Big East now final and the nuptials now complete with the Big 12, you can rest assured there will be no shortage of "Geno-to-Austin" combos in 2012.
Last season, Austin hauled in 101 receptions for 1,186 yards and eight touchdowns. Austin also showed an amazing ability to fly past the opposing secondary of WVU's ranked opponents, averaging over 145 yards per game in those three outings.
West Virginia will see quite a few more ranked teams in 2012 while navigating the choppy waters of the Big 12, and the Mountaineers will need more big games against big opponents if there's to be any hope of a conference title in their inaugural Big 12 season.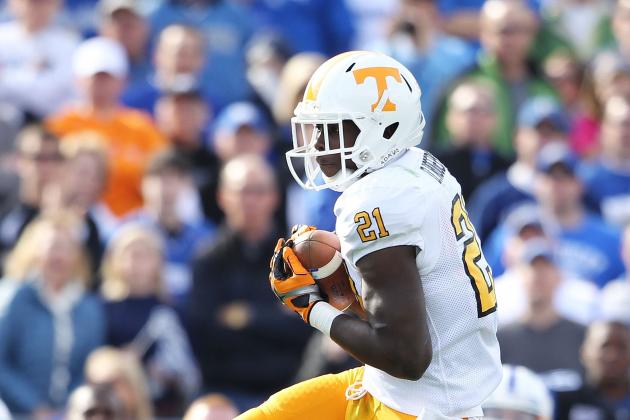 Andy Lyons/Getty Images

There aren't many things going right for Tennessee these days, but Da'Rick Rogers is definitely breaking out of that stereotype.
The Volunteers suffered through yet another embarrassing season in the SEC last year, posting a laughable 1-7 conference mark en route to a bowl-less 5-7 overall finish.
Among the bright spots for the Vols was Rogers, as 1,040 receiving yards as a sophomore is hopefully a sign of things to come.
With nine touchdown receptions and an average of nearly 87 yards per game against easily some of the toughest defenses in the nation, continued growth from Rogers could be just the thing Tennessee needs to break out of the doldrums.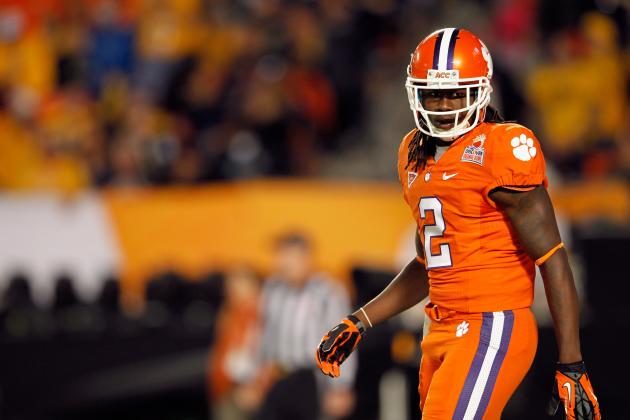 Mike Ehrmann/Getty Images

A team like Clemson doesn't emerge from the long list of unranked teams to conference championships and BCS invitations without some spectacular play from unexpected places.
That's exactly what Sammy Watkins provided for the Tigers in 2011, as this talented freshman torched defenses for 1,225 yards and 12 touchdowns.
With Watkins hauling in passes for Clemson, the Tigers went from an ACC also-ran last season to a preseason favorite in 2012, and rumblings about a return to the BCS aren't completely out of line for any team with Watkins lining up at wide out.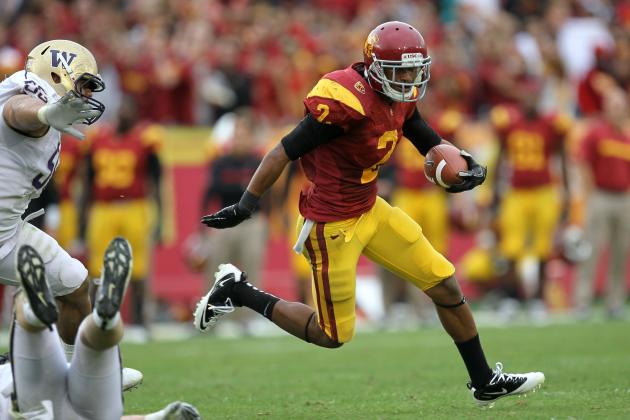 Stephen Dunn/Getty Images

Robert Woods had a spectacular sophomore season for the USC Trojans in 2011, and with his gunslinger of a quarterback, Matt Barkley, back for his senior season, you can bet that we'll see a lot of Woods come the fall.
The Trojans are topping a lot of very early lists for national championship contention, and with Woods greedily hauling in passes from Barkley, it's not too hard to figure out why.
USC is hungry, coming off of two seasons of NCAA-imposed sanctions, which included a postseason ban. Every player will be as focused as any team in the nation, and it's clear that it's "championship or bust" for the Trojans in 2012.
Even a modest improvement in Woods's numbers will go a long way to making a Pac-12 championship—and maybe even a BCS National Championship—a reality.
Because of his ability to break open a game instantly, and his position to have a major impact on the makeup of the BCS come winter, we're putting USC's Robert Woods at the top of our list of best hands in college football.