College Football: Concussions Have More Than One Side as Players Try to Cope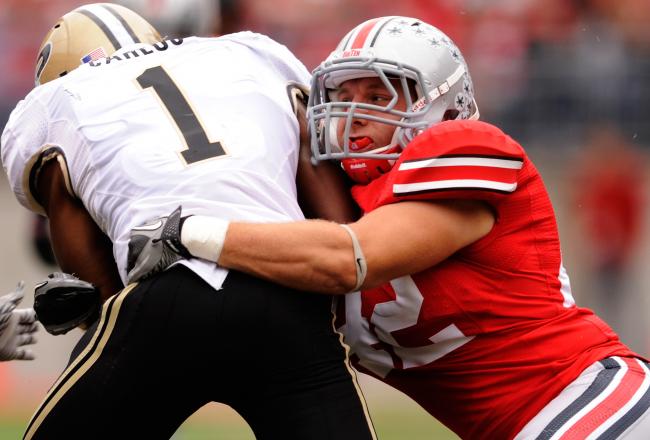 Jamie Sabau/Getty Images
Aside from the battle over the playoff, concussions and brain safety are the most pressing topic in college football circles. We've touched on improving safety and the importance of looking beyond just the big hits to view the game's inherent dangers. Jim Mora offered some thoughts on how he handles concussions and measures he would like to see implemented to protect athletes.
Recently, two unrelated cases have come up that speak to just how complicated the human brain is when it comes to handling concussions. Andrew Sweat, a former Buckeyes linebacker, recently elected to pass on his shot as a free agent in the NFL, due to battling concussions. Meanwhile, Chris Owusu, a former Stanford receiver, is trying to look past the concussions to make the most of the same opportunity.
Sweat, who is hanging football up to pursue law school, speaks quite candidly about his struggles with the head injuries. Owusu, who saw his draft stock drop because of the highly visible struggle he had with concussions, does all he can to distance himself from being associated with brain trauma. Both of these approaches make sense. Sweat's done with the game and is hoping to shed some light on concussions through his own personal experiences. Owusu is trying to get a job, the last thing he needs is the concussion tag floating around his name.
Chris Owusu sounds a lot more like the current players. The concussions happen, he gets cleared and he keeps it moving. Sweat is having the discussion that more people need to hear. His final on-field concussion against Purdue was quite serious. Not because he took a massive hit like Owusu, but rather because it was second impact syndrome. His symptoms were serious but the scariest part about second impact syndrome is that it has proved to be fatal in younger athletes.
Good for Sweat, who looked at his life and realized that walking the fine line between tough and smart was not for him anymore. It is a dangerous game and as Sweat proclaims, "concussions are real." Sweat's story speaks to the dangers of football on more than just the big hits in games scale. As Mora mentioned, in-practice monitoring of head injuries and proper reporting and observation have to be improved to protect players. Even if the protection is from themselves.
Let's hope the best for Owusu. The young man has been cleared but that does not mean he is out of the woods. His deflection of the issue is one of self-preservation more than anything. While some would like the young man to speak out, like Sweat, the fact is he has a career to think about and being an advocate does not factor well into that plan. The young man knows the risk he's running and we can only hope that he is monitored, observed and avoids further issues.
There are multiple facets to the concussion issue. Former players, like Sweat, help outline a blueprint of where things go wrong and how damaging the brain injuries can be. This information must be used by coaches, athletic trainers and doctors to protect current players, like Owusu, from the damage that they can do to themselves.
This article is
What is the duplicate article?
Why is this article offensive?
Where is this article plagiarized from?
Why is this article poorly edited?