Nebraska Football: Which Former Husker Will Have the Best Rookie NFL Season?
May 16, 2012

Al Messerschmidt/Getty Images
The Nebraska Cornhuskers had four players who were drafted into the NFL following the 2011 season, and several others who were awarded free-agent contracts. Among them, who will have the best rookie season in 2012?
By my estimation, there are only five to seven players worth mentioning in terms of possible rookie impact, and of those, just three are serious contenders to stand out as a rookie.
Those three players—Lavonte David, Jared Crick and Alfonzo Dennard—were spread throughout the seven-round draft, but all three could have very similar impacts on their respective teams.
Lavonte David
The smart, easy pick on the surface would be Lavonte David, who was drafted in the second round (two rounds earlier than Crick and five earlier than Dennard) by the Tampa Bay Buccaneers.
Though some have foolishly considered David a career backup linebacker or a safety based on his size, the 6'1", 233-pounder has the skills to develop into a stellar outside 'backer in a 4-3 defensive system. What he lacks in size he makes up for in speed, instincts and toughness, and he is just the type of player needed by the defensively challenged Bucs.
Even more intriguing is David's weight gain since his junior year. Though his relatively small size was the sole reason the gifted playmaker was pushed out of the first round, he has gained more than 20 pounds since first stepping on campus as a junior without losing a step. If he can continue to add muscle, he could end up playing at an ideal weight anyway.
Tampa Bay had one of the worst defenses in the NFL last season, so David could immediately challenge for a starting position.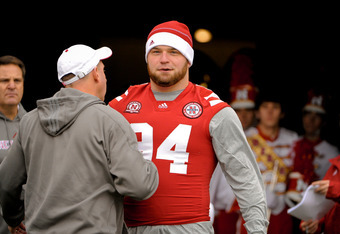 Eric Francis/Getty Images
Jared Crick
Considered a first-round prospect at one point in his career, a pectoral muscle tear sadly ended Crick's senior season and his stock steadily dropped. He was eventually robbed in the fourth round by the Houston Texans, a team with which Crick could thrive.
Though he played defensive tackle for Nebraska, Crick might be more suited to play defensive end in a 3-4 system. His size is very similar to rookie standout J.J. Watt, who had a monstrous year with the Texans at that position.
Crick would have to beat out either Watt or veteran Antonio Smith to start, and while that isn't going to happen, it is likely Crick will see significant time in a two-deep rotation along with Smith and/or Watt.
Crick showed his potential for domination in college, and he could prove to be a major steal next season as a key rotational player in one of the best defenses the NFL has to offer.
Alfonzo Dennard
It's hard to believe that many Husker fans were expecting to have three first-round picks following the 2011 season, but Dennard was rated higher than either Crick or David for some time until he had a slow start to the season due to a preseason injury.
Dennard's stock hovered in between the first and third rounds throughout the season, dropped to the fourth after he was ejected from the Capital One Bowl for fighting, and then plummeted to the late rounds after being arrested for assaulting a police officer.
His recent tendency to swing fists has been troubling, but you can be sure the New England Patriots are absolutely giddy about scooping up such a talented player in the last round of the draft. Dennard apparently was also hurt by a poor showing at the Senior Bowl and questions were raised about his zone coverage skills, but after watching him dominate receivers for a living during his junior year, it's hard to imagine him not finding a niche in the NFL.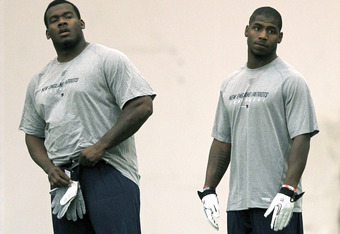 Jim Rogash/Getty Images
He's the type of guy you can get away with putting on an island, and I still think his showing at the Senior Bowl was a fluke. Before his senior season (which was very clearly affected by his injury), he was solid in both man and zone.
Assuming Dennard can stay out of trouble and stay healthy, he has the talent to eventually become an impact starter at cornerback.
Summary
It's hard to bet against any of these three guys as a Husker fan, and though not all of them had the spectacular seasons they had planned, I see all three having big impacts early on in their careers.
David should be as good as advertised, Crick will return to form and be another great player for a Super Bowl-caliber defense, and Dennard will prove himself worthy after falling from grace.
With that being said, my money is on the machine that produced 285 tackles—along with 11.5 sacks, three forced fumbles and two interceptions—in two seasons to give the Buccaneers a strong outside presence from day one.
Pick: Lavonte David