Arkansas Razorbacks and 5 College Football Teams That Will Slip in 2012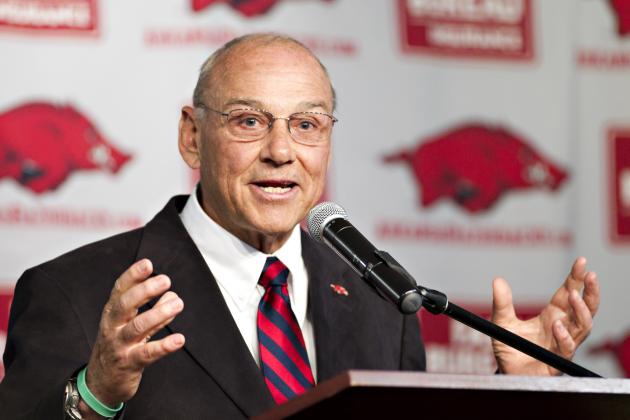 Wesley Hitt/Getty Images

The Arkansas Razorbacks appear to be headed towards a tumultuous 2012 season. Despite great expectations and some highly talented players coming back from 2011's 11-2 team, the Razorbacks are a prime candidate for a disappointing followup season.
The Razorbacks will be breaking in a new head coach in John L. Smith after firing former head coach Bobby Petrino in the wake of a controversy surrounding Petrino and his relationship with a woman on the Arkansas staff.
The Razorbacks aren't the only team that may not find 2012 to be their best year, as other teams around the country are primed for a disappointing season. Whether it be off-field distractions, a markedly tougher schedule or too much graduating talent, some teams are certain to see a dip in the win column this season.
Begin Slideshow

»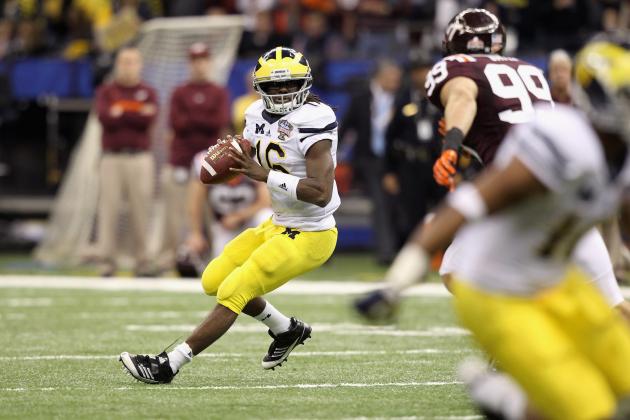 Matthew Stockman/Getty Images

The debut of head coach Brady Hoke at Michigan could not have gone any better. Michigan had 11 wins, a Sugar Bowl victory and, most importantly, it beat Ohio State for the first time since 2003.
Michigan football was relevant again. Unfortunately, year two may not be as kind to Hoke and Co.
Michigan brings back star quarterback and Heisman hopeful Denard Robinson, but he will have to play even better than he did last season if Michigan wants to repeat the kind of success it had in 2011.
Robinson struggled with consistency in the passing game last season and had many games that he completed less than half of his passes. Robinson will need to be much more efficient in the passing game for Michigan to sustain its success because the schedule does it no favors.
The Wolverines open the season with one of the toughest draws in college football: a road game against Alabama. They also have to take on rival Notre Dame, fellow Big Ten foe Nebraska and arch-rival Ohio State on the road.
Opening the season with the likes of Alabama can have devastating effects; if the Wolverines pull off the huge upset it could set the tone for another great season, if they get blown out, it could set them up for a disappointing season.
Hoke appears to be the right guy for Michigan long term, but right now this is Denard Robinson's team to lead and his development will be crucial to the Wolverines' success. If he can navigate this tougher schedule, this season will be a success. If he can't, the Wolverines will be one of the more disappointing teams in college football.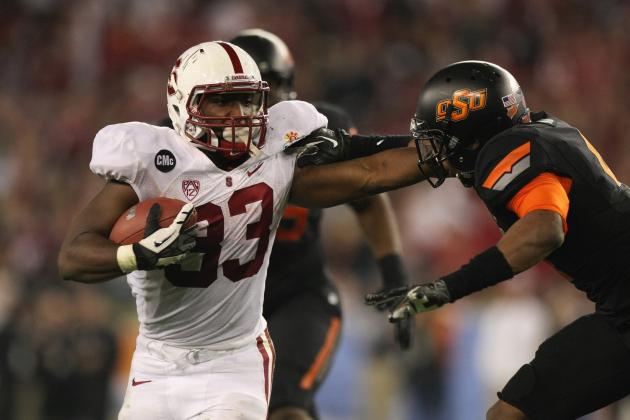 Donald Miralle/Getty Images

The Stanford Cardinal were tested last year when they lost head coach Jim Harbaugh to the San Francisco 49ers, and they didn't miss a beat. The Cardinal went to a BCS bowl behind head coach David Shaw and only suffered one loss in the regular season.
However, 2012 will be the first true test for the second-year head coach. The passing game will need to be completely re-tooled as the Cardinal lose star quarterback Andrew Luck, tight end Coby Fleener, guard David DeCastro, tackle Jonathan Martin and wide receiver Chris Owusu.
Look for the Cardinal to be heavily reliant on returning running back Stepfan Taylor, who will be looking for his third consecutive 1,000-yard season on the ground as the Cardinal begin to take on the task of replacing a star like Luck at the quarterback position.
It's rare that Stanford loses so many NFL-caliber players in one offseason, so this season will be a true test as to the strength of their program as a whole. Without all of those offensive pieces the Cardinal will be less dynamic and are definitely a strong candidate to slip in 2012.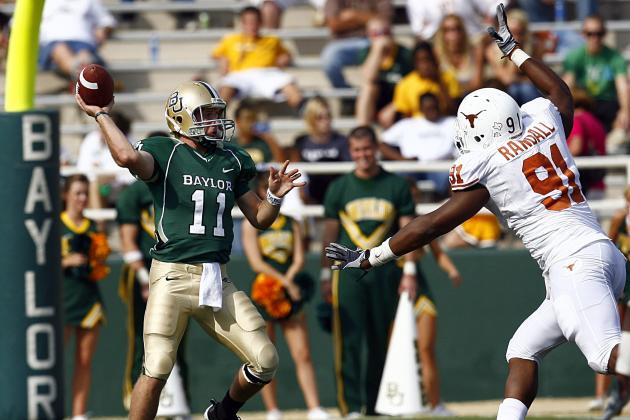 Tom Pennington/Getty Images

As quickly as the Baylor Bears ascended to national relevance behind the strong play of Robert Griffin III, the Bears may fall back to irrelevance just as swiftly.
2011 was a special season for the Bears as the traditionally underwhelming team went 10-3, won the Alamo Bowl and boasted a Heisman winner for the first time in the school's history. However, without Griffin this team could be in trouble.
Last season, the Bears won in a lot of shootouts. The team ranked fourth in the nation in points per game with 45.3, which sometimes covered up for the fact that the team ranked 113th in points given up, averaging 37.2 points per game.
Winning shootouts like they did last year will be exponentially tougher this year. In addition to losing RGIII, the Bears also lost leading rusher Terrance Ganaway and leading receiver Kendall Wright. The significant loss of nearly all their offensive fire power will lead to a huge decline in wins this season.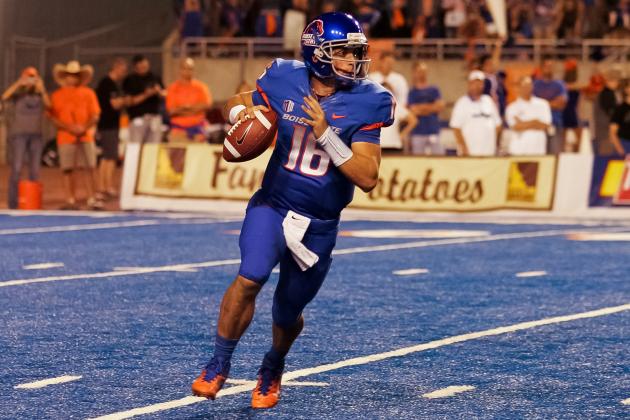 Otto Kitsinger III/Getty Images

Believe it or not, Boise State football is bigger than Kellen Moore.
Boise has been winning consistently for more than a decade now, but the four-year starter at quarterback has become synonymous with the program. He leaves Boise as the winningest quarterback in college football history, after all.
That being said, Boise State is in for a "slip" this year. For a team like Boise, which consistently notches double-digit wins every season, this means it won't blow out everyone on the schedule. The Broncos can still win double-digit games this year but they likely won't enjoy the national spotlight as much as they've become accustomed to.
Besides losing Moore, the Broncos lose key players on both sides of the ball including leading rusher Doug Martin, leading receiver Tyler Shoemaker and defensive playmakers like Billy Winn, Shea McClellin, Tyrone Crawford and George Iloka.
Programs like Boise State are consistently successful because of their ability to develop players so you can be sure they have guys developing to take over for their predecessors, but you can't develop experience. As far as Boise State teams go, this year's version will be inexperienced and the Broncos will struggle more than usual in 2012.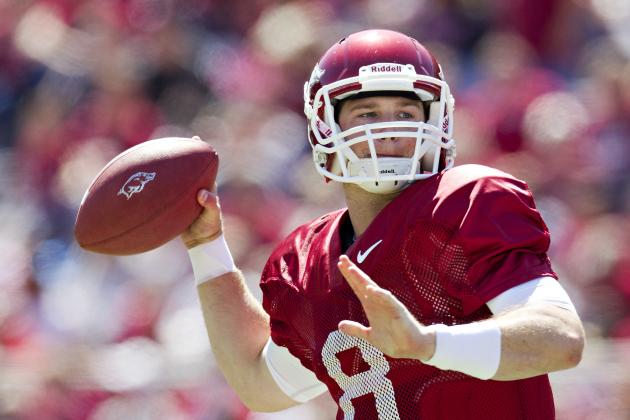 Wesley Hitt/Getty Images

Just a few months ago, it seemed like Arkansas Razorback fans had a lot to be excited about. After an impressive 11-2 season last year in which they only lost to the No. 1 and 2 teams in the country, the Razorbacks looked prime to have another successful season.
Beyond that, there hasn't been much to cheer about in Arkansas.
Head coach Bobby Petrino, who has been a huge factor in their success, is gone after hiring his mistress and hiding the details of the relationship from Athletic Director Jeff Long.
Petrino's replacement, John L. Smith, has a tough task ahead of him, as it seems the Razorbacks can't stop making headlines for all the wrong reasons. Three Razorbacks were just arrested on charges of burglary and have promptly been suspended. Three other Razorbacks have been arrested this offseason on various charges.
The latest suspensions could really hurt the Hogs as they were forced to suspend two wide receivers and a tight end in Marquel Wade, Maudrecus Humphrey and Andrew Peterson. The Razorbacks can't afford to lose any receiving threats as they already lost the receiving trio of Jarius Wright, Greg Childs and Joe Adams to the NFL.
Fortunately for the Razorbacks, they are returning some top-level talent to help them overcome all of the offseason drama. Quarterback Tyler Wilson is playing to potentially become a top-five pick in next year's NFL draft, and running back Knile Davis may be one of the best backs in the nation.
However, with all of the distractions and the presence of a new coach, it's easy to envision the Razorbacks slipping from last year's successful season and being a disappointment in 2012.