Breaking Down Las Vegas' BCS Title Odds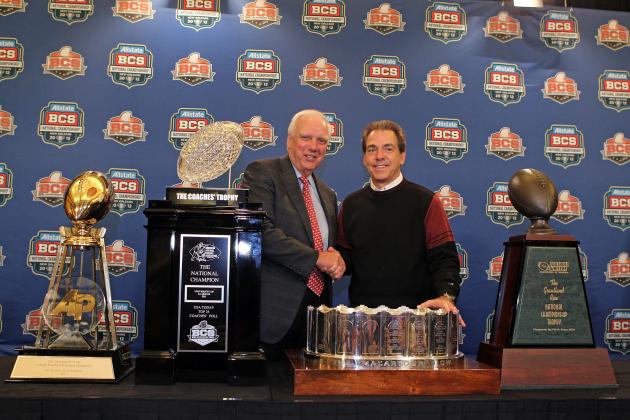 Andy Lyons/Getty Images

It may only be May, but that doesn't mean you can't put your money down on which team you think will win next season's BCS National Championship.
Bovada Sportsbook already has a line out on the 2012-13 BCS National Championship, and it's time to start the discussion about who belongs where and why each team finds itself with its current odds.
Is your team worth betting on in 2012?
Lines can be found just about anywhere for just about any team, but we'll get things rolling along here with the teams posting 50-1 odds or better.
Begin Slideshow

»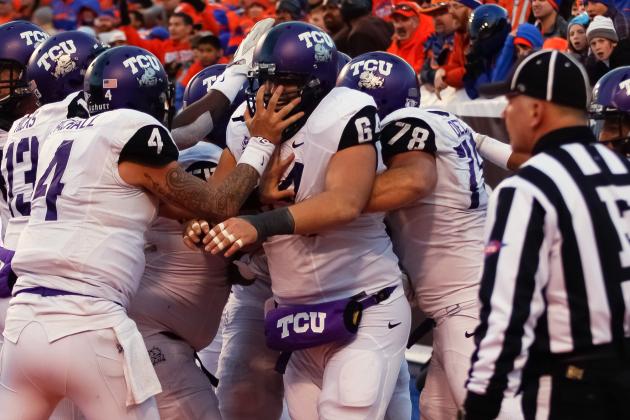 Otto Kitsinger III/Getty Images

We'll start with Texas Christian University and the Frogs' 50-1 odds of winning it all this season.
TCU is making the move to the ranks of the BCS AQ conferences by joining the Big 12. It's been a long time since the Frogs were hanging with the big boys (back in the days of the Southwest Conference), but over the past few seasons, there's been little doubt that TCU can run with anyone in the nation on any given day.
The real trick will be figuring out a way to stay in the race against some of the best competition in the nation on a weekly basis.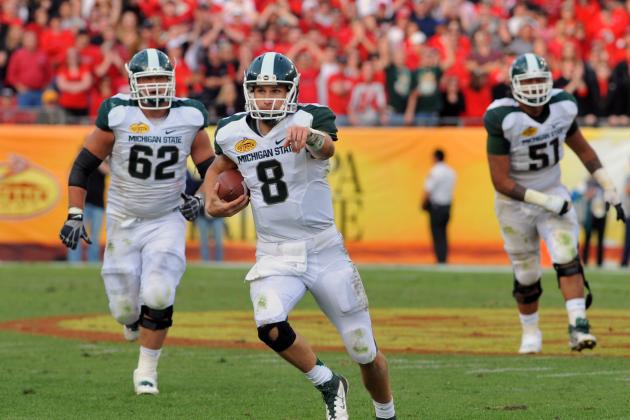 Al Messerschmidt/Getty Images

The Spartans are currently in what can only be described as a historic run of football in East Lansing.
Not only has MSU put together back-to-back 11-win seasons (11 wins in a season being a program record), but Sparty also has four consecutive wins over arch-rival Michigan, a share of the 2010 Big Ten championship and the 2011 Legends Division title.
In case you weren't quite aware of how good Michigan State has been recently, try this stat on for size: MSU has more wins over the past four seasons than any other team in the Big Ten.
It's easy to see why Mark Dantonio's Spartans get some love at 50-1.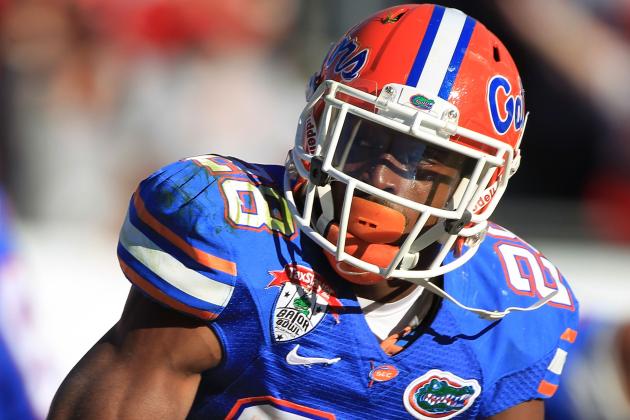 Scott Halleran/Getty Images

Will Muschamp's first season at Florida didn't exactly turn out quite the way Gators fans had hoped.
After the glory years under Urban Meyer, Florida fans have come to expect a certain level of success from their football team, and 2011 certainly didn't live up to those expectations. The Gators finished just 7-6 with a 3-5 mark in the SEC.
If a turnaround doesn't materialize soon, Muschamp's backside may begin to feel a little warmer as his coaching seat begins to heat up. But for 2012, it appears that Florida will have many of the tools necessary to avoid any kind of talk about the coaching future in Gainesville.
Florida has 18 combined starters returning for 2012. Combined with a favorable SEC schedule (no Alabama, no Auburn, no Arkansas), the Gators should see some sort of improvement over 7-6.
A national championship run is, however, likely a few years off, which is why we find Florida's odds at 50-1.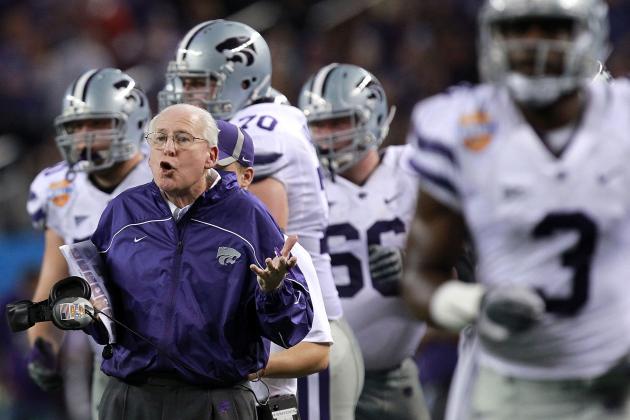 Ronald Martinez/Getty Images

Even with all of the success in 2011, including a near-miss on a BCS at-large bid, Kansas State comes in with 50-1 odds on winning a BCS title after the 2012 season.
Legendary head coach Bill Snyder has 14 starters returning from last season, including eight on offense, and his Wildcats will be facing a Big 12 that will have some significant changes.
First, there's no Texas A&M or Missouri to worry about. Second, Oklahoma State and Baylor likely won't be anywhere near the teams they were last season.
But K-State will still need to deal with conference newcomers West Virginia and TCU, and we haven't even mentioned Oklahoma yet.
While Wildcats fans may very well be treated to another great performance in Manhattan this season, the 50-1 odds placed on KSU's chances of winning it all this year belie the steepness of the Big 12 mountain it will have to climb to get there.
Ethan Miller/Getty Images

It's really hard to figure out exactly what Boise State's 50-1 odds mean.
Even with Kellen Moore taking the snaps, Boise never realistically came close to winning a BCS National Championship, be it from an untimely loss or BCS elitism when the Broncos were undefeated.
Considering the massive talent drain head coach Chris Petersen will be dealing with in 2012 (just nine combined starters returning), 50-1 odds for a team out of the Mountain West Conference is pretty darn good.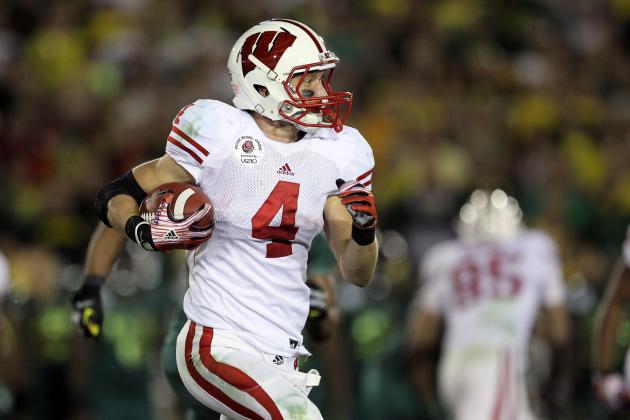 Stephen Dunn/Getty Images

No one questions that Wisconsin has been the toast of the Big Ten for a couple of seasons.
The Badgers have made two consecutive trips to the Rose Bowl Game and won at least a share of the last two conference titles.
But the oddsmakers have obviously seen some cracks in the armor for 2012.
First and foremost, the Badgers will be experience-depleted this season. Only 11 starters return (five on offense, six on defense). A big reason behind Wisconsin's success last season was the spectacular play from transfer quarterback Russell Wilson. His ability to run was almost unmatched by any other player in the nation, and he gave Wisconsin a dimension of offensive lethality not ordinarily seen.
This season—without Wilson's talents—we may see a more traditional run-first mentality in Madison.
This won't make Wisconsin a bad team overnight. Wisconsin does reside in the currently weaker Leaders Division in the Big Ten, and the Badgers have been successful without a big, strong, mobile quarterback with an accurate arm.
However, it does seriously hurt any chances of the program capturing its first-ever national title.
Eric Francis/Getty Images

With so many starters returning from last season, Nebraska's 35-1 odds at winning a BCS title this year may have more to do with external factors than anything anyone can control in Lincoln.
Well, okay. There's Taylor Martinez and the lingering questions about his quarterbacking abilities, but the real issue depressing Nebraska's odds is likely the tough Legends Division schedule.
In addition to divisional foes Michigan and Michigan State, Nebraska will have to face cross-division foes Wisconsin, Ohio State and Penn State. When you have the Cornhuskers themselves added to that list of teams, you have the entire top half of the conference.
Nebraska certainly has a chance of reaching the Big Ten championship game in 2012, but making it through the season unscathed (or at least unscathed enough to make the BCS National Championship Game) is unlikely.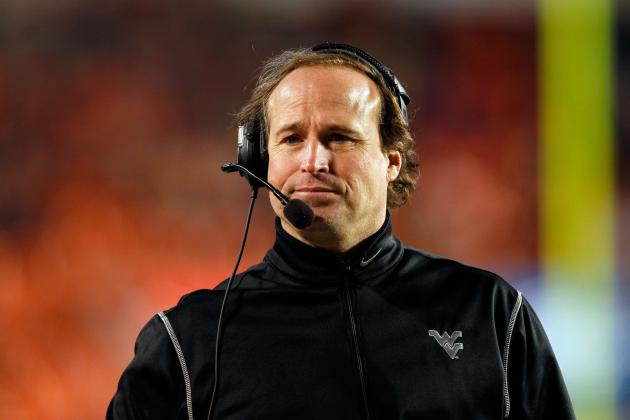 Mike Ehrmann/Getty Images

Coming in at 30-1 is West Virginia.
While some Mountaineers fans may disagree with the Vegas oddsmakers here, it's important to remember where WVU is coming and where WVU is going.
The Mountaineers will be playing the in Big 12 this season. Right there, that will give WVU more credibility than it ever would have received in the Big East.
But moving to the Big 12 from the Big East will include some obstacles.
No one is debating that the Big 12 is a much tougher conference than the Big East. Let's face it: The Big East is terrible. Just terrible.
In fact, West Virginia has been the lone bright spot for the conference ever since Brian Kelly left Cincinnati. Now that the Mountaineers have moved on, there's not much Big East fans can look forward to.
That being said, West Virginia hasn't exactly been dominant in the Big East. Even last season, where the Mountaineers earned an Orange Bowl berth and subsequently beat the tar out of Clemson, WVU finished 10-3 with a 5-2 mark in the Big East, good enough to be part of a three-way tie for the conference title.
Losses to teams like Louisville and Syracuse (which was 1-6 last season in conference play) give us pause when looking ahead to a conference schedule that includes teams like Texas and Oklahoma.
All that aside, if anyone knows how to beat Big 12 teams, it's Dana Holgorsen, and if West Virginia can find a way to win the Big 12, a BCS National Championship Game berth isn't out of the question.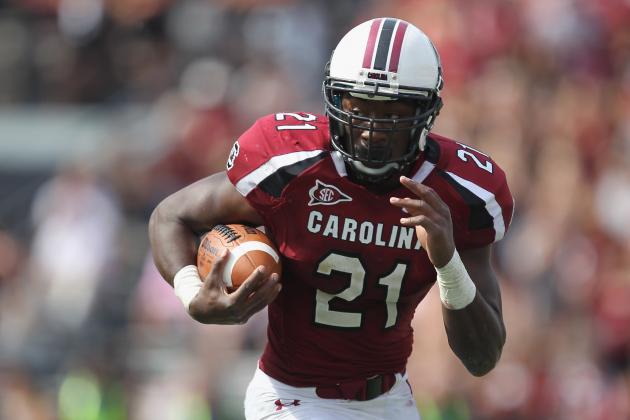 Streeter Lecka/Getty Images

South Carolina looks to be headed towards another successful season, and it's possible—maybe even likely—the Gamecocks will start the 2012 season ranked in the preseason Top 10.
So why are the odds of a national championship listed at just 30-1?
With 14 returning starters—including running back Marcus Lattimore—back in action for 2012, you'd expect a talented SEC team to get a little more love from Vegas, right?
Not exactly.
The problem with USC has been its perennial inability to win the really big, really important conference games.
Last season, losses to Auburn and Arkansas derailed the Gamecocks' SEC East title defense.
Back in 2010, it was regular-season losses to Auburn, Kentucky and Arkansas that piled up before they were absolutely blown out in the SEC Championship Game by Auburn, 56-17.
Until a team—any team—from the East Division can break the the stranglehold the West Division has on the conference championship, we're not likely to see a change in the perception of the East as the SEC's "JV" division.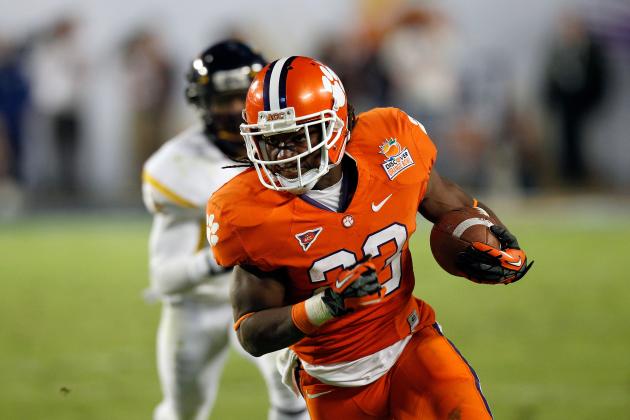 J. Meric/Getty Images

It's funny how one year can change the outlook on an entire program.
At the beginning of the 2011 season, no one was talking about Clemson. The Tigers weren't ranked in any meaningful preseason Top 25 poll, and all the talk in the ACC was focused on Florida State.
By the halfway point of last season, Clemson was undefeated and in the Top 10, and the words "Clemson" and "national championship run" began to appear in the same sentence more and more often.
But you can't blame the guys in Vegas for shying away from Clemson, considering what the Tigers have done to us over the years.
As soon as Clemson grabs a hold of a modicum of success, something invariably goes awry.
Clemson just doesn't seem to possess that killer instinct and hasn't been able to close the deal.
As well, when expectations are high from the get-go, things never seem to really get on track for the Tigers.
It will be interesting to see how Clemson does in 2012 after last season's ACC Championship, but the smart money in the conference still isn't on the Tigers.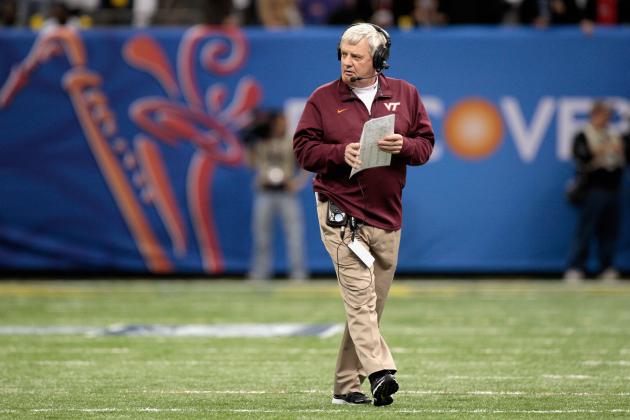 Chris Graythen/Getty Images

We'll admit that Virginia Tech at 28-1 has even us a little confused.
Certainly we would have thought that defending ACC champion Clemson with its 14 returning starters would be better equipped in 2012 than a team twice beaten by the Tigers last season with 12 returning starters (including just three on offense).
Alas, Virginia Tech edges out ACC foe Clemson by 0.22 percent (30-1 is a 3.23 percent likelihood, while 28-1 is a 3.45 percent likelihood).
We guess a head coach like Frank Beamer is good enough for a couple extra tenths of a percentage point.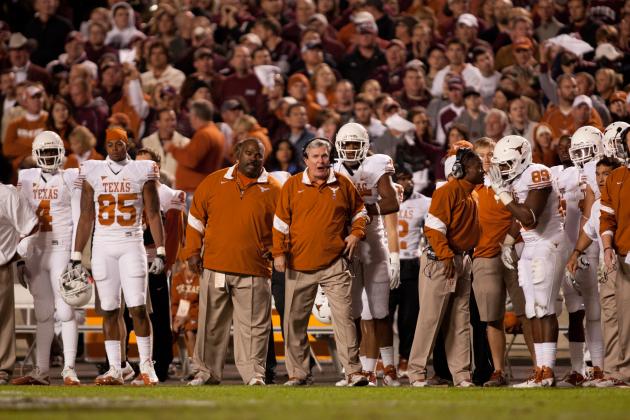 Darren Carroll/Getty Images

The good news for Texas is that there are 16 returning starters from 2011.
The bad news for Texas is that there are 16 returning starters from 2011.
Texas hasn't been all that great these past couple of seasons, and many of the players that have given Mack Brown heartburn—and Texas fans headaches—are back again for 2012.
Maybe something magical will happen during the offseason, and maybe the Longhorns will surprise everyone this season and actually be good.
But don't bet the farm.
Depending on how you define success, Texas has been hit-and-miss over the past 14 years under Brown—with a lot more "miss" than "hit."
It's hard to believe, but Texas has just two Big 12 titles over that long span (compared to Oklahoma's seven).
Still without a solid option at quarterback, Texas' chances of adding to that total in 2012 probably aren't all that great.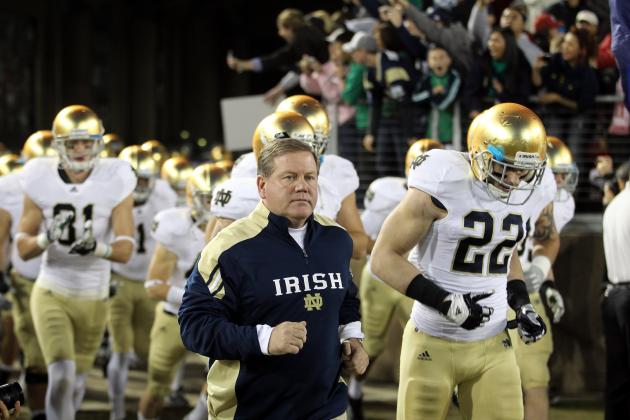 Ezra Shaw/Getty Images

The Fighting Irish make their appearance on the countdown of national championship odds at 25-1.
It's really difficult to get a read on the Irish and what these odds mean.
At first glance, one might think that 25-1 isn't very good, and it's the oddsmakers' way of telling Notre Dame fans to temper their expectations.
Yeah, right. Like Notre Dame fans are ever realistic in their expectations.
But if we dig a little deeper, we can actually see some signs of hope.
At 25-1, Notre Dame actually has better odds than 92 percent of all FBS teams. There are only eight teams with better odds, and we're betting that a Top 10 finish for the Irish in 2012 would make a lot of people—Brian Kelly included—very happy.
With 15 returning starters, Kelly might actually have a chance at a lofty finish in the polls, provided everything falls into place this season.
The Irish will have one of the more difficult schedules in recent memory, with Michigan, Michigan State, Stanford, BYU, USC and Oklahoma making appearances.
Maybe 25-1 isn't looking so bad after all...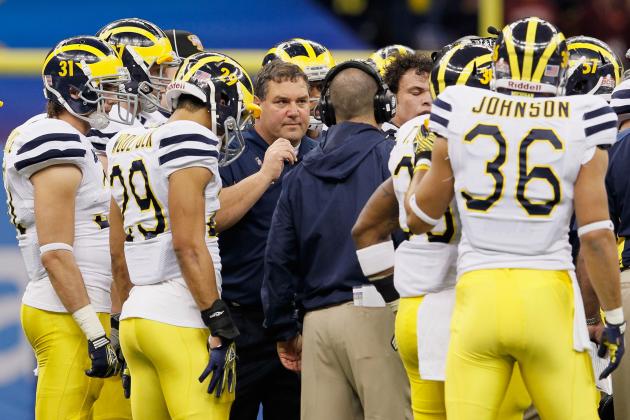 Kevin C. Cox/Getty Images

Also at 25-1 is Notre Dame rival Michigan.
The Wolverines also happen to post the best odds of any Big Ten team for 2012, and it's easy to see why the oddsmakers are high on the Wolverines.
Brady Hoke had a tremendous first season in Ann Arbor, guiding the program back to the BCS for the first time since 2006 and its first BCS bowl win since the 1999 season (Michigan defeated Alabama in the 2000 Orange Bowl).
Michigan now enters the 2012 season as the Big Ten favorite. So why does it appear the odds are stacked against the Wolverines for a BCS title?
Again, we have to go back to the difficult Big Ten schedule.
In addition to divisional foes Michigan State (which Michigan hasn't defeated in nearly half a decade) and Nebraska, the Wolverines face arch-rival Ohio State in Columbus in the yearly season finale.
Add in non-conference games against Notre Dame and Alabama, and you can see how even a very good, potential Big Ten champion Michigan team might find itself limping across the finish line.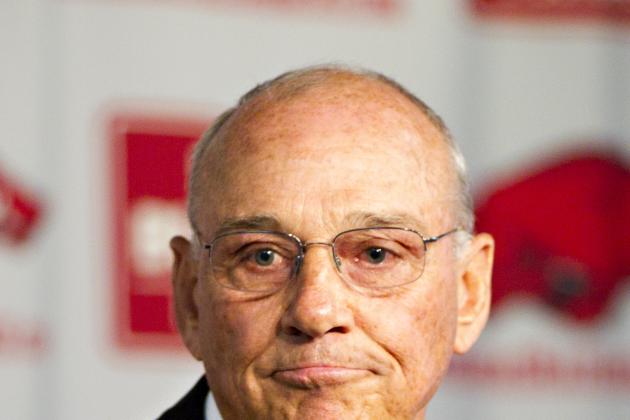 Wesley Hitt/Getty Images

Bobby Petrino is out at Arkansas, and John L. Smith is the new head coach.
That obviously gives some people pause when deciding whether to go all in on the Razorbacks for 2012.
Smith has plenty of coaching experience, including assistant gigs at Arkansas (special teams coach from 2009 to 2011). But Smith hasn't exactly been what one would call overly successful as a head coach.
His most recent experience was at Michigan State, where Smith's Spartans were 22-26 over four seasons, finishing tied for 10th in the Big Ten his last season, 2006.
Smith's teams at MSU were characterized by quick starts and epic collapses down the stretch. Smith also famously wore his heart on his sleeve in East Lansing, something many people liked while many others complained.
Smith will inherit a successful program with 13 returning starters from 2011, but the strike against the Hogs hasn't been their lack of wins.
Arkansas hasn't been able to break out of the SEC West, lagging behind teams like Alabama, Auburn and LSU. The combination of a team that's "almost but not quite" with a coach that's "almost but not quite" could go either way. Maybe Arkansas is exactly what Smith needs, and maybe Smith is what is needed for the Hogs to finally break through in the West Division.
Maybe.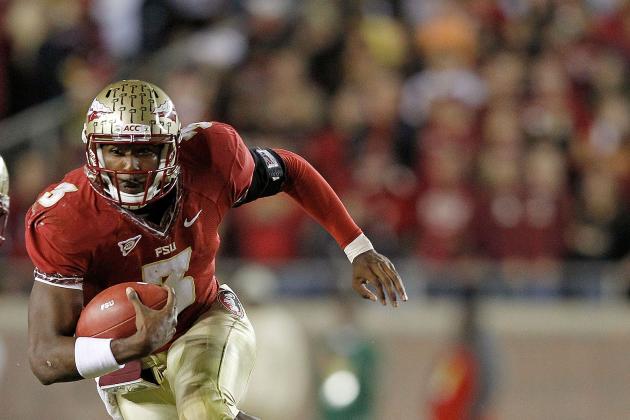 Mike Ehrmann/Getty Images

At the beginning of last season, the Florida State hype machine was in full swing, and everyone was talking about the Seminoles.
Fate conspired to keep the 'Noles from a BCS title run—or even an ACC title run—last year, but that doesn't mean FSU can't return to the limelight in 2012.
Jimbo Fisher has 18 starters returning from last season, and if everyone can stay healthy through 2012, there's no reason Florida State can't win a conference championship.
Florida State also has a stupidly easy schedule this year, starting against not one, but two FCS programs: Murray State and Savannah State.
Even if Florida State runs the table and finishes 13-0 with a conference title, the strength-of-schedule hit the Seminoles will take by starting out against two lower-division foes will spell trouble if there are multiple other undefeateds from BCS AQ conferences.
While 14-1 is pretty good odds to win a national title, we suspect the odds would be even better if one of those FCS opponents had been replaced by even a low-level Sun Belt, MAC or WAC team.
Christian Petersen/Getty Images

After the bitter disappointment of last season, how would you rate Oklahoma's chances in 2012?
In August of last year, the college football world had pretty much decided that Oklahoma was the best team in the nation. The Sooners were the No. 1 team in every major poll, and everyone else was playing for an opportunity to play Oklahoma in New Orleans.
As they say, though, that's why they play the games.
Oklahoma stumbled against Texas Tech before falling to Baylor and Oklahoma State, ending any talk of even a Big 12 title in 2011.
Hope apparently springs eternal in Norman, and the Sooners are sure to be back in the preseason Top 10 come the fall. With Bob Stoops' track record at OU, why not?
Oklahoma is the clear favorite to win the Big 12 this season with the massive talent drain at Oklahoma State and Baylor. Add in 15 returning starters, including senior quarterback and potential Heisman contender Landry Jones, and you have a team hungry for success.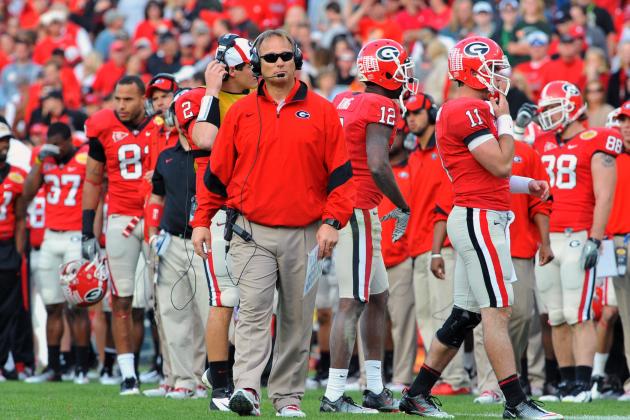 Al Messerschmidt/Getty Images

So much for the prospect of Mark Richt on the hot seat.
After a 10-4 performance last season that included an SEC East title, the focus at Georgia is no longer on Richt's job status, but on moving forward and making the next leap forward: an SEC championship.
It's been a while since any team from the East Division has won a conference championship (Florida in 2008 was the last), and the West is quickly closing the all-time wins gap (East still leads, 11-9). There's no question the West Division has been dominant lately, but if there's any team that looks primed to reverse the trend, it has to be the Georgia Bulldogs.
With nearly the entire defense from last season returning along with six offensive starters, including stud quarterback Aaron Murray, Georgia is the clear front-runner in the SEC East in 2012.
Georgia also escapes Alabama and LSU on the regular-season schedule this season, giving the Bulldogs ample opportunity to repeat as division champs.
If Georgia does reach Atlanta again this season, it will likely have nearly even odds at winning against any potential West Division champion, and we all know that SEC champions are favorites to win the BCS crown.
Georgia's favorable schedule and its position as the top team in the SEC East are big reasons why the Bulldogs' odds at a BCS title stand at 12-1.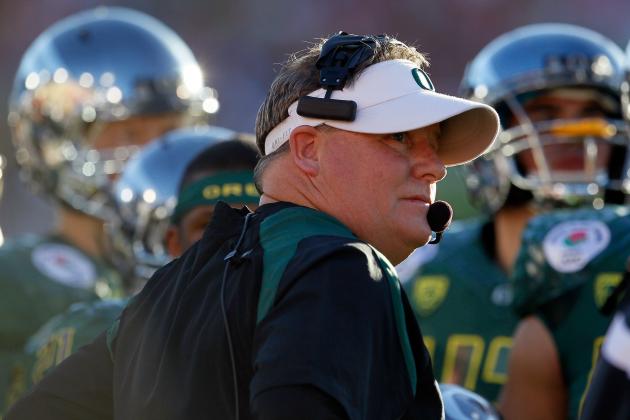 Jeff Gross/Getty Images

We haven't seen any Pac-12 teams with national championship odds better than 50-1 thus far on our list, but the top tier is about to get very crowded with teams from out west.
We see our first Pac-12 team, Oregon, with 10-1 odds.
It seems almost inevitable that the Pac-12 will come down to two teams this season, and Oregon is one of those two teams.
Sure, there is plenty of room for doubt, with the loss of quarterback Darron Thomas and running back LaMichael James to the NFL, but the Ducks will still return a impressive corps of skill position players on both sides of the ball in 2012.
While some of the higher profile players will be trying to make their marks on NFL rosters this fall, there are plenty of familiar names returning to Eugene—enough so that Ducks fans won't have to suffer through that dreaded "R" word: rebuilding.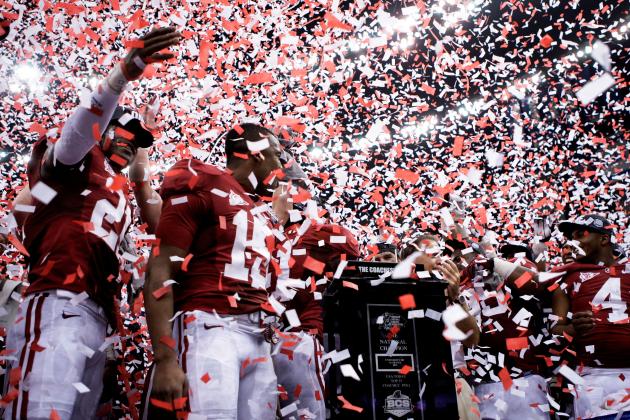 Andy Lyons/Getty Images

We've finally come to the defending BCS champion, Alabama.
The Crimson Tide have their odds posted at 11-2.
While Alabama will have some holes to fill on defense, the Crimson Tide look every bit the national title contender after spring practice, and there are some emerging story lines in Tuscaloosa that are sure to become major headlines in the fall.
First and foremost, returning starting quarterback A.J. McCarron has proven to be a capable field general for Nick Saban, and he should be able to break in a new receiving corps with little difficulty.
Saban will need to find some replacements on defense, as well as a new go-to ball-carrier, but if we know anything about Saban, it's that he can turn good-to-great recruits into great-to-unbelievable players.
Alabama will get an early test from Michigan to start the season. This will give all of us a good opportunity to judge for ourselves just where Alabama's chances stand for 2012, but don't be surprised if the Tide roll over a very good Michigan team en route to burning a path through the SEC.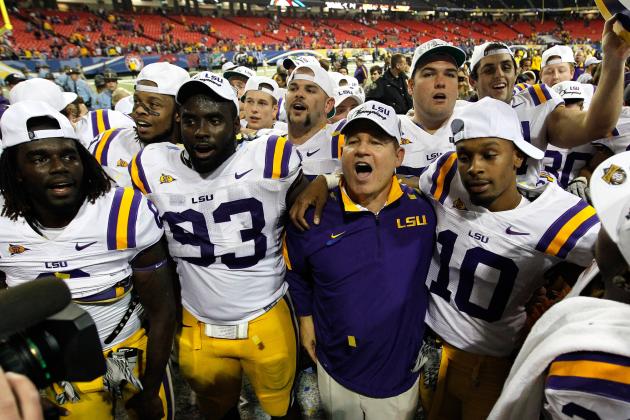 Kevin C. Cox/Getty Images

Louisiana State did everything right last season—except show up for the BCS National Championship Game.
In what was essentially a death knell for any possible "rematch" championship games, LSU and Alabama treated us to the second snoozer between the two teams, with LSU's epic failure in the big game turning into a half-hearted coronation of Alabama.
But as crushing as the defeat was for the Tigers, don't expect Les Miles and company to sulk for long. The defending SEC champions will be back to work to rectify the embarrassing loss to Alabama.
Likely keeping LSU from entering the season as the Vegas favorite is the fact that Miles will need to navigate the rough waters of the SEC with a number of new faces at the top of the depth chart.
So with just 11 combined starters returning, why does LSU get such favorable odds?
Simple. We've seen time and again that LSU has one of the deepest rosters in the nation. The second and third teams in Baton Rouge are every bit as good as the "ones" at other other schools, and those who sleep on the Tigers are just begging to get bit in the rear end.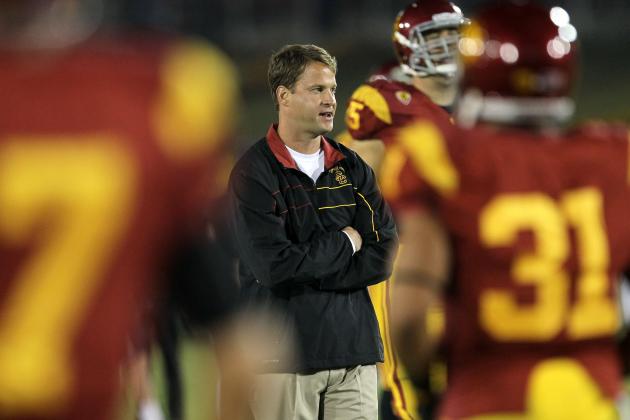 Stephen Dunn/Getty Images

The preseason favorite, at least according to the experts in Las Vegas, is Southern California.
Being a favorite isn't always a good thing, though. While we look at the 3-1 odds, giving USC a 25 percent chance of winning the national championship in 2012, it's important to remember that conversely means there's a 75 percent chance the Trojans won't win the BCS title.
Additionally, there's the pressure of meeting expectations, and when those expectations include a national championship, it's almost easier to fail.
There are plenty of reasons to be high on the Trojans in 2012. They're coming off a postseason ban; the the Trojans are hungry. Matt Barkley opted to return for his senior season, and he's going to be an early favorite to win the Heisman Trophy. The Pac-12 is likely a two-team race, and USC is going to be the favorite when those teams meet during the regular season (and potentially again in the Pac-12 championship game).
So why not bet on the Trojans?
Well, like we saw last season with Oklahoma, it was Alabama that won the national championship. Or less than two weeks ago, it was I'll Have Another at 27-1 edging out Bodemeister (at 22-1) to win, not the favorite Union Rags, at 9-2.
So bet on the Trojans if you must, but keep in mind, even at the favorable 3-1 odds, there's still a 75 percent chance of losing.