Mike Leach Calls Craig James a Douche, Escalates War of Words
May 14, 2012

There is a quiet battle raging that features Craig James' name being dragged through the mud by Washington State football coach Mike Leach, and it is glorious. 
I don't have a final tally for you or update on the score, but Leach is winning. 
For the uninitiated few, James is a former ESPN commentator that is now running for a U.S. Senate seat in Texas. 
He also happens to be the father of Adam James, a player that was allegedly reprimanded in embarrassing fashion by Leach when he worked at Texas Tech.
The allegations later turned into Leach's dismissal, a subsequent defamation suit against James, and an overall disdain for all things Craig James, via ESPN. 
Now that we are all caught up, we can get to some book signings. You see, that is where Leach is taking his animosity out on James—one copy of Swing Your Sword at a time. 
Deadspin reports on one fan asking Leach for an autograph and getting this.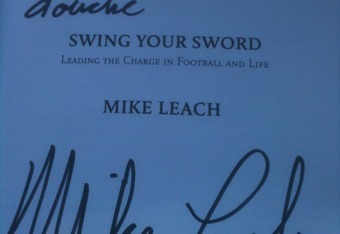 This isn't the first time that Leach has taken his time to inscribe a clever little quip on his anti-BFF. 
Deadspin had an earlier report on a fan asking Leach to expound on James and his race for a senate seat. This is the genius that was put to paper.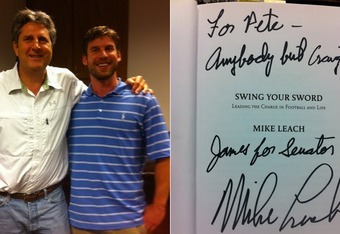 Um, the ball is now in your hands, James. 
I am dying to see when the analyst turned politician will bite on all the obvious pieces of bait and come swinging with some zingers of his own. 
I imagine he is busy shoveling out from under some rather bizarre allegations. 
A rumor that James killed five hookers while at SMU was so rampant that his spokeswoman had to actually go out of her way to answer them, via D Magazine. 
She calls them ridiculous and absurd, but that doesn't mean Leach isn't ready for his own take on the situation.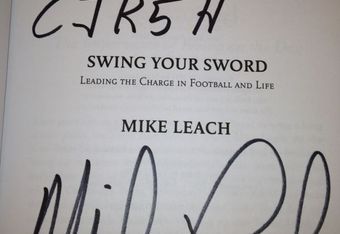 Yes, that's Leach signing with a reference of Craig James Killed 5 Hookers. At least he is up on his latest memes and we like that about coach. 
Seriously, James. You are getting hosed and it doesn't look pretty. It's time you write a tell-all book and begin sending disses to your nemesis in the book lining. 
If not, Leach will just forgo the season and enter into a nationwide book signing tour.  
Follow me on Twitter and we can all have a good time.