Michigan Football: Biggest Impact Players for Wolverines in 2012
May 11, 2012

Kevin C. Cox/Getty Images
The Michigan Wolverines are becoming a powerhouse program once again. They have attracted some key impact players over the course of the last few years, and those young men are ready to lead the team to glory in 2012.
The Wolverines have a legitimate shot to win the Big Ten this year, and if they catch a few breaks it's not inconceivable that they could earn a BCS title shot—even with a tough schedule.
If they do, it will be because of these impact players.
Denard Robinson, Quarterback
The success of Michigan's 2012 season will depend on whether or not Robinson progresses to elite status from last year's inconsistent showing.
There's no doubt the senior quarterback is one of the most gifted athletes in college football, and his ability to stretch defenses with both is arm and his legs makes him one of the most dynamic players, as well.
The issue with Robinson lies with his tendency to become trigger-happy. When he gets antsy to make plays he turns the ball over. If the team has any chance at living up to its full potential in 2012, Robinson will need to become smarter and more selective with the chances he takes in the passing game.
Another thing that will help him is if he becomes more comfortable in the pocket. Sure, he can run as well, if not better than most elite tailbacks, but the recipe for success in 2012 relies on him staying in the pocket longer and finding his receivers downfield. 
Robinson is electric. Now it's time for him to temper his game a bit and become more mature. 
Jordan Kovacs, Safety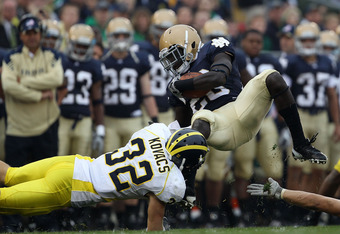 Jonathan Daniel/Getty Images
Senior safety Kovacs is one of the leaders on defense for the Wolverines. He has already started 33 games for Michigan, and his experience will be counted on in 2012.
He is an all-around stellar performer, hauling in 75 tackles, four sacks and one interception in 12 games last season for the Wolverines.
He is receiving national recognition already by being named to the Lott Impact Trophy watch list. This trophy is reserved for the top defensive player in the nation, for both athletic performance and personal character. The award went to Boston College's Luke Kuechly last year.
He is already leading by example in the weight room. Per the Detroit Free Press: "We won't start our workouts until the beginning of June," Kovacs said. "Now it's just senior-led workouts, where the seniors are getting some guys in. We know it's important to be here. Because if we're not in there, somebody else is (at another school) getting better."
He will act like the quarterback for the defense in 2012, and if his history is any indication he will lead it to dominance this year.
Fitzgerald Toussaint, Running Back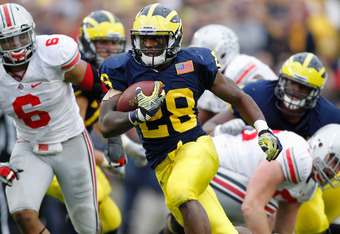 Gregory Shamus/Getty Images
Redshirt junior Toussaint is set to take over starting duties full time after the Wolverines mostly went with a running-back-by-committee approach in 2011.
Although quarterback Robinson is undoubtedly the key to the Wolverines' offense, he needs a reliable, explosive running back to keep defenses honest.
Toussaint had a fantastic spring, looking quicker and stronger than he did last year, and he is confident in his abilities. He told College Fantasy Football Insider that he wants 1,600 yards on the ground to be "the minimum" in 2012.
The biggest thing Toussaint needs to work on in order to help Michigan's offense get to the next level is his hands. He's no slouch, but if he can become a reliable pass-catcher out of the backfield for Robinson as an outlet, they could become nearly unstoppable this season.