Oklahoma State Football: 5 Reasons Wes Lunt Is the Quarterback of the Future
One of the biggest questions after last season for the Oklahoma State Cowboys was who would follow in Brandon Weeden's footsteps as the starting quarterback. Since then, head coach Mike Gundy has named true freshman Wes Lunt the starter.
While Lunt has only been on campus since January, it's a big sign that Gundy and his coaching staff are willing to make Lunt their guy. He hasn't been around a long time, and he is a full decade younger than the Cowboys' last quarterback, so it would make sense for Cowboy fans to worry.
Here are five reasons why you shouldn't worry about him being the starter.
Begin Slideshow

»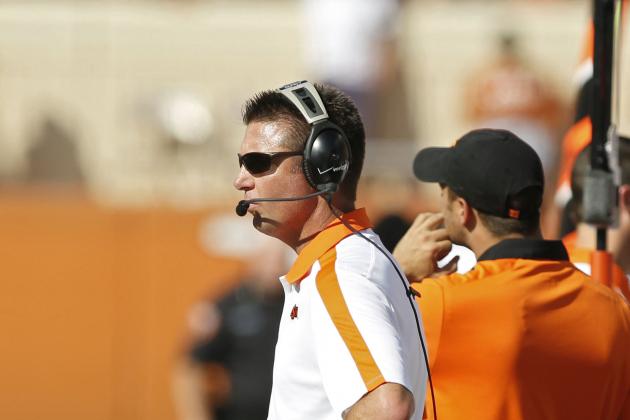 Erich Schlegel/Getty Images

One thing that should put Cowboy fans at ease is Mike Gundy's track record of mentoring and choosing quarterbacks.
As the offensive coordinator under Les Miles, Gundy helped groom Josh Fields, who led OSU back to prominence after their struggles in the 1990s.
In 2007, Gundy pulled the trigger and replaced incumbent starter Bobby Reid with Zac Robinson. Media criticism of Reid was what prompted Gundy to issue his famous rant after a big win over Texas Tech.
Then, after Robinson departed, Gundy chose Brandon Weeden to take over, which now has the Cowboy program at national prominence for the first time in decades.
I'd say the quarterback position is pretty safe in Gundy's hands.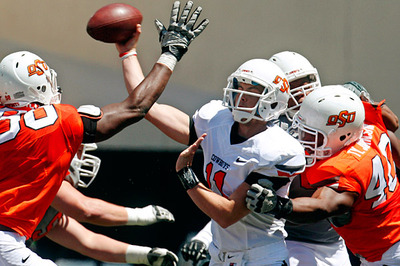 It may seem like naming Lunt the starter now is a big step, and it is. However, the start of the season still isn't very close.
There's a ton that can change between now and then. Lunt could sustain an injury, one of the other quarterbacks could surpass him or the coaches could change their minds.
The main reason for naming a starter now is so there is some form of order on the team. The summer will greatly impact the quarterback race, which is far from over.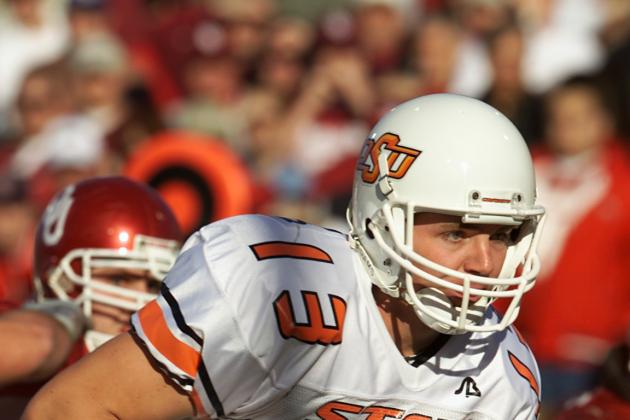 Brian Bahr/Getty Images

There have been multiple true freshmen who have become impact players at the quarterback position almost immediately for the Cowboys.
Mike Gundy did it back in 1986, when he came out of Midwest City and became player of the year in the state of Oklahoma. Josh Fields also did it when he led a sub-par Cowboy team to a win over Top 5 ranked Oklahoma in 2001.
Lunt could be the next in line to fill in the legacy of Gundy and Fields.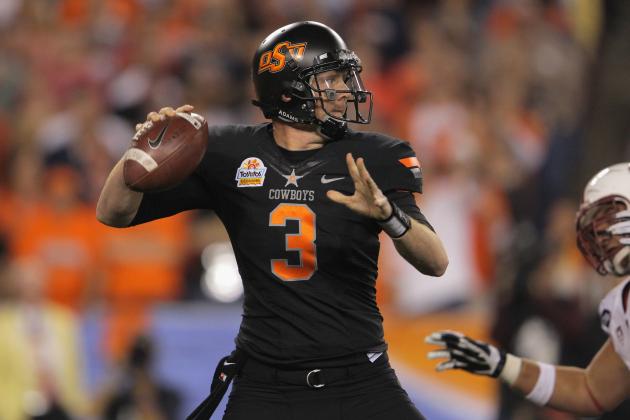 Doug Pensinger/Getty Images

Wes Lunt is the type of quarterback that this Cowboy team is accustomed to being built around right now.
Much like Brandon Weeden, Lunt is a big, tall guy with a rocket arm who isn't much of a runner. This Cowboy offensive line is used to running plays that protect a quarterback like Lunt, and the receivers are used to catching the types of passes he will throw.
Consistency-wise, Lunt might just be the obvious choice for this Cowboy program right now.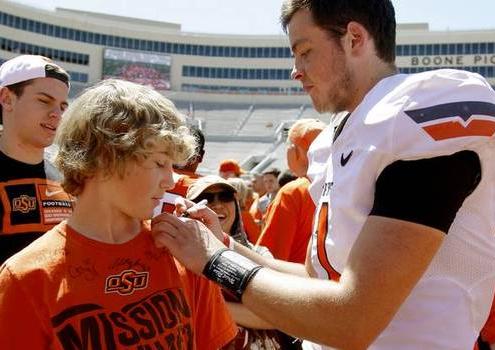 As the youngest potential starter for the Cowboys, Lunt also has the most room to grow.
He has the potential to start for the next four seasons at quarterback, which is a rare thing these days in Division I college football. We're talking about a guy who could face OU, Texas and other Big 12 powers.
The experience he could build as the recruiting builds around him could very well be championship caliber. That is worth the risk.