20 College Football Figures Who Just Irk the Heck out of Us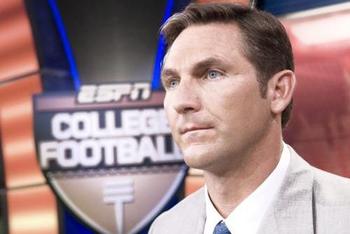 photo from politico.com
College football is so passion driven that it's almost natural to have a select group of individuals that annoy us in a big way.
Yes, when you care so deeply for something you're bound to be vexed by someone who defies all logic or takes an opposite position on an issue you deem critical.
The following slideshow highlights 20 figures in college football who simply irk us, bother us and make us scrunch up our faces and think, "Seriously….?"
These are the individuals who do their part to make our college football "love/hate" meters go right off the scales, which at the end of the day is a beautiful thing.
Lane Kiffin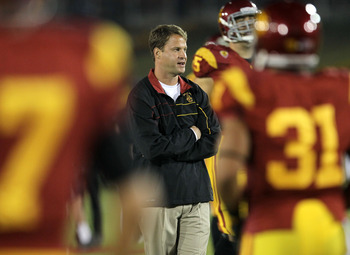 Stephen Dunn/Getty Images
USC's head coach, Lane Kiffin, may well be one of the most irksome personalities in all of college football.
First you've got a legion of jilted fans in Knoxville, Tenn., and then you've got the overwhelming sense of entitlement surrounding Kiffin, which is palpable regardless of whether it's fair or not.
If Kiffin can take the Trojans to the promised land in 2012, he will be wearing a big fat gold ring, an accessory that will still irk some folks but will more than likely garner the respect of others.
John Marinatto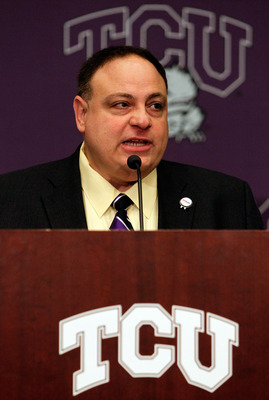 Tom Pennington/Getty Images
The current commissioner of the Big East conference, John Marinatto has served as the face of the league that has literally fallen apart before our very eyes.
You can't entirely blame the sinking of the Big East ship on Marinatto (who has been the commish since 2009), but you have to believe that the decisions made on his watch have a lot to do with the conference's shaky ground in terms of BCS status.
What's irritating about Marinatto is that he comes across as super confident and almost triumphant as he announces the attrition of Syracuse, West Virginia and Pitt and the addition of SMU, UCF and Houston.
DeLoss Dodds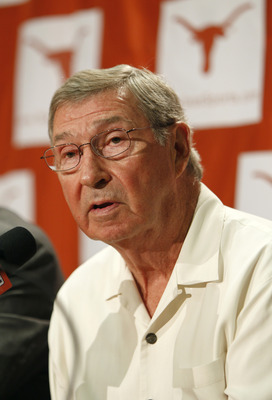 Erich Schlegel/Getty Images
The AD at Texas since 1981, DeLoss Dodds is one of the most influential administrators in collegiate athletics.
What gets under folks' skin regarding Dodds, especially those in College Station and Norman, is the stroke that he wields via Texas' financial and political prowess both within the state of Texas and in the bigger arena of the Big 12 conference and beyond.
Many people blame Dodds and company for the recent erosion of the Big 12 and point to a power check by Oklahoma when explaining how the conference is still a viable entity.
Perhaps it's jealousy that makes Dodds and Texas a target, but the influence of the Longhorns in college sports is the real deal.
E. Gordon Gee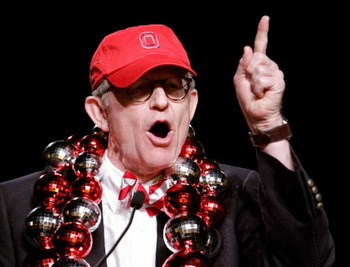 Ohio State's president, Gordon Gee, has an unfortunate knack of saying the wrong thing at exactly the wrong time, again and again.
From Gee's "I hope Tressel doesn't fire me" quip during Tattoo-gate to his " little sisters of the poor" comment in reference to TCU and Boise State's BCS title bid, he's done little to endear the throng of non-Buckeye fans who resent the "The" in The Ohio State University.
Gee is yet another example of why collegiate sports shouldn't be run by guys with bow ties.
Craig James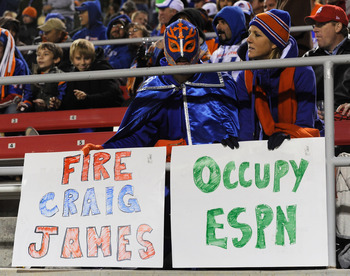 Ethan Miller/Getty Images
Craig James' 2012 campaign to become a U.S. Senator basically ended his career as a broadcaster for ESPN, but that doesn't mean that he's still not annoying.
Though the people of Lubbock, Texas, and the wider Red Raider Nation have good cause to be forever miffed at James, he's a guy who seemingly did everything he could to foster rankled feelings with a wider swath of college football fans.
James' silly but presumably infallible predictions as a commentator, his undeniable misuse of power and his memory loss over his own involvement in wrongdoings at SMU as a player make him irksome and intriguing all in the same breath.
Nick Saban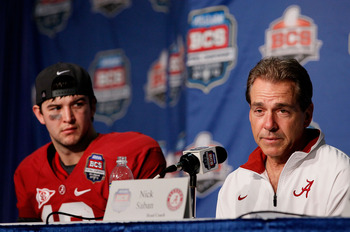 Chris Graythen/Getty Images
Nick Saban can claim almost the perfect trifecta of irksome.
First, he's left a group of haters behind in both Baton Rouge and East Lansing, programs that he built into successful entities only to leave behind like a jilted lover moving on to a more attractive partner.
Secondly, he's the current coach at Alabama, which enjoys the amped up "loathe factor" of rivals Auburn, LSU, etc., making him a hated man just because he wears the scarlet "A" on his chest.
And lastly, this is a guy who slicks back his hair and racks up wins and championships like Tiger used to amass birdies, eagles and green jackets.
Success does breed contempt, indeed.
Glen Bleymaier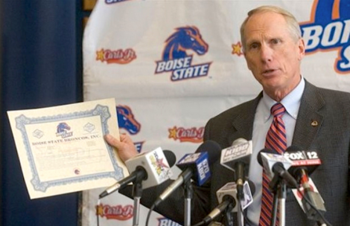 photo from thewizofodds.com
Gene Bleymaier served as the AD at Boise State from 1982-2011, and he's the man who conjured up the idea for, and then oversaw, the installation of the now infamous blue turf.
Bleymaier lost his long-term job at Boise State in August 2011 for NCAA infractions, but will long be remembered for turning college football grass blue.
Sir, we remain peeved.
Mark May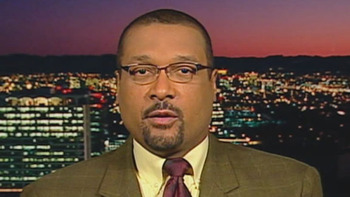 photo from scoretouchdowns.blogspot.com
Truthfully, Mark May has grown on me over the years, if nothing else for the simple fact that he's a guy who is not afraid to speak his mind.
Yes, I don't always agree with him, but at least he's not going to hold back a solid personal opinion when it would be easier just to tow the line.
That said, May, who shares the ESPN college football studio desk with Lou Holtz, inarguably comes across as pompous, arrogant and self-important, all traits that rub many enthusiasts the wrong way.
But hey, this guy has got one of the best jobs in the world, so he must be doing something right.
Jim Delany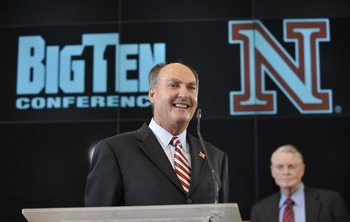 Eric Francis/Getty Images
Jim Delany has been the commissioner of the Big Ten conference since 1989, making him a key player in many of the huge changes that have swept across college football in the last 20 years.
Delany could be annoying simply based on the influence he wields as the leader of what is often seen as the cornerstone of collegiate athletic conferences, but the current state of the BCS and his almost bizarre defense of the Rose Bowl are beyond irksome.
Delany has recently been a proponent of BCS change (i.e. a playoff) that doesn't alter the traditional match-up of the Big Ten champion vs. the Pac-12 champion in the Rose Bowl.
Simply put, the plan would mean a four-team playoff that also added a Rose Bowl game if the Big Ten and Pac-12 champions didn't meet in one of the regularly configured semifinals.
Yes, the Rose Bowl would be more important than the playoff system, and it would literally trump it.
Though Delany has recently backed off and says that the Rose Bowl won't stand in the way of change, it's pretty obvious that by going public with the plan the Big Ten, Delany and the Pac-12 felt that they had the stroke necessary to pull off what is nothing short of a wacky, fantastic and ridiculous plan.
And, that's annoying.
Charlie Weis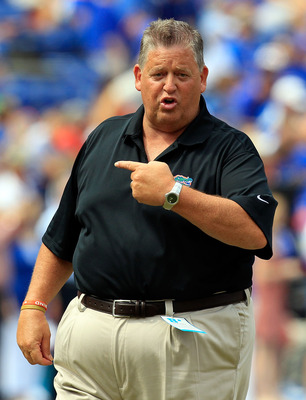 Sam Greenwood/Getty Images
Having once been the head football coach at Notre Dame is akin to having once been the President of the United States—both are roles that are impossible to forget, and both convey a bit of credibility that is not always due.
Though Charlie Weis went 35-27 during five seasons at Notre Dame (2005-09), his 19-6 mark over his first two years stalled into a 16-21 record over the last three campaigns, and in all his Irish teams finished the season ranked only twice.
Weis has enjoyed success as an assistant and coordinator in the NFL, but his last stop in college ball was as the Florida OC in 2011, where the Gators finished ranked No. 105 nationally in total offense.
Charlie Weis takes over at Kansas in 2012, where he faces the challenge of turning the tide for a program that has won a total of 10 games over the past three seasons.
Weis has been in the game for over 30 years, but his introduction as the savior of Jayhawk football is irksome at best, especially based on his record as a collegiate coach.
Bill Hancock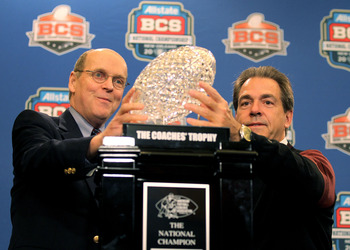 Andy Lyons/Getty Images
Bill Hancock, current executive director of the BCS, ironically spent 13 years as the director of the NCAA Division I Men's Basketball Championships.
Yes, isn't it peculiar that the helm of the BCS ship is occupied by a guy who spent more than a decade running the SS Final Four?
It's sort of like having a long term liberal take over the reins of the Republican Party or having Mike Leach run your defense.
Hancock may be a great guy, but he's irksome simply because he's the face of what is arguably the most illogical championship determining body in all of sports.
Saddling something as spectacular as college football with the BCS is as tragic as having Rosanne Barr sing an Adele song.
Brent Musburger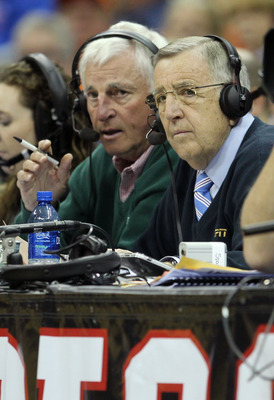 Jamie Squire/Getty Images
Brent Musburger has been on the air since 1968, and though his voice is an iconic part of a wide array of big moments in sports over the last 40 years, he seems to get more irritating as the years roll by.
Musburger currently has one of the hottest roles in college football as a commentator, alongside Kirk Herbstreit, covering ABC's primetime Saturday night game of the week.
The sad fact is Musburger is still entertaining, but almost seems a bit lost and out of it, which is not at all helped by slapping on a heavy dose of, "Well, Herbie…" every few moments.
It gets to the point where the AFLAC duck is really a soothing sound on Saturday nights.
Interestingly, LSU fans by and large feel that Musburger is openly anti-their team and it could be argued that the exasperation over his commentary radiates outwards from the passionate depths of Baton Rouge.
T. Boone Pickens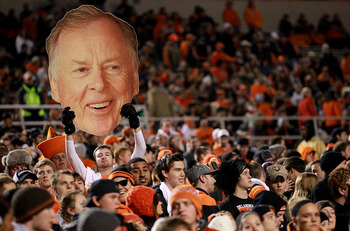 Ronald Martinez/Getty Images
T. Boone Pickens is a likeable guy, and what he's done via his generosity to transform the face of Oklahoma State is nothing short of tremendous.
Pickens has donated over $500 million to OSU, with an enormous chunk of this gift going directly into the athletic budget.
Up and coming programs like Oklahoma State, who don't have a wealthy benefactor such as Pickens, can obviously see the concrete results of cash influx and may well be irked by the inherent, though at the end of the day, fair advantage.
Pickens is the closest thing in college football to a professional sports franchise owner.
Urban Meyer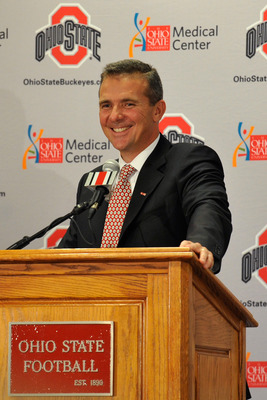 Jamie Sabau/Getty Images
When Meyer left Florida after the 2010 season, it was if a legend was sadly, though very triumphantly, stepping down from his throne atop the mountain of success.
Yes, two national championships and a 65-15 overall mark over six seasons at Florida were phenomenal, but what was up with the medical leave of absence and the rumors of health and personal problems?
Speed forward a year and a half and now Meyer has taken over the reins, with seemingly no medical concerns, at Ohio State.
What's irksome about Meyer begins with the murkiness of his departure from Florida, his second coming at a school like Ohio State (haters like to hate the Bucks) and then continued reports of alleged wrongdoings on his past road to success.
The simple fact remains, when you are heralded as the hottest property in coaching, you're going to chaff your previous employer (and fanbase, and rivals who you used to beat up on), the rest of the programs that couldn't get you (show me the money), and the folks that abhor your current employer (and that's a bunch of people when you start throwing out that "The" crap).
Meyer fits the bill perfectly.
Pam Ward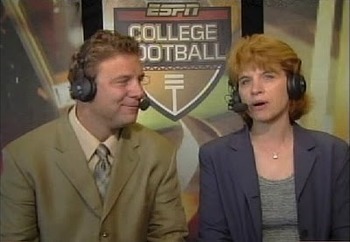 Pam Ward, who is a play-by-play announcer for ESPN, is difficult to include on this list simply because she's a female broadcaster and I'm a girl completely obsessed with college football.
Yes, why would a woman be irked by another woman in the game?
Well, when the woman sounds like a man, all bets are suddenly off.
Seriously, this chick has got a booming, magnificent voice, but it doesn't fit and, in the words of my in-laws, "it just ain't right."
Pam Ward should be applauded for making her way up the slippery slope of sports announcing, but at the end of the day the result is a little like realizing that Rick Astley's profound voice is attached to a guy who is 5'1".
Mack Brown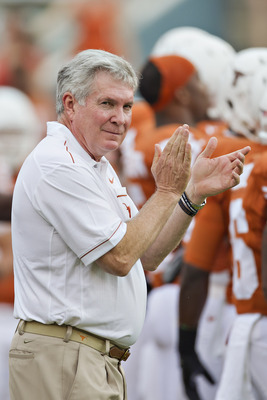 Wesley Hitt/Getty Images
Texas' Mack Brown was the highest paid coach in college football until Alabama's Nick Saban received his historic pay bump this spring.
And though Brown has definitely brought Texas football some serious championship hardware (six divisional titles, two conference crowns and one juicy national title), his results don't measure up to guys like Bob Stoops and Saban.
It's difficult to not be irked with Brown, even if you're a dyed-in-the-wool Texas fan, who gets paid liberally and garners a contract extension, even after going 13-12 over the last two seasons.
If nothing else, it's mildly vexing that the Longhorns haul in top-five recruiting classes only to lose ball games and not be in contention.
Mike Patrick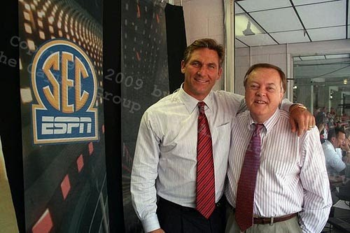 photo from eyeonsportsmedia.com
Mike Patrick has been calling sports since 1966 and currently provides his play-by-play services to ESPN's college football coverage.
Patrick has been teamed with Craig James and Todd Blackledge for college ball and has also done time covering the NCAA Women's Basketball tournament and the College Baseball World Series.
Patrick is a decent announcer but is also one of the biggest exaggerators in the business.
This is a guy who uses wild overstatements that will literally make your head spin.
Though not direct quotes, Patrick is the type of broadcaster who will tell you that the 2011 Wisconsin offensive line is the finest of this century and that Russell Wilson is the greatest athlete ever to play the game.
Usually his comments are based on some sort of fact (yes, Kirk Cousin is a good QB), but he blows things way out of proportion (Cousins is not the best QB in the Big Ten in three decades).
Patrick's embellishments seem to grow as time goes on, as does his tendency to lose sight of the fact that he's covering a live college football game.
Derek Dooley
Sam Greenwood/Getty Images
I personally like Derek Dooley, but it's still irksome that the guy who went 17-20 over three seasons at Louisiana Tech nabbed the lofty role at Tennessee.
Dooley's 11-14 over his first two seasons in Knoxville, and to make it past the third he'll have to earn, at minimum, his second ever winning mark as a head coach.
R. Bowden Loftin
Another bow-tie-wearing administrator who is doing his best to change the face of college football, R. Bowden Loftin is the Texas A&M president who became the face of the Aggies historic move to the SEC.
At least Loftin received his undergraduate degree from Texas A&M, which means you can't question the guy's loyalty, but you have to wonder if he's done his alma mater a disservice long term in what is, in reality, a sports divorce from the state of Texas.
Yes, the remaining FBS institutions in the state are no doubt miffed with the Aggie Prez for yanking long serving rivalries away from a state obsessed with football, but what of the A&M fans and alumni?
At the end of the day, it might be the Aggie faithful themselves that will be most irked with Loftin, who may have gotten them to "the big time" but sacrificed a huge portion of the tradition that A&M holds so dear in the bargain.
Brian Kelly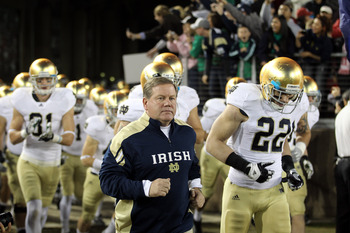 Ezra Shaw/Getty Images
The head coach at Notre Dame must be included on the list because he's the head coach at Notre Dame, which is the front of traditional lore, adoration and insufferable hate in college football.
Brian Kelly's very real confidence can come across as cocky, a sense that riles Irish haters and is exasperated by a 16-10 record over his first two seasons in South Bend.
The truth is, Kelly will be on lists like this as long as he leads the now golder-domes onto the field of honor, and whomever replaces him will share the same fate.
Keep Reading