Danny Trevathan: 4 Biggest Strengths and Weaknesses of 2012 NFL Draft Prospect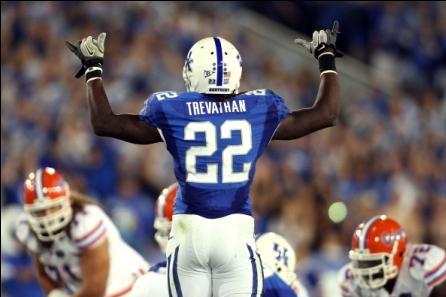 It was only a year ago at this time that the University of Kentucky produced an outstanding talent in wide receiver Randall Cobb, and although UK is unlikely to produce such a player this year, there are still talented Wildcats whom NFL personnel men should keep their eye out for in the 2012 draft.
One of those talents is linebacker Danny Trevathan, an undersized yet effective defender who makes plays all over the field. Racking up more than 140 tackles and four interceptions, Trevathan has shown that he can produce at the collegiate level, but the question that NFL scouts are asking is, can he produce at the professional level?
It's certainly possible Trevathan can if the schematic fit is right because he has some talent to offer to teams, such as blitz potential and range, even if there are weaknesses that make him a later-round prospect.
As I always say, not everyone can be a starter, and having role players is OK too.
Begin Slideshow

»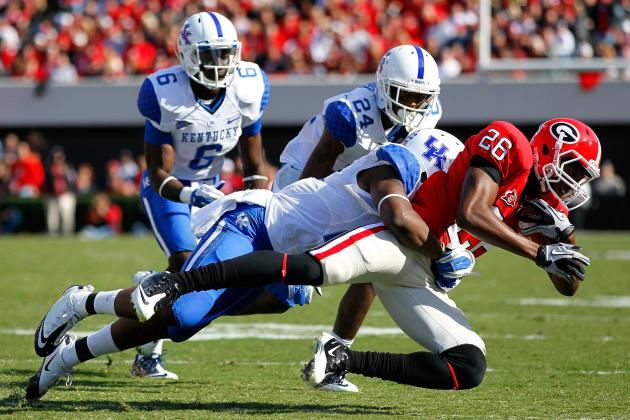 Kevin C. Cox/Getty Images

Trevathan's 40-yard dash time may not be the most appealing, as it is said to be 4.84 per NFLDraftScout.com, but he does show some range when he's out on the field.
Trevathan does a good job at tracking down ball-carriers when pursuing them across the width of the field as well as in coverage where he serves as a zone defender who is expected to close down on windows with his foot speed.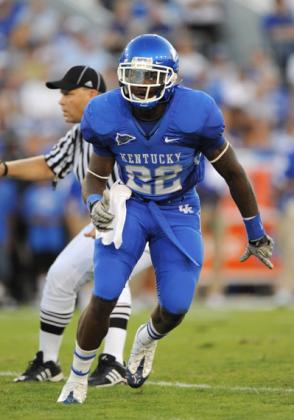 Despite having some downhill ability, Trevathan does not always go quickly through his keys nor recognizes the play that's being run by the offense.
Trevathan has a tendency to take false steps when reading, and this can lead to issues in pass coverage and in run support. For example, if an offense sells a play-action well by pulling a guard and Trevathan is slow reading his keys, the pass can be thrown behind him for a large pickup.
In run support, this can become an issue since blockers are then able to get to him quicker and ride him out of the play.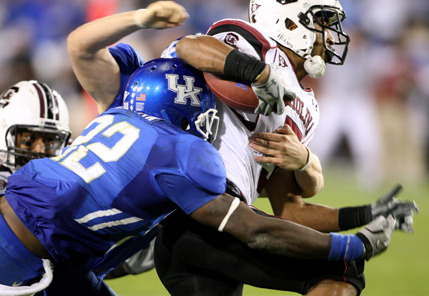 When blitzing linebackers in today's NFL, it is common that they are sent through the interior gaps between the center and guards in a Fire Zone Blitz pressure package. When this occurs, it frequently culminates in the linebacker being matched up with the running back, which is a matchup advantage for the defense.
This was the case when Trevathan blitzed in the games that I watched. He was able to get a running start into the A-gap, for instance, and work around the block by the running back to apply pressure on the quarterback.
Creatively designed pressure packages that create matchup advantages for the defense are something that Trevathan can benefit from since he will be able to use his quickness and natural low center of gravity when attacking blockers.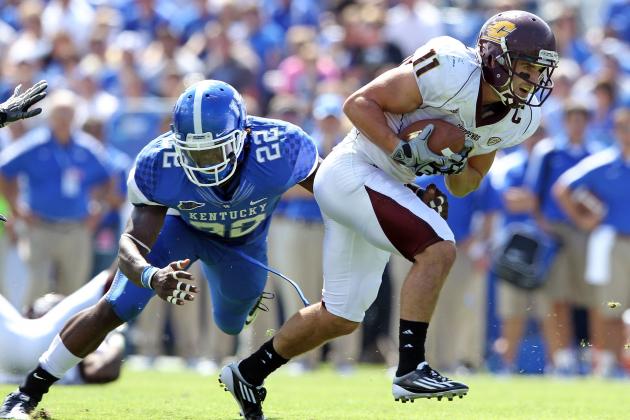 Andy Lyons/Getty Images

Trevathan was officially labeled an undersized linebacker when he checked in at 6'0" and 237 pounds. This makes it seem unlikely that he is going to become a 3-4 inside linebacker or perhaps a 4-3 middle linebacker.
The reason for this is due to his struggles in dealing with blocks. He's unable to stack and shed blocks made by offensive linemen, thus Trevathan could see a move to the outside in a 4-3 front.
As an outside linebacker, he would likely be protected by a defensive tackle in front of him who would shade the guard and keep him off blockers.