College Football: Units That Will Prevent Top 25 Teams from Reaching the BCS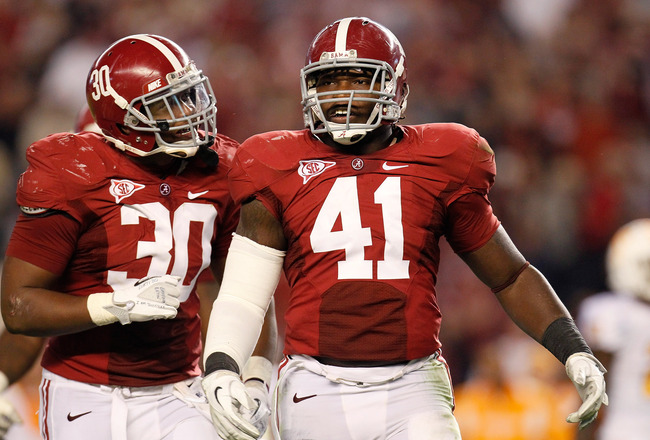 Kevin C. Cox/Getty Images
Receiving a coveted BCS berth is difficult enough even when all of the correct pieces fall into place for college football programs.
The task becomes nearly impossible when one position group is sorely lacking.
While varying groups have different impacts on the game, programs lacking a "complete team" rarely, if ever find their way into the BCS at season's end.
As we move beyond spring football, it's time to take stock of what we've seen and evaluate where each program stands, on a "complete team" basis.
Here, we'll take a look at the the position groups among the Top 25 that will keep their team from reaching the BCS after the 2012 season.
Our Early Bird BCS Picks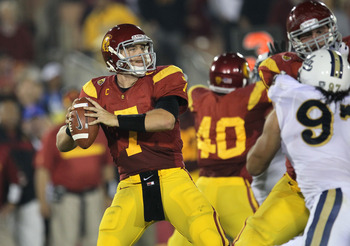 Stephen Dunn/Getty Images
Since we're talking about teams that will miss out on the BCS due to positional groups coming up a little short in 2012, it's probably best to start with the 10 teams that we are predicting to earn a BCS berth this season.
From the ACC: Florida State
From the Big 12: Oklahoma and West Virginia
From the Big East: Cincinnati
From the Big Ten: Michigan and Wisconsin
From the Pac-12: USC and Oregon
From the SEC: Georgia and LSU
Now that we have that out of the way, we can focus on the remaining 15 of the Top 25 projections to pick apart positional groupings.
Notre Dame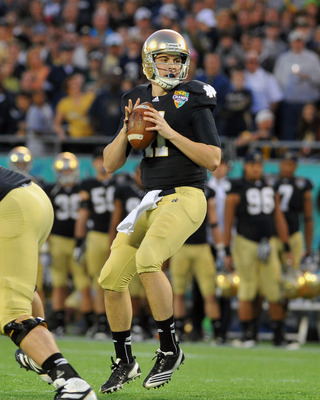 Al Messerschmidt/Getty Images
Brian Kelly is entering his third year in South Bend, and expectations for Notre Dame are—not surprisingly—very high this season.
But try as he might, Kelly cannot simply make a great quarterback emerge out of thin air. While Tommy Rees certainly improved over the course of the 2011 season, enough so that we'll likely see him in 2012, the Irish are still without a true BCS-caliber quarterback.
The Irish will benefit from improved, solid quarterback play in 2012. But there won't be anything spectacular enough to get Notre Dame over that BCS hump.
Florida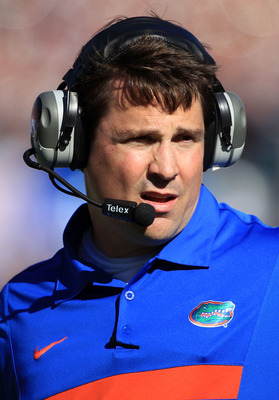 Scott Halleran/Getty Images
Like Notre Dame, perhaps the biggest single shortcoming for the Gators has been quarterback play.
Ever since Tim Tebow made his exit from Gainesville, things behind the center just haven't been the same for Florida. John Brantley is gone, and while there's no question his absence won't be felt at keenly as Tebow's, it still means the Gators will be breaking in a new signal-caller.
There are a couple of capable underclassmen that can fill this position, but whether it ends up being Jacoby Brissett or Jeff Driskel or someone else we've yet to see, it's clear that Florida will still be searching for that magic formula to become competitive in the SEC once again.
Auburn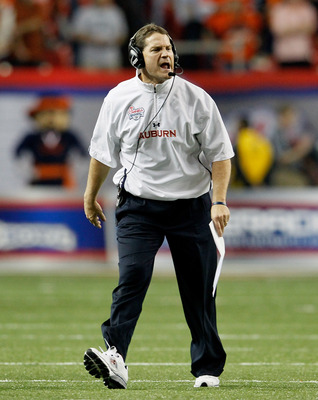 Kevin C. Cox/Getty Images
The good news is that Gene Chizik will return 10 defensive starters from last season. The bad news is that he'll also have the same group of quarterbacks to choose from as last season.
While Auburn certainly wasn't awful, it takes more than a shaky passing game in the SEC to emerge as one of the select two to earn a coveted BCS berth. It's unlikely that either Clint Moseley or possible replacement Kiehl Frazier has what it takes to really allow the Tigers to break out of the middle of the SEC-West pack.
Nebraska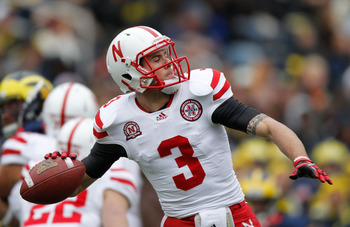 Gregory Shamus/Getty Images
We've been harping on quarterbacks a lot. With Nebraska, it's simply a variation on a theme.
The Cornhuskers have had some great play from the young Taylor Martinez, but he's no so young any more. All those mistakes that we've been able to chalk up to youth can't simply be explained away any longer.
Nebraska fans have to face facts: the Cornhuskers' passing game just doesn't scare anyone in the Big Ten—at least not enough to open up the ground game, where Martinez can really be dangerous.
While Nebraska's run-first offense has done well over the decades, and the Big Ten is certainly a conference that can be all about the run game, Martinez and company can't continue to put up passing offense rankings in the 100th-to-105th range in the FBS and expect to make any BCS games anytime soon.
Texas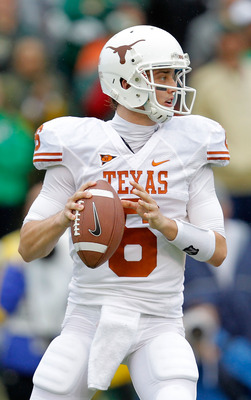 Sarah Glenn/Getty Images
We promise we'll get past quarterbacks soon enough, but when you take a look at the Texas Longhorns, how can you not harp on the quarterback corps?
Mack Brown has a serious dilemma on his hands. Does he go with David Ash or Case McCoy?
But rather than picking between two potential All-Americans, Brown is stuck picking the least bad of the two.
Last season, Texas ranked 86th in the nation in terms of passing offense.
Any fantasies of BCS glory won't be realized until that number improves. A lot.
Virginia Tech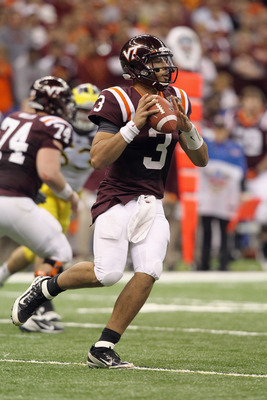 Matthew Stockman/Getty Images
When asking which positional unit will prevent Virginia Tech from making a BCS run in 2012, it's probably worth mentioning that it's likely the wrong question.
We should be asking what unit won't be impeding the Hokies' chances this season.
Seriously, Virginia Tech has just three full-time offensive starters returning for 2012—but luckily quarterback Logan Thomas is one of them.
The real issue will be the rest of the offense, particular the offensive line.
With the exception of junior center Andrew Miller, the Hokies' front five will have a completely new look for 2012.
While a veteran like Logan Thomas should be able to handle things in the backfield, even with the inexperience up front, it's highly doubtful that the youthful Hokies will be able to accomplish anything more than a "rebuilding year" this season.
Kansas State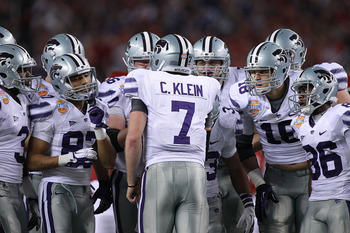 Ronald Martinez/Getty Images
Kansas State certainly had a successful 2011, and the Wildcats were one of the feel-good stories of last season.
But even with such unqualified success, K-State was left out of the BCS, settling instead for a berth in the Cotton Bowl Classic.
In the high-powered offenses of the Big 12, teams with quality defensive units are at a premium. Sadly, it doesn't appear as if Kansas State will be one of the top defensive teams in the Big 12 this season, especially with so many question marks on the defensive line for 2012.
While KSU does return two starters from last season, it's important to note that the Wildcats' biggest downfall was their inability to put any meaningful or sustained pressure on opposing quarterbacks. Down to a pair of experienced d-linemen in 2012 won't help matters, and it means that the Wildcats won't be heading to the BCS after the season.
Boise State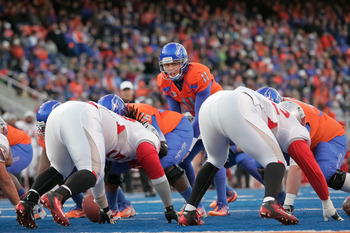 Otto Kitsinger III/Getty Images
Even if Boise State didn't have any glaring personnel holes, the Broncos might still find themselves shut out of the BCS at seasons' end. Even after last year's 11-1 finish, Boise State had to settle for the lackluster MAACO Bowl Las Vegas.
Any other 1-loss teams in the nation participating in bowl games that don't draw a national television audience?
Such is the nature of the BCS's system of favortism.
Now that we've digressed, let's get back to the topic at hand: Boise State's 2012 shortcomings.
After a brief break of knocking on quarterbacks, we return to the signal callers again when talking about the Broncos. This isn't so much a strike against Joe Southwick, the likely BSU starter for 2012, but rather a comment on how much Kellen Moore meant to the success of Boise State.
It doesn't matter if you're the non-AQ Little Engine That Could or if you're an SEC powerhouse with national title after national title to your credit; you lose a player like Moore and you're going to lose a couple of steps on offense.
Southwick has seen some limited play in a backup role to Moore over the past couple of seasons, and he shows every sign of being a perfectly fine quarterback. But the guy he's replacing was the winningest starting quarterback in FBS history.
That's good for a loss or two this season. And as we've seen all too often, that's more than enough for the biased, "I know more than you know" pollsters to keep the Broncos out of the BCS. Again.
At least we didn't mention the kickers...
Michigan State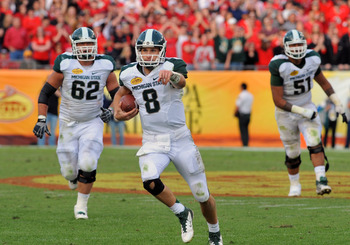 Al Messerschmidt/Getty Images
Michigan State has won 11 games each of the last two seasons.
That's impressive enough, considering MSU had never won 11 games in a single season prior to 2010. It's even more impressive when you consider teams like Alabama, Auburn, Arkansas, Ohio State, USC, and Oklahoma can't say the same.
But Michigan State is still viewed, to some extent, as a minor Big Ten program by the polls.
Despite beating Michigan yet again, and going on to win the Legends Division, again ahead of Michigan, the Wolverines—not the Spartans—were selected to play in the BCS at the end of last season.
With everything being equal, it's clearly already an up-hill climb for the Spartans. In 2012, not everything will be equal.
And while quarterbacking does figure into our little equation for Michigan State, it's only a piece to the larger puzzle.
The Big Ten has always been a run-first conference. Typically, it's the teams that can sustain the power running game while mixing in a killer passing attack that find success week after week. In 2012, it's doubtful MSU will have anything close to resembling a killer passing attack.
Besides graduating all-around quality pocket passer Kirk Cousins, Michigan State is also woefully short on experience at the wide receiver positions.
Top ball-catchers BJ Cunningham, Keshawn Martin, and Keith Nichol are gone. Adding to the lack of passing game, tight ends Brian Linthicum and Garrett Celek are also gone.
We also can't discount the contributions of departed running back Edwin Baker to the passing game.
Michigan State has just five offensive starters returning, and running back Le'Veon Bell is the only one who occupies a "skill" position.
It looks like aerial yards will be very hard to come by this season for MSU.
Texas Christian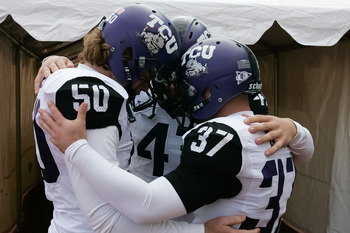 Otto Kitsinger III/Getty Images
The first season in the Big 12 for Texas Christian was going to be difficult enough without all of the off-field distractions.
Now with at least three potential starters charged with drug-related felonies, TCU will be facing a much steeper mountain to climb this season.
Defending against the weekly offensive onslaught in the Big 12 is difficult under the best of circumstances. TCU is now down to just five returning starters for 2012 on defense, and the linebackers and secondary will have a combined two back from 2011.
TCU allowed better than 223 yards per game passing last season, and you can be sure that number is going to climb in the pass-happy Big 12.
And with a depleted secondary, you might also want to put a little money on the fact that opposing offensive coordinators will figure out a way pretty quickly to exploit TCU's defensive shortcomings.
Oklahoma State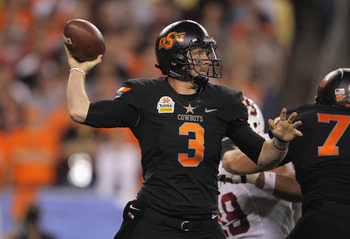 Doug Pensinger/Getty Images
Winning the Fiesta Bowl is certainly an accomplishment of which Oklahoma State should be proud.
That being said, the Cowboys likely missed their best opportunity to win a BCS National Championship last season with an untimely loss to Iowa State. Now, Mike "I'm a Man" Gundy will need to figure out what's next for his team that returns just five offensive starters from a season ago.
Most notably absent from the rost this season is quarterback Brandon Weeden. While we've seen his replacement, Clint Chelf in a limited backup role, it's already clear that Chelf will not be Weeden, Jr.
Regardless of how solid Chelf turns out to be in 2012, it's doubtful he'll turn into the next 4,700-yard passer at Oklahoma State. With that kind of production gone, it's difficult to see how the Cowboys match last season's BCS run.
South Carolina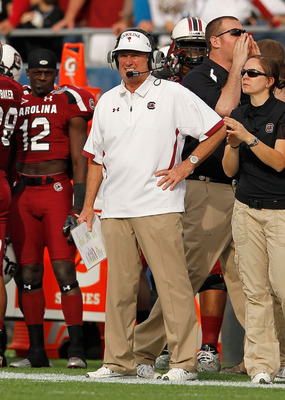 Mike Ehrmann/Getty Images
When South Carolina misses the BCS boat yet again in 2012, you might want to blame the BCS's two-team-per-conference limit more than anything the Gamecocks do or don't do.
On paper, it looks like the Head Ball Coach has his team pretty well poised for another run at the SEC's East Division title, and possible BCS berth.
But we are going to call a spade a spade here; the East Division has easily been the weaker half of the SEC lately, and that probably won't change overnight.
There's no telling how far the Gamecocks might go in the SEC's JV division this fall, but it appears that it will all come down to the October 6 meeting between USC and Georgia. The winner of that game has the definite inside track to Atlanta.
For South Carolina, the only—albeit minor—question mark for 2012 has to be the offensive line. Of all the positional units, it has the most open questions. Not only does the o-line lose two reliable starters in Rokevious Watkins and Terrence Campbell, but the remaining three will be under tremendous pressure to protect returning do-it-all back Marcus Lattimore.
If some consistency can be found for the men up front, South Carolina could make short work of opposing defenses. If, however, there are growing pains, it's going to be very interesting to see how and if Steve Spurrier risks Lattimore early in the season—where a BCS berth could eventually be won or lost.
Arkansas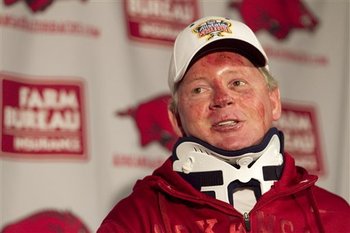 (Photo: AP)
A victim of the conference limits last season, Arkansas missed out on the BCS despite having only lost to the top two teams in the nation.
While some could argue that the conference limit unfairly kept the Razorbacks out of the BCS, the other side of the coin is the fact the Hogs had a shot at both LSU and Alabama, and missed. Badly.
And while the Razorbacks looked well-positioned for another run at the SEC-West this season, coaching issues have distracted pretty much the entire nation from what might otherwise have been a productive spring.
As if to score the importance of football to the state of Arkansas, even top politicians felt inclined to comment on Bobby Petrino's firing. And whether you support the decision to dump the coach or not, the focus now needs to be on the future of the program.
While we could the offensive line, or the linebackers, or the defensive line—all units that have some questions floating around—we're going to cop out a little, if you'll allow, and venture a prediction that the biggest thing that will keep the Razorbacks from chasing down a BCS berth this season will be the coaching staff.
It's never easy to transition from one head coach to the next, even under the best of circumstances. But we can all pretty much agree that Arkansas is not facing the best of circumstances right now. The best thing for the program to do in the short term is to find a coach that can win now with the current players.
Of course, that might not be in the best interest of the program, long term.
Basically, the Hogs' chances in 2012 will likely be determined with one announcement: the naming of the new head coach.
Stanford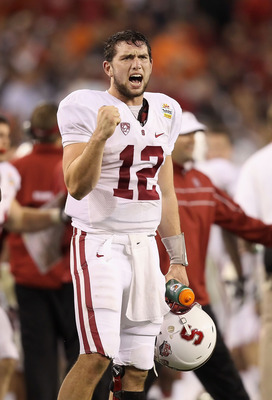 Christian Petersen/Getty Images
It doesn't take college football visionary to figure out what Stanford's problem in 2012 will be.
Even though the anointed one, Andrew Luck managed to finish his college career without that singular trophy that signifies arrival as the best college football player in the nation, he's likely to make more money next year than most of us will see in our lifetimes.
But in his wake is left his former team, the Stanford Cardinal.
While Stanford won't be completely devoid of talent, it's hard to envision anything close to a BCS berth for the Cardinal without Andrew Luck taking the snaps. The remaining quarterbacks on the roster attempted a combined 11 pass attempts in 2011.
Exacerbating the problem is the bare wide receiving cupboard. Anyone hoping for a quality passing attack leading the way for another Stanford run in the Pac-12 is going to have a difficult time making it through 2012. Stanford's BCS hopes likely won't last much past Week 3, as the USC Trojans roll into town, hungry to exact a little revenge on a down-and-out Cardinal football team.
Alabama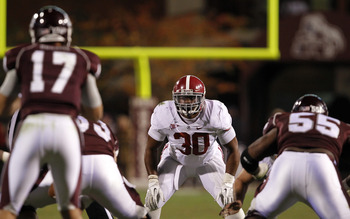 Butch Dill/Getty Images
Any national college football writer worth his salts knows that writing anything critical of the Alabama Crimson Tide comes with a few inherent risks—not the least of which is the avalanche of hate mail and "you're an idiot" comments.
Still, let's all take a trip back to the fall of 2010, which looks very much like the approaching 2012 autumn. Then, as now, Alabama was coming off of a BCS National Championship Game victory, was the king of all things football, and anyone who dared question the supremacy of the Tide was easily and quickly branded a fool.
The Tide proceeded to lose three games that season.
It's also worth mentioning that Alabama failed to win the SEC, or even the SEC's West Division title in 2011.
While there's no way you're going to read about a guarantee that Alabama will lose three games this season, it's not a giant stretch to think there's a decent possibility the Crimson Tide could miss the BCS boat entirely in 2012 given the state of the linebacking corps.
The bane of the SEC detractors over the previous six seasons has been the incredible defenses fielded by teams like Alabama. It's clear for all to see that the best athletes in the nation currently prowl the defensive backfields in the SEC.
And it's precisely the perceived defensive deficiency for Alabama this fall that will spell another quick end to the reign of the Crimson Tide.
The list of departing defensive stars reads like a "who's who" of college football All-Americans for the past couple of seasons; Dre Kirkpatrick, Dont'a Hightower, Courtney Upshaw, and Jerrell Harris are just a few of the players we won't be seeing on the field in 2012—at least, not a college field.
The bulk of Alabama's linebacking and secondary duties will be taken over by a wide collection of untried underclassmen.
While it's been said that the second- and third-team guys on an SEC defense have as much talent as the starters in many other conferences, that ignores the fact that the majority of games Alabama will play will be against other SEC teams—teams which won't be suffering from such a lack of experience and first-team (SEC first-team, that is) experience.
Alabama may be sitting on top of the college football world right now, but making it all the way back up the mountain is tougher the second time around.
Keep Reading