Tennessee Volunteers: How the Vols Can Finish with a Top 3 Defense in the SEC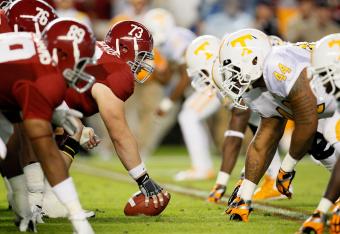 Kevin C. Cox/Getty Images
Going into spring practice, Tennessee knew it had some work to do with the defense. The Vols finished around 30th overall in defensive rankings, which seems pretty good at first. The problem is, it was only good enough for seventh in the SEC. Right in the middle of the pack.
Fans, coaches and players don't like to see a middle-of-the-pack performance, especially if you have a team as talented defensively as Tennessee.
After Justin Wilcox left, many wondered what the Volunteers would do to improve the defense. They have the talent. They have a great mixture of experience and youth. What they didn't have was a guy to coach them.
Enter Sal Sunseri.
By now, Vols fans are familiar with Sunseri. In case you aren't, here is a great article recapping what he has done over the years. He certainly isn't new to the toughness and high expectations of SEC football.
Ah, that was what we were talking about! SEC football!
Back on subject, the SEC is the defensive powerhouse of the college football world. Teams in the conference are constantly fighting over who has the best defensive line, linebackers, safeties—anything that can prove they are an elite defense in one of the most elite conferences.
Tennessee has the ability to do just that in 2012. I'll show you how.
Hiring Sunseri was probably one of the best things that the Vols could have done to help their defense. As an experienced coach who helped coach the linebackers at Alabama, he has certainly seen how a defense can improve and do well.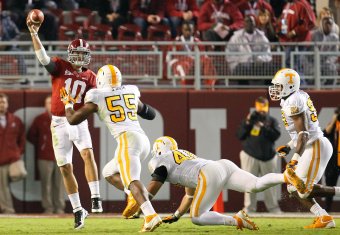 Kevin C. Cox/Getty Images
He also has an air of optimism that is sorely needed for this team. According to him, the defensive guys are progressing well to the 3-4 and have made great strides in becoming better players. It is always good to have a coach that is excited for the team and gives the players confidence, which they definitely need after last season.
While Sunseri's decision to transition to the 3-4 defense seems like a small note, it is anything but. The 3-4 is perfect for Tennessee and suits their abilities well. For those that don't know the significance of this change, let me explain it.
The Vols used the 4-3 defense last season, which has four linemen and three linebackers. It stresses stopping the run and puts pressure on the QB with four linemen. Tennessee has tried it, with mixed results, mostly because they didn't have much depth at the defensive line.
The 3-4 attempts to do the same thing as the 4-3, but with linebackers instead. In order to perform it correctly, you must have athletic linebackers, which Tennessee has in abundance. You also need workhorse linemen, which they have as well.
Probably the biggest advantage of the 3-4 is the unpredictability that it has. Since you have four linebackers, some of them can blitz while some can drop back into pass coverage. You can do any combination of it, which makes it difficult for an offense to read the scheme.
We didn't get much of a chance to see the defense in the spring game, though. As mentioned before, they are still sorting it all out, so we only saw a few plays with the 3-4 implemented.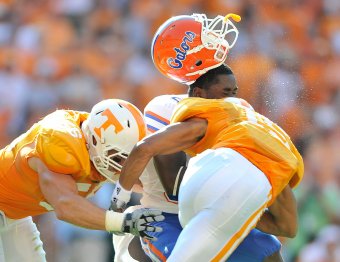 Grant Halverson/Getty Images
Of course, you still need to have good players to run any defense. When looking at all the different sections of this Vols defense, they are surprisingly talented. The new defense certainly has the ability to bring all that out.
The linebacker unit for the Vols is what really stands out. There is an absurd amount of talent on this squad, which includes A.J. Johnson, Curt Maggitt, Jacques Smith, Herman Lathers and LaTroy Lewis. That is one deep position.
But don't forget about the three linemen up front who need to plug up holes. Tennessee asked for huge, and they got it.
Daniel McCullers is a JUCO transfer that comes in at 6'6" and 380 pounds. If that doesn't plug up holes, I don't know what will. McCullers is likely going to play nose tackle in the 3-4 if he is able to obtain the starting position.
To the sides of him will probably be Darrington Sentimore (transfer from Alabama), and the other one is a tossup. I would guess Trent Taylor, who has looked pretty good as of late. That gives the Vols three big-time guys with big-time potential.
Even though we weren't able to see much of the new defense, the linebackers and some defensive linemen showed a lot of skill. I can't wait to see the results when the 3-4 is finally put in.
Add in the pass coverage that includes Brian Randolph, Prentiss Waggner and Marsalis Teague (I think he still has potential), and you have perhaps one of the most underrated defenses in college football.
The big thing that Tennessee must do is take advantage of their abilities. While they may not have the most hyped guys out there, it won't matter because they have all the tools necessary to make the system work. If they can properly run it at least 75 percent of the time, they could easily pass teams like Florida and South Carolina on defensive rankings.
It is Tennessee's for the taking. That is why I expect the Vols to finish with one of the best defenses in the SEC.
This article is
What is the duplicate article?
Why is this article offensive?
Where is this article plagiarized from?
Why is this article poorly edited?

Tennessee Volunteers Football: Like this team?