College Football Recruiting 2013: The Top 10 Home Run Hitters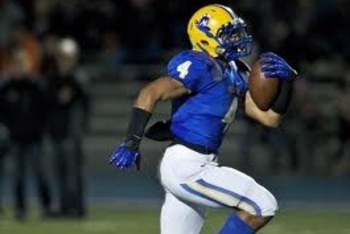 While I know this is football and you can't hit a home run playing the sport, as evaluators, it's still a term we frequently use. When we say "he's a home run hitter" or a "home run threat," we really mean he's a threat to make a big play with the ball.
As in scoring a touchdown anytime he has it, due to his great speed, elusiveness, RAC ability, instincts and natural creativity.
For this read, I'm going to give you the top 10 "home run hitters" for this 2013 class.
10. Ty Isaac, RB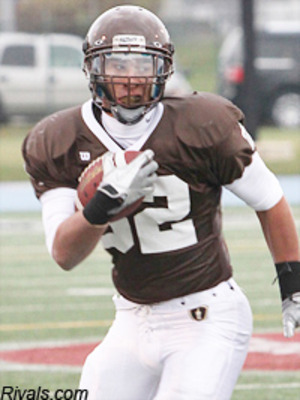 Isaac doesn't look like a home run hitter until you see him play. At 6'3", 220 pounds, you'd think he's a power guy, but it's his breakaway speed that really shocks you.
Isaac can run away from defenders in the open field, has a good burst to and through the hole and if he smells pay dirt, he doesn't stop until he gets there.
9. Tyrone Swoopes, QB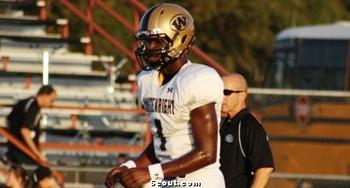 Swoopes is the best dual-threat QB in the country, and he does it beside being 6'5", 200 pounds.
Swoopes ran for over 2,200 yards and nearly 30 TDs last year, as a QB. He plays fast, is a playmaker and gets it done.
Once he hones in his passing skills and gets more reps, he's going to be a force at Texas.
8. Marquez North, WR
North's speed also is surprising like Isaac's. He's a big bodied athlete at 6'3", 210 pounds, but can flat-out explode off the line and get deep in a hurry.
If you take a look at his stats last year, it proves he's a sheer deep threat, as North had only 39 receptions, yet still had over 1,000 yards.
7. Justin Davis, RB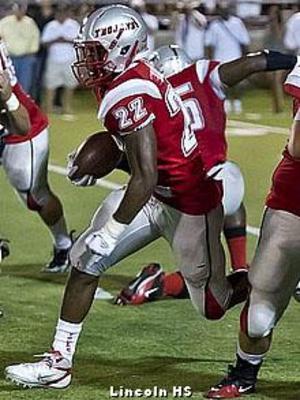 Davis has some glider in him in the open field. He's a 6'0", 197-pound runner from Central California that ran for over 2300 yards and almost 40 scores as a junior.
Davis has great speed, a solid burst and can scoot in the open field. His home run ability is aided by his creativity and elusiveness in space.
6. Stacy Coley, WR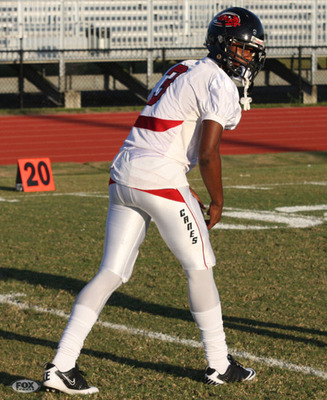 6'1", 175 pounds, Coley is a speedy WR prospect from Florida. He shows good movement skills, fluid athleticism and has good release quickness.
I expect him to be a great one in college, as he's got more than enough speed to command a safety on top of him and still get on top of a secondary.
Coley is a prime-time big-play guy that is also excellent in RAC situations.
5. Tramel Terry, CB/WR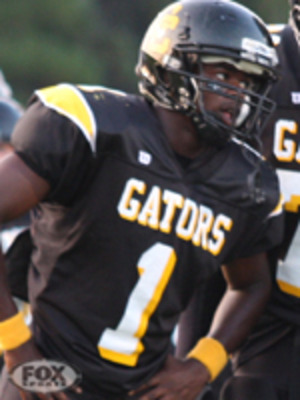 I only list Terry here because I think he's a better corner prospect than WR at this time. Yet the 5'11", 170-pounder has 4.3 speed, can burn by anyone and is a great RAC guy.
If he becomes a WR, he'll need to get more reps at catching balls away from his frame. However, if Terry is bent on staying at WR, he should immediately become a prime-time deep threat.
4. Dontre Wilson, RB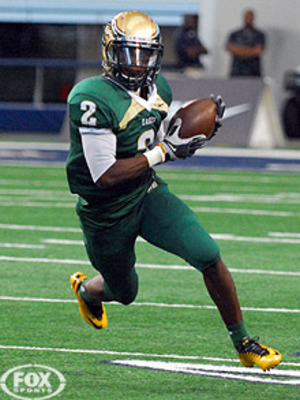 A 5'10', 180-pound Texas recruit, Wilson plays like a low 4.4 guy on tape. He's extremely quick, has some suddenness to his game and can pull away from defenders with a second gear.
He had over 1,000 all-purpose yards and 20 touchdowns last year as a junior. With his speed and quickness, I expect those numbers to double as a senior.
3. Robert Foster, WR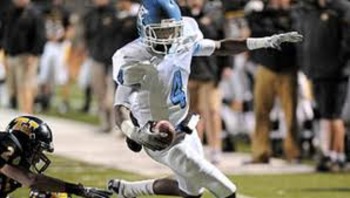 Foster is a 6'2" receiver with excellent release quickness. I think right now he can beat press coverage with quickness and speed, but in college, he'll also add the strength he needs to combat being jammed.
Foster can blow by secondary and is outstanding with the ball as an open-field runner. He can change speeds to set up defenders and can be deployed all over the field.
Anytime he has the ball, stop what you're doing and just watch him.
2. Kailo Moore, RB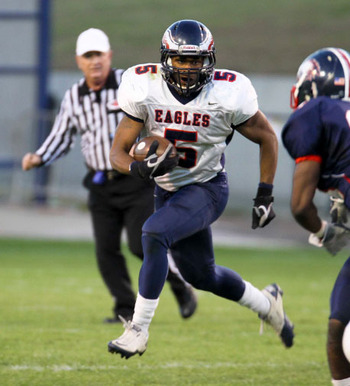 You give Moore a crease and he's gone, plain and simple.
5'10" and 180 pounds, he's a legit 4.4 guy that has track speed that converts to the gridiron. Moore is electric with the football, and he can get moving in a hurry.
If he has space and is coming around the corner, a linebacker has no chance. A defensive back will get shaken, and the band needs to start playing the fight music because he's going to the house, folks.
1. Thomas Tyner, RB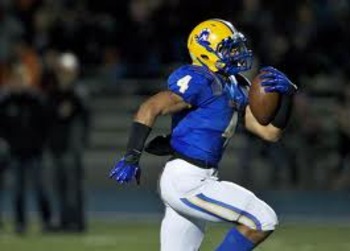 Tyner is bantered about as the nation's fastest player and the No. 1 RB on my board right now. See, unlike Moore and Wilson, Tyner is bigger at 6'0" and over 200 pounds.
And faster too.
Tyner plays faster than everyone else on the field, as he simply outruns people to spots, squares his shoulders to the endzone and almost flies there. He's got great elusiveness, foot quickness and instincts.
He's the best home run hitter in the 2013 class.
Keep Reading