Michigan Spring Game: Wolverines' Offensive Players to Watch for This Saturday
April 14, 2012

Leon Halip/Getty Images
While a keen eye needs to be kept on the Michigan Wolverines defense at this Saturday's spring game, the offense cannot be completely ignored. 
In 2012, the Wolverines will be relying on the offense to take them far, and hoping that the defense steps up and continues to improve. 
As with any spring game, fans should focus on the depth of the team, as it is very vital to a team's success. 
That being said, let's take a look at some offensive players you should watch for at Michigan's 2012 spring game. 
Devin Gardner, QB
There were some rumblings this offseason about Gardner making the switch from quarterback to wide receiver. According to a report from Kyle Meinke of AnnArbor.com, offensive coordinator Al Borges insists Gardner is the No. 2 QB. 
Gardner hasn't been a stud by any means during his limited action as the signal-caller for Michigan, but his performance, along with third stringer Russell Bellomy, is of grave importance. 
Everyone knows that Denard Robinson is at an increased chance to get hurt because of his mobility and small frame. This means that the backups have to be in great shape this offseason, just in case one of them is called upon to start. 
The spring game is a great chance for Gardner to reassure Michigan fans that not only should they feel good about him as insurance for Robinson, but they should also be pumped for Gardner to be the leader next year. 
It's up to the 6'4", 210-pound QB to make that happen, though. 
Jeremy Gallon, WR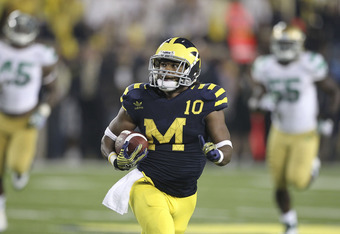 Leon Halip/Getty Images
With Junior Hemingway gone and Darryl Stonum off the team, the wide receiver position at Michigan is quite thin. 
Everyone knows Roy Roundtree is the main man this coming year, but other guys have to step up. Robinson is rather erratic in the pocket, oftentimes just throwing the ball up for grabs. Of course, he's working on improving that this offseason, but there's no guarantee he gets immensely better. 
Gallon will be one of the guys competing to be the second best wideout on the team, and it would be great for him to thrive in the spring game. Not only would it lift his spirits, but it would also bring joy to the coaching staff as well as the fans. 
Listed at only 5'8", 180 pounds, Gallon has the experience, and he was even second on the team in receiving a year ago. 
The Wolverines do have some bigger and taller wideouts joining the team in a few months (class of 2012 recruits), but in the spring game, folks need to see if Gallon is able to make some monster plays. 
Ricky Barnum, C 
David Molk, the 2011 Rimington Trophy winner, is gone, and Barnum will be his replacement. Stepping in and following a skilled center like Molk will be a daunting challenge for Barnum, especially considering he's switching positions. 
Barnum moves from left guard to center now, a position he played in high school and for a brief period of time as a freshman under Rich Rodriguez. 
He's got very big shoes to fill, and everyone will need to watch not just how well he blocks and protects for Robinson in the spring game, but also how he snaps. 
Remember that during the Sugar Bowl, backup center Rocko Khoury did a horrendous job filling in for Molk early in the game. Poor snaps will not be tolerated at all.
It's unlikely that it happens, since Barnum is a veteran on the line, but nerves can still get the best of him. Focus on Barnum and the rest of the line as it attempts to keep the new-look defensive line from making headlines.