College Football 2012: 16 BCS Fanbases with Nothing to Look Forward to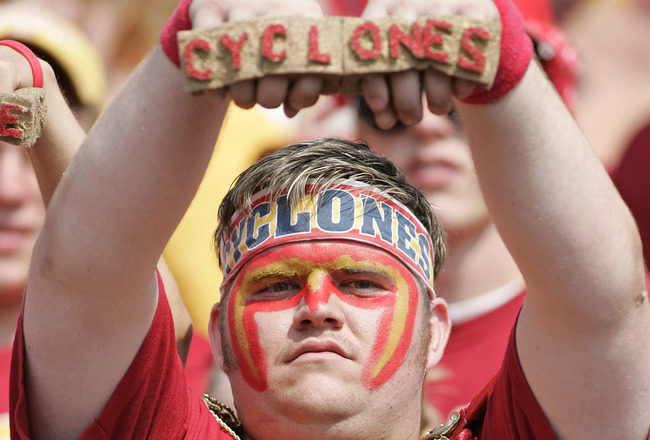 G. N. Lowrance/Getty Images
The harsh reality of the BCS era of college football is that, other than the traditional powerhouses, only a small fraction of programs are in position to squeak through to the much lauded "next level."
And that means that a myriad of teams aren't, no matter how bad we want it to be, going anywhere.
The following slideshow takes on the nasty task of identifying 16 BCS fanbases with nothing to look forward to…at least in the short term.
Although the true definition of "success" is, in reality, different for all 67 teams who make up the BCS ranks, we'll assume for this exercise that success equals either a divisional, conference or national title.
And these are goals that, if history is correct, each of the following teams will struggle mightily to achieve in the next several years.
It's an unpleasant business, and it's wholly negative, but at the end of the day it's destined for the "sad but true" files.
Arizona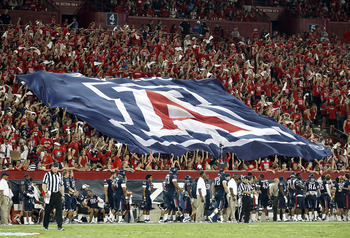 Christian Petersen/Getty Images
Regardless of the era of good feelings that will no doubt accompany the dawning of the Rich Rod era at Arizona, getting the Wildcats to the next level won't be easy.
Arizona is a program that hasn't won a Pac-10 title since 1993, hasn't been ranked in a final AP Poll since 1998 and has only enjoyed double-digit win seasons twice in the 113-year history of the program (1993 and 1998).
The new divisional format in the Pac-12 gives the Wildcats a shot at a divisional crown, but to do so they'll have to find a way to beat USC, a team who they are 1-9 against in the last 10 meetings.
Baylor
Ronald Martinez/Getty Images
After a 2011 season that included a third place finish in the Big 12, a 10-3 record and a Heisman Trophy, it may seem ludicrous to say that Baylor has nothing to look forward to from a football perspective.
But, if we're putting that statement in the light of "championships," things aren't all peaches and cream for the fans of Sic 'Em.
Baylor hasn't won a title of any kind since they captured a share of a Southwest Conference crown in 1994, and before that you have to go back to 1980 to find another ring winning season.
The Bear's No. 13 finish in last season's AP Poll was the first such honor since 1986, and though they went bowling after the 2010 and 2011 seasons, before that they hadn't seen the postseason since 1994.
And remember, we live in a world where more than half of the teams in the FBS make a bowl game.
Perhaps the upswing in Baylor football is not short lived, but with continued yearly meetings with Texas, Oklahoma, Oklahoma State and now West Virginia, it's difficult to believe that the Bears are going to run the tables anytime soon.
Duke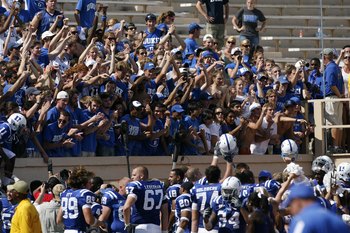 Kevin C. Cox/Getty Images
Although David Cutcliffe is Duke's most successful coach since Steve Spurrier went 20-13-1 from 1987-89, he is still just 15-33 over four seasons in Durham.
Duke hasn't won the ACC since grabbing a share of the title under Spurrier in 1989, and though they were a dominant football force in the 1950s and early 60s, it seems safe to say that they won't be vying for an ACC Coastal crown anytime soon.
The Blue Devils haven't finished a season ranked in the final AP poll since 1961 when they were at No. 20.
Indiana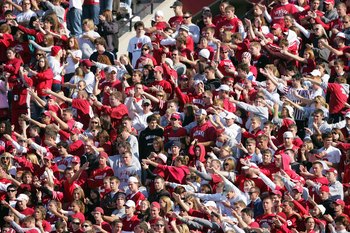 Andy Lyons/Getty Images
Indiana's got a fine coach in second year head man Kevin Wilson, but this is a guy who frankly has the deck stacked against him.
The problem with the Hoosiers, from a football perspective, is that even hopes of a divisional title mean finding a way to beat the likes of Penn State, Wisconsin, Ohio State and then Illinois and Purdue.
Indiana has only won the Big Ten twice, in 1945 and 1967, they haven't finished a season ranked since 1988, they haven't won a bowl game since 1991, and they've never, in 125 years, had a double-digit win season.
Iowa State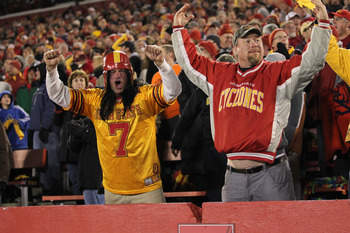 Reese Strickland/Getty Images
The Cyclones hold the dubious honor of being the program on our list that has waited the longest for a championship trophy.
The last time Iowa State drank from the chalice of gridiron victory was 100 years ago in 1912, when they won their second consecutive Missouri Valley Conference Co-Championship.
The Cyclones have only finished a season ranked three times in history (1971, 1976 and 2000) and they've only won more than eight games once in history (they went 9-3 in 2000).
Iowa State is yet another program with a fiery, determined head coach (Paul Rhoads) who frankly has his work cut out for him to hit pay dirt in a reduced, yet still potent, Big 12.
Kentucky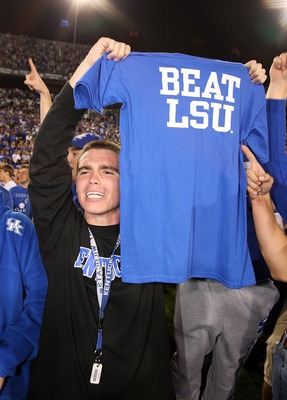 Andy Lyons/Getty Images
Like Duke, North Carolina and Indiana, Kentucky has always been a basketball-centric institution, but unlike the others, the Wildcats have to try to field a winning football program in the throes of the SEC.
Kentucky has only two SEC titles to its name (1950 and 1976) and hasn't finished a season ranked in the AP since 1984.
The Wildcats will always make things interesting, which gives all of us something to look forward to, but even a SEC East divisional title seems far-fetched for the school that just captured its eighth NCAA Men's Basketball National Championship.
Minnesota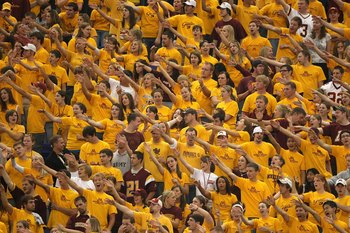 Doug Pensinger/Getty Images
Hidden beneath the modern face of a team that has mostly suffered for several decades, Minnesota won a whopping six national championships from 1934-60.
The Golden Gophers have won 18 Big Ten titles in their 130-year history, but the last time they reached the pinnacle of Midwestern football was 45 years ago in 1967.
Altough Minnesota finished both the 1999 and 2003 seasons ranked, before that it was 1968 when they got some love from the pollsters.
The Gophers haven't won a bowl game since they knocked off Alabama in the 2004 Music City Bowl, and though Jerry Kill might well right the ship at in Minneapolis, a 19th conference title seems unlikely.
Ole Miss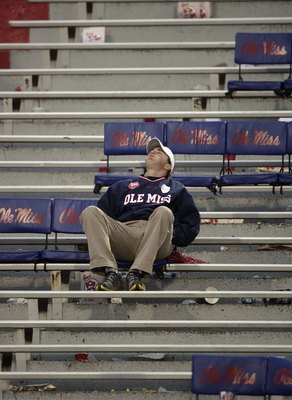 Dave Martin/Getty Images
Ole Miss clearly showed signs of life over their two 9-4 campaigns in 2008-09, but other than this and a 10-3 mark in 2003 (under David Cutcliffe who currently is the head guy at Duke), the Rebels haven't truly contended since the 1960s.
The Rebels won the SEC six times from 1947 to 1963 and also captured the national title in both 1960 and 1962, but 2012 presents a much steeper slope for the boys from Oxford.
Ole Miss's bold decision to hire Hugh Freeze may ultimately prove fruitful, but this is still a team that plays in the toughest division in all of college football.
And, to sweeten the pot, Texas A&M joins Alabama, Arkansas, LSU and Mississippi State in what is no less than the Murder's Row of college football opponents.
North Carolina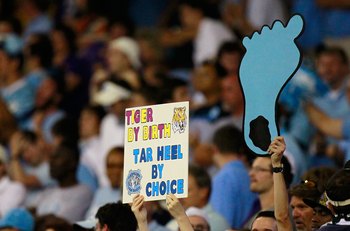 Kevin C. Cox/Getty Images
The last time Carolina won an ACC title in football Michael Jordan was still in high school and still two years away from sinking the winning bucket in the 1982 NCAA Men's Championship game vs. Georgetown.
Other than the 1980 title, UNC has won the ACC on four other occasions (from 1963-77) but since then, and even with great runs under Mack Brown, it's been decidedly quiet from a championship perspective.
Although the Tar Heels, arguably, have more "hope" than other teams on list, they still have to find a way to knock Virginia Tech and Georgia Tech off the ACC Coastal throne in order to move forward.
Yes, since the ACC split into divisions in 2005 only the Yellow Jackets and Hokies have held the Coastal title meaning that even Miami (Fla.) has struggled to compete.
NC State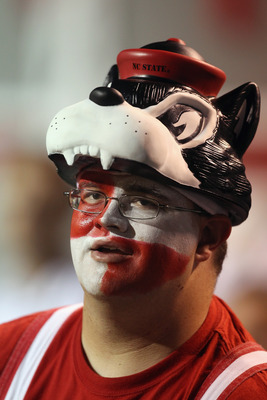 Streeter Lecka/Getty Images
Tom O'Brien is 33-30 over five seasons at NC State, and even though the Wolfpack finished the 2010 season ranked No. 25 and are 2-1 in bowl play under O'Brien, it's been a long, long time since they've won any real trophies.
NC State last won the ACC in 1979 and other than a thrilling 11-3 finish in 2002 under Chuck Amato, the Wolfpack has never, ever enjoyed another double-digit win season.
Like so many other programs on this list, NC State has fielded some very good football teams but even a divisional title run means knocking off the likes of Florida State and Clemson, which is no easy task.
Realistically, since they aren't in the Big Ten, Big 12 or SEC, NC State has a better opportunity to get removed from the "nothing to look forward to" list than others.
Purdue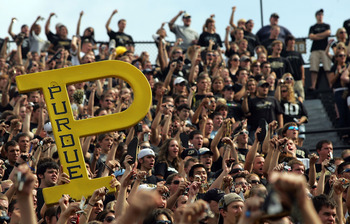 Ronald Martinez/Getty Images
Although Purdue won the Big Ten as recently as 2000 and despite the fact that they haven't completely skidded in the same disturbing way as other programs on this list, it's hard to imagine the Boilermakers being title bound any time soon.
And this is an issue that is compounded by the fact that Big Ten has split itself into divisions, which means that yes, you can win a smaller title, but at the same time gone are shared titles and co-championships.
To put it simply, Purdue must first win the Leaders division (hmm…Wisconsin, Penn State, Ohio State and Illinois) and then move on to beat the winner of the Legends competition (Michigan, Nebraska, Michigan State and Iowa).
Purdue is a solid program that continues to win games regardless of the fact that they play in one of the best conferences in college football, but the truth is they're still a squad that is 1-6 in its last seven bowl games against BCS teams.
Rutgers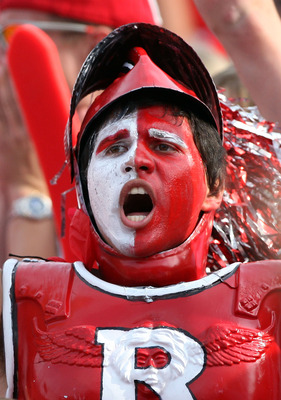 Jim McIsaac/Getty Images
Rutgers' football renaissance led by the dearly departed Greg Schiano makes you believe that Scarlet Knights fans have lots to look forward to.
Yes, recruiting is better, and you bet five eight-plus win seasons in the last six is something to celebrate but what's next for Rutgers?
This is a program that hasn't won a title since they took home the 1974 Middle Three Conference championship and with the Big East in the throes of transformation what will it mean for the Scarlet Knights?
This coming season, with the Big East pared down to the bare minimum, may be the year that Rutgers needs to look forward to, because moving forward without Schiano and the possibility of losing the BCS label makes things look shaky at best.
Syracuse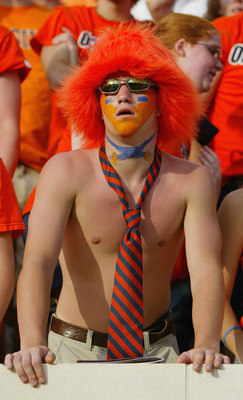 Doug Pensinger/Getty Images
Syracuse is yet another program that manages to put together something special every few years, but at the end of the day this is still a team that hasn't won the Big East since 2004.
And, it's important to quantify this by saying that the 'Cuse went 6-6 in 2004 and went on to get drilled 51-14 by Georgia Tech in the Champs Sports Bowl.
What makes Syracuse's case of whether to or whether not to be hopeful is their impending move to the ACC where things will just get tougher from a football perspective.
Gone will be games with UConn, Rutgers and Louisville to win it all and instead will be contests vs. Florida State, Clemson, Miami (Fla.) and Georgia Tech.
Texas A&M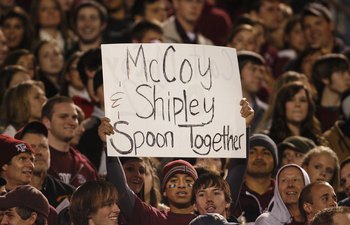 Aaron M. Sprecher/Getty Images
Although every Aggie, as they should, will tell you of their excitement about their move to the SEC, the truth is most of these loyal fans are likely tossing in their beds at night as they think of what will happen to their under performing team in the jaws of the relentless SEC.
Texas A&M hasn't won a conference title since 1998, they haven't beaten an SEC team since 1995 and overall they are 53-74 against the current members of the SEC West.
Perhaps the Aggies will transform their conference move into a solid gold hit destined for Soul Train, but this is a team that is 2-8 in its last 10 bowl games and has only won more than eight games in a season twice in the last decade.
And don't forget to add to this that the waters in the SEC will be far choppier than the stormy seas of the Big 12.
UCLA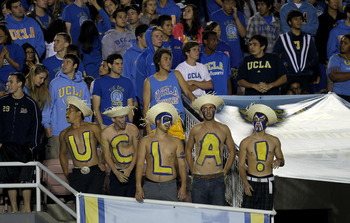 Stephen Dunn/Getty Images
UCLA is a program that seemingly has all the right stuff, like Illinois, to be a sleeping giant that just needs the right leadership spark to awaken it from its slumber.
But, the truth is that this sleeping giant has been nearly comatose and may need to lay off the Nyquil.
The Men of Westwood haven't won a Pac-10 crown since 1998 and though they "won" the South division last year, that should be quantified by stating that they went 6-8 and fired their coach.
UCLA hasn't finished a season ranked since 2005 (and before that 1998), haven't won a bowl game against a BCS foe since 2005 (they beat Northwestern in a Sun Bowl shootout) and they are 1-12 vs. USC since 2000.
And it's the cross-town rival with their huge wooden horse that they'll have to beat to have something to look forward to.
Vanderbilt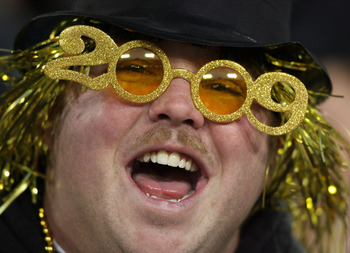 Andy Lyons/Getty Images
Other than Iowa State, Vandy is the program on our list that has suffered the longest title dry spell.
The gridiron Commodores have never won an SEC crown, but they captured 11 Southern Intercollegiate Athletic Association titles from 1897-1915 and then brought home shared Southern Conference championships in both 1922-23.
The parallels between Iowa State and Vanderbilt extend far beyond the reaches of long awaited triumph; both schools have highly motivated, inspirational head coaches (add James Franklin to Paul Rhoads and you've got a screaming cocktail that will win against ALL odds), and both play in conference's that make winning come the hard way.
Vandy is very likely to turn some heads with the fiery Franklin at the helm, but daydreams of SEC East crowns and big glittery diamond encrusted rings seem quite out of reach.
Keep Reading