Preseason College Football Rankings 2012: 4 Teams That Will Be Hugely Overrated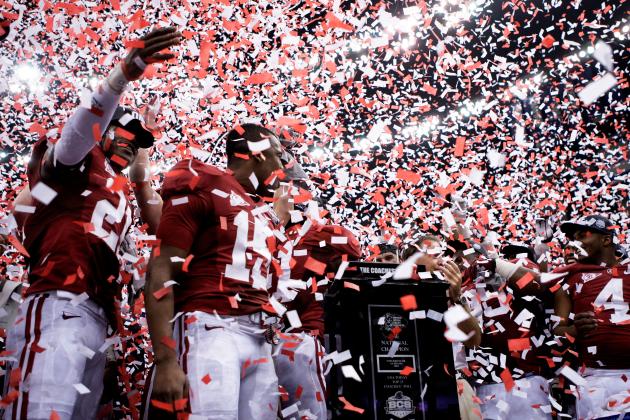 Andy Lyons/Getty Images

College football preseason rankings are ridiculous considering the teams haven't played a down, and these four teams are overrated compared with what they can accomplish this season.
Only once in the BCS era has a team started No. 1 in the rankings and finished with a championship trophy in hand (Florida State in 1999).
Even worse, since current reigning champion Alabama did so in 1978, it's only happened two other times (Florida State in 1993, Oklahoma in 1985).
Point being, perception can be deceiving from the top all the way down.
Considering what key players these four squads are losing, they are overrated going into the 2012 season.
Begin Slideshow

»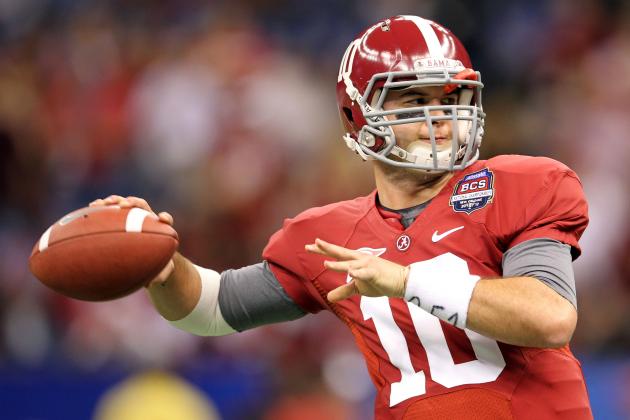 Andy Lyons/Getty Images

Alabama stifled undefeated LSU in the title game in January, but come November's rematch, they could have already failed to remain undefeated themselves.
September games outside of Bryant-Denny Stadium against Top 25 teams Michigan (neutral site) and Arkansas (away) don't bode well for 'Bama.
Nor does another in October against Missouri (away), before even facing the Tigers—especially when just four starters on each side of the ball return.
While coach Nick Saban has done an incredible job of recruiting at the helm with the Crimson Tide, that's just too much experience lost to consider this a championship-defending team.
At least not to the caliber they've been rated by national media.
Quarterback A.J. McCarron will return, but he was far less important than first-round-bound Trent Richardson. Plus, McCarron won't have any targets who had 18 catches a season ago (wideout Kenny Bell snagged 17 for 255 yards).
At least equally important to Alabama's success was its defense. Though the Tide will have safety Robert Lester, the rest of its secondary will be new—as well as four other starters.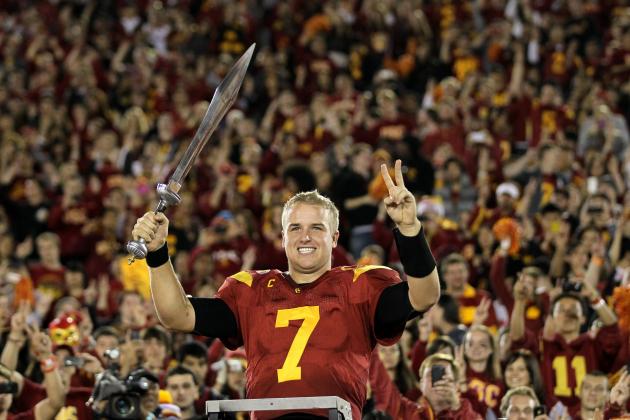 Stephen Dunn/Getty Images

USC is back in the BCS picture this year, and quarterback Matt Barkley is back for his senior year, but people forget coach Pete Carroll no longer holds the reins to this team. Thus, USC will be overrated.
As difficult as it is for a Pac-12 team to be overrated, with the anti-conference bias and all, USC has the best chances of overriding that.
After two winning campaigns which had little national media coverage because USC was banned from bowl games for two years, there will be a frenzy to follow the Trojans again.
However there are still lingering effects from the NCAA's disciplinary action. Ten scholarships were taken from each year, including this season, which greatly affects coach Lane Kiffin's talent pool.
Though they do return two stellar wideouts in juniors Marquis Lee and Robert Woods, the Trojans lost supremely talented linemen on both sides of the ball in OT Matt Kalil and DE Nick Perry.
Heisman-hopeful Barkley is back, but while the USC offense was touted as tremendous, the Trojans finished fourth in major offensive statistical categories.
USC's first two Pac-12 games will prove challenging, but if the team overcomes stalwart Stanford and up-and-coming Cal, the national media is sure to boost the Trojans higher than they deserve.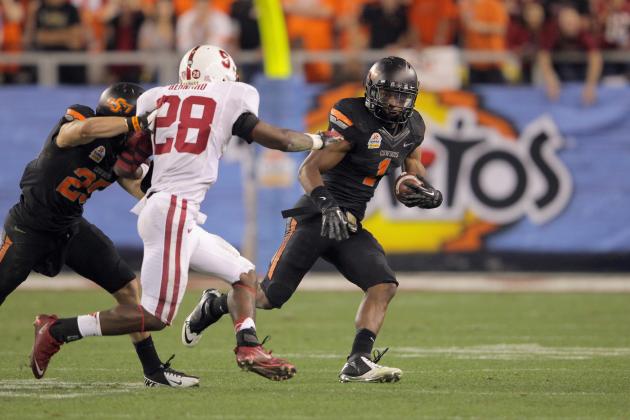 Doug Pensinger/Getty Images

The Cowboys will be without its one-two punch of QB Brandon Weeden and WR Justin Blackmon, making them overrated in 2012.
The veteran leadership of Weeden coupled with the extraordinary talent of Blackmon can't be replicated, considering they led Oklahoma State to tops in the Big 12 in offense.
And unfortunately, the Cowboys will also have to try to insert three new offensive lineman into the lineup.
Coach Mike Gundy has done a fantastic job of upscaling Oklahoma State from second-mentioned to the Sooners, putting them in the national conversation the past two years. (After all, he's a man, and he's 30.)
But this program will go through growing pains in losing half of its offense from a year ago.
Joseph Randle will stem the bleeding, but he can't carry the offense on his own.
Fortunately, the team has eight returning starters on defense, though they lost safety Markelle Martin. That unit will have to improve on an already conference-best performance to make up for the offensive change, since nothing can replace the offensive power the Cowboys achieved last year.
This team will have a let-down season.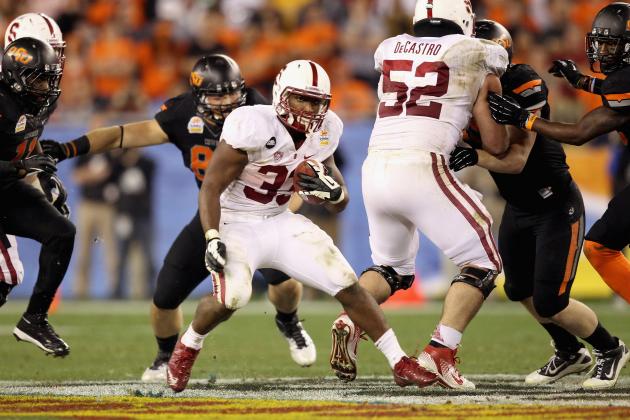 Christian Petersen/Getty Images

With their starting quarterback headed to the NFL as the No. 1 overall pick, Stanford will have little luck reaching the heights they've ascended to because of Andrew Luck.
An overrated preseason is in store.
The loss of Luck comes a year after the coach who orchestrated the Cardinal turnaround moved north to San Francisco. Though coach David Shaw led Stanford to a 11-2 record last season, he'll have one less Jim Harbaugh-recruited class to work with.
Shaw brought in a stellar class of his own this spring, but he's still no Harbaugh.
The Cardinal also have to deal with replacing two starting offensive linemen. Much of tailback Stepfan Taylor's success rode on Luck's arm and those two big blockers up front.
Standing behind tackle Jonathan Martin and guard David DeCastro, Heisman runner-up Luck lead the Pac-12 in completion percentage and passer efficiency a season ago.
That clip, along with 3,517 yards and 37 touchdowns, opened holes up for Taylor. Whoever wins the starting QB job will have a hard time creating that much offense that effectively.
Taylor will have some trouble running the ball as a result.
The Cardinal only have 13 returning starters, but their success from the past two years just won't return.