Bobby Petrino the Latest in a Long Line of Dishonorable Coaches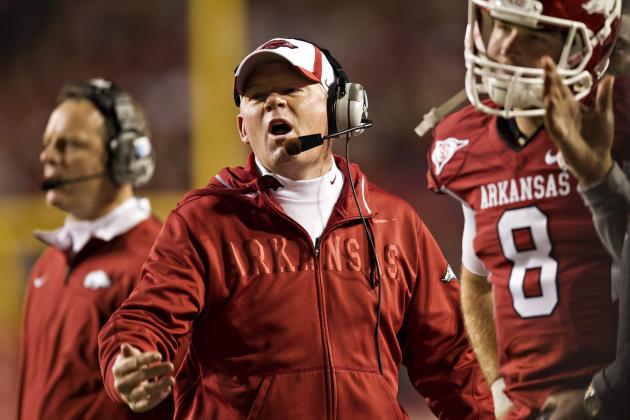 Wesley Hitt/Getty Images

There have been more than a few dishonorable coaches when it comes to football and basketball.
Former Arkansas head coach Bobby Petrino is the latest in a long line of coaches who have made bad decisions and then lied about them.
That brings about the question of who are the most dishonorable coaches in recent memory.
Upon research, there are so many to choose from that it is hard to narrow it down.
But we did, and here are the 12 most dishonorable coaches in college history.
Begin Slideshow

»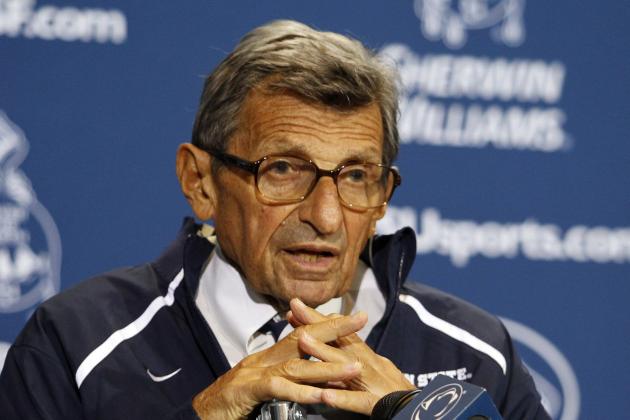 Justin K. Aller/Getty Images

As hard as it is to put Joe Paterno on the list, he must be included, and he starts off the most dishonorable coaches at No. 12.
While he accomplished so much on the field and will certainly be remembered for that, his legacy will also be slightly tarnished from the child sex abuse scandal that rocked Penn State over the past few months.
Paterno was informed of the accusations, but he did no know how exactly to handle them. Not that everybody would.
What happened under his watch ultimately falls on the head coach and for that, Paterno is another in a long line of dishonorable coaches.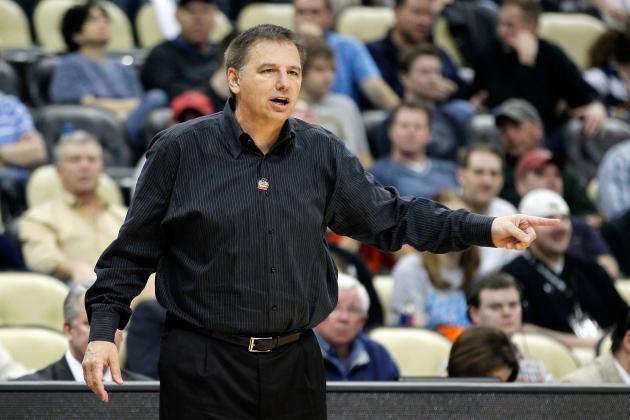 Gregory Shamus/Getty Images

Larry Eustachy was very successful at Iowa State until he was suspended and forced to resign in May of 2003.
What did him in was the pictures taken at a fraternity party at Kansas State after his team lost a few hours earlier that were plastered all over the Internet.
The pictures showed Eustachy kissing several younger women and holding a beer at the party as well.
He violated the morals clause in his contract and was suspended with pay before being fired shortly after.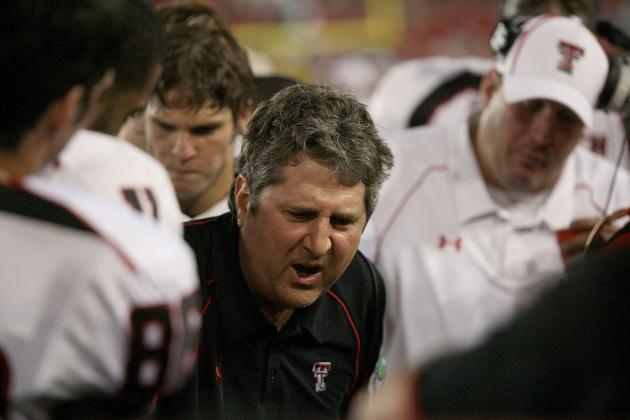 Thomas B. Shea/Getty Images

Mike Leach sort of lives up to his name. While at Texas Tech, he always had a big temper, but nobody knew exactly what he was capable of until the end of the 2009 football season.
Just before the Alamo Bowl in January 2010, Leake was accused of banishing a player to a dark room for three hours after he suffered a concussion.
He threatened to kick him off the team if he came out.
Leach was fired before the game and has recently resurfaced at Washington State for the 2012 season.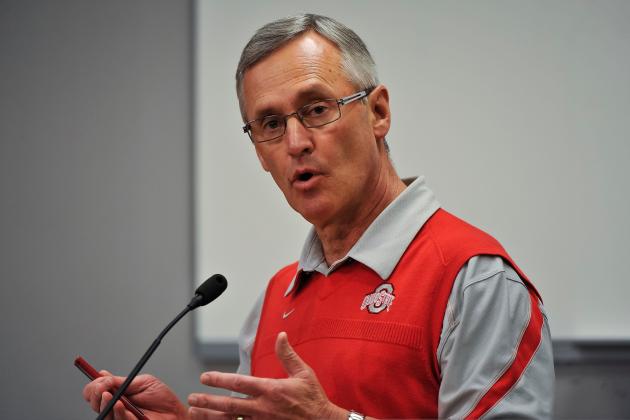 Jamie Sabau/Getty Images

Jim Tressel seems like a squeaky-clean guy, but upon closer inspection, he is a little shady, like the rest of the coaches on this list.
He knew about the tattoo situation going on at Ohio State but failed to inform the right people about what was going on.
When the truth came out, Tressel was forced to resign and Ohio State was subsequently put on probation with a one-year bowl ban.
The sweater vest was finally exposed for what he really was.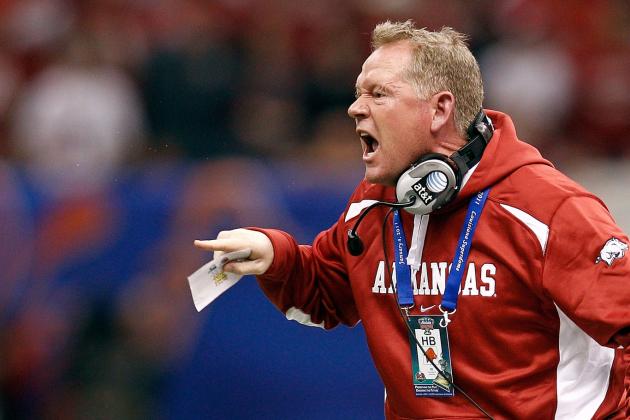 Chris Graythen/Getty Images

Bobby Petrino is the most recent of these dishonorable coaches and like many of the others, he's a liar and a cheater.
That is why he fits right in.
Petrino lied about having a passenger riding with him when his motorcycle wrecked, and he had been having an improper relationship with a woman who was half his age.
He had also given her $20,000 at some point along the way as well as a job with the football team.
With four kids and a wife, Petrino is not exactly the most honorable of men.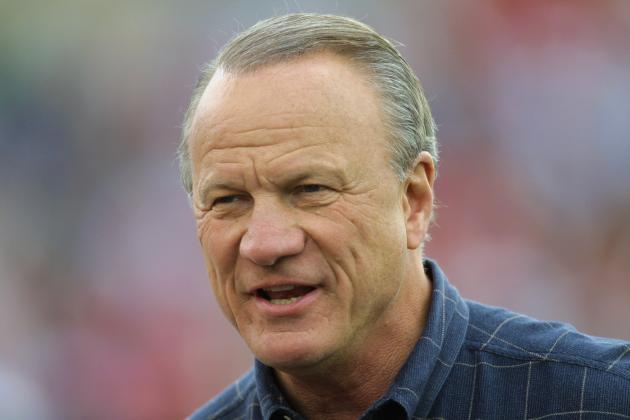 Ronald Martinez/Getty Images

Barry Switzer was very successful during his tenure at Oklahoma and with the Dallas Cowboys.
But that may have been because of some illegal doings.
Switzer was civilly prosecuted for illegal insider trading by the U.S. Securities and Exchange Commission before being found not guilty in 1983.
In 1989, Oklahoma was placed on probation by the NCAA. Several scandals had surfaced, including Charles Thompson's arrest for soliciting cocaine to undercover FBI agents.
Switzer was in the middle of a lot of this type of activity.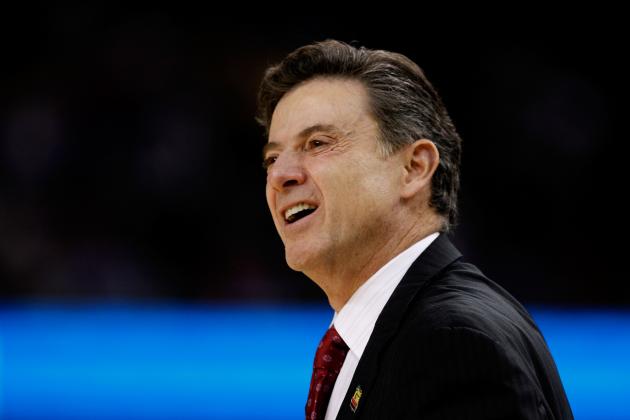 Chris Graythen/Getty Images

Rick Pitino not only cheated on his wife, but also paid off the woman he cheated with when she claimed she did not have medical insurance and might need an abortion.
For a man of Catholic faith like Pitino, cheating on his wife was one thing, but also paying off the woman for an alleged abortion is another.
That is breaking two major rules and could have cost Pitino his job back in 2009.
Luckily for Louisville, Pitino remained, and he has seemingly kept out of trouble since then.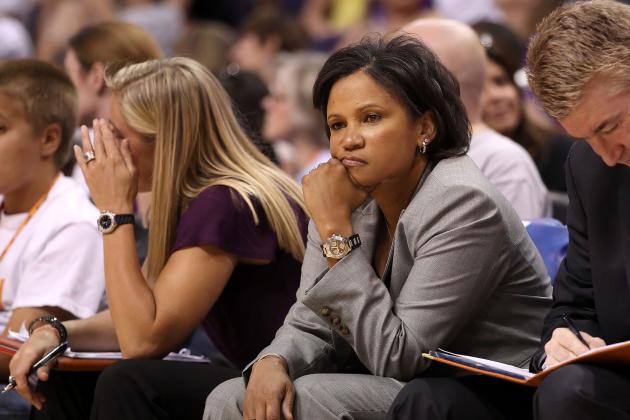 Christian Petersen/Getty Images

Former LSU women's basketball coach Pokey Chatman did the unthinkable five years ago and slept with one of her players.
She was forced to resign in March of 2007 after a story was made public about her sexual affair with one of her players.
When it comes to honor, Chatman is far from it, doing what no coach should ever even think about doing.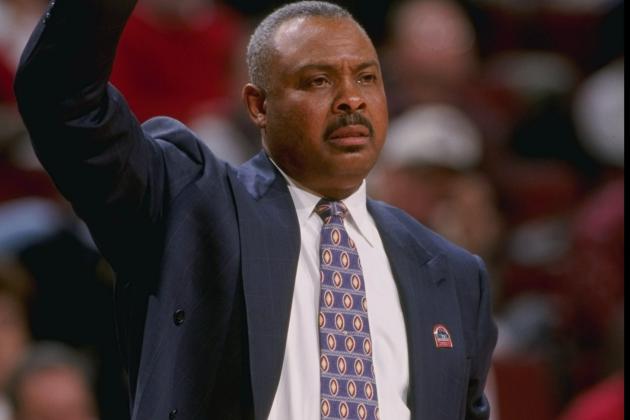 Jonathan Daniel/Getty Images

Clem Haskins was behind one of the most serious scandals in recent memory as far as the NCAA is concerned.
Among the accusations was homework being forged over a five-year span.
After a while, it was discovered that Haskins was right in the middle of this scandal.
Minnesota returned 90 percent of the money they won from three NCAA tournaments and did not face too severe of NCAA sanctions.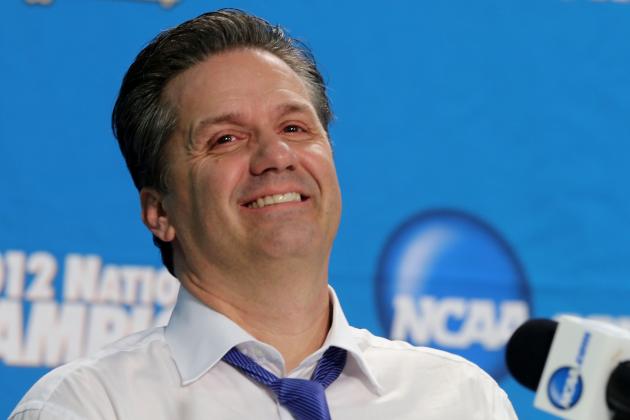 Jeff Gross/Getty Images

John Calipari is not only dishonorable, but he's a little sleazy as well.
After leading Massachusetts to the Final Four in 1996, Calipari was forced to give it back after he and player Marcus Camby accepted jewelry and cars, among other items from agents.
Calipari then moved on to Memphis and reached another Final Four in 2008, but he was forced to give that one back because of a scandal regarding Derrick Rose and the SATs.
So the title he should have won in 2008 would not have counted anyway.
Time will tell if his most recent title will hold up at Kentucky.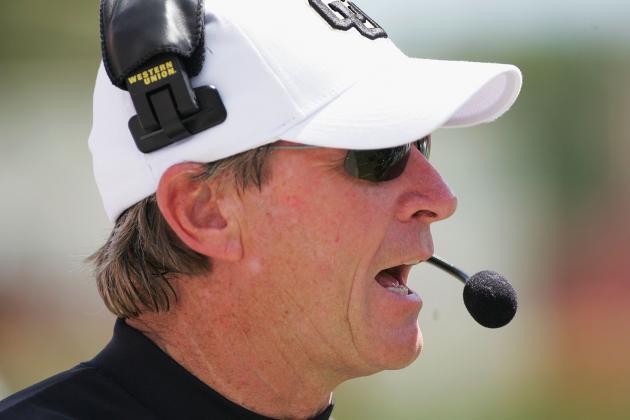 Doug Benc/Getty Images

Gary Barnett was the man in charge of the Colorado football program when a lot of illegal activity was taking place.
A regular part of the football recruitment of high school athletes involved providing the minors with alcohol and strippers.
There were also allegations of sexual assault, rape and underage drinking.
Barnett was placed on administrative leave in February 2002. Then in 2004, scandal struck again as 10 women claimed that they were raped or sexually assaulted by Colorado football players at off-campus parties.
Not a good track record for Barnett at Colorado.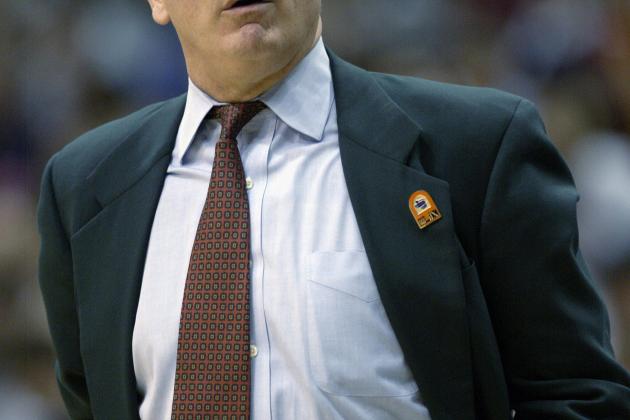 Brian Bahr/Getty Images

Dave Bliss and the Baylor saga go much further than any of the other dishonorable acts on this list.
He was guilty of recruiting violations and had ignored excessive drug use by members of his team before the major incident in 2002.
Then in 2002, the mysterious death of Patrick Dennehy led to fellow player Carlton Dotson being convicted of his murder and sentenced to 35 years in prison.
A lot more began to surface dating back to his days at SMU and more recently at Baylor.
Among the accusations was helping to pay tuition of players, recruiting violations and drug use.