Tennessee Volunteers Football: 10 Reasonable Goals for the 2012 Season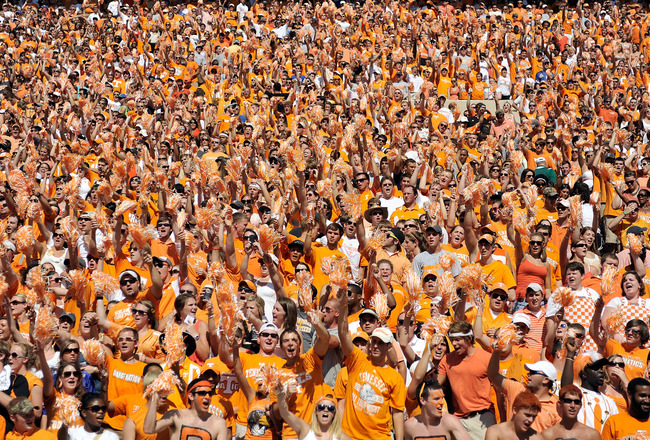 Grant Halverson/Getty Images
What are some reasonable goals for the Tennessee Volunteers to shoot for this 2012 season? After a tough two years under head coach Derek Dooley, there is a sense of urgency on Rocky Top that I think is good for the team.
Without some challenging but attainable goals, though, that sense of urgency could go to waste.
Here are 10 goals that would lead to a successful season for the Vols, a team that is on the path back to relevancy.
Beat Florida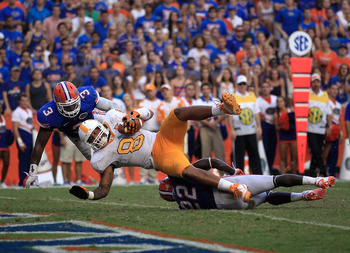 Sam Greenwood/Getty Images
This has to happen this year. While Tennessee's football program may have seen better days, Florida's definitely has.
Will Muschamp doesn't strike me as the kind of leader that players can get behind during tough times, and I see tough times (at least from a Gator perspective) on the horizon.
With the loss of offensive coordinator Charlie Weis to Kansas and numerous starters to the NFL, the Volunteers have a great opportunity to beat them.
The game is at home on September 15th. The sun should be hot, and the fans should be rabid. The Vols haven't beaten Florida since 2004. That streak needs to end in 2012.
Tyler Bray Throw for 3,000 Yards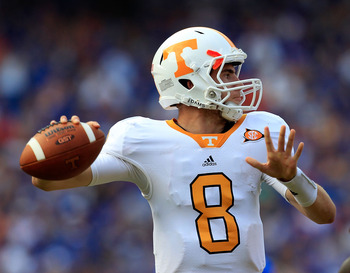 Sam Greenwood/Getty Images
Only three times has a quarterback thrown for 3,000 yards in a season for Tennessee. Those quarterbacks are Peyton Manning, Peyton Manning and Erik Ainge. Tyler Bray needs to join that list in 2012.
He has shown his cannon of an arm several times during his two years as a Volunteer, but he has yet to play a full season. If he can stay healthy, it's 3,000 yards or bust for Bray.
If the Vols don't make a bowl game (heaven forbid), he would need to average 250 yards passing per game. That's very doable for an arm like his with the wide receivers the Vols have.
If the Vols can end the bowl-less streak, he would get an extra game and lower his necessary average to 230 yards per game.
He has said he is more focused this spring and if so, Bray could join Manning and Ainge as just the third quarterback to throw for 3,000 yards.
Have a 1,000 Yard Rusher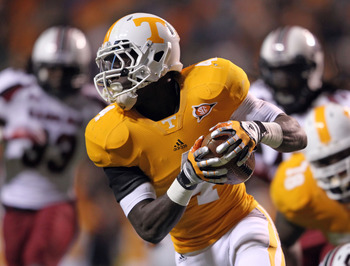 Andy Lyons/Getty Images
It has just been one year since the Vols' last 1,000 yard rusher, but it feels like forever. Tauren Poole eked out the milestone in 2010, but last year he managed just over 600 yards.
Last season was a terrible year for running backs in orange and white. Let's write it off.
Sophomore Marlin Lane is now two years removed from major knee surgery and should be at a level that Tennessee fans have never seen.
The offensive line is full of juniors, most of whom have played two full season together, and if Tyler Bray and the wide receiving corp can stretch the defenses, Lane and company should have huge holes to run through.
Two 1,000 Yard Wide Receivers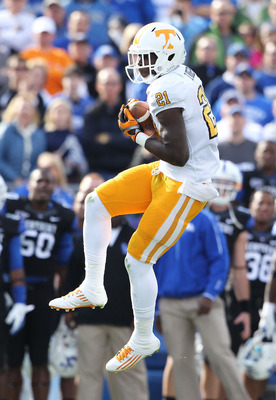 Andy Lyons/Getty Images
The Volunteers have three wide receivers who could snag 1,000 yards receiving in 2012, so pick any two.
Justin Hunter has the biggest play-making ability of the trio. Da'Rick Rogers is the toughest and strongest of the receivers. Cordarrelle Patterson is a two-time JUCO All-American that was recruited by virtually every major college football program.
In fact, the only thing keeping two of Tennessee's receivers from reach 1,000 yards is probably the catches that the third player is going "steal" from the other two.
It's a great problem to have, but I still think the Vols have the best chance they've have in a very long time to reach this goal.
Go 6-1 at Home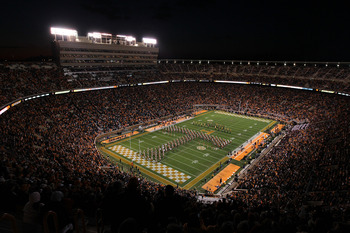 Andy Lyons/Getty Images
When you first look at this goal, you might think it's unreasonable until I tell you the teams that the Tennessee Volunteers host this year...
...Georgia State, Florida, Akron, Alabama, Troy, Missouri and Kentucky.
Obviously, I think Alabama is going to be extremely hard to beat, and I'll go ahead and write that off as a loss, but the other six games are completely winnable.
I've already said the Vols are beating Florida. That leaves SEC newcomer Missouri as the only other questionable game. Yes, I'm already banking on a new 25+ year streak to begin over Kentucky.
Defending Neyland Stadium is the first step for Tennessee to get back to consistently competing for the conference.
Win at South Carolina OR Georgia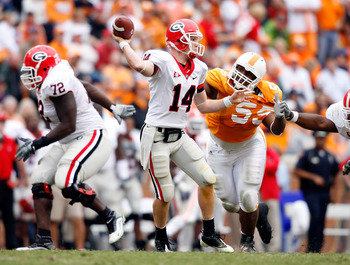 Andy Lyons/Getty Images
You can't compete for the SEC East with losses to Florida, Georgia and South Carolina every year. The Vols need to steal one road game in Athens or Columbia if they hope to make some noise in 2012.
The Gamecocks used to be an afterthought in the East, but that has changed since Tennessee got lazy and Steve Spurrier turned up the heat in South Carolina.
They had a historically good season in 2011 but looked vulnerable in Knoxville last year. They can be beaten, but the Vols definitely will have to earn it.
As for Georgia, it always seems like Tennessee destroys them when no one is expecting it and vice versa. The bouts between the Bulldogs and the Volunteers are typically one-sided, but you never know which team it will be.
In 2009, Tennessee dominated Georgia 45-19. The very next season, Georgia returned the favor 41-14. Who knows what 2012 holds?
Field the Best Offensive Line in the SEC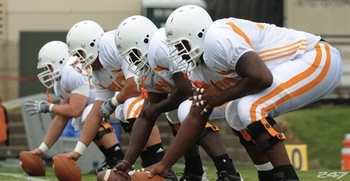 With an offensive line deeper than any at Tennessee since the BCS National Championship in 1998, the Volunteers should make it a goal to have the most talented, productive and complete offensive line in the SEC.
Antonio Richardson has earned a spot at left tackle this spring. James Stone is back in the starting lineup. Dallas Thomas, according to Derek Dooley, is where he should have been all along at left guard.
Then there is Zach Fulton who is dealing with a foot injury, but should see plenty of playing time this fall. Mack Crowder continues to get buzz about playing center, and JerQuari Schofield has starting experience.
The list goes on. These players need to take last season's woes personally.
Produce 3 All-SEC Players from the Defense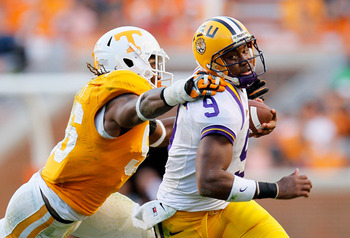 Kevin C. Cox/Getty Images
I'll go ahead and name the three players I think will get All-SEC honors on the defense: Prentiss Waggner, A.J. Johnson and Curt Maggitt.
That's really not going out on a limb, but having three defensive players is.
Waggner was a second team All-SEC player back in 2010, while Johnson and Maggitt earned All-SEC freshman honors last year.
Depending on how he transitions to the 3-4 defense, Jacques Smith has an outside chance of making the team. His speed will be on full display this fall, and he could rack up a lot of sacks.
Brian Randolph, who I rode mercilessly from my recliner in 2011, also could earn a spot. He joined Johnson and Maggitt on the 2011 All-SEC freshman team.
More than predicting who the three players are going to be, this reasonable goal is about the improvement of the defense in 2012.
Win 8 Games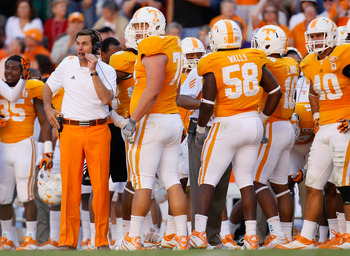 Kevin C. Cox/Getty Images
Stepping back from my ambitious goals to beat Florida, win six home games and grab one road win out of Georgia and South Carolina, eight wins is a totally reasonable goal for 2012.
Some might argue that it's more of a requirement than a goal.
Write down Georgia State, Akron and Troy as no-doubt wins. Consider Kentucky and a trip to Vanderbilt very strong likelihood for victories. Missouri and NC State are a little better than 50-50 in favor of the Vols, while Florida is a wild card.
That's eight games right there, and I'm leaving out a winnable road game at Mississippi State. Even if the Vols go 7-5 in the regular season but earn their eight victory in a bowl, I'll consider this goal reached.
Bring Back a Bowl Victory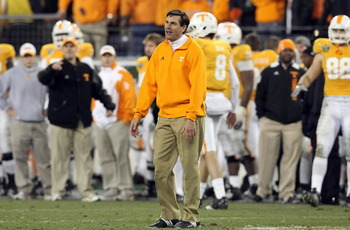 The five-year bowl drought needs to come to an end. The last and most important goal for the 2012 Tennessee Volunteers is to get back on the winning track in postseason games.
The 2007 team is the last group to win a bowl game, and this squad is just as talented as that group. The offense is actually better.
Derek Dooley is on the hot seat in 2012 and with the recent firing of Bobby Petrino from Arkansas, there's at least one other coach available for Dave Hart to think about.
(I'm not sure how I feel about that, but don't think for a second that the idea hasn't come up already with the decision makers in Knoxville.)
A surefire way for Dooley to ensure that he's back in 2013 is to get Tennessee to its second bowl game under him, win it or leave the field after the referee says, "Game over!"
Keep Reading

Tennessee Volunteers Football: Like this team?