Predicting the Most Exciting Games of the 2012-2013 CFB Season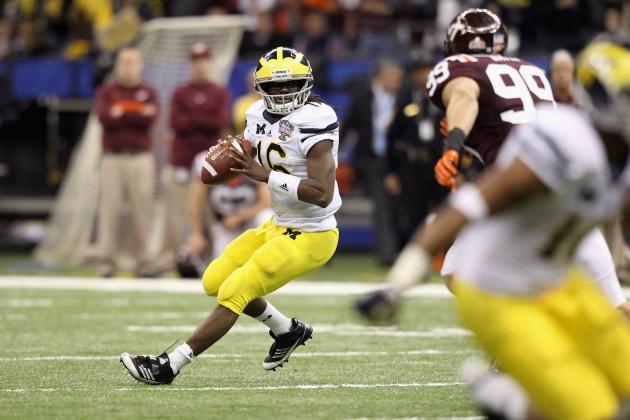 Matthew Stockman/Getty Images

The 2011 season of college football provided us with some great games that got our hearts racing and ultimately decided how some teams' seasons went.
Matchups like Michigan-Notre Dame and FSU-Oklahoma floored the pedals and kept viewers interested through the entire thing. There are reasons why these games and others like them were so captivating: They either provided two contrasting styles or were paired so well that it was a toss-up as to who would win.
Schedules have been released and I have picked out the games that I think will provide people with the most excitement. Now keep in mind, this list would be extremely long if I had just put all the rivalries and conference games on here, so I made sure to choose the ones that have the two traits mentioned above.
These are the games that will have you cheering even if you're not a fan.
Begin Slideshow

»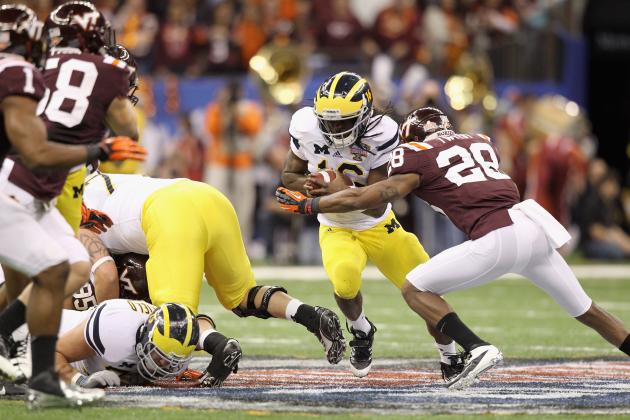 Matthew Stockman/Getty Images

When: Sept. 1st
Where: Arlington, Texas (Cowboys Stadium)
This is the matchup that most get pumped just thinking about. This is the quintessential example of an exciting game.
High-octane offense versus powerfully fast defense. Saban versus Hoke. Two of the most storied teams in college history facing off in an opening game. There is honestly nothing that this game is missing.
Going through the history books, these teams have only met each other three times, but each has been a thrilling competition. Both split bowl games in 1988 and 1997, but the biggest came in the 2000 Orange Bowl, where Michigan won 35-34 in the first overtime BCS bowl after a missed Alabama PAT.
While it is fun to see how players like Denard Robinson can match up with Alabama's defense, I really want to see the Michigan defense versus the Alabama offense, not the other way around. It will give a preview as to how much A.J. McCarron has progressed.
This is the game that could make or break the season for both teams. My mind keeps telling me Alabama because of better defense, but my gut wants to say Michigan. I'll choose Alabama, but wouldn't be surprised if Michigan pulls off the upset.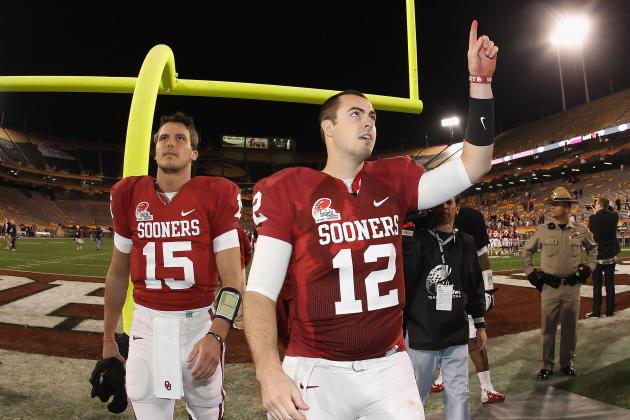 Christian Petersen/Getty Images

When: Nov. 11th
Where: at West Virginia
Here is an instance of two teams with equal talent on both sides of the ball, for the most part. That being said, they both had their disappointing losses, but WVU has more momentum considering their 70-point thrashing of Clemson.
This will be a late game in the season, so it could go many ways. Either team could have disappointed earlier, leading to unmotivated play. They could both be riding win streaks or possibly be undefeated by this game, so it could mean a lot in terms of the Big 12 Championship and perhaps national championship.
Geno Smith and Landry Jones are two quarterbacks that have tons of talent around them, so both teams are offensively focused. Both have massive passing games that help put up loads of points. This game should be no different, and I don't expect anything less than 85 points combined from both these teams.
It will be a competitive game all the way until the end and is really hard to decide. I'll give the edge to Oklahoma, considering they have a better defense.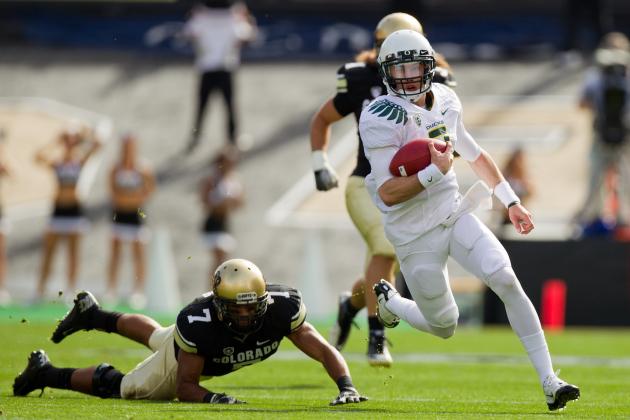 Justin Edmonds/Getty Images

When: Nov. 3rd
Where: at USC
These two teams also gave us a very good game last year that went down to the final field goal. Oregon missed it, giving USC the win. Another photo finish this year would not shock me.
A lot of people are ready to dismiss the Ducks because Darron Thomas and LaMichael James are both leaving. That is why it will be such a shock when Oregon comes out and competes hard with Kenjon Barner and Bryan Bennett as the starting QB/RB tandem.
USC is no slouch on the offensive side either. Matt Barkley returns with a pair of nice receivers in Woods and Lee, who help this offense become one of the most balanced in college football. Their defense also returns a lot of starters, which should help.
As mentioned above, a lot of people don't see Oregon keeping up with USC this year, which is why I think it will be a close one. USC will come into the game having faced a tough stretch of teams, which might cause an upset considering that Oregon is better than people think.
Expect the scoreboard to light up on this one with huge pass and run plays from both teams. Ultimately, I think the game will be decided on a big defensive play. It is also in the Coliseum, so I'll give the slight edge to USC.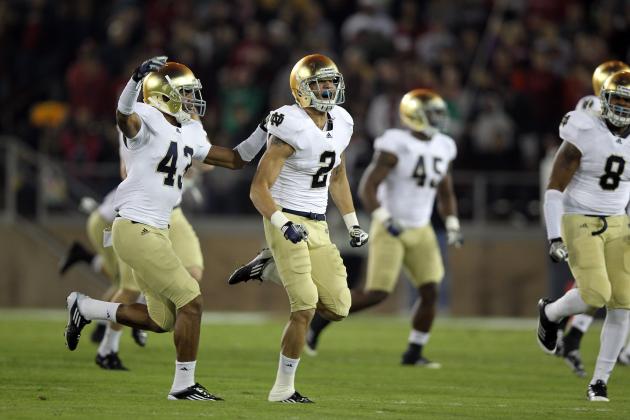 Ezra Shaw/Getty Images

When: Sept. 22nd
Where: at Notre Dame
In the full plate that is the Fighting Irish schedule, the Michigan game stands out because of the tradition and the similar goals of both teams. Each are trying to fight back for the national spotlight and it will probably rely on this game.
Last year, they gave us the most thrilling game in my opinion. It was full of comebacks, surprises and clutch plays. The fact that it was the first night game in the Big House even made it more special.
Notre Dame has been trying to claw its way back to national prominence for years and came close last year. They have a ton of talent as always, but it just needs to come together. If they can get the QB situation sorted out, I could see them being a dangerous team.
Michigan seems to be the more organized team at the moment and will know what to expect with this Fighting Irish team. However, if they get crushed in an early loss to Alabama, they could be caught off guard in South Bend.
I have no doubt that this year's installation of Notre Dame-Michigan will live up to its hype. It is yet another nail-biter, but I'll choose the Wolverines for this one.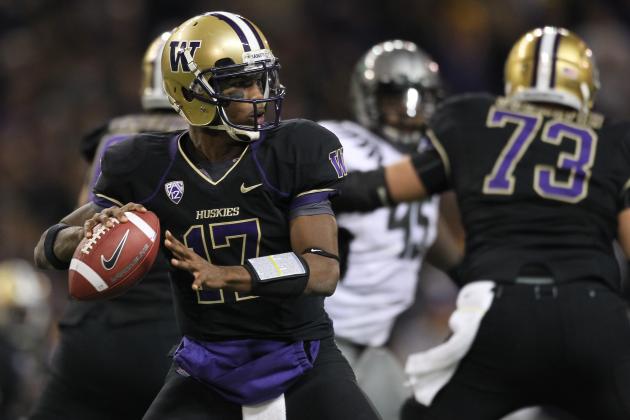 Otto Greule Jr/Getty Images

When: Sept.8th
Where: at LSU
I would like to give a special hand to all the guys who participate in LSU's scheduling process. Year in and year out they give us the games that pique our interest and provide great contrast.
Keith Price is quickly becoming a household name based on his performances this season. You don't account for 36 touchdowns in a single season and not get noticed. The Washington offense is a lot better than people give it credit for. I have a feeling that the Huskies will give the LSU defense some trouble in this one.
I know, blasphemous right? LSU returns one of the best defenses in the nation and brings in even more recruits to the depth chart. Its offense could finally find stability with Mettenberger as their QB and may actually be potent. There is a reason why this Tigers team is one of the favorites for the national championship.
Some expect these Huskies to just roll over in Death Valley, but I don't think so. I predict that they give LSU a real fit and push the Tigers for a full four quarters. Ultimately, however, I think LSU pulls out the win.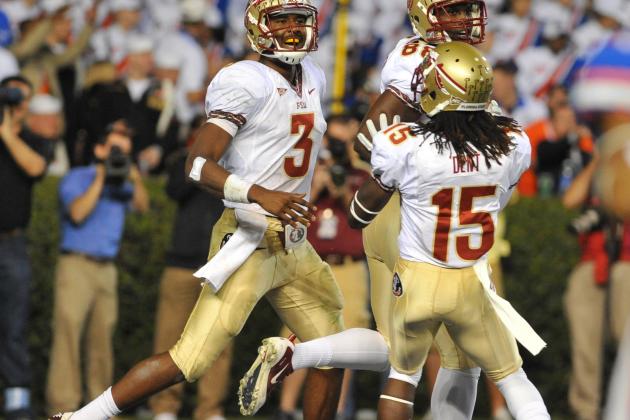 Al Messerschmidt/Getty Images

When: Nov. 8th
Where: at Virginia Tech
These two teams didn't meet up last year, which is a shame. They usually bring out the best in each other. I never understood why FSU-VT wasn't considered a rivalry, because they have historically been the only ones really relevant in the ACC on the national scene lately.
Virginia Tech had a pretty good season, but got totally roasted by Clemson two times and lost a heart breaker to Michigan. So goes another season as a Hokie fan. They are returning a lot of talent and getting some nice recruits, so they hope to go back at it this season. Their main focus is defense, but they have a nice offense with Logan Thomas at the helm.
From national title hopes to Champs Sports Bowl, the Seminoles had a wild season. They had some devastating and inexplicable losses (that should honestly be our motto for football these days) that really hurt their season. However, there is light at the end of the tunnel for this Noles team. They are bringing back a ton of starters on both sides of the ball this season and are getting great recruits.
Both teams have good defenses, but FSU's is downright nasty. Virginia Tech has the slightly stronger offense, but surely you all know my reasoning by now. Always pick the defense. I've got the Noles with the upset.