Oregon Ducks Football: Updating the 5 Best Spring Battles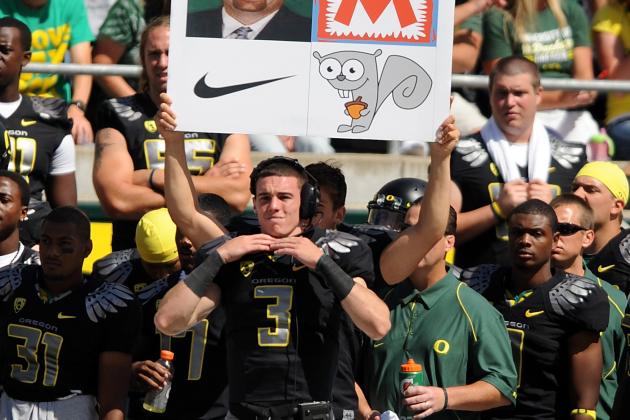 Steve Dykes/Getty Images
QB Bryan Bennett
And so it begins. On a very cold, wet day the 2012 Oregon Ducks football team came together for the first time.
After joking that it was "the worst practice ever" Coach Chip Kelly expanded in an interview broadcast on oregonlive.com that it was really good. Kelly said that Michael Clay, John Boyett and Carson York showed good leadership to the new guys.
Kelly added in response to a question from the media that "Arik Armstead and Evan Baylis (two new recruits who enrolled early) didn't look lost out there and ran around pretty good." When asked what he told Armstead about his first practice, Kelly said "I told him to jump in the deep end and start swimming, son."
Kelly added "We teach to the fastest learners and don't wait for guys to catch up."
What is Coach looking for in the quarterback competition? "Same thing we look for in all positions; we want to see improvement from practice 1 to practice 15."
It should be noted that while Kelly has closed all practices, it doesn't necessarily mean that he and the players aren't talking. In addition to Kelly's talk with the media, RB Kenjon Barner also talked to csnnw.com.
Let's look at five of the best position battles that will begin to unfold during spring practice.
Begin Slideshow

»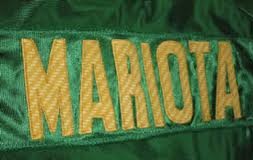 The quarterback competition is, of course, The Big Lebowski. Will it be Bryan Bennett or Marcus Mariota, or some combination? Or someone else? Junior Dustin Haines, or one of the new recruits, Jake Rodrigues or Jeff Lockie?
Outside the walls of the Moshofsky Center, nobody knows for sure, and if they tell you they do, they are lying.
All indications are that there will be a true competition. Position coach Mark Helfrich has said that during spring practices Bennett and Mariota—or should that be Mariota and Bennett?—will split the reps 50-50.
I don't believe it even matters who starts the Spring Game on April 28; it could still change once fall practice starts. Whoever works the hardest over the summer will have the edge in fall camp.
Fans will be watching closely for any sign of a hint from the coaching staff, but my (somewhat) educated guess is that we won't know a gosh darn thing more about Oregon's QB competition until Sept. 1 than we know today.
What other positions should we be thinking about?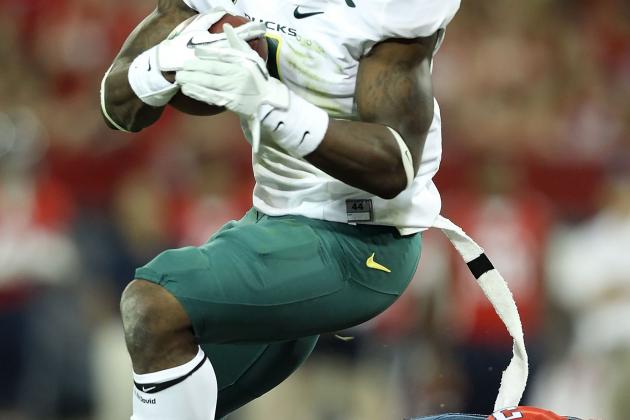 Christian Petersen/Getty Images
Josh Huff
The tidbit I found most interesting after Oregon's first practice is that Josh Huff was there and clearly suited up.
The most excellent reporter Rob Moseley of Eugene's Register Guard snapped a photo of Bryan Bennett leaving practice, and Huff is right behind him. I must say that Huff looks buff.
No mention was made of Huff's impending court date on his DUI, speeding and operating without a license charges, so this is another "wait-and-see" kind of deal. On March 23, Huff pleaded not guilty to the charges.
In addition to Huff and RB/WR wunderkind De'Anthony Thomas, there are several wide receivers on the Ducks' roster. In the competition will be guys like Devon Blackmon (who also looks extremely fit in Moseley's photos), Eric Dungy (who we all hope will be really terrific this year because we just love his dad!), Daryle Hawkins, Justin Hoffman and Rahsaan Vaughn.
There are plenty of guys behind these, too, plus some very exciting recruits in Dwayne Stanford (6'5"!), and Chance Allen and Bralon Addison out of Texas.
I think this competition is wide, wide open and will be even more so if Huff takes a dive.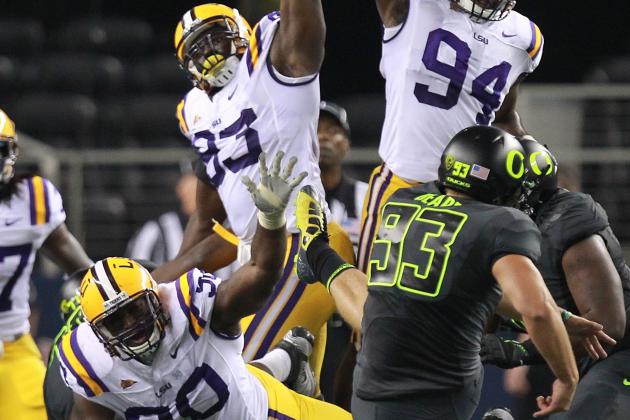 Ronald Martinez/Getty Images
Rob Beard
While it may not be "The Big Lebowski" of competitions in the fans' eyes, the kicker race is at least "The Stranger" (look it up).
If there is one thing in college football that drives me crazy, it's missed field goals. Unless you have been sailing your schooner in the Maldives since last October, you know that Alejandro Maldonado shanked a somewhat (read: excruciatingly) important field goal in the USC game that would have forced overtime.
Beard started in the placekicking position against LSU and performed well, making two field goals. But an injury to his right thigh sent him to the bench and Maldonado took over.
I'm sure Maldonado is a perfectly charming young man and will go on to be very successful in life, but I'm hoping Beard is all the way back. You just have to love a kicker (!) who takes part in a campus brawl, and I'm sorry if that makes me a bad person.
I'm going to stick my neck out and say Beard wins this competition.
And I hope so, because I'm tired of seeing Maldonado's missed field goal in my nightmares.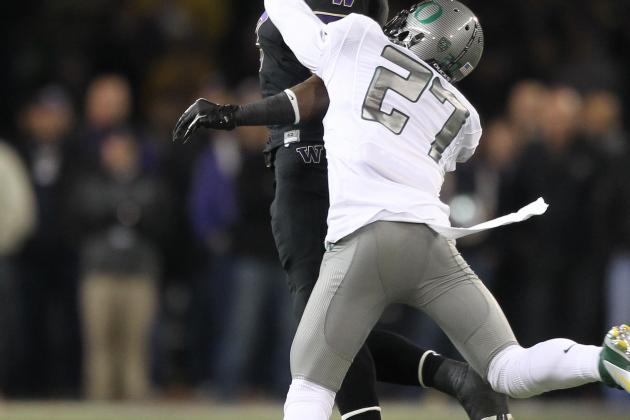 Otto Greule Jr/Getty Images
Terrance Mitchell
After important missed field goals, the second thing I hate most in college football is an opposing QB picking apart my team's passing.
Although, for the most part, young DBs Terrance Mitchell and Troy Hill played well when Cliff Harris stepped in major poop, there were far too many teeth-knashing moments in the 2011 season to suit me.
I hope Aliotti really opens up this competition this spring and lets Dior Mathis, Ifo Ekpre-Olomu, Avery Patterson and even the Amoako twins, Eric and Stephen, the recruits out of Texas, compete at corner as well as safety.
There is a great deal of potential talent in the defensive backfield and I think we might see some shifting around of other DBs. I believe Mitchell is a safe starter, but I won't be surprised to see a surprise on the other side of the field.
If we all gather round in a circle, hold hands and chant: "No completed passes against the Ducks in Game One", I think it can work, don't you?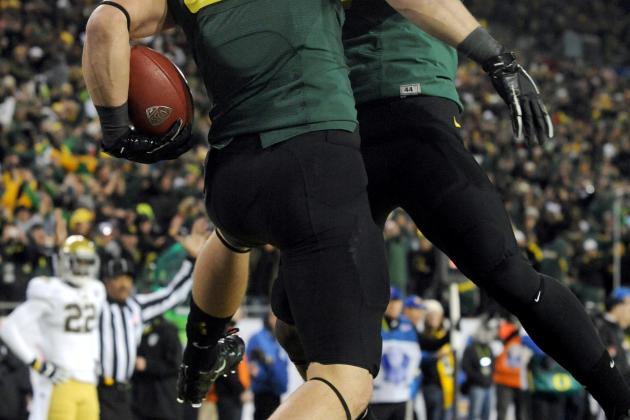 Steve Dykes/Getty Images
Colt Lyerla
I say the No. 5 best battle is "Tight End, I guess" because how many of you really expect Kiko Alonso at middle linebacker to get through a long hot summer without any trouble? Me neither.
But the TE position is sexier than LB, I guess, so here's what I think.
Everyone expects Colt Lyerla to replace David Paulson, with some competition from Eugene's own (Sheldon HS) Curtis White.
I like Lyerla and I'm pulling for him, but I found it interesting that Chip Kelly mentioned very few players by name in his remarks after the Ducks' first spring practice, and one of those he singled out was TE recruit Evan Baylis.
Baylis, you may recall, is one of the "long" recruits and measures 6'5", 225 lbs. (Lyerla is also 6'5"). Baylis has enrolled early and I believe he's going to get a serious look during spring drills.
And it could get even more interesting at TE in fall camp when 6'6" recruit Pharaoh Brown arrives from Ohio.
I can't wait. Really. I can't wait.