College Football 2012: The 10 Most Explosive Players in the Country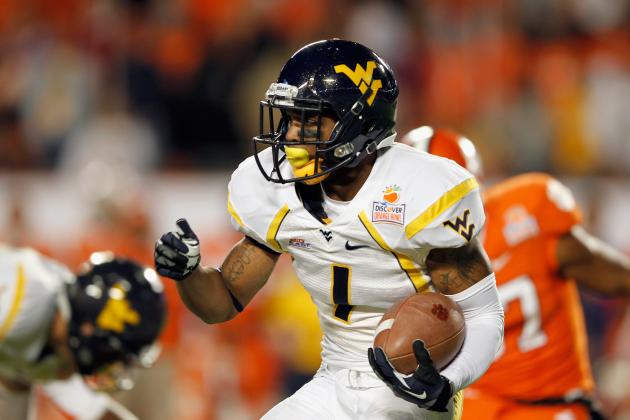 Streeter Lecka/Getty Images
Tavon Austin
Explosiveness. It's one of the most enviable traits that a player can possess.
In the 2012 college football season it will come down to the players that can do more than just run fast in a straight line or pull in a wide open pass in the end zone.
The explosive or 'X-factor' type player often times means the difference between a BCS berth and the season ending before New Year's.
Players like Robert Griffin III, Trent Richardson and Russell Wilson defined being 'explosive' in 2011 by showcasing elite speed coupled with power, agility and the natural ability to break a game wide open in a split second.
While the three aforementioned superstars may have moved onto the NFL, new players will step up to carry the mantle of college football's premier game-breakers in 2012.
Here are college football's 10 most explosive players for the 2012 season .
Begin Slideshow

»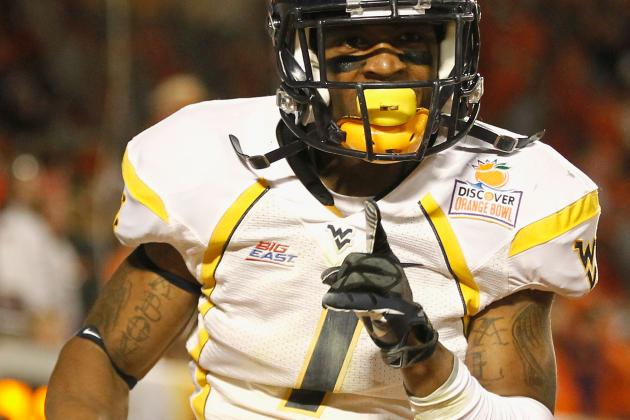 Streeter Lecka/Getty Images
Tavon Austin
It could have gone either way between Tavon Austin, Tyrann Mathieu and De'Anthony Thomas for the No. 1 spot, but Austin is the rarest of playmakers and proved this in West Virginia's historic rout of Clemson in the Discover Orange Bowl.
It's not just his straight-line speed, which is exceptional, but his ability to go from breakneck to dead stop and change direction before you even have time to realize what he did makes Austin a living weapon out on the field.
In 2011, the Baltimore native scorched the field in every conceivable way. His 100-plus receptions, over 1,100 yards receiving, 182 yards rushing and 938 yards off kick returns and 11 total touchdowns helps to summarize his efforts to help the Mountaineers capture their third BCS bowl win.
It was good enough to lead the nation in all-purpose yards, anyways.
The most insane stat of all though is how many of Austin's yards came after the catch, 807 of them to be exact. That means nearly 80 percent of Austin's yardage is all improvisation in the open field after the catch.
If that's not explosiveness, I don't know what is.
In 2012, West Virginia takes its talents to the Big 12, boasting one of the nation's most potent offenses. It certainly doesn't hurt knowing that Austin has improved drastically year after year since arriving in Morgantown.
For the senior-to-be, 2012 means one more shot at setting records and embarrassing opposing defenses, something Austin has all but mastered at this point.
Austin is simply lightning in a 179-pound, jet-fueled bottle and is the most explosive player in the nation.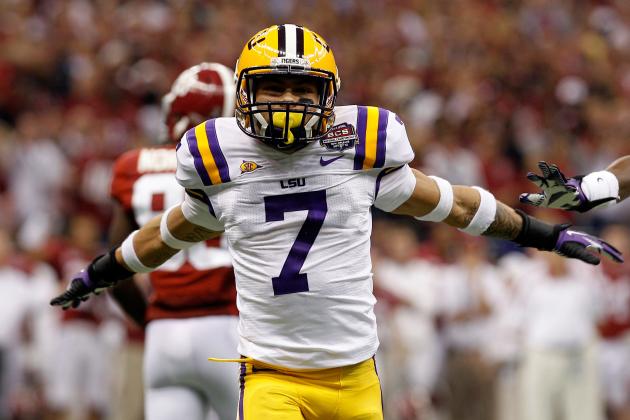 Chris Graythen/Getty Images
Tyrann Mathieu
If any player in the SEC, or the nation for that matter, will be looked to in 2012 to deliver the big-play goods, it's Tyrann Mathieu.
Not that "Honey Badger" cares about shouldering hefty expectations, because he surely doesn't, but it will take a colossal season in 2012 to improve on hallmark year that the New Orleans native had in 2011.
En route to helping the Tigers to a BCS national championship appearance, Mathieu logged in 76 total tackles and two interceptions playing opposite all-world corner Morris Claiborne.
Where Mathieu separated himself, however, was his role in special teams where he was a punt return guru. In 13 games, the Honey Badger ran up 427 yards on 27 returns, hitting the end zone twice.
Mathieu may be quick and possess elite shiftiness, but he's also aggressive. It's this aggressiveness that helps him handle himself in a conference as replete with big, strong receivers as the SEC is.
There's no telling if Mathieu will be returning to New York for his second Heisman trophy presentation in as many years as it will ultimately come down to his ability to take over for Mo Claiborne as LSU's No. 1 shutdown corner.
One thing is certain, though, and that is Mathieu's ability to change the game in a split second. Rest assured that every team LSU faces next season will be hell-bent on slowing down the NCAA's fiercest creature.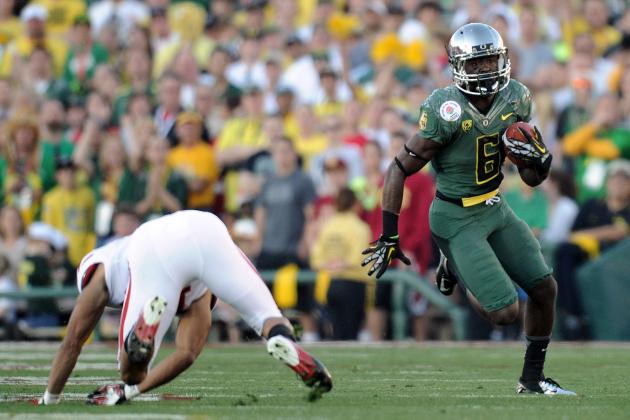 Harry How/Getty Images
De'Anthony Thomas
I think it's safe to say that there's an established trend of sub-6', 179-pound athletes doing big things in college football. De' Anthony Thomas is definitely at the forefront of this trend.
In only his freshman year in the Oregon green and yellow (and grey, and gun-metal, and neon, etc.,), Thomas not only reassured the Ducks faithful that LaMichael James had a certified heir-apparent, but also he went ahead and became a star in his own right.
The "Black Mamba" made it clear in 2011 that there wasn't a place on the field he couldn't score from.
As a rusher, Thomas averaged 10.8 yards a carry and totaled 595 yards on the season. From out wide, he hauled in 46 receptions for 605 yards, and in the return game, Thomas posted a modest 1,035 total yards.
All told, that's 2,235 yards and 18 touchdowns in just his inaugural season in Eugene.
2012 looks to be an even bigger year for the Los Angeles native as he steps into the starting spot in the backfield.
The Ducks would be wise to keep him plugged into as many facets of the game as possible, though, as Thomas' speed and explosiveness render him as somewhat of a human missile and an absolute terror in the open field.
The Pac-12 has every reason to be scared in 2012.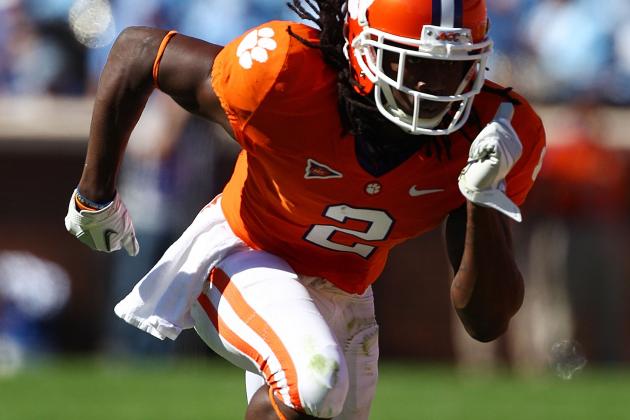 Scott Halleran/Getty Images
Sammy Watkins
If De'Anthony Thomas had the West Coast picking its jaw up off the floor, it was Sammy Watkins wreaking similar havoc on the East Coast.
In no time flat, the freshman out of Fort Lauderdale, FL had Death Valley back on the map and the Tigers a legitimate force in the ACC.
Watkins is a big body at 6'1" 200 pounds, but he plays with elite speed and can make the slew of highlight moves in space.
He's also far ahead of his peers in terms of understanding the mental components of the game as Clemson coaches take pride in noting.
It's his attention to the nuances of the college game that makes Watkins a consummate competitor, and it's his amazing athletic ability that makes him virtually uncontainable.
It's not every day a freshman wide receiver racks up 2,249 total yards and 13 touchdowns.
True, Clemson stumbled mightily in a 70-33 defeat at the hands of West Virginia in the Orange Bowl (with Watkins only tallying 66 receiving yards on the night), but, if anything, it should motivate Watkins and the Tigers offense to get bigger and badder in 2012.
With Tahj Boyd and a solid core of talent returning to Clemson next season, Watkins will have all the tools he needs to light the field on fire and prove yet again that he is one of the greatest offensive forces in all of college football.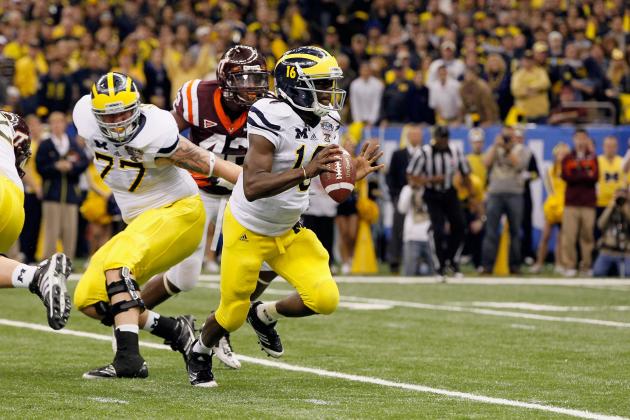 Kevin C. Cox/Getty Images
Denard Robinson
Denard Robinson may never have learned to properly lace up his shoes, but that hasn't impeded the rising senior from Florida from becoming one of the nation's most explosive offensive players.
It was anyone's guess how Robinson would be able to transition from the Rich Rodriguez spread-option rushing attack to Brady Hoke's more pro-minded attack.
Thankfully, Hoke wasn't a despot upon arriving in Ann Arbor and was flexible in the offense that Michigan would run, catering more towards Robinson's strengths as a runner.
En route to steering Michigan to a coveted Sugar Bowl win over Virginia Tech, Robinson rushed for 1,176 yards and 16 touchdowns.
In addition, he was able to throw for 2,173 yards for 20 touchdowns against 15 interceptions.
All told, Robinson led the Wolverines in passing and rushing and was once again the driving force of Michigan's offense.
Forty career touchdowns is pretty exceptional, so one wonders what Robinson will be able to add to that total with one year left in the maize and blue.
Robinson is a playmaker, pure and simple. He is far from being an efficient passer but when he makes it out into space there next to nothing he can't do with is feet.
Denard Robinson is as lethal a runner as they come, and rest assured that the dreadlocks will be flying in the wind often in 2012.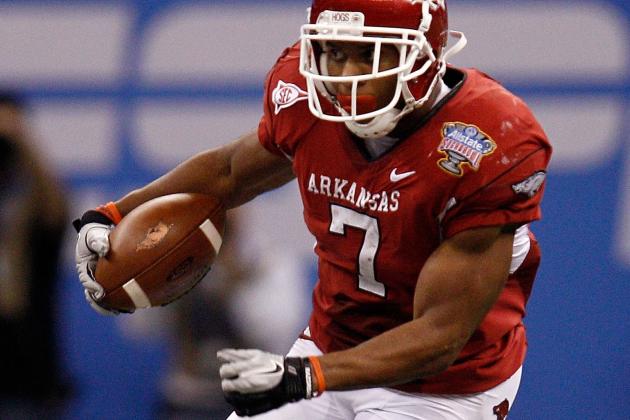 Chris Graythen/Getty Images
Knile Davis
Arkansas had a fantastic season in 2011, going 11-2 and capping it all off with a Cotton Bowl win over No. 8 ranked Kansas State.
Yet the Razorbacks, as good as they were with Tyler Wilson at the helm, would have been far more lethal had it not been for the absence of running back Knile Davis.
Over his first two seasons at Arkansas, Davis amassed 1,485 and 17 touchdowns, and especially as a sophomore, Davis looked to be one of the best young backs in the country.
Had it not been for a knee injury in the 2011 preseason that kept him out for the entirety of the season, Davis would have likely had a monster year in the Razorback's backfield.
Davis looks to be fully recovered and ready to go in 2012, though, and that spells bad news for SEC defenses.
The 6'1", 226-pound Missouri City, TX native can not only bull you over in a pile, but he can also turn on the jets and leave you gasping for air.
He's not the shiftiest runner in the game, but his straight-line speed is more than impressive and his build enables him to shed would-be tacklers with relative ease.
Arkansas looks to once again be one of the top teams in the SEC West, and Knile Davis will have a lot to do with it.
With respect to Marcus Lattimore, Knile Davis may well be the SEC's best rusher in 2012.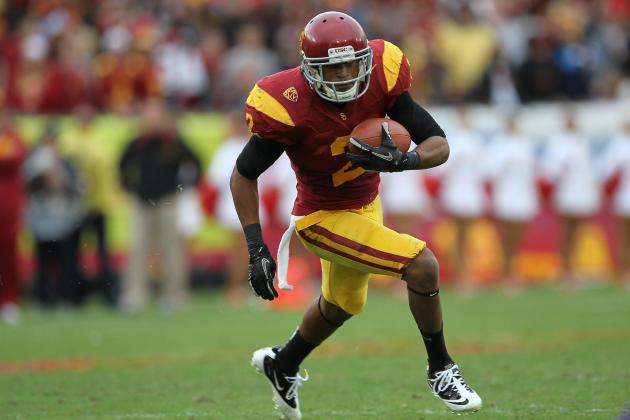 Stephen Dunn/Getty Images
Robert Woods
USC is once again atop the preseason college rankings, and there is a lot of buzz coming out of Southern California about Lane Kiffin's Trojans making a national title run in 2012.
Robert Woods is generating a good deal of the buzz himself.
Matt Barkley may be USC brightest burning star, but Woods is not far behind.
In just his sophomore season, Woods pulled in 111 receptions for 1,292 yards and 15 touchdowns.
He also pulled his weight on special teams, running back 13 punts and 17 kickoffs for a total of 511 yards.
Woods is a smooth, almost effortless runner. It's deceptive how fast he actually is when he's making his cuts or making a defensive back stumble in reaction to one of his physics-defying spin moves.
This makes Robert Woods one of the nation's most dangerous wide receivers, and now entering his junior year, he has a chance to add considerable clout to his fast-building reputation.
Look for the 6'1" California native to terrorize the Pac-12 next year and become Matt Barkley's go-to guy as the Trojans reclaim their place among the nation's elite programs.
There might not be anyone to make playing look so good in 2012 as Robert Woods.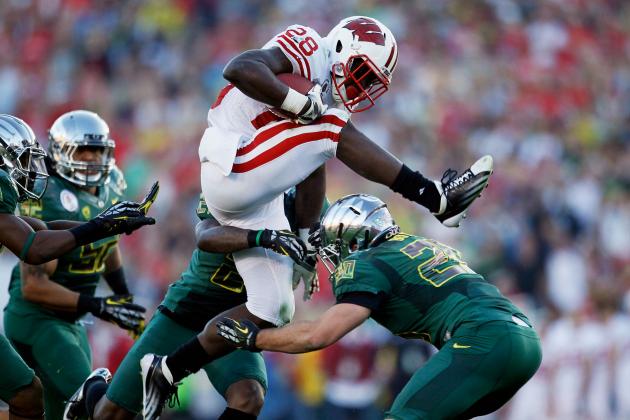 Jeff Gross/Getty Images
Montee Ball
In 2010, Ball was a prototypical bruiser.
As a 230-pound bull, Ball realized the only way he would climb the depth chart and outshine both John Clay and James White was to cut weight and work on getting quicker and more explosive.
As his 2011 numbers show, the plan worked.
As the feature back lining up behind star-transfer Russell Wilson, Ball conjured up a legendary season for the Badgers and was able to tie the single-season rushing touchdown mark set by the great Barry Sanders.
All totaled, Ball racked up 1,980 yards and 39 touchdowns rushing and receiving.
If it weren't for Ball's dedication to drop down to a sleek 210 pounds, it's very likely that he wouldn't have had such an incredible season.
Ball may not be a 4.4-speed back, but he has great acceleration through the hole and the strength to rip through tackles in the open field.
He may just be the best balance of speed and strength at his position in the country, in fact.
He could have easily turned in his red and white for an NFL paycheck, but much to the joy of the Madison faithful, Ball is coming back for his senior season and the expectations, needless to say, are monumental.
Like, Heisman-trophy-monumental.
It's hard to argue against Ball's status as the nation's No. 1 returning rusher in 2012, and he has the power and explosiveness to improve upon what is an already storied 2011 season.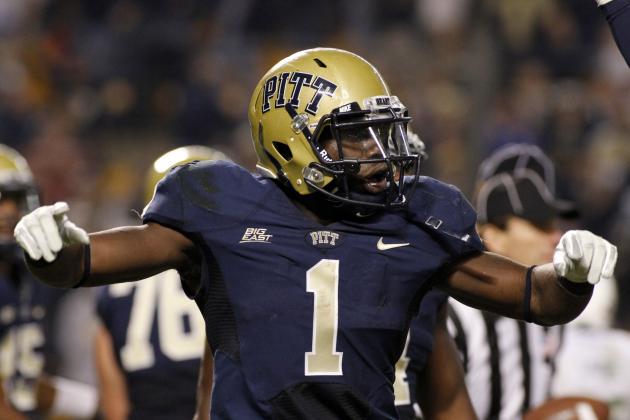 Justin K. Aller/Getty Images
Ray Graham
Pitt has been down over the last several seasons, and even though the win totals aren't what Panther nation would prefer, they've been consistently maintained a stable of talented runners.
LeSean McCoy, Dion Lewis and now Ray Graham.
Graham was the nation's leading rusher last year entering the Panther's eighth game of the season against Connecticut. But when Graham suffered a season injury ligament tear, his season ended at 964 yards and nine touchdowns.
It was a huge blow to Pittsburgh and their ability to score from that point on, as Graham was unable to get much production out of quarterback Tino Sunseri.
Graham is on pace to fully recover, however, and with Paul Chryst arriving to take over the reins in the Steel City, 2012 could be a monster year for Graham.
Graham is a spit-fire type runner who gets low to the ground, absorbs contact and spins or jukes his way out of defenders' arms.
He's fast, he's agile and he's a high motor guy that Paul Chryst and his Big Ten-bred rushing scheme can turn into a legitimate star.
If there's a better player in the Big East heading into the 2012 season, I've yet to see him.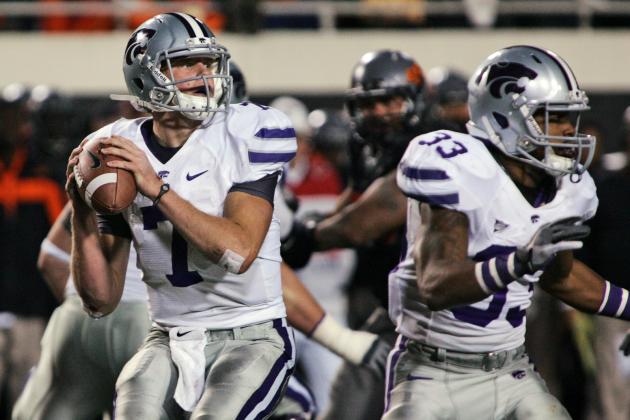 Brett Deering/Getty Images
Collin Klein
Kansas State was a pleasant surprise to many last year as the Wildcats orchestrated a 10-win season and earned themselves a ticket to the Cotton Bowl against Arkansas.
You have Collin Klein to thank for much of that success.
Similar to Denard Robinson, Klein is a dual-threat quarterback who makes a living off his ability to make plays with his legs more so than his arm.
In 2011, Klein rushed 317 times for 1,141 yards and an amazing 27 touchdowns. In addition to his exploits in the run game, Klein also gained 1, 918 yards through the air for another 13 touchdowns against six interceptions.
In all, Klein could stamp his name on 40 of the touchdowns scored by the Wildcats all season. That's an amazing amount of offense for one person to generate.
Klein certainly isn't a rushing quarterback built in the mold of a Russell Wilson. At 6'5" and 226 pounds, Klein covers a lot of ground with huge, bounding strides but is surprisingly agile given his big frame.
In a Big 12 conference made notable by its pocket passers, Klein is somewhat of a black sheep as a big, dual-threat quarterback who returns in 2012 to better Kansas State's 10 wins this past season.
Klein not be the smallest, quickest guy in the country, but he has the speed and running ability to make Kansas State and BCS challenger in the fall.