Power Ranking College Football's Top 50 Wide Receivers for 2012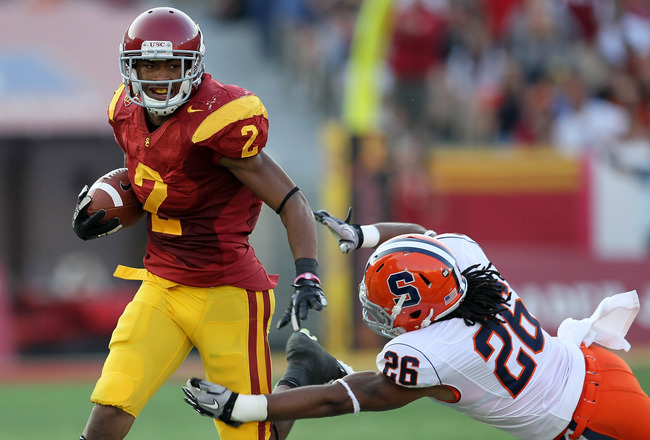 No other receiver in college football can compare to USC's Robert Woods
Stephen Dunn/Getty Images
College football has sadly lost many of its big-name receivers from last season, including stars like Justin Blackmon, Michael Floyd, Alshon Jeffery, Ryan Broyles and Kendall Wright.
Losing all that talent is certainly a tough blow to the sport, but luckily, there are plenty of receivers around the country who appear ready to be a part of college football's next wave of great receivers.
USC's Robert Woods will be the receiver who garners the most attention and publicity this offseason, but there will be plenty of other pass-catchers who will leave their mark on the college football map in 2012 as well.
Here's a look at the 50 college wide receivers that you need to watch out for next season.
1. Robert Woods, USC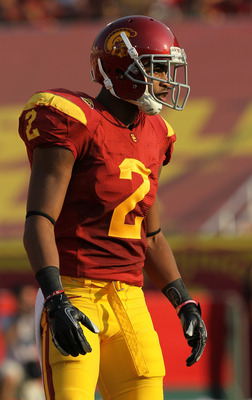 Robert Woods
Stephen Dunn/Getty Images
With Justin Blackmon now moving to the NFL, the title of "College Football's Top Wide Receiver" is up for grabs, and the most deserving successor to the throne would appear to be USC's Robert Woods.
Woods is a rare talent who is cut from the superstar mold, and he's been shining bright in Los Angeles over the past two seasons. Since arriving at USC in 2010, Woods has combined to catch 176 passes for over 2,000 yards and scored 21 touchdowns.
Just like recent receiver greats likes Justin Blackmon, A.J. Green and Calvin Johnson, Woods has the makings of a Top 5 NFL draft pick.

The 6'1'', 180-pound junior has the speed to separate down the field, the route-running prowess to shake any defensive back and the overall athleticism to create game-changing plays.
If the Barkley to Woods passing combination lives up to the hype in 2012, USC will have the chance to make a run all the way to Miami for the BCS championship game.
2. Marquess Wilson, Washington State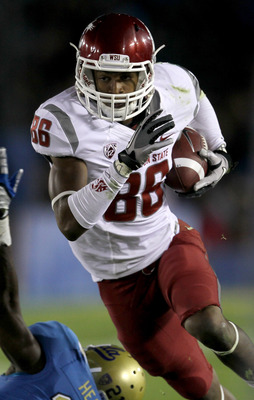 Marquess Wilson
Stephen Dunn/Getty Images
Because Washington State has been such a non-factor for the past few years, the team's top player, WR Marquess Wilson, hasn't been given his fair share of national respect yet. However, now that new coach Mike Leach is taking over in Pullman, you can bet that Wilson will be turning plenty of heads in 2012.
Last year, Wilson caught 82 passes for 1,388 yards and 12 touchdowns, but he barely received a pat on the back for his efforts.
With Leach calling the shots now, the talented 6'4'', 183-pound junior will have the chance to show fans and scouts that he belongs in the conversation with college football's elite receivers.
3. Sammy Watkins, Clemson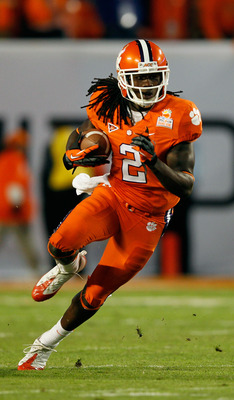 Sammy Watkins
Streeter Lecka/Getty Images
Sammy Watkins was one of the players who took college football by storm last season, as the former 5-star recruit arrived at Clemson an instantly became a sensation. Watkins had 82 catches for 1,219 yards and 13 touchdowns in his first season in a Tigers uniform, and he also proved to be a dangerous returner.
The 6'1'', 180-pound sophomore seems like he could already start for some NFL teams, but he'll have to wait at least two more years before turning pro.
It will be interesting to see whether Watkins is ultimately able to build off of last season's momentum and put together an even bigger year in 2012.
4. Keenan Allen, California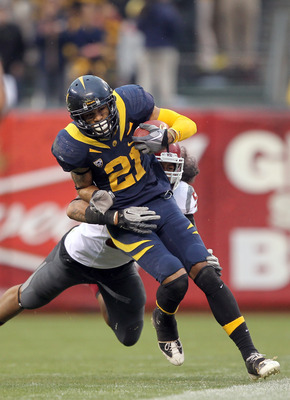 Keenan Allen
Ezra Shaw/Getty Images
The Pac-12 is going to feature some of the best receivers in the country next season, and one of the big names will be Cal's Keenan Allen.
Last year, Allen finished second in the Pac-12 to USC's Robert Woods with 98 catches for 1,343 yards and he hauled in six touchdown receptions.
Allen is bigger than Woods, and he can create some key matchup nightmares with his size-speed combination.
The 6'3'', 205-pound junior is one of the best eligible prospects for the 2013 NFL draft, and if he plays up to his potential in 2012, Cal should be able to make some noise in the Pac-12 North division.
5. Cobi Hamilton, Arkansas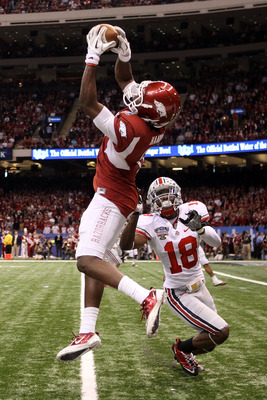 Cobi Hamilton
Matthew Stockman/Getty Images
Arkansas may lose three key receivers—Joe Adams, Jarius Wright and Greg Childs—from last year's squad, but the Razorbacks do bring back one of the most talented receivers in the country, Cobi Hamilton.
Hamilton is a super athletic 6'3'', 209-pound senior who possesses track speed, great leaping ability and a terrific set of hands.
With QB Tyler Wilson coming back, the Razorbacks should have one of the best passing combinations in the country for 2012 with Wilson and Hamilton ready to light things up next season.
6. Tavon Austin, West Virginia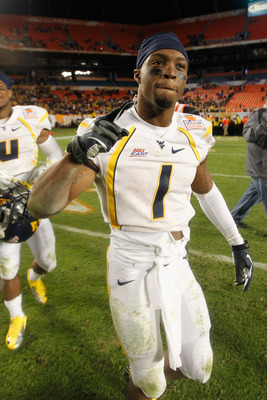 Tavon Austin
Streeter Lecka/Getty Images
It only took one dazzling performance on a big stage for the entire college football world to finally take notice of West Virginia's versatile and explosive offensive weapon Tavon Austin.
After piling up 173 yards of total offense and scoring four touchdowns in a 70-33 beat down of Clemson in the Orange Bowl, Austin has now started to gain the fame he deserves.
Now, he'll have the chance to prove himself against some of the best defensive competition in the country when West Virginia makes the move to the Big 12 next season.
With Austin, fellow receiver Stedman Bailey, and strong-armed quarterback Geno Smith all back, West Virginia's powerful passing attack should be deadly in 2012.
7. Marqise Lee, USC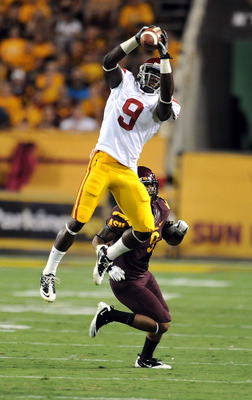 Marqise Lee
Norm Hall/Getty Images
Robert Woods was the true headline-making receiver at USC last season, but just because Woods' counterpart Marqise Lee didn't receive nearly as much press in 2011, that doesn't mean he wasn't a valuable performer for the USC offense.
Lee may have only been a freshman last year, but he still managed to catch 73 passes for 1,143 yards and score 11 touchdowns in 2011.
The 6'1'', 190-pound sophomore has already opened plenty of eyes with his freshman campaign. Now, Lee will be looking to take his rightful place next to Woods as one of the country's top overall receivers in 2012.
8. Tavarres King, Georgia
Tavarres King
Kevin C. Cox/Getty Images
Tavarres King likely won't reach A.J. Green's level of stardom in his final year in Athens next season. But King does still have the chance to be one of the country's most talked about receivers of 2012 if he performs like he's capable and if Georgia makes a run at an SEC championship.
King caught 47 passes for 705 yards and scored eight touchdowns in 2011, and he's definitely gained QB Aaron Murray's trust.
The 6'1'', 192-pound senior will once again team with Malcolm Mitchell to give the Bulldogs two receivers that can cause some terrible trouble for opposing secondaries.
9. Kenny Stills, Oklahoma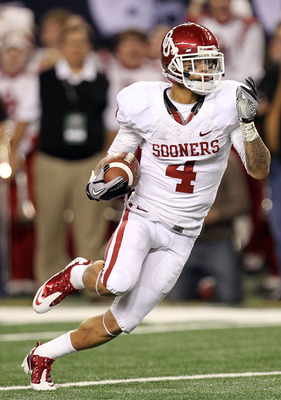 Kenny Stills
Ronald Martinez/Getty Images
Right now, Kenny Stills is probably most known around college football for his wild hair styles and his colorful tattoos, but soon enough, Stills will likely have the reputation of being one of college football's biggest impact receivers.
Now that record-setting receiver Ryan Broyles has left Norman, it will be up to Stills to step up in 2012 and become QB Landry Jones' No. 1 target.
Last year, Stills had an impressive campaign, hauling in 61 passes for 849 yards and scoring eight touchdowns.
More will be asked of the 6'1'', 189-pound junior in 2012, though, and it will be interesting to see if Stills is ready for the national spotlight next season.
10. Da'rick Rogers, Tennessee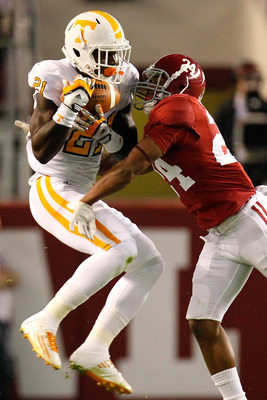 Da'rick Rogers
Kevin C. Cox/Getty Images
Da'Rick Rogers hasn't exactly enjoyed a perfectly smooth career during his time at Tennessee, but even though he's endured a few setbacks, Rogers has still found a way to persevere and succeed.
Last year, even though the Vols struggled to do much offensively all year long, Rogers still managed to lead the SEC with 67 catches for 1,040 yards and he scored nine touchdowns.
With Justin Hunter now returning to take some of the pressure off the 6'3'', 215-pound junior, Rogers should now have the freedom to make even more critical plays in 2012.
11. Emory Blake, Auburn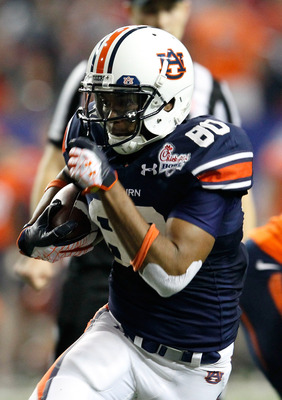 Emory Blake
Kevin C. Cox/Getty Images
Emory Blake was the only Auburn receiver that could do consistent damage to opposing defenses in 2011, as Blake ended up leading the team with 36 catches for 613 yards and five touchdowns last season.
With a new coordinator and a new quarterback taking over, the 6'2'', 197-pound senior may take some time to get acclimated to a new system and a new signal-caller.
Once Blake finds his comfort zone, though, he should be one of the SEC's most productive receivers next season.
12. Terrance Williams, Baylor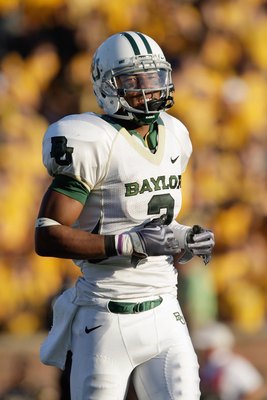 Terrance Williams
Jamie Squire/Getty Images
Baylor is going to have to figure out how to replace three major offensive pieces after the departures of QB Robert Griffin III, WR Kendall Wright and RB Terrance Ganaway.
What helps is that the Bears have a quarterback in Nick Florence who gained some starting experience when Griffin went down with an injury in 2009, plus, they have a talented trio of receivers made up of Terrance Williams, Tevin Reese and Lanear Sampson.
Williams is the one who made Baylor's most famous play last season when he hauled in a 34-yard game-winning touchdown pass from RG3 to give the Bears a victory over Oklahoma.
That wasn't the only important catch that the 6'3'', 190-pound senior made last season, though, as Williams finished the year with 59 receptions for 957 yards and 11 touchdowns.
13. Odell Bechkam Jr., LSU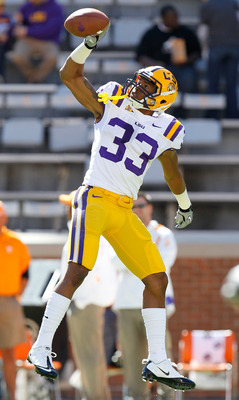 Odell Beckham Jr.
Kevin C. Cox/Getty Images
Odell Beckham Jr. arrived on the LSU campus last year as a highly touted 4-star recruit out of Isidore Newman School in New Orleans. Beckham had a lot of expectations to live up to in his first season, but that pressure didn't seem to affect him one bit, as he went out and became an instant impact player for LSU's offense in 2011.
Last year, Beckham caught 41 passes for 475 yards, and now with Rueben Randle gone, he's going to be asked to step into the No. 1 receiver role for 2012.
Beckham and Russell Shepard should make a great receiving pair in Baton Rouge next season, and they should give new starting quarterback Zach Mettenberger two dangerous deep threats to look for down the field in 2012.
14. Mike Davis, Texas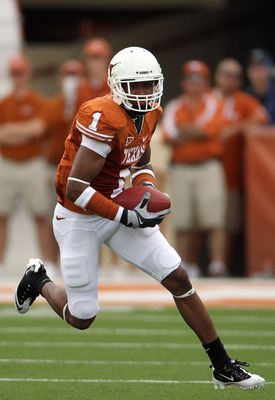 Mike Davis
Ronald Martinez/Getty Images
Texas may be searching for answers at the quarterback position, but the Longhorns won't have to do much searching at receiver, as Mike Davis looks like he should be the go-to guy in the passing game in 2012.
Last year, the 6'2'', 186-pound junior caught 45 passes for 609 yards, which is actually quite an accomplishment when you consider that Texas was shuffling around three different quarterbacks.
Davis will once again team with Jaxon Shipley to give the Longhorns the type of offensive firepower that they're going to need if they want to compete for a Big 12 title in 2012.
15. Markus Wheaton, Oregon State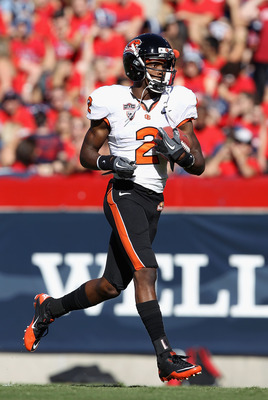 Markus Wheaton
Christian Petersen/Getty Images
There probably aren't a ton of reasons to follow Oregon State in 2012, as the Beavers will likely be nothing more than mediocre. But they do at least have one player who is definitely worth checking out, and that's WR Markus Wheaton.
Wheaton would be a star if he played on a better team, and he showed that last year when he caught 73 passes for 986 yards.
The 6'1'', 178-pound senior is quick off the line, and he possesses a second-gear to get behind secondaries and make big catches.
If Wheaton can get some more consistent play at the quarterback position in 2012, he should be one of the top receivers in the Pac-12.
16. Josh Boyce, TCU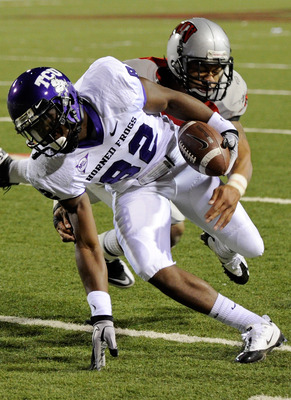 Josh Boyce
Ethan Miller/Getty Images
If Big 12 defenses don't know about Josh Boyce already, well, they're going to get the chance to learn all about just how dangerous of a receiver he really is when TCU makes the move to the conference in 2012.
Last year, Boyce caught 61 passes for 998 yards and nine touchdowns, but that seemed like only a preview of what's really to come.
The 6'0'', 203-pound junior is a reliable target that can create field-shifting plays in an instant.
Boyce will be the leader of a receiving trio, which includes Skye Dawson and Brandon Carter, that should be one of college football's best in 2012.
17. Ryan Swope, Texas A&M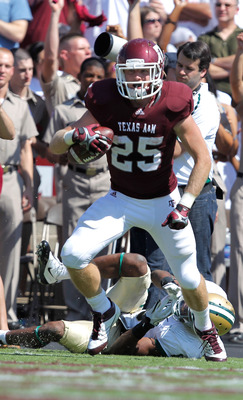 Ryan Swope
Sarah Glenn/Getty Images
Jeff Fuller was supposed to be Texas A&M's standout receiver in 2011, but it actually turned out to be Ryan Swope who had the biggest impact in College Station last season.
Swope ended up leading the Aggies with 89 catches for 1,207 yards and 11 touchdowns last year, and with Fuller gone, he'll be asked to perform at an even higher level in 2012.
The 6'0'', 206-pound senior will have to deal with inconsistent quarterback play, but there's no reason that he shouldn't be one of the most productive receivers in the SEC next season.
18. Malcolm Mitchell, Georgia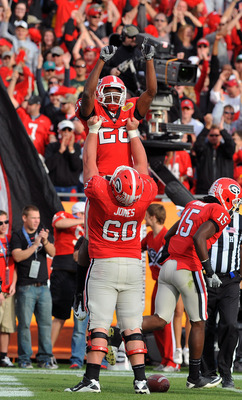 Malcolm Mitchell
Al Messerschmidt/Getty Images
Malcolm Mitchell certainly gave Georgia fans quite a few glimpses of his enormous potential last season, as he stepped into the lineup as a freshman and excelled, catching 45 passes for 665 yards and four touchdowns.
Mitchell is a dynamic playmaker who knows how to find holes in coverage.
With him and Tavarres King both returning to Athens next season, QB Aaron Murray will have the type of weapons he needs to guide the Bulldogs back to Atlanta in 2012.
19. Stedman Bailey, West Virginia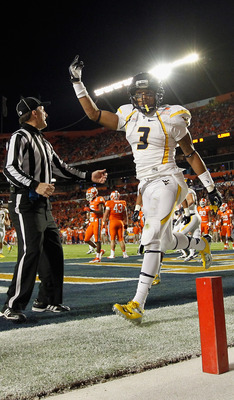 Stedman Bailey
J. Meric/Getty Images
Last year, Stedman Bailey proved that he was one of the most explosive receivers in college football, as he averaged 17.7 yards per catch on 72 receptions.
When Bailey got the ball in his hands, he routinely made things happen with it.
The 5'10'', 190-pound junior tied for seventh in the nation with 12 touchdown catches last season. Now, he'll once again join QB Geno Smith and WR Tavon Austin to give the Mountaineers a terrific passing trio for 2012.
20. Conner Vernon, Duke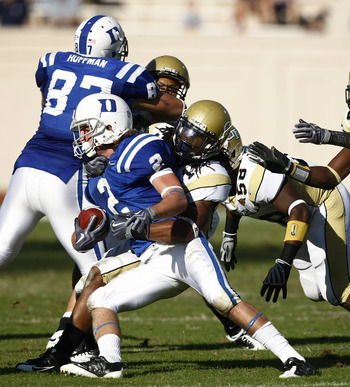 Conner Vernon
Joe Robbins/Getty Images
Conner Vernon has been one of the most consistently productive receivers in the ACC for the three seasons he's played at Duke.
Vernon has accumulated 198 catches for over 2,600 yards during his time with the Blue Devils.
The 6'1'', 195-pound senior has been one of the lone bright spots in Durham in recent years. Now Vernon will be looking to hopefully end his career on a high note and win more than three games in 2012.
21. Nick Harwell, Miami (Ohio)
Nick Harwell
Even though Miami (Ohio) WR Nick Harwell didn't get a ton of national publicity last season, since he played for a mediocre MAC team, Harwell still had one of the best campaigns out of any receiver in the country.
The 6'1'', 187-pound junior finished fifth in the nation with 1,425 receiving yards on 97 catches.
Harwell is the most productive returning receiver in the country, and he seems like he's destined to have another huge season for the Red Hawks in 2012.
22. Theo Riddick, Notre Dame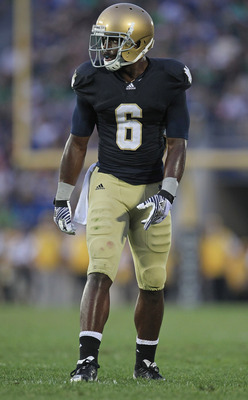 Theo Riddick
Jonathan Daniel/Getty Images
With Michael Floyd gone, Notre Dame will now need a new boss to lead the receiver corps, and Theo Riddick looks like he's best suited for the job.
Last year, Riddick only had 38 catches for 436 yards, but he did show off his impressive skills on more than a few occasions during the 2011 season.
The 5'11'', 198-pound senior certainly has plenty of talent, but it will be interesting to see how he handles being the No. 1 wide out for the offense in 2012.
23. Justin Hunter, Teneessee
Justin Hunter
Justin Hunter looked like he was in store for a promising campaign last year before he went down for the season with a torn ACL three games into the season.
Hunter has now had time to rehabilitate his knee, and he should hopefully be 100 percent for 2012.
If he is ready, the explosive 6'4'', 200-pound sophomore should form quite a tag team with Da'Rick Rogers and give QB Tyler Bray a supremely gifted set of receivers to throw to.
24. DeVante Parker, Louisville
DeVante Parker
Andy Lyons/Getty Images
Louisville has three receivers—Eli Rogers, Michaelee Harris and DeVante Parker—who all have the potential to be showcase players in the Big East.
Rogers and Harris were the two most productive receivers on the Cardinals in terms of catches last season, but it was Parker who made some true "wow" catches, as he led the team with six touchdown receptions.
QB Teddy Bridgewater will likely look for Parker much more often in 2012, and he should play a key part in Louisville's run at a Big East championship next season.
26. Quinton Patton, Louisiana Tech
Quinton Patton
Quinton Patton was probably the best receiver that no one seemed to talk about in 2011.
Last year, Patton hauled in 79 passes for over 1,200 yards and scored 11 touchdowns.
The 6'2'', 195-pound senior may not have been on national television too often this past season, but when Louisiana Tech is on the dial in 2012, make sure to tune in to see No. 4 run circles around overmatched WAC defensive backs.
26. Russell Shepard, LSU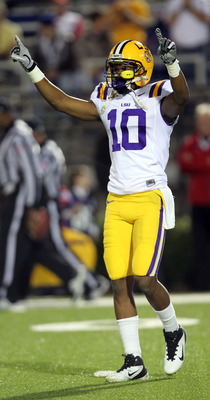 Russell Shepard
Joe Murphy/Getty Images
Russell Shepard didn't seem satisfied with his role in LSU's offense last season, and he let his feelings be known through his Twitter. However, after reportedly contemplating an early move to the NFL, Shepard will be back in Baton Rouge for one more year in 2012, and he'll have another chance to finally show off his tremendous talent.
The former 5-star recruit is one of the most athletic players in the country, but because of safe quarterback play last season, he didn't get the chance to make many explosive plays.
If the coaching staff lets Shepard get in the groove in 2012, he should pay big dividends.
27. Keenan Davis, Iowa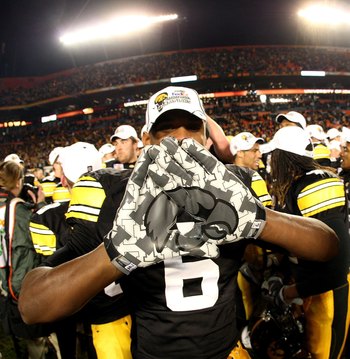 Keenan Davis
Streeter Lecka/Getty Images
With RB Marcus Coker gone, Iowa will have to mostly rely on its passing game for offensive success next season. Luckily for the Hawkeyes, they've got a great passing trio in quarterback James Vandenberg and receivers Keenan Davis and Kevonte Martin-Manley.
Davis, who caught 50 passes for 713 yards in 2011, will be asked to step up and play a similar role to the one that highly productive receiver Marvin McNutt played over the last two seasons.
28. DeAndre Hopkins, Clemson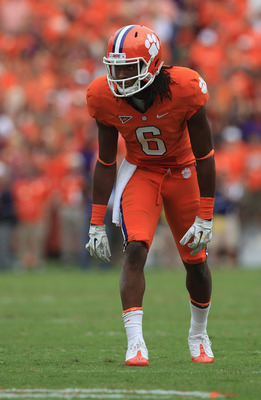 DeAndre Hopkins
Streeter Lecka/Getty Images
Sammy Watkins hogged up the spotlight in Clemson last season, but he wasn't the only Tigers receiver who found success in 2011. Fellow receiver DeAndre Hopkins was one of the most productive receivers in the country last season, as he caught 72 passes for 978 yards and five touchdowns.
Hopkins and Watkins will once again be one of the most dynamic receiving duos in the country for 2012, and don't be surprised if the less heralded Hopkins starts to get some more attention next season.
29. Dorial Green-Beckham, Missouri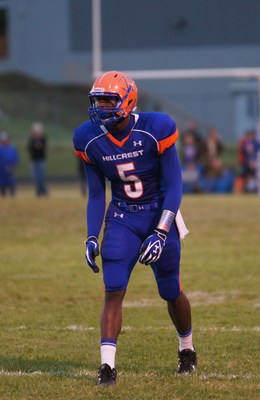 Dorial Green-Beckham
Dorial Green-Beckham is one of the most hyped and talked about receiver recruits of all time, and he's the most physically gifted receiver prospect to emerge from the high school ranks since Julio Jones came out of Alabama's Foley High School.
Green-Beckham delighted his home state of Missouri when he announced that he would take his talents to Columbia and play for the Tigers.
It will be interesting to see how the 6'6'', 220-pound receiving prodigy handles SEC competition in his first season of college ball.
30. Jared Abbrederis, Wisconsin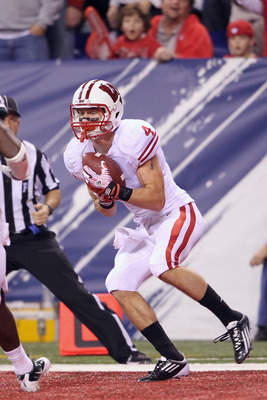 Jared Abbrederis
Andy Lyons/Getty Images
With both Montee Ball and James White returning to the backfield for 2012, Wisconsin will continue having one of the best rushing attacks in the country next season. However, with a new coordinator and a new quarterback, it remains to be seen just how effective the Badgers' passing game will be.
Finding a quarterback is paramount, but the team will also need Jared Abbrederis to step up and fill Nick Toon's shoes for 2012.
Last year, Abbrederis had 55 catches for 933 yards and eight touchdowns. The 6'2'', 180-pound junior will now be looking to solidify his status as one of the best receivers in the Big Ten in 2012.
31. Kasen Williams, Washington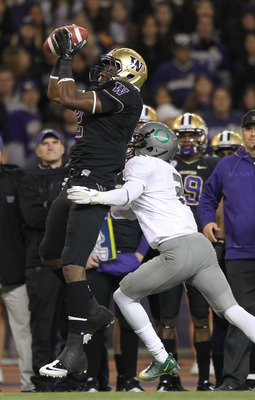 Kasen Williams
Otto Greule Jr/Getty Images
Washington will have to replace its two top receivers from last season, Jermaine Kearse and Devin Aguilar, but the Huskies will have the chance to flaunt one of the best young talents in the Pac-12, WR Kasen Williams, during the 2012 season.
Williams will be budding star quarterback Keith Price's go-to target next season, and the 6'2'', 212-pound sophomore has the chance to be one of the conference's most productive pass-catchers.
After catching 36 passes for 427 yards and six touchdowns in his first year, Williams will now be looking to take things to the next level in 2012.
32. Josh Gordon, Utah
Josh Gordon
A year ago, a lot of people expected that Josh Gordon would be vying to be one of the top wide receiver prospects in the 2012 NFL draft right about now, but instead, Gordon is now preparing to try to save his career at Utah after failing to follow the rules at Baylor.
When Gordon was on the field for the Bears in 2010, he was one of Robert Griffin's most reliable receivers, as he ended up hauling in 42 passes for 717 yards and seven touchdowns.
As far as pure talent goes, Gordon is one of the most gifted receivers in the country.
The question is, does he have what it takes to bounce back in Salt Lake City?
33. Erik Highsmith, North Carolina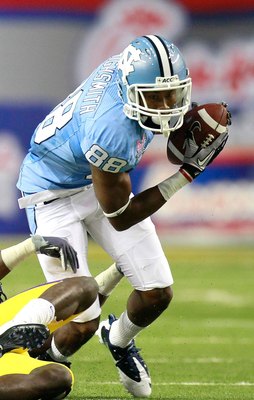 Erik Highsmith
Kevin C. Cox/Getty Images
Quarterback Bryn Renner has the chance to be a star in the ACC next season, and the player that will help him get there is his top receiver Erik Highsmith.
Last year, Highsmith had 51 catches for 726 yards and scored five touchdowns. Now, with Dwight Jones gone, he'll have to step up and become Renner's top target.
The bottom line is this, Highsmith has the size, speed and hands to be a game-changer in the ACC in 2012.
34. Tracy Lampley, Southern Miss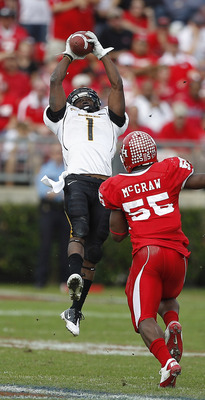 Tracy Lampley
Bob Levey/Getty Images
Tracy Lampley saved his best performance for his team's most important game, as he came up huge in the Conference-USA championship game upset of Houston.
The speedy wide out torched the Cougars for 196 total yards and two touchdowns in the 49-28 beat down.
Lampley is a versatile and explosive offensive weapon, and he's proven during his time with the Golden Eagles that he can beat a defense as either a receiver or a runner.
35. Brandon Carter, TCU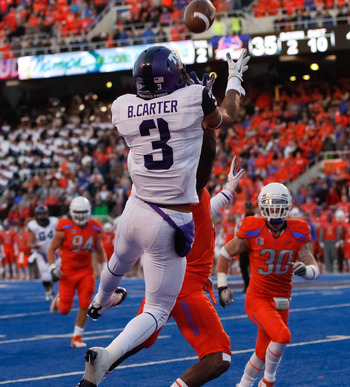 Brandon Carter
Otto Kitsinger III/Getty Images
TCU will enter the Big 12 with one of the best receiving trios in the conference, comprised of Josh Boyce, Brandon Carter and Skye Dawson.
Boyce will receive the most attention from defenses in 2012, which could really help Carter find some room to create havoc next season.
The former 4-star recruit showed plenty of flashes of his potential last season, and now Carter appears ready to make good on his high school hype in 2012.
36. Matt Miller, Boise State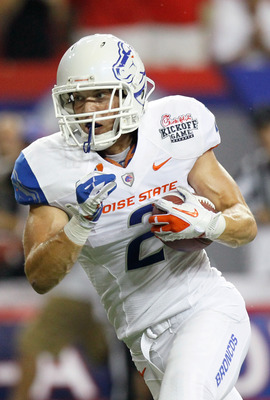 Matt Miller
Kevin C. Cox/Getty Images
Boise State's offense is going to have a rough time without QB Kellen Moore and RB Doug Martin leading the way, but the Broncos do have some key returning offensive playmakers, and the main one is WR Matt Miller.
Last year, Miller hauled in 62 passes for 679 yards and scored nine touchdowns.
The 6'3'', 215-pound sophomore is the type of receiving force that simply swept though the Mountain West last season, and Miller will now be asked to once again rip off big plays on a regular basis in 2012.
37. Jaxon Shipley, Texas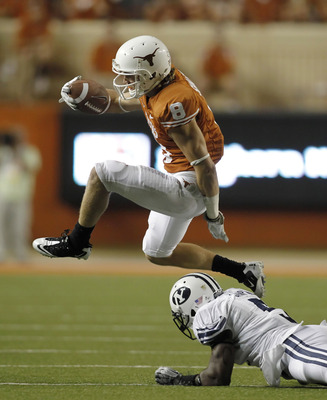 Jaxon Shipley
Erich Schlegel/Getty Images
It's easy to see why some fans confuse Jaxon Shipley for his brother Jordan, as Jaxon arrived in Austin and became an instant factor, making catch after catch, just like his brother did in Austin a few years ago.
Even though the Longhorns had their well documented problems at the quarterback position, Shipley was still able to catch 44 passes for 607 yards and score three touchdowns in 2011.
The 6'1'', 183-pound sophomore will once again team with Mike Davis to give quarterback David Ash two standout receivers to work with in 2012.
38. Jaz Reynolds, Oklahoma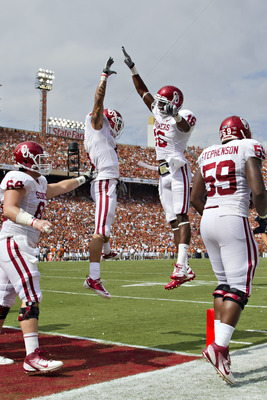 Jaz Reynolds
Wesley Hitt/Getty Images
Jaz Reynolds is going to face plenty of competition for playing time this offseason, as Oklahoma is welcoming in five highly touted receiver recruits—Trey Metoyer, Durron Neal, Sterling Shepard, Daniel Brooks and Courtney Gardner, who will all be looking to play immediately.
Reynolds should be the team's trusted second option next to Kenny Stills, though.
Last year, the 6'2'', 198-pound junior had 41 catches for 715 yards and five touchdowns in just ten games.
Stills, Reynolds, Trey Franks, Kameel Jackson and the five fab freshman will give QB Landry Jones one of the best sets of wide receivers in the country for 2012.
39. Aaron Dobson, Marshall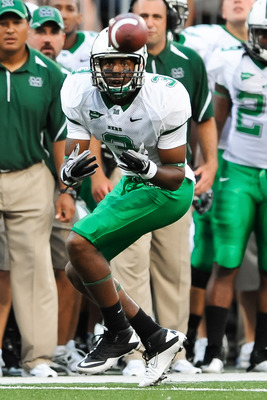 Aaron Dobson
Jamie Sabau/Getty Images
Marshall may be a team that's on the cusp of really making a move in the next year or two, as Doc Holliday seems to be doing strong work in Huntington.
The Herd will have at least one legitimate NFL prospect that scouts are sure to be watching in 2012 and that's WR Aaron Dobson.
Last year, catches like this one helped Dobson gain some much deserved attention, and his 12 touchdown catches were good for second best in Conference-USA last season.
40. Deon Long, New Mexico
Deon Long
After leaving West Virginia after one year, Deon Long's college career was at a crossroads.
Long ultimately ended up at New Mexico, and that's where he was able to finally display his terrific physical ability in 2011.
Long came out and had a sensational performance in his first season on the field for the Lobos in 2011. The athletic 6'0'', 190-pound sophomore led the team with 47 catches for 809 yards and four touchdowns, and he proved to be one of the most dangerous receivers in the Mountain West.
Now that Long has gotten settled in Albuquerque, it should be fun to watch him develop and it'll be interesting to see if he can help New Mexico climb out of the basement of college football.
41. Kenny Bell, Alabama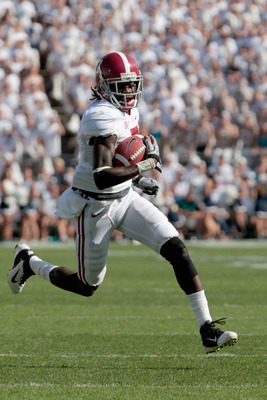 Kenny Bell
Rob Carr/Getty Images
Alabama lost its four leading receivers from 2011, but the Tide do return a group of talented young receivers that has some great potential.
One of the real names to watch in that group will be junior Kenny Bell.
Bell only caught 17 passes for 255 yards last season, but with Marquise Maze and Darius Hanks now gone, the 6'1'', 175-pound junior will now be asked to play a much bigger role in the passing game in 2012.
42. Jordan Matthews, Vanderbilt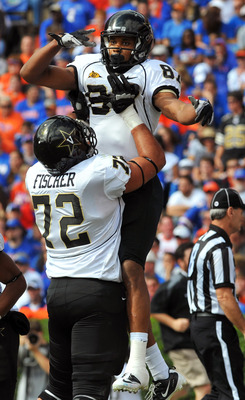 Jordan Matthews
Al Messerschmidt/Getty Images
Vanderbilt has two talented young receivers to work with in 2012 in Jordan Matthews and Chris Boyd.
Last year, Matthews finished fourth in the SEC with 778 receiving yards on just 41 catches.
The 6'3'', 202-pound junior may not garner the same type of preseason hype as other SEC receivers like Georgia's Tavarres King, Auburn's Emory Blake or Tennessee's Da'Rick Rogers. But he should remain one of the most productive receivers in the conference in 2012.
43. Rashad Greene, Florida State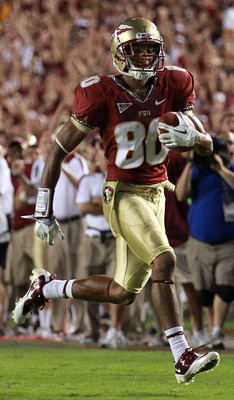 Rashad Greene
Ronald Martinez/Getty Images
Florida State has three terrific young wide receivers, Rashad Greene, Christian Green and Kenny Shaw, who all look to have big futures ahead of them in Tallahassee.
The receiver that should have the biggest impact in 2012, though, is Rashad Greene, who led the team with 38 catches for 596 yards and had seven touchdown catches last season.
The 6'0'', 175-pound sophomore is one of the fastest players in the ACC, and QB E.J. Manuel should be able to hook up with him for big plays on a consistent basis in 2012.
44. Jeremy Gallon, Michigan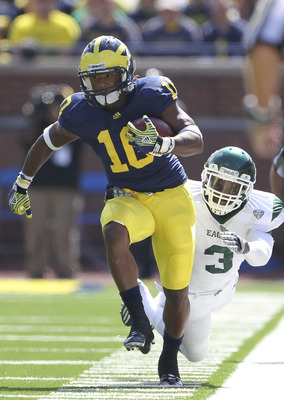 Jeremy Gallon
Leon Halip/Getty Images
People seem to focus in on QB Denard Robinson so much that they seem to forget about the Wolverines other offensive playmakers like RB Fitz Toussaint and WR Jeremy Gallon.
Last year, Gallon only had 31 catches for 453 yards and three touchdowns, but with Junior Hemingway gone, the 5'8'', 185-pound sophomore will now be asked to step up and be an even bigger factor in the passing game next season.
Gallon and fellow receiver Roy Roundtree should give Robinson two reliable targets to count on in 2012.
45. Ace Sanders, South Carolina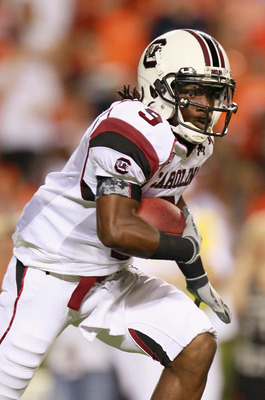 Ace Sanders
Kevin C. Cox/Getty Images
South Carolina may be losing star receiver Alshon Jeffery, but the Gamecocks do return some intriguing pass-catchers for 2012 with receivers like Ace Sanders, Bruce Ellington and Nick Jones coming back.
All three are dangerous weapons who could be candidates for a breakout campaign in 2012, but the most interesting of the bunch is Sanders, a former 4-star recruit who could be ready to step out of Jeffery's shadow.
Last year, the 5'7'', 175-pound junior finished second on the team with 29 catches for 383 yards, but now Sanders will be expected to lead the way for South Carolina's receiver corps in 2012.
46. Andre Debose, Florida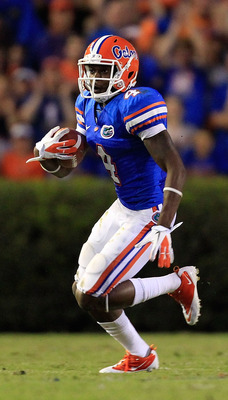 Andre Debose
Sam Greenwood/Getty Images
Andre Debose may never be the next Percy Harvin, but he does have the chance to finally live up to his high school hype in 2012.
When healthy, Debose is one of the most dangerous offensive playmakers in the country, but he hasn't had many chances to show off his explosiveness yet.
The 5'11'', 191-pound junior only caught 16 passes last season, but when he did have the ball in his hand, Debose made something happen, averaging 27 yards per catch in 2011.
Debose should be targeted more frequently next season, and he should have more opportunities to create big plays in the passing game.
47. Justin Hardy, East Carolina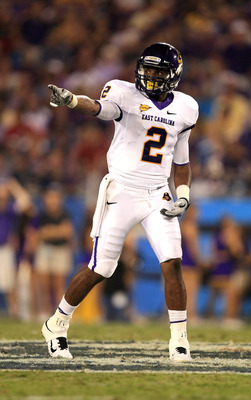 Justin Hardy
Streeter Lecka/Getty Images
Last year, Lance Lewis was expected to be East Carolina's most important receiver, but Justin Hardy emerged as an equally dangerous threat as a freshman in 2011.
Hardy caught 64 passes for 658 yards this past season, and with Lewis gone, he'll now be expected to step up and become an even bigger figure in the offense in 2012.
The 6'1'', 181-pound sophomore is on the path to become Conference-USA's next star receiver.
48. Cody Hoffman, BYU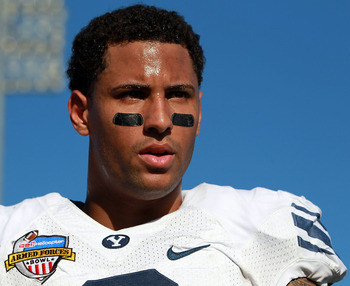 Cody Hoffman
Ronald Martinez/Getty Images
Cody Hoffman didn't have many scholarship offers when he was coming out of California's Crescent City high school as a 2-star recruit. Just because Hoffman lacked recruiting hype, though, that doesn't mean that he wasn't well worth the investment by BYU.
Hoffman has 103 catches for 1,470 yards and 17 touchdowns combined in his first two years in Provo. QB Riley Nelson is sure going to look his way a lot in 2012.
49. Tracy Moore, Oklahoma State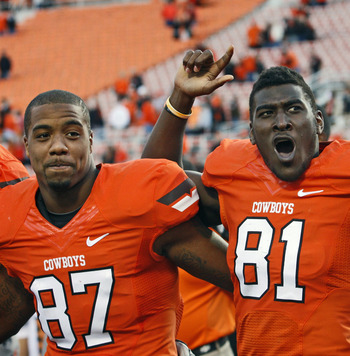 Tracy Moore
Brett Deering/Getty Images
Here's their new one.
After producing Dez Bryant and Justin Blackmon, if Oklahoma State pumps out one more first round receiver, we might have to start calling it Wide Receiver U.
What we have to find out first, though, is if Tracy Moore is truly that next big-time Cowboys receiver.
Moore had 42 catches for 672 yards and four touchdowns last year.
With Blackmon and Josh Cooper gone, he's got to step up and be the go-to guy in the passing game in Stillwater in 2012.
50. Darius Johnson, SMU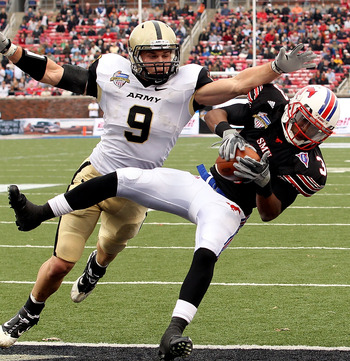 Darius Johnson
Ronald Martinez/Getty Images
Although he's not quite as refined as Emmanuel Sanders was going into his final season, SMU receiver Darius Johnson was still one of the most productive receivers in the country last year.
Johnson hauled in 79 passes for 1,118 yards and scored eight touchdowns in 2011.
The 5'10'', 169-pound senior has solid speed and a reliable pair of hands, and there's a reason QB J.J. McDermott targeted him so much in 2011—Johnson is one of the most consistent and dependable receivers in the country.
Keep Reading