President Obama and a College Football Playoff: Why 8 Teams Works Better Than 4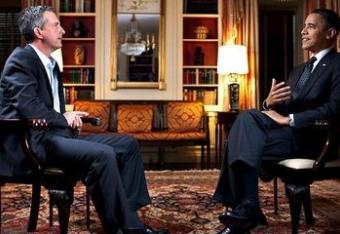 While this country has so many other important issues at the moment, the President of the United States took time out of his busy schedule to give his thoughts on current sport topics. He talked about the NBA, which is his favorite sport, and then he gave his opinion on a college football playoff.
In a lengthy interview with ESPN writer Bill Simmons, here are a few words on his thoughts about the new college football playoff rumors floating around.
Well, I'd rather see it eight teams, but four is a good place to start. I think that gets us on the right trend. Nothing is more frustrating than at the end of the season, nobody knows who won. And what, there is some poll? Coaches make a decision? Nobody knows what that means. Because part of what makes sports great, part of what makes March Madness great, the NFL playoffs great, is every once in a while something happens during the playoffs that shows the character of a team.

Look at the Giants this year. Nobody would have picked them. They wouldn't have been crowned as champions if you had a coaches' poll at the end of the year. But they made the plays when it counted.
So since the leader of our country has spoken, will anybody take his thoughts into consideration? Do eight teams really work better than four?
While I do think going from a zero-team format to a format that includes eight teams is such a huge jump in one step, it may possibly work in the future. Like President Obama said, having four teams would of course provide us with a couple of great games and determine a legitimate champion. However, adding another four teams still gives us that excitement that makes us love college sports so much and appreciate a great underdog story.
Take last year for example. If the top four teams were included in a four-team playoff, this is how it would look:
1 LSU (13-0) vs. 4 Stanford (11-1)
2 Alabama (11-1) vs. 3 Oklahoma State (11-1)
Pretty solid; it would have included the four most consistent teams of the year and nobody could argue with that. At the same time, any of those four teams could have won the championship and it wouldn't have given us a great story.
Now if eight teams made the playoffs last season, it would look like this:
1 LSU (13-0) vs. 8 Kansas State (10-2)
4 Stanford (11-1) vs. 5 Oregon (11-2)
3 Oklahoma State (11-1) vs. 6 Arkansas (10-2)
2 Alabama (11-1) vs. 7 Boise State (11-1)
What are you in most favor of?
See how everything changes? Not only would we have been blessed with an offensive explosion in Arkansas and Oklahoma State going at it, but a Kansas State team that nobody gave a chance to win anything would have had a shot to win the national championship. Boise State, after all these seasons, would have finally had a chance to prove themselves that it truly was better than these BCS teams.
Now I know you're saying that adding a team like Kansas State or Boise State wouldn't give us a true champion if they in fact ended up winning it all. And you're probably right.
On the other hand, they would have beaten several of college football's top teams to get there. They would have had to defeat the No. 1 or No. 2 teams in the country and then beat a top-four team twice on top of that.
Let the great teams battle it out for a national championship, but at the same time, let the teams settle it on the football field, while giving us a chance for a great story. Everybody loves an underdog and expanding to an eight-team playoff would give us just that.
This may just be the fan in me speaking, but isn't that who the game's played for anyway?

Randy Chambers is a B/R featured columnist that covers college football and the NFL. You can contact him @Randy_Chambers or Randy.Chambers7@yahoo.com.
This article is
What is the duplicate article?
Why is this article offensive?
Where is this article plagiarized from?
Why is this article poorly edited?