The Current State of Sunshine State Football: College Edition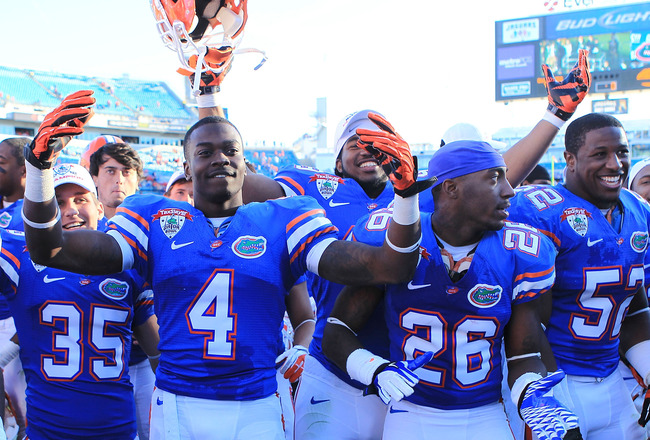 After a disappointing 2011, the Gators hope to rebound in 2012.
Scott Halleran/Getty Images
Times weren't as good for Florida's NCAA FBS Division teams in 2011.
Teams from the Sunshine State won 10 National or BCS Championships between 1983 and 2008. Now those years seem so long ago. In the past two years no team from Florida has played in a BCS bowl.
With the offseason upon us, and before spring practice heats up, let's take a look at the current state of Florida's seven FBS teams.
P.S. This is a companion to an article I recently wrote regarding the current state of Florida's NFL teams. Check it out.
Florida Atlantic Owls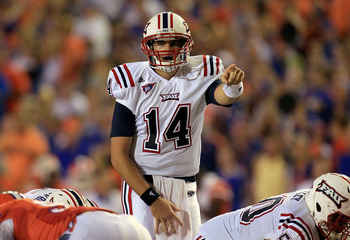 The Owls will play at Georgia and Alabama back-to-back in 2012.
Sam Greenwood/Getty Images
The Florida Atlantic Owls just completed a 1-11 season.
Their only win of the year was a 38-35 victory against Alabama-Birmingham.
They were shutout three times, and 10 of their losses were by double-digit margins.
However, they can't be accused of avoiding top-tier opponents. Their first three games in 2011 were at Florida, at Michigan State and at Auburn.
The 2012 schedule won't be any easier. They will play at Georgia and at Alabama in consecutive weeks in September.
South Florida Bulls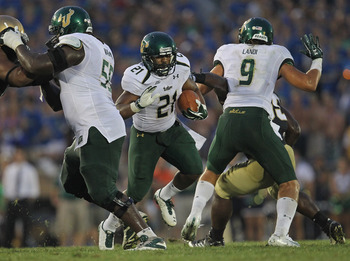 The Bulls upset Notre Dame to open the 2011 season.
Jonathan Daniel/Getty Images
After a surprising opening week win at Notre Dame, South Florida's 2011 season was mostly a downer.
They would only win four more games, and three of those were against non-BCS teams.
The Bulls were 1-6 in the Big East, and finished the season as losers of seven of eight. They lost five games by less than a touchdown, including four by a field goal.
The 2012 schedule features a long road trip to Nevada, and games against in-state rivals Florida State and Miami.
Miami Hurricanes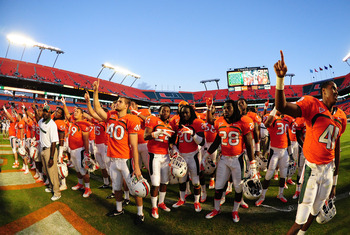 The 2011 Hurricanes: A 6-6 record with no bowl game.
Scott Cunningham/Getty Images
The once dominant Miami Hurricanes had a disappointing 6-6 season in 2011. They also failed to play in a bowl game.
A program that won five National or BCS titles between 1983 and 2001 hasn't played in any BCS bowl since the 2003 season.
Since joining the ACC, they have not won a conference championship, or even a division title.
The 2012 season will have a rough start. They will play three of their first four on the road.
The best game on the schedule could be a game against Notre Dame at Chicago's Soldier Field.
Central Florida Knights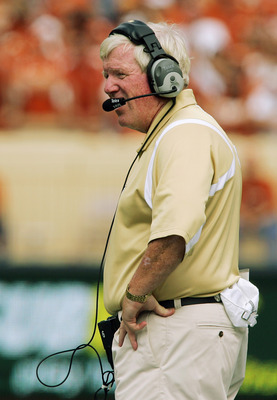 George O'Leary's team stumbled after winning 11 games in 2010.
Brian Bahr/Getty Images
After winning the Conference USA Championship and posting an 11-3 record in 2010—including a Liberty Bowl win over Georgia—the Knights expected great things in 2011.
Instead they went 5-7 including an embarrassing loss to Sun Belt member Florida International.
The Knights are leaving Conference USA and moving to the Big East in 2013.
Before making their farewell tour through Conference USA, they will have games at Ohio State and home against Missouri in September.
Florida International Golden Panthers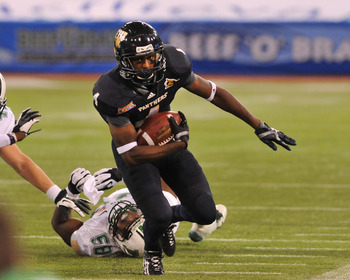 Florida International played in the Beef O'Brady's Bowl in 2011.
Al Messerschmidt/Getty Images
Though Florida International doesn't get the respect that Miami or Florida does, they actually posted a better record than either of those schools in 2011.
Their 8-5 season included wins over Louisville and Big East-bound Central Florida.
Three of their five losses were by five points or less.
With a little improvement, 2012 might be even better.
Along with their Sun Belt opponents, they will play the exact same non-conference schedule as 2011—Duke, Akron, Central Florida and Louisville.
Florida State Seminoles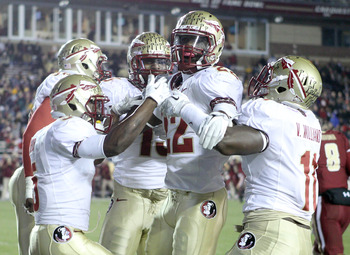 The Seminoles hope to return to the top of the ACC in 2012.
Elsa/Getty Images
The 2011 Seminoles looked at times like the dominant team they were during the '90s.
Of their nine wins, six were by 25 points or more.
Their three conference losses were by a combined 11 points. Their other loss was a 23-13 loss to Oklahoma.
They beat both Florida and Miami for the second consecutive year.
A weak non-conference schedule including Murray State and Savannah State, plus another Top 10 recruiting class, could lead Florida State back to a BCS bowl.
Florida Gators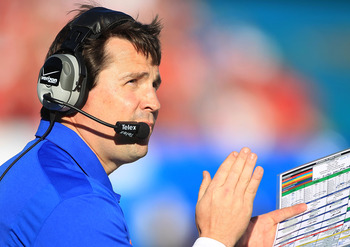 Will Muschamp's first season was below the Gators standard.
Scott Halleran/Getty Images
The Gators lost six games last season for the first time since 1987.
The rising seniors, recruited on the heels of the last BCS title in 2008, have yet to win an SEC Championship. If they fail in 2012, they will become the first class since the class that came in in 2002 to leave Gainesville without a conference championship.
The Gators struggled in Will Muschamp's first season, especially against the better SEC teams and Florida State.
The Gators will be Texas A&M's first SEC opponent; and with Alabama and Auburn off the schedule, the Gators' record may improve in 2012.
Keep Reading