Robert Griffin III to Be Featured on NCAA Football 13 Video Game Cover
February 27, 2012

Joe Robbins/Getty Images
The younger crowd of college football fans eagerly await the new EA Sports NCAA Football 13 video game from a franchise that brings in a new game every year. Each year, the cover sports a departing college athlete with an impressive resume.  
EA Sports has announced that that athlete will be none other than the Heisman-winning, Superman-sock-wearing Robert Griffin III (cover image here).  
From EA Sports:
Redwood City, Calif. – February 27, 2012 - Electronic Arts Inc(NASDAQ: EA) today announced Robert Griffin III, former Baylor University quarterback, will be featured on the cover of EA SPORTS™ NCAA® Football 13, set to hit retail shelves on Tuesday, July 10.  In addition to RG3, a fellow Heisman Trophy winner will appear on the cover of NCAA Football 13 based on a fan vote.
Being featured on this video game cover is quite impressive, and some jokingly call it the "second Heisman Trophy," as receiving the honor of being featured on the cover is just as selective. 
Only players with the most impressive lists of accomplishments and moral standing are featured on the cover. Last year, in light of the then-unresolved scandal, Cam Newton was not even a candidate to be featured on the cover. Alabama's Mark Ingram and his flawless moral record were chosen.
Heisman Trophy winners are usually chosen for the cover. Robert Griffin III joins Mark Ingram (2012 installment) and Tim Tebow (2011) as three straight Heisman winners to be featured on the cover.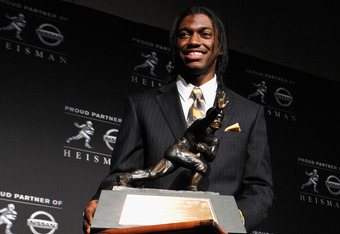 Jeff Zelevansky/Getty Images
The franchise always releases the games much like car manufacturers do: one year before. 
Interestingly, RG3 is the first Big 12 quarterback to be featured on the cover since Nebraska QB Tommy Frazier was featured on the 1997 installment, College Football USA 97, on the antiquated Sega Genesis. He's also the first ever Baylor player to be featured.
The video game franchise features accurate representations of schools and makes solid predictions about the teams for the incoming season. 
The NCAA Football games cannot feature the names and exact likenesses of college players, but they come quite close. For example, in the previous installment, the Alabama Crimson Tide had a running back with a randomly generated name that stood at 5'11", 225 lbs. Sound familiar?
The latest video game will be available at stores on July 10, 2012, for the standard price of $59.99.