College Football: Predicting the Winners of the 6 Major Conferences in 2012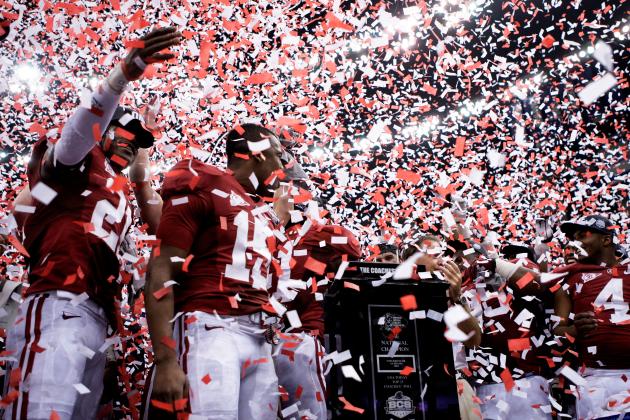 Andy Lyons/Getty Images

The 2012 college football season doesn't start for seven more long months. Not to worry though, as the best part of the off-season is making predictions for the upcoming season.
2011 offered thrilling games, great story lines, and an overall great season. Hopefully, in 2012, we're treated to another great season.
In this segment, I am going to predict the winner of each major conference in 2012.
Let's get started.
Begin Slideshow

»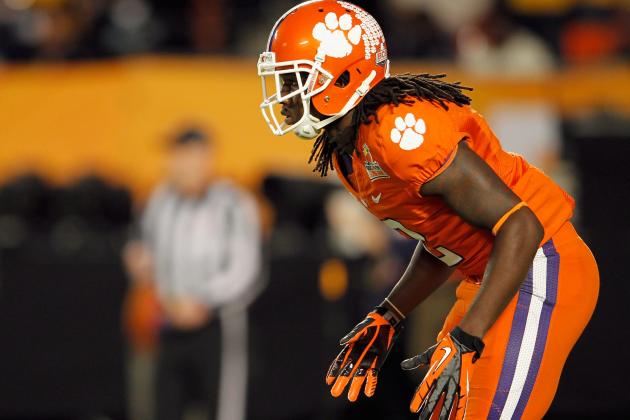 Mike Ehrmann/Getty Images

With Miami losing Jacory Harris and Lamar Miller, and Virginia Tech losing David Wilson, Jarrett Boykin and Danny Coale, Clemson becomes the team to beat in the ACC.
And after shredding the Hokies for the second time in the ACC Championship Game, Clemson will be the favorite to win the ACC again in 2012.
Freshman sensations Tajh Boyd and Sammy Watkins return for the Tigers, and look to put their humiliating Orange Bowl loss to West Virginia behind them while working towards a national championship in 2012.
Running back Andre Ellington also returns for the Tigers after rushing for 1,178 yards and 11 touchdowns in 2011.
Clemson struggled down the stretch of 2011, losing three of their last five regular season games. Most of that can be attributed to defensive breakdowns, as the Tigers gave up 31 points or more in all three of lose losses.
The Tigers just landed the No. 15 athlete in the ESPNU 150, safety Travis Blanks. He will certainly provide excellent skill in the defensive backfield for the Tigers.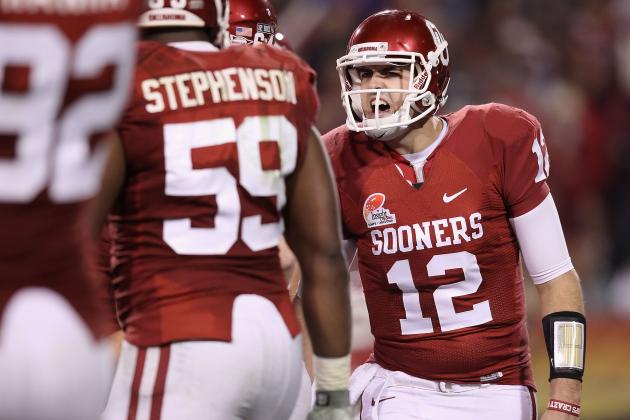 Christian Petersen/Getty Images

Oklahoma will be taking home the Big 12 crown in 2012, simply because they have the most talent in that conference.
Oklahoma State and Baylor are losing most of last season's productive players, and Texas is still in the process of rebuilding back into, well, Texas.
West Virginia joins the Big 12 in 2012 with a plethora of talent, but I believe they are going to face a reality check that they aren't playing in a scrub conference any longer.
The Sooners received great news when they discovered QB Landry Jones was returning for his senior season. Wide receiver Ryan Broyles is taking off for the NFL draft, but the Sooners still have Kenny Stills to lead the receiving corps. Stills had 61 catches, 849 yards and eight touchdown receptions in 2011.
There is also a nasty duo of backs coming together in the Sooner backfield with Dominique Whaley and Roy Finch. Each back contributed over 600 yards rushing and a combined 12 rushing touchdowns in 2011, expect those numbers to rise in 2012.
If Oklahoma State was returning Brandon Weedon and Justin Blackmon, and Baylor was returning Robert Griffin III and Kendall Wright, the Big 12 would be anyone's league in 2011—instead it'll be the Sooners'.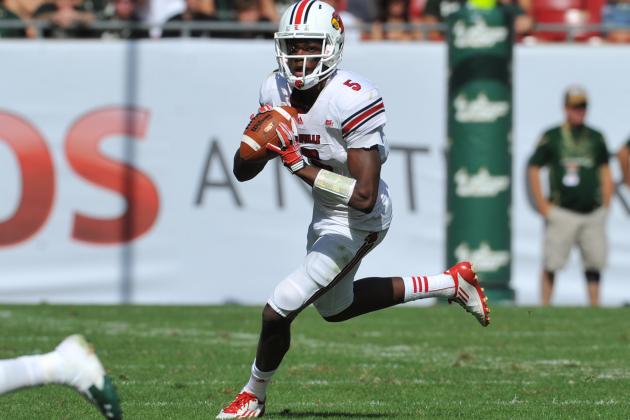 Al Messerschmidt/Getty Images

With West Virginia exiting the Big East in favor of the Big 12, this will be Louisville's conference in 2012.
Cincinnati will be enduring the losses of Zach Collaros and Isiah Pead, and I think that will be way too much for the young Bearcats to overcome.
In 2011, freshman quarterback Terry Bridgewater came in for Louisville and showed a lot of promise and athleticism for a young gunner. I believe his success will carry over into the 2012 season, and Bridgewater will show significant strides.
Bridgewater completed 64 percent of his passes and threw for over 2,000 yards in 2011, so the future is bright for him and this Louisville team.
In Louisville's six losses in 2011, they didn't lose a game by more than nine points. Four of their six losses were only by a touchdown. This team has the talent, and will win the Big East in 2012.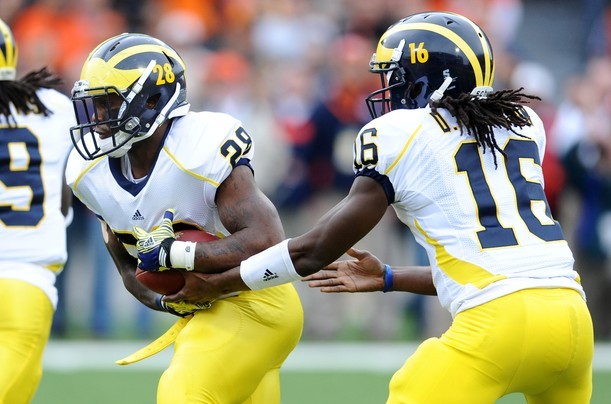 In 2011, Brady Hoke came into Ann Arbor and led Michigan to only their fifth 11-win season in program history, the first win over Ohio State in seven years, and their first BCS victory since Tom Brady was in town.
That my friends, is simply astonishing.
Not only did Hoke do that, but he turned a Greg Robinson defense into a Greg Mattison defense. What's the difference you ask? Greg Robinson's defense was ranked 110th by points allowed in 2010. Greg Mattison's defense had the sixth ranked scoring defense in 2011. This is a remarkable turnaround.
The Wolverines are returning eight starters on both sides of the ball, and landed 11 four-star recruits that are coming in this season. Let's just say Ann Arbor is rocking.
Michigan State is losing Kirk Cousins and B.J. Cunningham, Ohio State is losing DeVier Posey and Dan Herron and Wisconsin is losing Russell Wilson and Nick Toon. All Michigan is losing is Junior Hemingway offensively, and Mike Martin and Ryan Van Bergen on defense.
Denard Robinson and Fitzgerald Toussaint will return for the Wolverines. Robinson and Toussaint both rushed for 1,000 yards in 2011, the first time two Wolverines have rushed for 1,000 yards in the same season since the early 70's.
Robinson really thrived in new offensive coordinator Al Borges' system in the latter part of 2011, and Fitz Toussaint was a huge breakout player.
Defensively, freshman sensation cornerback Blake Countess returns, and Jordan Kovacs will be back patrolling the defensive backfield.
The Wolverines are primed for a huge year in 2012.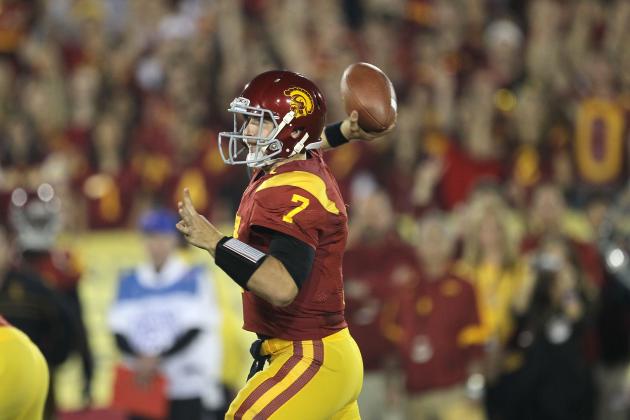 Stephen Dunn/Getty Images

In all likelihood, since USC's probation has ended, it is going to be an Oregon-USC Pac-12 Championship Game in late 2012. Oregon, however, will not be walking away with their fourth straight conference title.
With Stanford losing Andrew Luck to the NFL, who knows if the Cardinals will even be a factor in the Pac-12 North.
Oregon does lose Darron Thomas and LaMichael James, but production won't be lacking much with Bryan Bennett taking over the QB spot. At running back, do-it-all freshman sensation De'Anthony Thomas returns for his sophomore season after a 1,200 all-purpose yards campaign in 2011.
USC though, is angry. The Trojans were happy to find out Matt Barkley would be back under the helm in 2012. Now, they are on a mission to make up for two years of no post-season play.
Matt Barkley was ridiculous last season, to say the least. The junior quarterback completed 69 percent of his passes with a 39-7 touchdown-interception ratio.
Robert Woods was a big part of Barkley's passing game, snaring 111 balls for 1,292 yards and 15 touchdown receptions.
With just about all offensive production returning in 2012, the Trojans are looking at a potential top-3 preseason ranking and almost assuredly a BCS bowl.
Chris Graythen/Getty Images

I know, you expected to either see Alabama or LSU at the top of this list, but I don't think that will be the case.
Alabama, Arkansas, and LSU are all enduring huge losses this off-season, and it simply boils down to who is taking the worst hit.
Alabama is losing guys like Dont'a Hightower, Dre Kirkpatrick and Courtney Upshaw. Those guys were the heart and soul of the Crimson Tide defense. LSU is losing their best receiver in Reuben Randle and their best corner in Morris Claiborne, not to mention Jarrett Lee and Jordan Jefferson.
Arkansas may be losing receivers like Jarius Wright, Joe Adams, and Greg Childs, but they return Tyler Wilson and Knile Davis will be returning from injury. For the Razorbacks, having Wilson and Davis return is huge and I believe that alone will allow them to keep pace with and eventually surpass both LSU and Alabama.
The SEC should be quite competitive this year, as it is almost every year. I believe in the end, Arkansas will have the necessary talent to win the SEC.