Oregon Football Coach Chip Kelly vs. Michigan Legend Bo Schembechler
February 20, 2012

Steve Dykes/Getty Images
Oregon Ducks coach Chip Kelly and Michigan Wolverine legend Bo Schembechler have carved their achievements in vastly different eras of college football. Consider the following portrait of their work ethic and philosophies.
The Michigan Man
In the modern college football world, legendary Michigan coach Bo Schembechler would be fired. No fanbase or media would tolerate a coach who had lost his first five Rose Bowl appearances, regardless of wins and conference titles. In 20 years, the iconic Schembechler amassed a 5-12 bowl record with only two Rose Bowl wins in ten appearances. He never won a national title at prestigious Michigan.
Mitch Albom's biography, Bo, paints a portrait of an old-school coach who preached toughness and uncompromising principles. From his inception as Michigan's coach, Schembechler instilled a regimen of conditioning and blocking. His first-year demands bordered upon mutiny, but he promised his surviving players, "Those Who Stay Will Be Champions."
He demanded his offensive line to rip open holes for their power-running offense. His defensive line was aggressively trained to hold on to each yard of the battlefield.
Schembechler's philosophy receives historic praise for turning young players into upright men. But today's hyper-informed fan and super-intrusive media would classify Coach Bo Schembechler's career as an epic failure.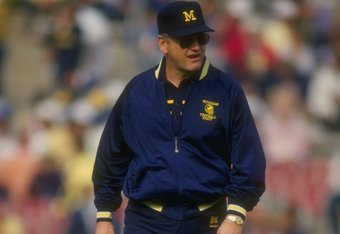 Rick Stewart/Getty Images

Genius With a Visor
Nothing brings a fanbase together like winning the Rose Bowl. It also causes amnesia. Momentarily, the Chip Kelly criticisms have subsided, and the panic of losing big games is yesterday's news. Gone are the memories of fans and media who claimed Kelly couldn't win the big one.
Yet, the measure of Kelly's genius turned on a few decisive plays in order for the Ducks to don the winner's garland of roses. Such is the Faustian bargain for millionaire coaches who must answer to obsessive fandom and its insatiable appetite for more. Next objective? Nothing short of winning the 2013 BCS National Championship.
Like Schembechler, Kelly is building success through the bricks and mortar of preparation and repetition. His system requires years of progress, great players and fortuitous timing. Kelly's mantra to "Win The Day" demands his players to single-mindedly prepare themselves physically and mentally for hurry-up plays and two-minute scoring. Kelly's practices nurture excellence, while he firmly insists that each game is a Super Bowl.
The measure of building greatness takes countless repetitions, team commitment and fortunate timing, especially in college football. It is ludicrous to measure the success or failure of a coach on the fortunes of a few deciding moments in big games. Yet the endless scrutiny of fans and media have uncovered a thousand degrees of failure when their team's perfection is denied.

The Once and Future Legend
Bo Schembechler and Chip Kelly espouse different styles of football, but they are coaches cut from the same cloth. Their values of hard work and execution are identical. They are gruff, determined and willing to lead their troops into big games with their uncompromising approach, despite the critics.
Schembechler's legend has passed, but he remains the standard at Michigan in either blessing or cursing those who pass through Ann Arbor.
Kelly's legend has had a meteoric rise, but it remains to be seen whether it has reached its peak or whether it will immortalize Autzen Stadium with a crystal football.