Penn State Makes Outstanding Hire in Charlie Fisher as Quarterbacks Coach
February 18, 2012

It was late Wednesday night, November 9th, and my friends and I were returning home following the Miami of Ohio-Temple game at Lincoln Financial Field in Philadelphia, where we had been guests of Charlie Fisher, a fellow Central Pennsylvania native who was the passing game coordinator and quarterbacks and wide receivers coach for the Red Hawks.
Earlier in the evening, news had spread like wild fire—thanks to modern technology and social media—that Penn State had done the unthinkable and fired its longtime, iconic head coach Joe Paterno. 
Now the suggestion was made to Coach Fisher by way of text from one of our friends..."Why don't you come home and coach the Nittany Lions?"
Coach Fisher, who must have been incredibly busy with his postgame duties, replied instantly:  "Troy, now that would be a dream come true".
Fast forward to Friday, February 17th, and the dream has come to fruition.  Newly hired Penn State coach Bill O'Brien announced the hiring of Fisher as quarterbacks coach.  O'Brien, by filling his last vacancy on the coaching staff with Fisher, may have made his biggest decision since accepting the job back in early January.
With the newest addition, O'Brien and the Nittany Lions are getting a "football lifer."  A highly respected, extremely hardworking individual who—unlike many in this win-at-all-costs profession—genuinely cares about more than just wins and losses and ultimately...can coach. 
This was evident from the moment I first met him a few seasons ago while he was the passing game coordinator at Vanderbilt.  Fisher had invited us down for the weekend to take in a closed practice and the LSU game. 
When questioned as to what he felt the Commodores' chances were against the visiting SEC power, he beamed with confidence as he described to us what they were going to do to earn a victory.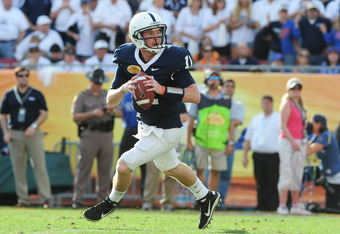 Al Messerschmidt/Getty Images
It was not coaches' speak either.  This man was truly optimistic as to the 'Dores' chances, which could not have been easy for most to imagine at the time.  Vanderbilt was in the midst of a cloud of uncertainty after the sudden resignation of their head coach, Bobby Johnson, just weeks prior to the opening of the season. 
Fisher spent nine seasons at Vanderbilt, where he was instrumental in the development of future Chicago Bears stars, quarterback Jay Cutler and wide receiver Earl Bennett. Bennett set the SEC all-time mark of 236 career catches. 
Torry Holt, a future Hall of Famer, also credits Fisher with his development while under his tutelage at N.C. State.  During this past season at Miami of Ohio, the Red Hawks' passing game ranked 14th nationally with junior quarterback Zac Dysert averaging nearly 300 yards per game.
The arrival of Fisher will bring a much needed shot in the arm to Penn State's passing game, which has struggled the past few seasons and ranked an anemic 96th nationally this past season.  Matt McGloin and former high school All-American Paul Jones should compete for the starting position and benefit immediately from Fisher's coaching abilities. 
Many highly touted quarterbacks have found their way to Penn State, but very few flourished under the former coaching staff.  High schools stars such as Anthony Morelli and Pat Devlin are the most recent signal callers that never quite lived up to their lofty expectations, much to the dismay of Nittany Lion fans. 
With the addition of Fisher, this should all change.  And when it does, he will have been responsible for the consummation of others' dreams as Nittany Lions fans have longed for a great quarterback for years.
Joe Rogers is a college football writer and operates the website The College Football Bowl Report