College Football 2012: 25 Teams That Should Upgrade Uniforms This Offseason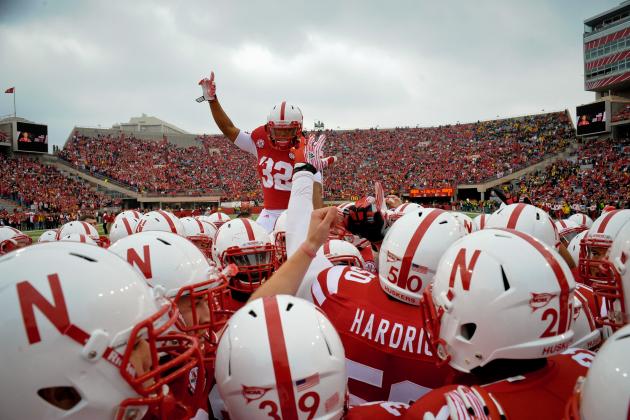 Eric Francis/Getty Images

College football isn't just about who can score the most points anymore. This game has evolved into one that doesn't base itself entirely in skill sets and abilities.
It's not just about who has the stronger arm, the stickiest hands or the best blocking technique anymore. It is about fashion.
Style is a whole new idea that has swept across the sport in the recent years. Maryland and Oregon lead the charge with a deep passion. Programs and their teams want to not only play the best, but look the best. Critics might call it feminine and weak, but supporters have taken this emerging trend to the next level.
The old, boring uniforms of the past have been labelled as classics, only returning on days when the fans want to see a "throwback." Trendy threads are now commonplace and are making their mark nationwide.
Some programs, however, are lagging much too far behind. Certain uniforms are too normal on the modern-day gridiron, forcing universities to take a look into the possible evolution of their on-field attire.
We take a look at the top 25 programs in college football that need a bit of a revamp on their uniforms, flirting with the idea of adding a dash of flair to their wardrobe for the 2012 season.
If you have any ideas, I'd love to hear them. I'm no fashion expert so please, feel free to comment.
"If you look good, you feel good. And if you feel good, you play good." - Deion Sanders
Begin Slideshow

»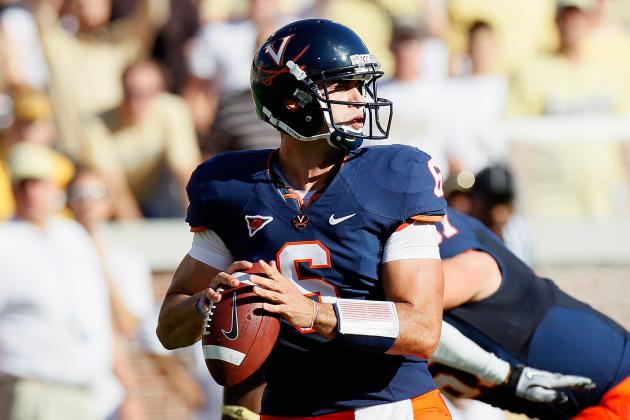 Kevin C. Cox/Getty Images

The Cavaliers came out in the Chick-fil-A Bowl dressed in some neon orange jerseys, really forcing their secondary color into a dominant presence on the football field. It did not look good and will not look good in the future.
Virginia has utilized their primary dark blue for a long time now. It is getting a little behind the times, but going full out bright orange was a bit on the extreme side. The Cavaliers need to make a alternate uniform mixing both their deep blue and their bright orange.
Some new stripes on the helmet would also be neat, along with a different number font. Overall solid but with a slight need to slow down on the new uniform front.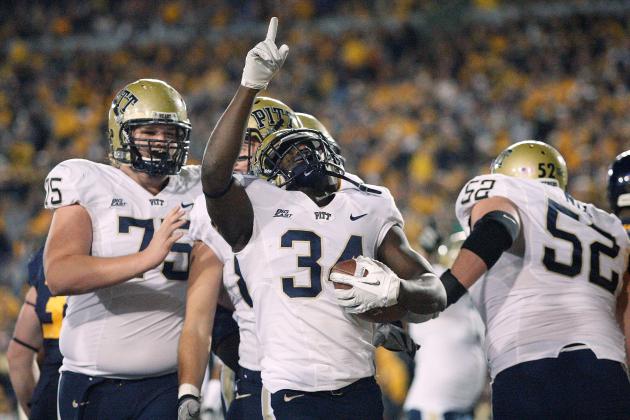 Jared Wickerham/Getty Images

This program is a classic old-timer with a lot of history wearing the blue and gold. It's getting a little too classic.
Similar in color scheme to both Navy and Notre Dame, the Panthers should start to mix things up a big. With the new trend filtering out into the matte colors on the helmet, Pitt come out with an alternate helmet that is a matte dark blue with gold lettering.
To go with that is a black jersey with either gold or blue lettering. Gold pants always go well with black, but white or dark blue could also be an option. Anything but staying the same would be a dramatic improvement for this Big East classic.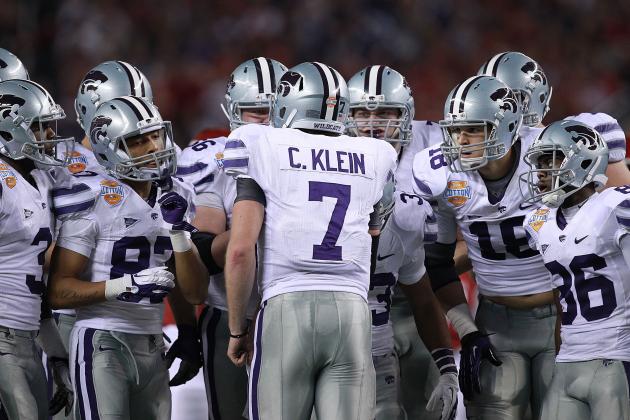 Ronald Martinez/Getty Images

In my opinion, the Wildcats have one of the coolest color schemes in the entire sport. A deep purple mixed with silver is not only unique but also a fantastic display of style. K-State really should take advantage of that.
Silver has been the Wildcats' helmets forever it seems, and a change to something a little different would be ideal. As I said before, the matte style is the big "thing" at the moment, and purple is the color to do it with. Just switching the colors on the helmet so that matte purple is the dominant while silver is the logo would be fantastic.
As for the jerseys, go black with purple. The Wildcat basketball team definitely got that memo as they have been showing off that color scheme for a few seasons now. Also, imprinting "K-STATE" instead of "Kansas State" would go a long way, especially for the black jersey design.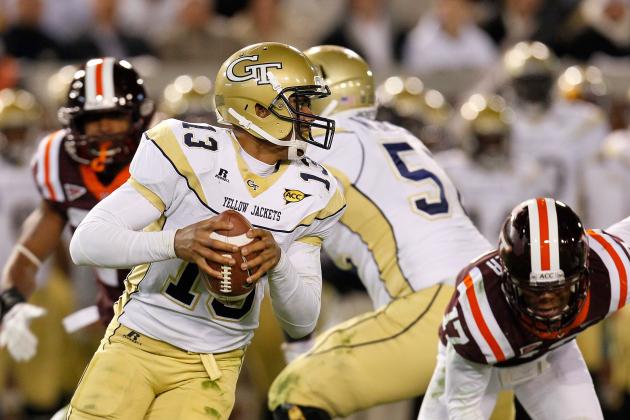 Kevin C. Cox/Getty Images

We've seen the white helmets, the all gold uniforms and everything in between from the Yellow Jackets. The next logical step would be to snare a sweet black ensemble.
Last season, Georgia Tech watched their in-state rivals pull off one of the coolest new uniforms in the country during their season opener. Now, they need to retaliate. A combination of black as the primary, gold as the secondary and a mix of white as a detail color would really help GT stand out next season.
A blue and gold mix would also make some heads turn. Lots of options present themselves and all should be considered.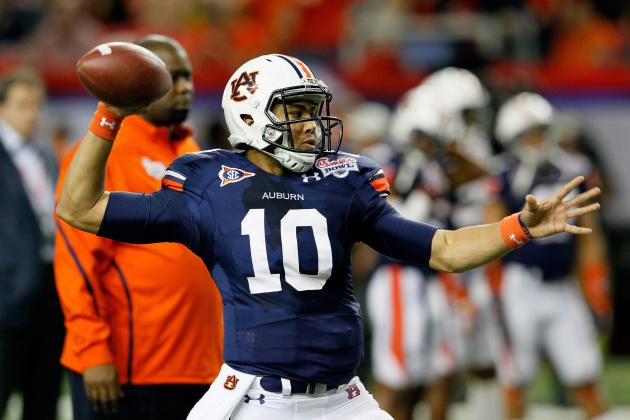 Kevin C. Cox/Getty Images

The Tigers have always had some really solid-looking jerseys. The stripes on the shoulders give the whole uniform some flair but not so much in that it's distracting.
This upgrade would definitely be on the helmet side of things. While the white with the triple stripe on top is a classic, Auburn could certainly look into snagging some new matte blue (or maybe even orange if they're bold).
With a new helmet color, they could mix and match the "AU" logo to be opposite of the dominant helmet color. Personally, though, what would really make a statement is a design similar to Georgia's from last year but with blue on the sides and orange as the widening stripe in the middle. Purely awesome.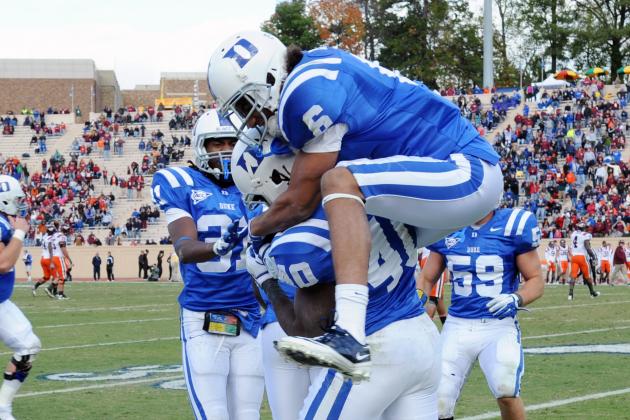 Al Messerschmidt/Getty Images

I understand the fact that Duke is much more of a basketball-based university, but this is just despicable. A perfect imitation of how lame the Indianapolis Colts look, the Blue Devils have no flair or style.
Duke will have a lot to work with at least. We're talking a complete makeover from top to bottom. The Blue Devils could take a lesson from their championship caliber basketball team as well, particularly when it comes to a deeper blue and black uniforms.
Additionally, Duke could look into solid blue, silver or black helmets to improve their appearance. There are lot of options, and the Blue Devils need to act soon.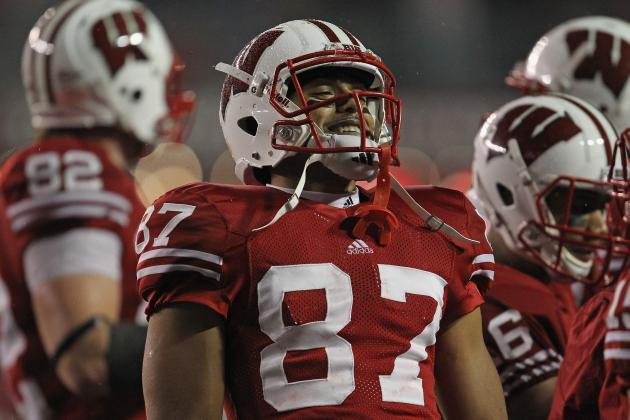 Jonathan Daniel/Getty Images

I'm a huge fan of the Badgers classic style and have no intention of excessively changing it, but there are a few areas that could use some improvement. What I have in mind would be similar to the cool new Pro Combat uniforms that Ohio State used this past season but with a little bit of a Wisconsin flair added on.
A cool alternate helmet would be just to invert to original (red where white is now and vice versa). For the jerseys, I'd look into a black one with red lettering, a blunt gray with red lettering and anything else Adidas could come up with.
The Wisconsin uniforms comes up for a reason though as watching them play Oregon, the uniform Gods of the college football world, in the Rose Bowl really made them look plain. An upgrade would be a nice change.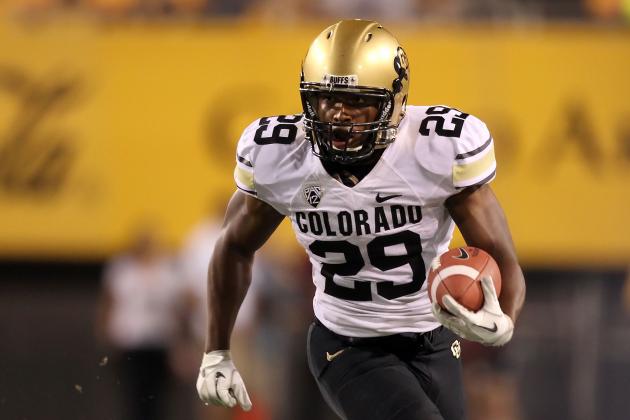 Christian Petersen/Getty Images

Overall, the Buffaloes have done well with their uniforms. The gold helmets and black jerseys are sharp, putting a new flavor of fashion into their new Pac-12 home.
Upgrading to something a bit more modern, however, or at least adding an alternate would be a giant next step for Colorado as they acclimate themselves to the Pacific way of things. A change in conference calls for more of a celebration due to the magnitude of the move.
Personally, I would take a look at an alternate helmet design as well as a secondary home jersey. For the helmet, the Buffaloes could look into either a black with a gold logo. On the jersey side of things, gray with black lettering and gold trim would look sharp, especially with black helmets.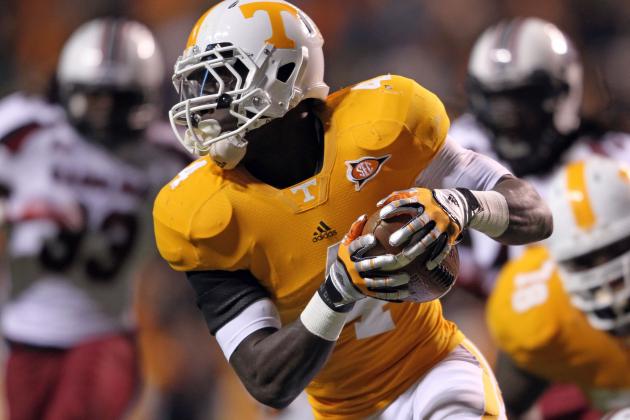 Andy Lyons/Getty Images

UT slides into the mix on this list due mostly to their helmets. I haven't seen it change in forever and would love to get a look at some new alternate designs for the headgear.
When the Volunteers came out with the black jerseys with orange text, I was really taken aback. Those were purely stunning. What they need now is a helmet to match and I'm thinking either a silver grayish with the orange logo or a pure black. Either would go and really present something new for Tennessee on the uniform front.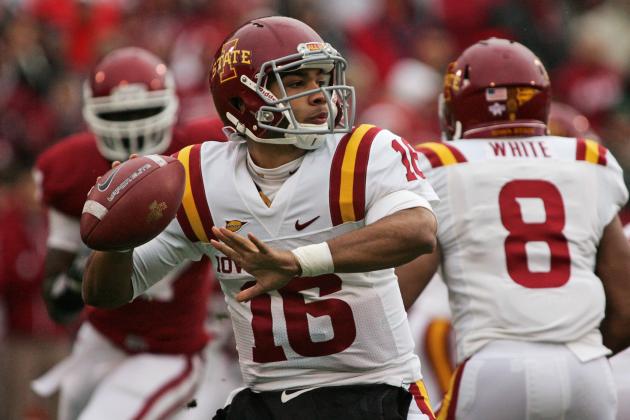 Brett Deering/Getty Images

The Cyclones are more or less a small program on the fringe of Big 12 power. Their recent success as the upset squad of every year in their own conference has them making headlines at least once a week per season, so looking good may well further "their bid" for national prominence.
As of late, however, ISU has only added in one different logo and a change up on the home jersey. The mustard yellow is nothing to express more than you have to, so I suggest Iowa State go all out on a black uniform. As I've said in previous slides, black is universally cool color that is the perfect way to stand out any given day of the season.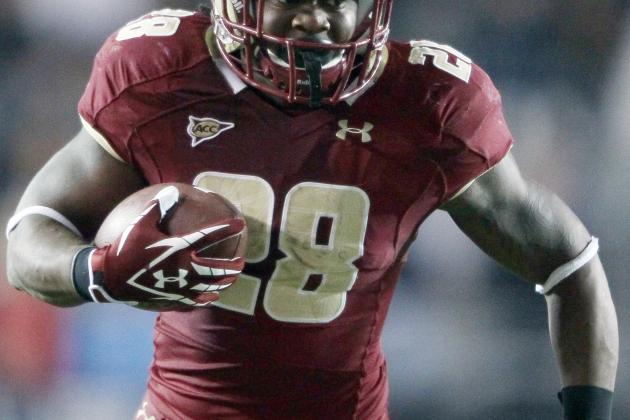 Elsa/Getty Images

The Golden Eagles have one of the most storied programs in the nation. Deep in the heart of the northeast, BC has been sporting a classic gold and crimson for ages.
First, we'll take a look at the helmets. Completely bland of any logo, Boston College could certainly look into adding an alternate that has some sort of eagle, a "BC," or anything at all. Furthermore, I'd love to see a black and gold style helmet with a crimson logo.
As for the jerseys, looking into a gold, black or a blunt gray would be sharp. Gold or crimson lettering would be a perfect way to wrap the whole thing up. This whole idea would never replace the originals, but sometimes an alternate as such would be a nice mix-up against a rival at home.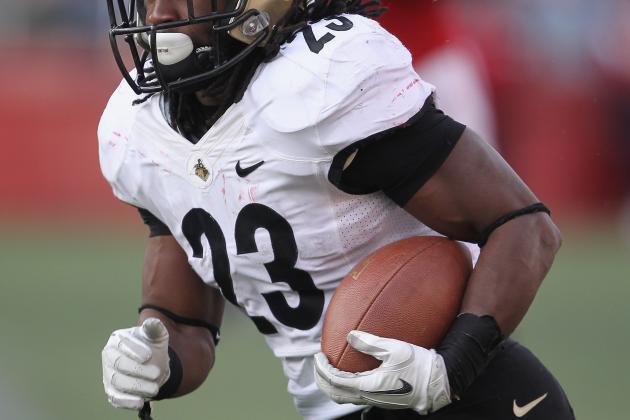 Jonathan Daniel/Getty Images

The Boilermakers are one of the most recognizable Big Ten teams in the conference. Their gold and black uniforms are classics with a lot of history, leaving Purdue not much to change in their ensemble.
As an alternate helmet, I'd look into going back to the inverted colors with black as the dominant and gold as the logo color. It'd be a really cool throwback. Otherwise, I wouldn't mess with it too much.
On the jersey side of things, a gold or grayish with black lettering would be tight. I would really enjoy seeing any of those, particularly against in-state rival Indiana.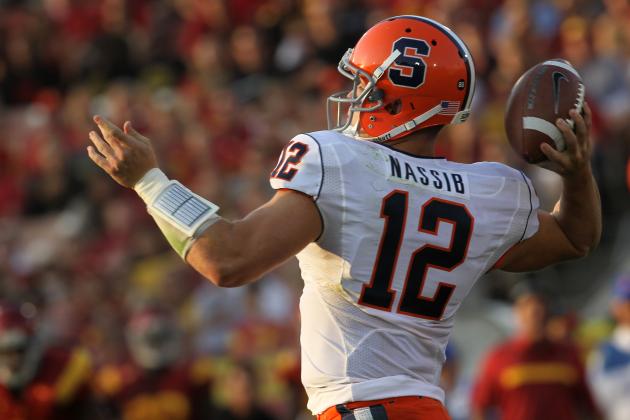 Stephen Dunn/Getty Images

One of the most distinguished programs in the nation, it is hard to believe 'Cuse could get away from their original orange uniforms. Their mascot would be in disgrace if the Orange left their original color on the wayside.
Syracuse has evolved their uniforms over time, adding in a really tight blue one with orange trim as well as a full-out orange explosion where nothing on the body is left untouched by the fruity color. What has remained constant throughout this whole ordeal, however, is the helmet.
The helmet has been the same for as long as I can remember. There are concepts in the making for a sweet black alternate (to go along with a full out black uniform), but the 'Cuse should also exploit their secondary navy blue as well. Inverting the orange and the blue on their helmets now would be fantastic as well, especially if they bring back the full-out orange ensemble again.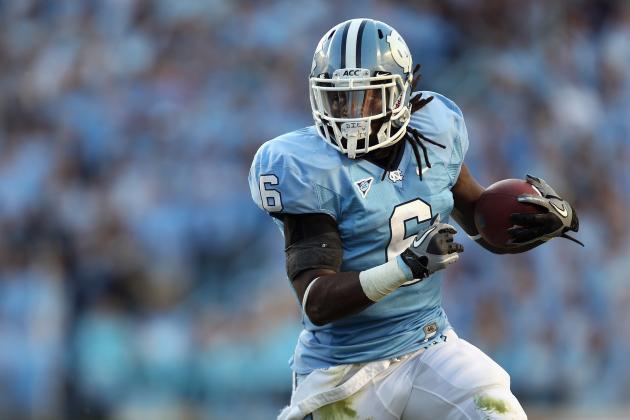 Streeter Lecka/Getty Images

UNC has, over the past couple of years, emerged as one of the most stylish universities in the country. Their baby blue combined with a stunning navy blue made the Tar Heels look more or less like the Tennessee Titans in what is, in my opinion, one of the coolest uniforms on the east coast.
That alternate uniform, however, did not include changing up the headgear. Pulling those out against their rival Duke and this time putting on a either black or dark blue helmet would be taking this whole ordeal to the next level of awesome.
Mixing up the font on their jerseys would also be the way to go. One way to catch people's attention is as simple as changing the lettering and numbering due to the fact that it is center in the jersey's design.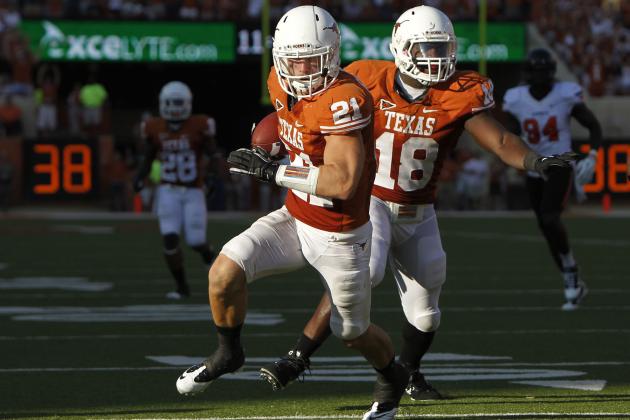 Erich Schlegel/Getty Images

Texas has shown over the course of decades that they are one of the classic American teams. With simplistic uniforms and a color that is used by no one else, UT hasn't changed its appearance in what seems like years.
It is time for an upgrade. I've seen some fake mockups for a new helmet design (inverted from what it is now), but there is a ton the Longhorns could do with what they have. We're talking a full change-up on the entire ensemble.
Black uniforms with black helmets would be stunning, especially if burnt orange is the logo and lettering color. Mixing in a blunt gray the for trim would pull this whole deal together.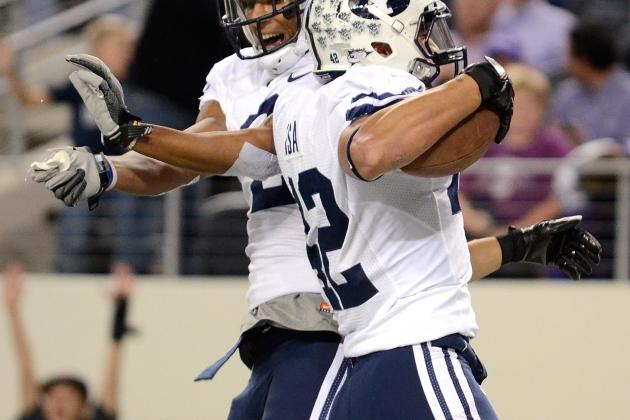 Sarah Glenn/Getty Images

The Cougars have long been the Mormon presence in college football. They've worn their dark blue and white for decades, only switching into a tight all-blue uniform once or twice and moving to a more navy shade in recent years.
Even though concepts for a new inverted helmet is in the mix, I would love to see them become a reality, especially if BYU is lured into a conference like the Big 12. To go with those, I would also like silver helmets to go with black uniforms and blue lettering.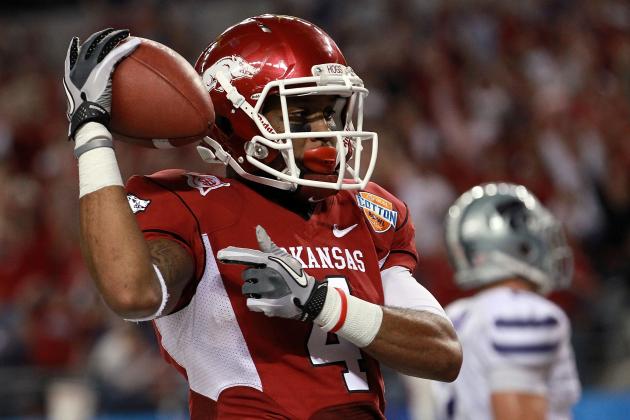 Ronald Martinez/Getty Images

In all my years of watching the Razorbacks take on the SEC West, they have consistently shown up as one of the best-dressed. Their stylish uniforms and deep red helmets really pull their whole ensemble together.
There isn't too much to change on their originals, but Arkansas can definitely look into some neat alternates. I could see silver or black as definite options, particularly on the helmets with red for the Razorback logo.
If you look at the picture above, what I'm envisioning would be an black where the red is, silver where the white sides are and red for the numbering/lettering. Anything like that and they'd once again be one of the best-dressed in the conference.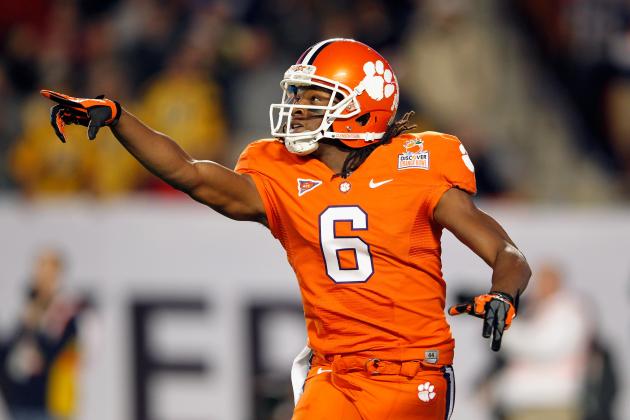 Mike Ehrmann/Getty Images

As the most recent ACC Champs, Clemson was one heck of a force on the field this past season. With a lot of returning superstars including big-time QB Tajh Boyd, the Tigers are definitely in the running for another shot at a conference title.
My point is why not look great grabbing the ACC repeat. They've put up some really intense purple uniforms before that looked real solid but were a little too forward. The helmet would be my next focus for the Tigers, yet there are few changes on the jersey that could be made.
As for the helmet, I'd feature three separate concept designs. One would be the original orange with a purple logo. Another would be an all-purple helmet with an orange center stripe and logo. Finally, perhaps they could go white with a purple logo on one side and an orange one on the other.
As for the jerseys, I'd take the original orange and do a filler purple stripe on the sides. That'd go great with an all-pruple helmet.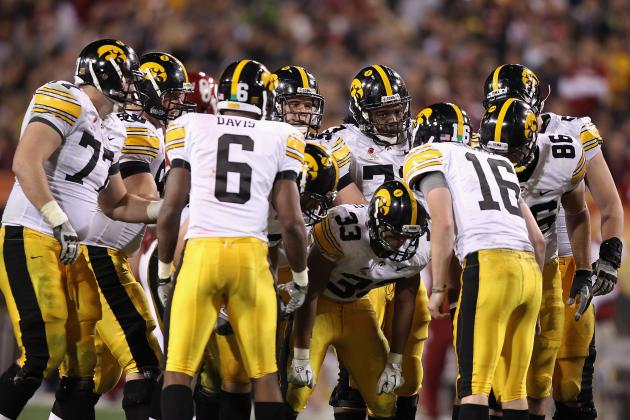 Christian Petersen/Getty Images

The Hawkeyes have always reminded me of the Steelers due to their color scheme. They've earned their spot in the Big Ten with their consistent power play in one of the top conferences in the country.
Their uniforms are classic displays of style as they've remained the same for generations of Hawkeyes. Adding a few alternate designs for their new rival in Nebraska would be the way to go though as the Cornhuskers enter their second season in the Big Ten.
I'd suggest a silver helmet design to replace the black. Also, some tinge of gray might go well with the jerseys.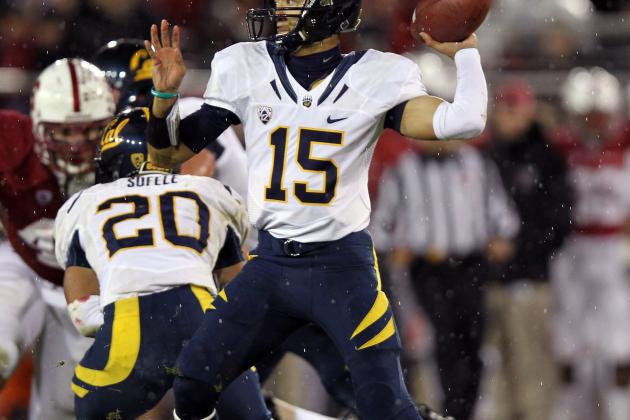 Ezra Shaw/Getty Images

The Golden Bears are one of the classic Pac-12 universities. Their dark blue and gold uniforms have clothed the football team for decades, officially one of the best outfits in the entire country.
Changing a few things up would be in the best interest of the program, however. We're talking mixing in some silver or more gold on the jerseys and possibly adding a gold helmet as an alternate. Not too much but just enough tweaks would really make this program look amazing.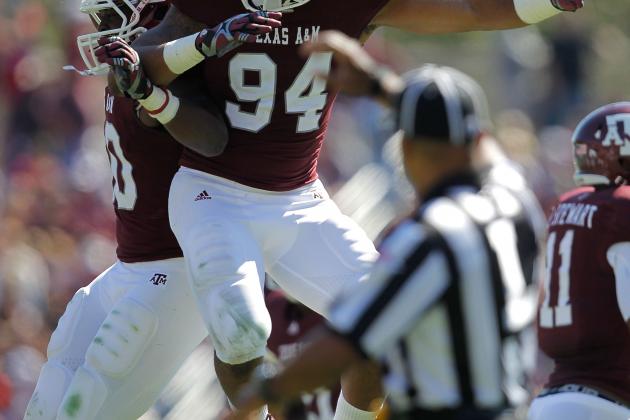 Sarah Glenn/Getty Images

This season's realignment nightmare began in part to the Aggies jump to the SEC. It was a fantastic move for the university, merging A&M with the best football conference in the country. With this move, Texas A&M has acquired a new coach, so why not look into some new uniforms?
As an Aggie myself, I would love to see the new concept design for the helmet become reality (same color helmet with logo being Texas A&M original logo inside shape of Texas).
In addition to that, my preference for the jerseys would be adding a black one with maroon numbering to their wardrobe. A black helmet design would also be fantastic. The white ones the Aggies used against Arkansas a few years back looked strange and it wouldn't be a smart move to bring those back.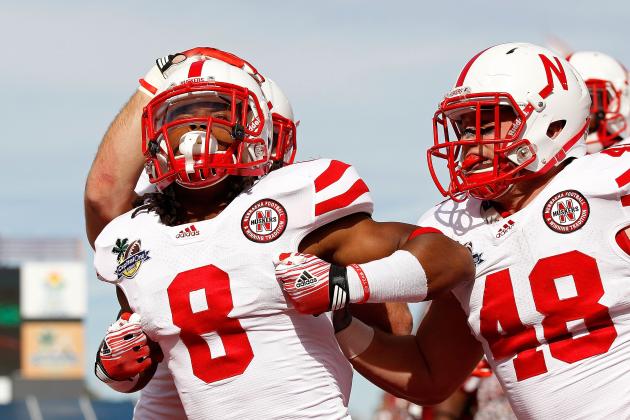 Mike Ehrmann/Getty Images

The Cornhuskers are certainly one of the America's classic programs. Their central placement in the nation in addition to their powerful play over the course of decades has them easily as one of the most recognizable teams in the country.
Their uniforms, however, are so out of style it's despicable. Their "N" logo is just a plain font instead of being anything else (bold, italicized, etc.) and the design is really old-fashioned.
Adidas could literally do anything and improve the Cornhuskers' uniforms. I would think something similar to Pro Combat such as adding silver to go with the red and, if we're all lucky, mixing in some black.
Brett Deering/Getty Images

The Sooners have been winning championships for ages. Consistently one of the best teams in the southwest, OU has been flirting with a move to Pac-12 for a year or two now.
With their in-state rivals Oklahoma State coming out this past season with three or four new uniform designs, Oklahoma really needs to consider coming back in 2012 with a retaliation.
Black or silver would look fantastic on both the jerseys or the helmets. I'd also suggest an inverted design for the headgear. For next season, OU definitely deserves to be on Pro Combat's list of teams to do a full makeover.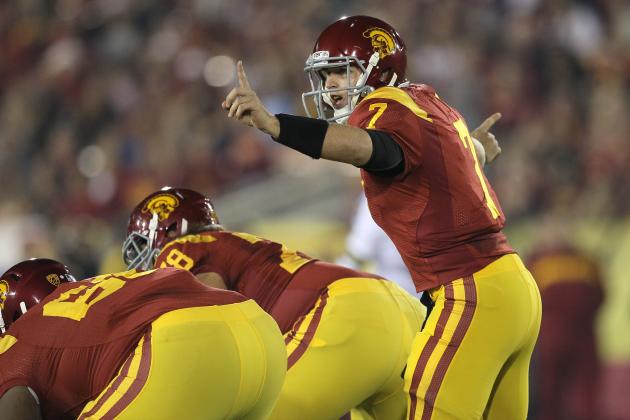 Stephen Dunn/Getty Images

In their return to college football postseason competition, USC should come decked out in new uniforms. With a ton of returning starters including NFL-caliber QB Matt Barkley, I wouldn't be surprised if the Trojans did just that.
The dark red combined with the goldish yellow really looks great, but there are few suggestions I have. To start, the helmet. Black with the yellow logo would look solid, as well as the classic red with a "USC" lettering logo instead of the Trojan head.
As for the jerseys, I really like black here. Red lettering/numbering with the gold trim would be a solid way to wrap up that style. To finish it off, though, dark red pants would be fantastic.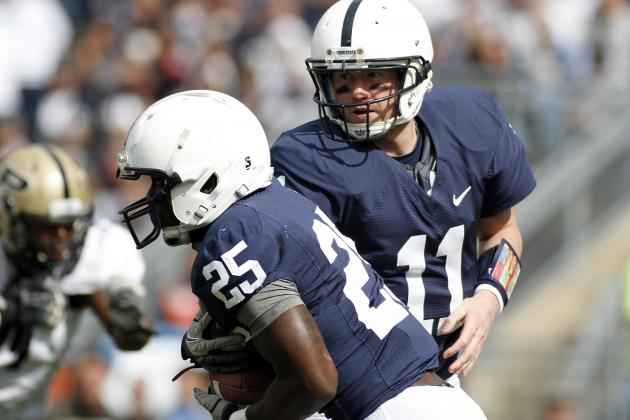 Justin K. Aller/Getty Images

Penn State fans, please do not kill me for saying this. The Nittany Lions are one of the most classic teams in the nation and have refused to abide to any change in their uniforms for ages, particularly under late head coach Joe Paterno.
With a new head coach coming in, now is the time to look into a change. Adding names to the jerseys, possibly a logo to the helmets and maybe even mixing in some style to their uniforms would be a huge step in the Nittany Lions' journey to the modern era of fashion.
It's never easy to get over a legend, but some new concept designs and a little flair might help Penn State grieve in a more stylish way.