Senior Bowl 2012: Quinton Coples and Future NFL Stars Who Stole the Show
January 29, 2012

Geoff Burke/Getty Images
After a week of intense, make-or-break practices down in Mobile, Alabama, college football's four-year stars finally had the opportunity to strut their stuff in front of a national audience at the 2012 Senior Bowl on Saturday.
Of course, most participants won't turn out to be stars in the NFL, but these three likely draftees did plenty to impress and improve their respective stock during the game.
Quinton Coples did plenty during the practices, in front of NFL scouts, to make up for the lack of good film on him and carried that good work into the game. The North Carolina product spent the entire afternoon dominating whomever the North threw at him, be they tackles or guards, and spent plenty of time in the opposing backfield.
Coples wound up with two tackles for a loss, including a five-yard sack, while reaffirming the fact that he is much more than just a big body who likes to chase quarterbacks.
Isaiah Pead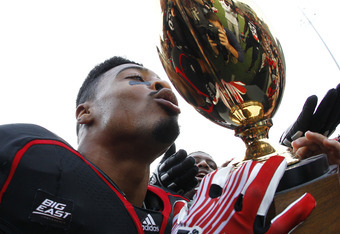 Tyler Barrick/Getty Images
Usually, when you're the Player of the Year in a BCS conference, your draft profile is already rather pronounced heading into scouting events.
But when you're Isaiah Pead, and your success came in the Big East, anonymity is to be expected (at least to some extent).
Pead made sure to announce himself to those who were watching and listening at the Senior Bowl, rushing eight times for 31 yards and piling up another 100 yards on two punt returns.
Those efforts were enough to make the Cincinnati product the MVP of the game and, more importantly, remind NFL talent evaluators that his blinding speed need not be overlooked on account of his slight size.
Joe Adams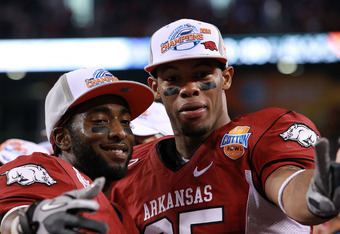 Ronald Martinez/Getty Images
In a conference so often dominated by defensive stars, it's easy to forget that the SEC turns out more than its fair share of offensive skill players.
Joe Adams did his fair share at the Senior Bowl to remind the football populace at-large of that fact. The former Arkansas Razorback led all receivers with eight catches and 133 yards, the longest of which went for 36 yards.
Adams' performance, along with his latent speed and versatility, will make him a valuable receiver and returner in the NFL, though that much would've been just as clear from watching him at Arkansas.