College Football: One Photo to Summarize Every BCS Team's Best Hope in 2012
Chris Graythen/Getty Images

They say a picture is worth a thousand words. Luckily for you, I will keep the write-ups in these slides much shorter than that.
These pictures attempt to encapsulate and summarize each team's best hope in the 2012 season. It could be a coach, a player, a unit or something else, but these pictures should speak a thousand words about each team's best hope.
Enjoy!
Begin Slideshow

»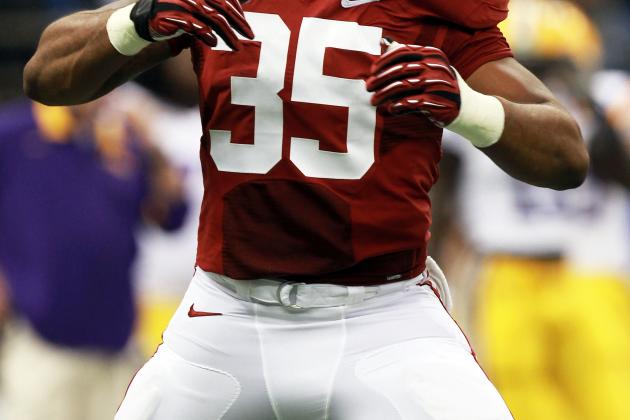 Ronald Martinez/Getty Images

Alabama lost most of their dominant defense, but linebacker Nico Johnson (pictured) returns.
He's celebrating here in the national championship game and will have to be the leader of the defense next season instead of simply the fifth-best player on the defense. He has all the potential to do so.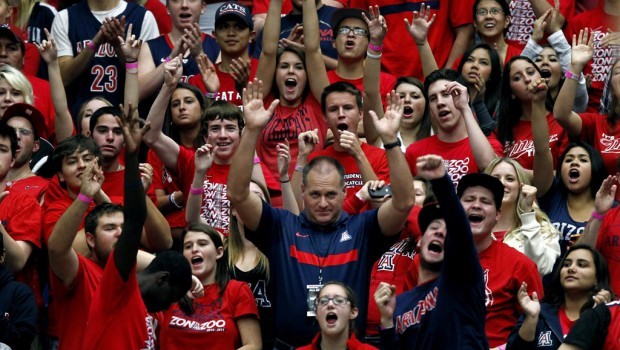 Arizona is losing just about everyone on offense this season, so they will need new head coach Rich Rodriguez to come in and be the savior.
The students have taken a liking to him. He seems to be happy in Tucson. Let's see if that equals wins.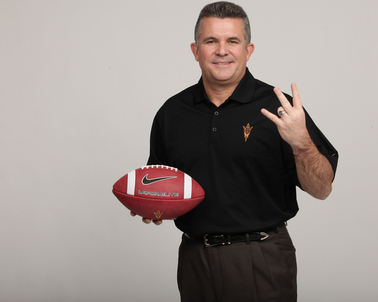 Todd Graham seems to want to be a Sun Devil, going so far as to learn the traditional pitchfork signal we see here. We've seen this show before though ... will Graham stay put in Tempe?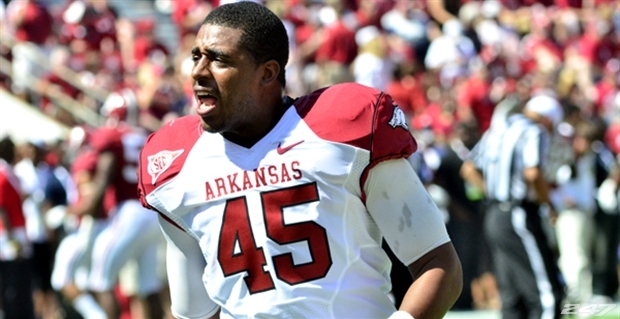 I'm not worried about Arkansas' offense at all. With Tyler Wilson, Knile Davis and a solid corps of receivers back, the Hogs will be just fine.
I am concerned whether or not their defense is good enough to compete in the SEC. They improved slightly each of the last four years, but they will lose Jerry Franklin, Jake Bequette and Tramain Thomas on this side of the ball.
That leaves Alonzo Highsmith (pictured) to be the leader of the defense. He finished third in tackles but first in tackles for loss in 2011. He will have to carry the team if the Hogs are going to compete in the SEC.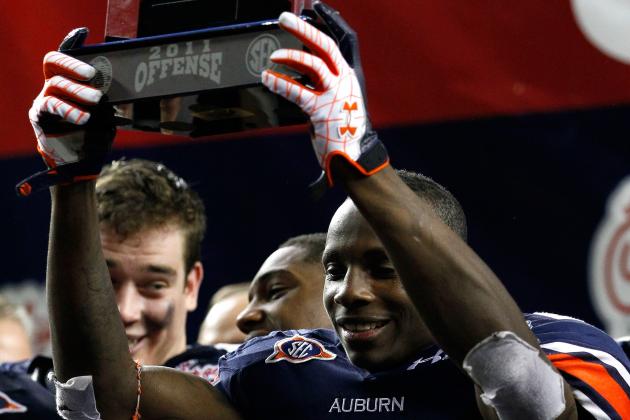 Kevin C. Cox/Getty Images

Auburn improved as the season went on but will be losing their best player in Michael Dyer in 2012.
Or is he the best player? Onterio McCalebb had some strong showings down the stretch, none better than his Chick-fil-A Bowl performance, which earned him offensive MVP honors.
Auburn will need McCalebb to be the dominant rusher he was against Virginia if they want to compete in the SEC West.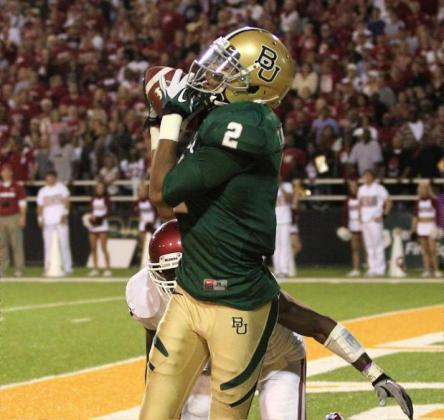 Baylor is losing Terrance Ganaway, Kendall Wright and, of course, Robert Griffin III. The offense will need to be rebuilt.
Luckily they will have talent returning in Terrance Williams. Here he is catching the game-winning pass against Oklahoma that effectively won RGIII the Heisman.
How talented is Williams? Mel Kiper has him listed as the No. 1 receiver in the 2013 NFL Draft! That should help break in a new quarterback.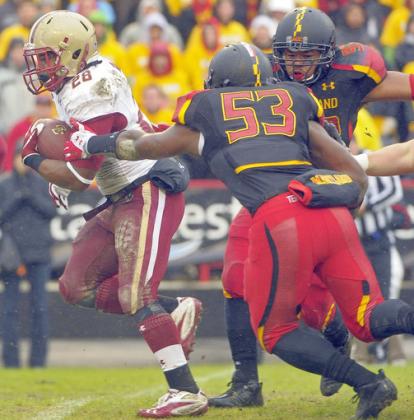 There are a lot of returning starters for Boston College, all of whom would help their team immensely if they were to have a breakout year.
I'm an old-school run-and-play-defense type of guy, though, so I feel like BC's best bet would be to continue to run the ball with Rolandan Finch.
Finch finished as the leading rusher for the Eagles in 2011, despite tallying only 93 yards in the first five games of the season.
Here he is against Maryland, a game in which he totaled 243 yards and two touchdowns!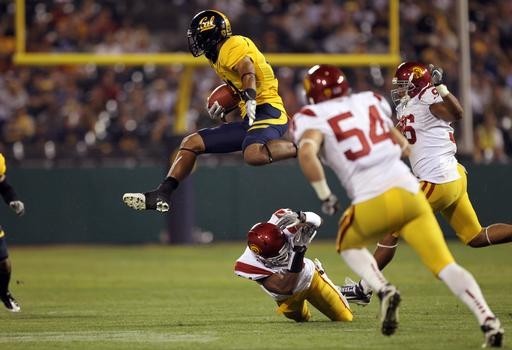 Keenan Allen was the best player on Cal last season, catching 98 passes for 1,343 yards.
Cal is losing fellow receiver Marvin Jones, and their running game was inconsistent last year. It could be up to Allen to take on the whole defense again in 2012, just as you see him doing here.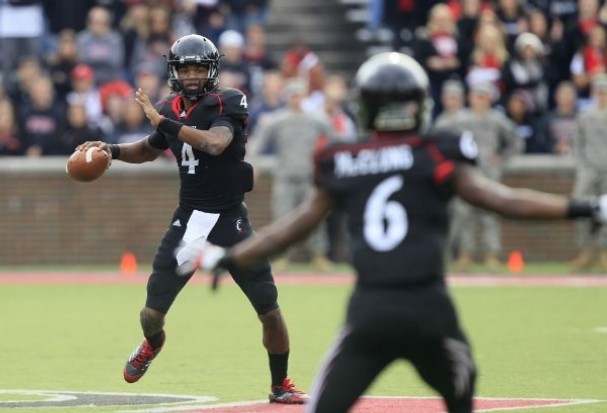 Cincinnati will lose QB Zach Collaros and RB Isaiah Pead. This could lead them to be a more predominant passing team in 2012.
QB Munchie Legaux (pictured) had some chances to play in 2011, and he tallied average numbers. Leading receiver Anthony McClung (foreground) is back as well. You can bet that the Bearcats will rely on this combination.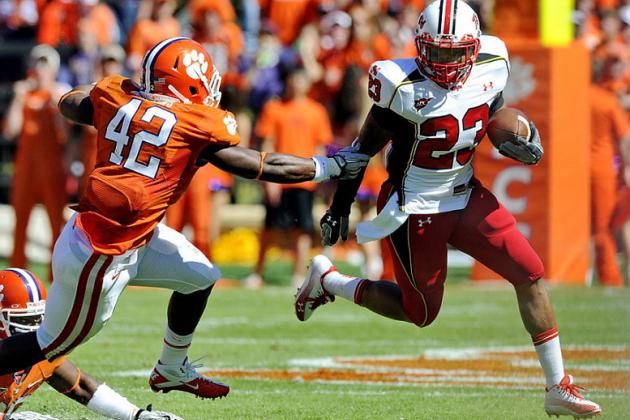 Clemson is going to be great on offense next season. That is pretty apparent.
What else is pretty apparent is that Clemson's defense did not play well down the stretch in 2011. Worse yet, they will lose a majority of their front seven.
Corico Hawkins (pictured) was the leading tackler in 2011 and the team's top linebacker. He will have to carry the load early and take on a leadership role if the Tigers are going to repeat as ACC champs.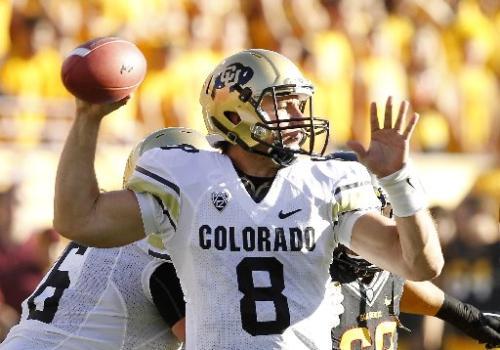 Colorado is losing plenty on both sides of the ball. Most notably, they lose QB Tyler Hansen, meaning someone will have to make do leading the offense.
Nick Hirschman (pictured) played most of the time as a backup in 2011, but he is suffering through a nagging ankle injury. This leaves the door open for transfer Connor Wood.
Either way, the quarterback will have his work cut out for him.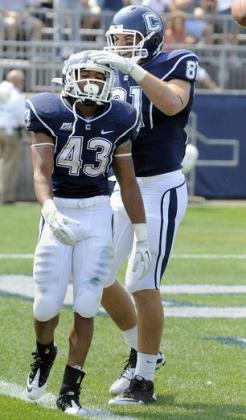 Oddly enough, Connecticut allowed 24.3 points per game this past season and scored 24.3 points per game. They were dead even in this regard.
The strength came from freshman Lyle McCombs, who was a force from the beginning and rushed for 1,151 yards per game. He might not be the biggest man on the team (as this photo would indicate) but he will get the biggest work load in 2012.
Duke is a pass-happy team under David Cutcliffe. QB Sean Renfree (pictured) threw it 36 times a game in 2011!
He was decent, completing 65 percent of his passes for 2,800 yards, but he did throw 11 interceptions.
The defense wasn't great in 2011 either, but if Duke is going to continue to throw the ball as often as they do, then Renfree is their best bet to be successful.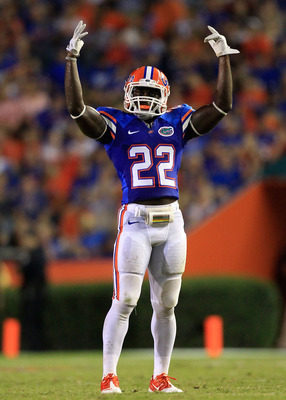 Florida's defense was pretty solid during Will Muschamp's first year. They'll have plenty of starters back, including Matt Elam (pictured).
Elam led the team in tackles for loss and was second in tackles overall. He added two interceptions and seven pass break-ups.
The defense will have to lead again as Florida is undergoing massive changes on offense. Elam can and will step up as the leader.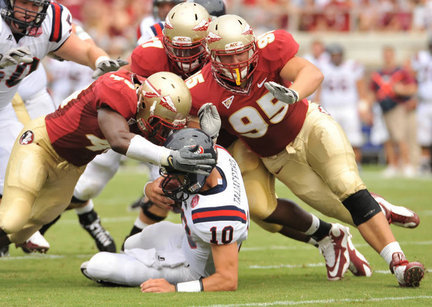 Florida State's defense has a chance to be very good next season.
Why not? They were very good this season, allowing only 15.1 points per game.
Their strength came from their defensive line, notably Brandon Jenkins and Bjoern Werner. Here we see the two combine for a tackle (Jenkins left, Werner right).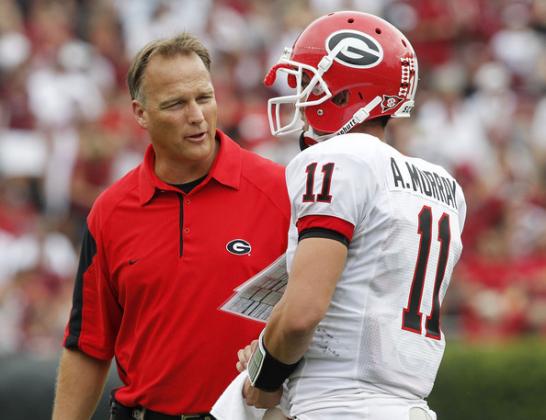 I'm not worried about their defense. The improved defense was playing very well by the end of the season, and they have plenty of starters back.
I am worried about the offense, though. It has the opportunity to be strong, but QB Aaron Murray will have to continue to improve.
Murray completed less than 60 percent of his passes and threw 14 interceptions last season. Obviously both of those numbers need to improve. If they do, the Dawgs can be solid on both sides of the ball and compete in the SEC.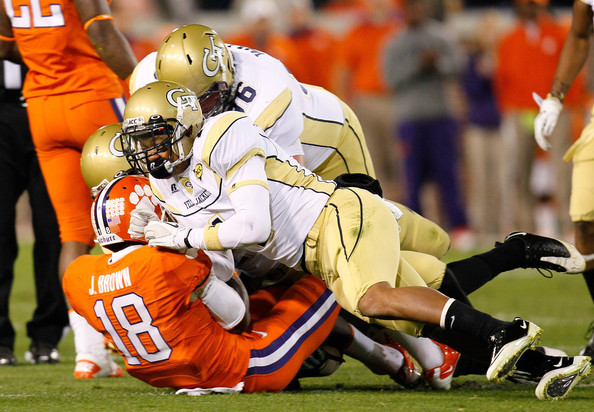 We know that Georgia Tech is going to run with the triple option and be effective doing so. They were able to do that this season and have most of their offense back.
Defensively, they couldn't stop anyone. However, they will have close to 10 starters returning in 2012 and should be much improved.
Here Isaiah Johnson (left) and Jeremiah Attaochu (right) combine to make a tackle. They were the second- and third-leading tacklers on the team in 2011.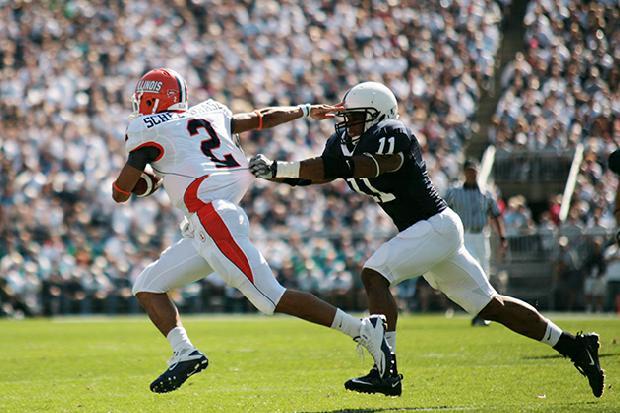 Nathan Scheelhaase brings it every single game, every single play. Despite the team sputtering down the stretch and losing their last six games (averaging only 11 points during that time span), Scheelhaase never quit.
He may have even more of the offense on his shoulder next season. Leading wide receiver A.J. Jenkins is gone, along with the top two running backs. Scheelhaase is a dual-threat quarterback, and the offense will go as he goes.
Indiana needs improvement in several areas. Fortunately, they were very young last season, so improvement may be around the corner.
Here are the men that can lead a successful turnaround of the program: on the left, leading tackler from a year ago, freshman Matt Murphy; in the middle, sophomore wide receiver Jamonne Chester; and on the right, quarterback Tre Roberson, who took over starting duties by season's end.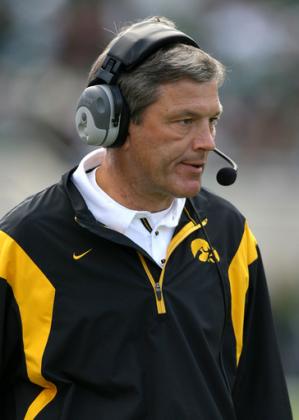 With the firing and subsequent death of Joe Paterno, Kirk Ferentz is now the most tenured coach in the Big Ten (and one of the longer tenured coaches in the entire nation). He will have his work cut out for him this season.
The defense has slowly gotten worse over the past couple of seasons, and there have been issues at running back. Marcus Coker was dismissed from the team over allegations of assault, which came almost exactly one year to the date after Adam Robinson was kicked off the team.
They'll be young at running back and are losing leading receiver Marvin McNutt. The defense has to improve if they are going to compete in the Big Ten. As I said, Ferentz is their best hope to get this turned around.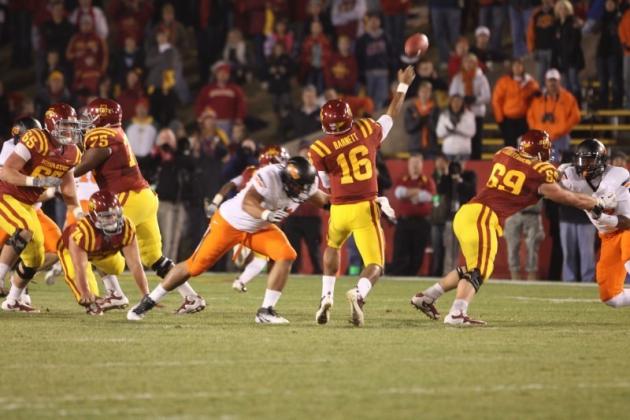 Iowa State played great in the second half of the season. This came after they made a change at quarterback from Steele Jantz to freshman Jared Barnett.
Here he is leading the Cyclones to the nation's biggest upset of the year. He threw for 376 yards, three touchdowns and added 84 yards on the ground. Performances like that can have the Cyclones as a major sleeper.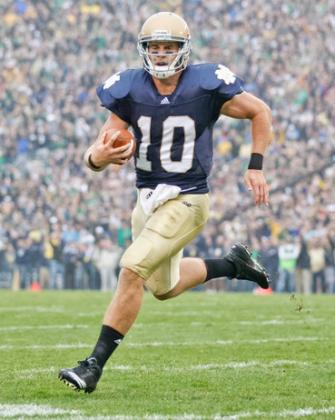 Dayne Crist is transferring from Notre Dame, and since he has already graduated, he is eligible to play in 2012.
Coach Charlie Weis first recruited Crist, so this sounds like a match made in heaven. Still, Crist was the backup for Notre Dame this season, so expecting a Heisman-type performance is asking a bit much.
Crist could be very good and the Jayhawks still be mediocre (they were dead last in all defensive categories this season). Still, the arrival of Crist and Weis on campus will have the Jayhawk faithful excited.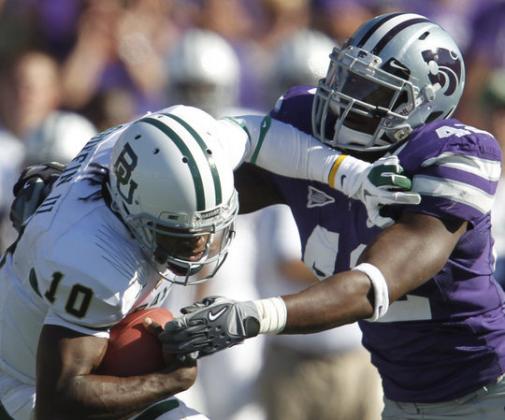 Everyone knows at this point how good Kansas State's rushing attack is. They should be good again next year with Collin Klein and John Hubert back.
If Kansas State wants to take the next step and win the Big 12, then they will need to improve on defense. The unequivocal leader on this side is Arthur Brown. Brown's decision to forego the NFL Draft is huge for the Wildcats.
Here he is wrapping up eventual Heisman-winner Robert Griffin III. KSU would go on to win this game.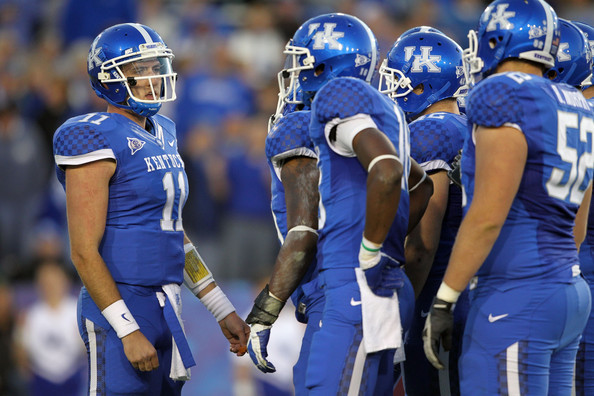 The Wildcats struggled offensively last season, suffering through inconsistencies and injuries.
The team appears to be Maxwell Smith's now. He started four of the last five games before sitting out the finale with an injury. Under Smith, the Wildcats were marginally better.
He should be under center from the beginning in 2012. Consistency at the position could lead to an offensive resurgence.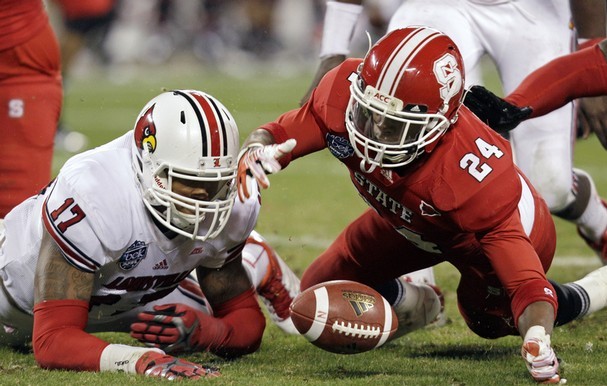 Louisville's defense could be very good next season. They allowed 20.1 points per game this season and have a solid list of returning stars.
This list is led by defensive end Marcus Smith. Smith led the team in sacks last season and also forced two fumbles. He could be the anchor of one of the best defenses in the nation.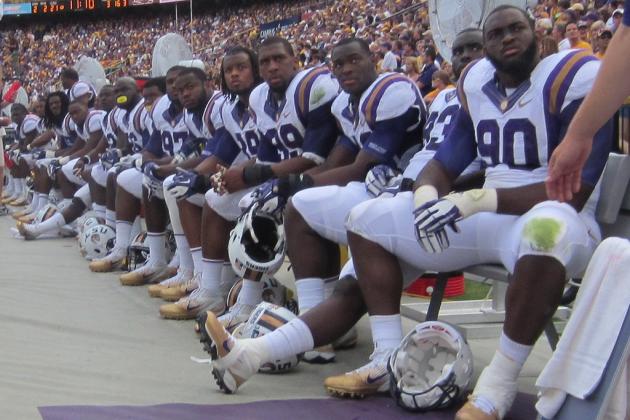 Despite losing Morris Claiborne to the NFL, LSU could have one of the best defenses in the nation next year. Why not? They were one of the best defenses this season.
They're led by their front seven. On the right you can see Michael Brockers, and further down you can see All-American Sam Montgomery (No. 99). All of these men will contribute in 2012 and have the Tigers near the top once again.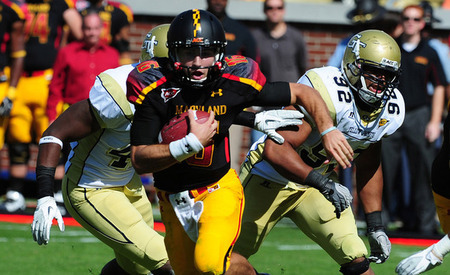 I always felt that C.J. Brown was the better option at quarterback because he gave you the option to pass or run (not to mention he was probably a better passer than Danny O'Brien).
Here he is showing off both dimensions of his game.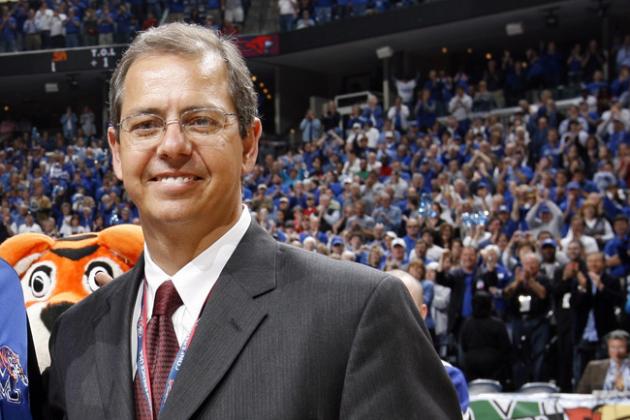 Miami's biggest concern right now has to be the off-the-field issues involving allegations from Nevin Shapiro. It's so disconcerting that they banned themselves from a bowl game this season in an attempt to appease the infractions committee.
Chairman Dennis Thomas has recently stepped down, causing Britton Banowsky to take over in the interim. It could be Banowsky that ultimately hands down the U's punishment.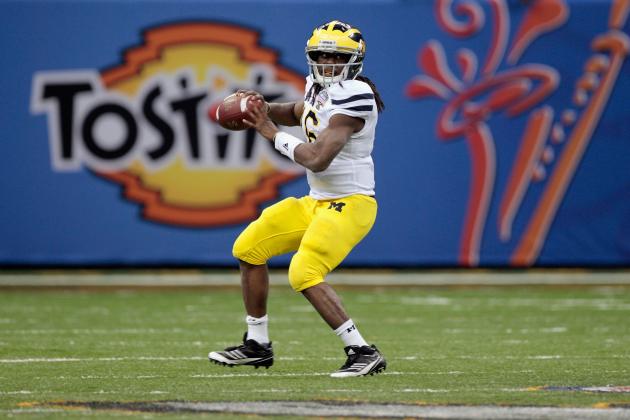 Chris Graythen/Getty Images

Denard Robinson is an exciting player and a tremendous talent. Still, the Wolverines struggled to move the ball at times last season, especially through the air.
Robinson could improve his passing motion, and the Wolverines could explode on offense next year. Otherwise, they won't as lucky as they were in the Sugar Bowl, winning with less than 200 yards of offense.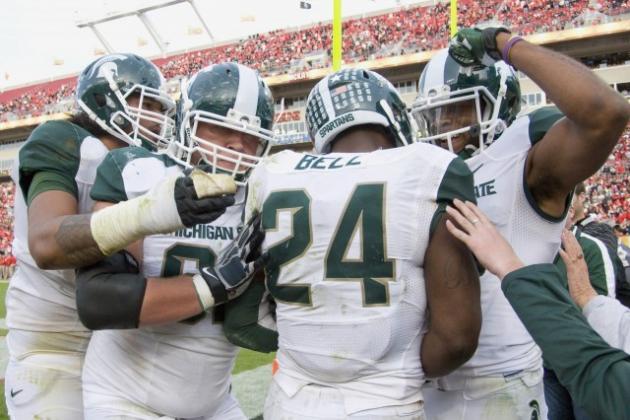 Kirk Cousins and the top four receivers will all be gone from Michigan State next season.
That puts a heavy load on RB Le'Veon Bell. He was great down the stretch last season and will have to be so again in 2012.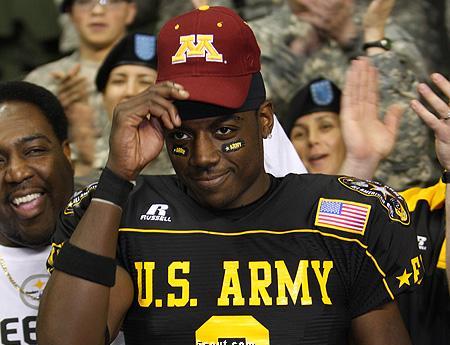 Marqueis Gray was a highly touted recruit coming out of high school and has suffered through long seasons with the Gophers. He and the team have never quit fighting, and maybe, just maybe, their persistence will pay off next year.
Gray remains the starting quarterback for the Gophers and their best chance to be successful in 2012.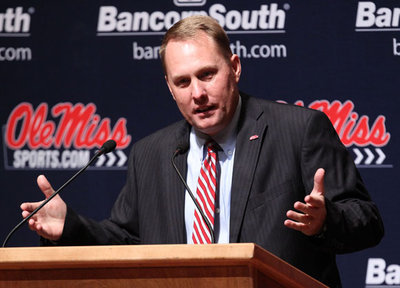 Ole Miss was awful on offense in 2011, averaging only 16 points per game. They enter this season with more questions than certainties—namely, who the starting quarterback will be.
It's up to offensive guru Hugh Freeze to revitalize the offense. Freeze served as TE and recruiting coach for Ole Miss in 2006 before heading to Arkansas State. He's back, and many are looking to him to save the program.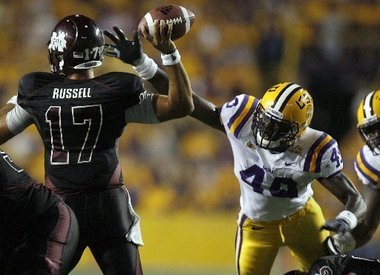 I expect Mississippi State to pass a lot more than they have in the past. They're losing Vick Ballard and Chris Relf on offense, but they do return plenty of receivers. They also return Tyler Russell, a quarterback more capable of making big throws than Relf was.
It will be interesting to see this transformation take place in a difficult SEC West. If they want to compete, then Russell will have to be great.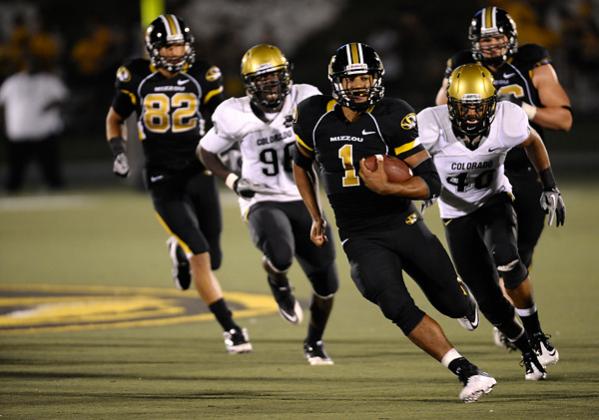 The progress James Franklin made this season is truly astounding. He went from looking lost against Miami (OH) to leading the team to eight wins and a strong finish.
He finished with 2,872 yards passing and 981 yards rushing. More importantly, he did not turn the ball over often.
It is his team next year, and it should be an interesting one. The Tigers move to the SEC East and play favorites UGA and South Carolina in the first month to get things started.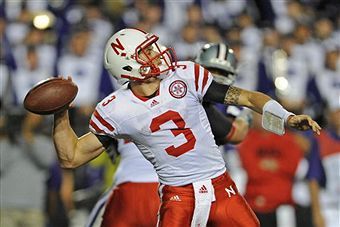 Just like in 2010, Nebraska became anemic on offense as the season went on. It seems as if teams realize they can take away the run, make Taylor Martinez beat them through the air and have success overall on defense as a result.
Martinez has a very flawed throwing motion. Some in the past have criticized me for pointing this out, so I want to make clear that I don't have anything against Martinez and I'm not "picking" on him. But it is the truth. This picture illustrates that fact. This will need to be fixed if Nebraska is going to improve on offense.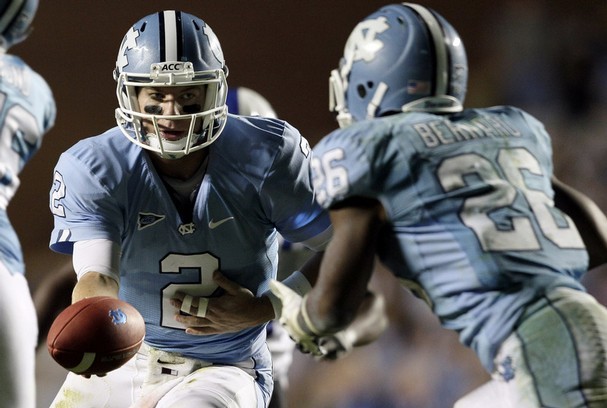 RB Giovani Bernard was one of the best freshmen in the nation this past season, rushing for 1,253 yards and 13 touchdowns.
"Surprise" could be used to describe the play of sophomore QB Bryn Renner. Renner completed 68 percent of his passes and threw for over 3,000 yards.
Larry Fedora will bring his spread attack to Chapel Hill in 2012. Both men will play a major part, just as they did in 2011.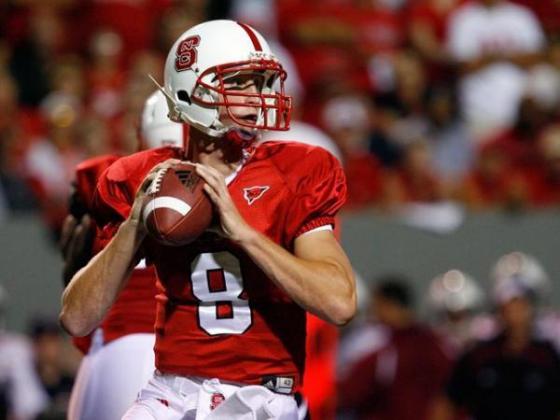 A quarterback controversy ensued in Raleigh in 2011. Russell Wilson was out; Mike Glennon was in.
Glennon did well for himself, throwing for 3,054 yards and 31 touchdowns. He will have to improve even more next year to keep the team afloat. They had an inconsistent running game throughout and are losing three of their top four receivers.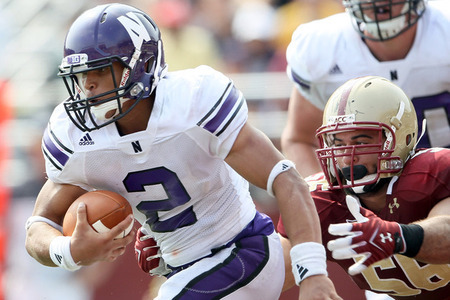 Kain Colter got a baptism by fire last season, having to fill in early and often for oft-injured QB Dan Persa. While he may not have as strong of an arm as Persa, he is as lethal running the ball, as we see here.
Northwestern will predominantly run the ball in 2012 as they lose their top two receivers. Their third leading receiver, oddly enough, was Colter.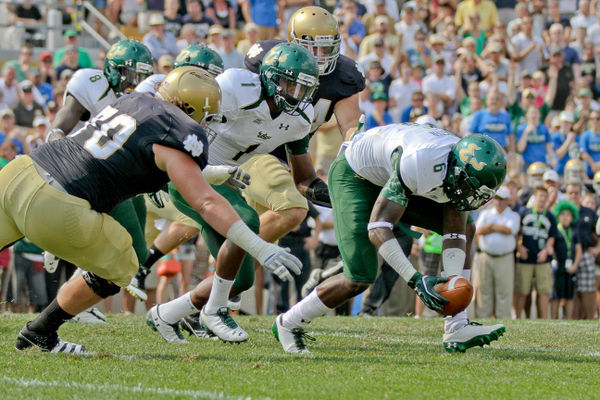 Notre Dame's Achilles heel this past season was turnovers, especially inside the red zone.
This was evident right from the beginning, as this fumble occurred on the Irish's first drive of the 2011 season. It cost them the game against the Bulls and would be an issue in several other games (USC, Michigan, Florida State).
Best way to improve next year? Don't turn the ball over.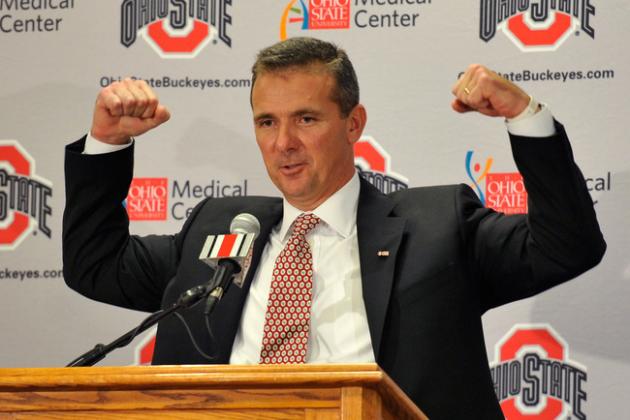 Did you hear the news? Urban Meyer is in town.
With his arrival came several big-time recruits. They already had some young talent returning, so the Buckeyes could be looking very good in the years to come.
They are ineligible for postseason play in 2012.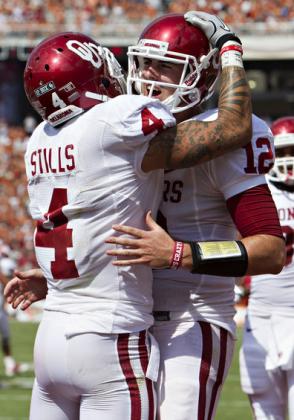 Landry Jones is back and he is being heralded as the second-best quarterback in the nation behind Matt Barkley. He'll have to live up to his praise if the Sooners are going to be successful next season.
Jones threw six interceptions and just one touchdown in the final four games of the season in 2011. Clearly they missed All-Star Ryan Broyles at receiver, but Broyles will be gone next year too. Jones needs to develop a chemistry with Kenny Stills and Jaz Reynolds to put up the numbers he's capable of.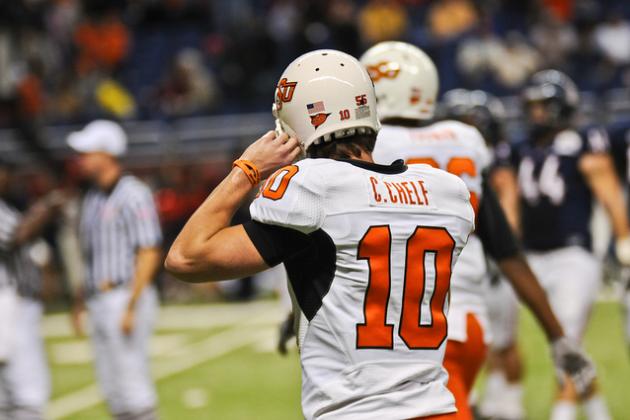 Clint Chelf inherits a Mike Gundy offense that has a history of putting up big numbers, especially through the air. Gone are Brandon Weeden, Justin Blackmon and Josh Cooper. Can Chelf make it work?
Chelf looked good in limited time in 2011. He was 20 for 30 with three touchdowns. He'll have some help at running back and, again, the benefit of playing under quarterback-friendly coach Mike Gundy.
Strap it up, Chelf—it's your turn to shine.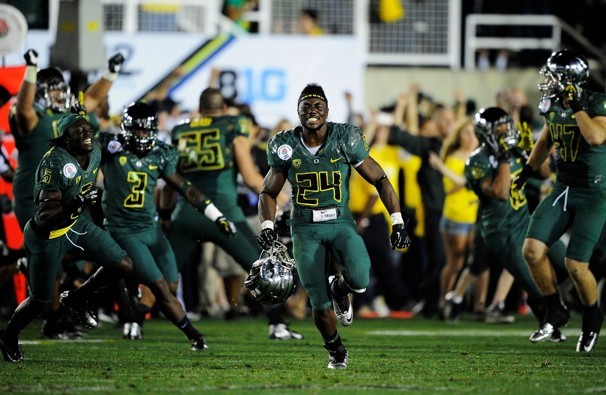 A funny thing happened in Eugene during the offseason. LaMichael James announced he was leaving for the NFL, and the general consensus from Ducks fans was "that's okay."
That's because they will have Kenjon Barner (pictured) and De'Anthony Thomas back. The two combined to rush for 1,534 yards and are both extremely talented.
Still, James rushed for 3,536 yards combined the past two seasons. That isn't easily replaced. I'm optimistic that the Ducks can do it, but there is a difference between being the starting running back and the spell running back. We'll see how Barner and Thomas fare for themselves.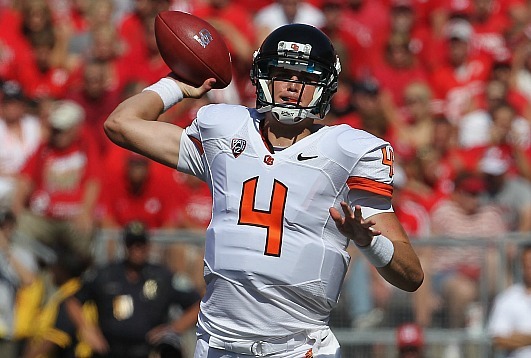 Sean Mannion quietly had a strong freshman campaign, throwing for 3,328 yards. He did throw 18 interceptions, but we can expect that number to come down with another year of experience.
They'll have nearly everyone back next season on offense and should be much improved. Expect a lot more than three wins and continued improvement from Mannion.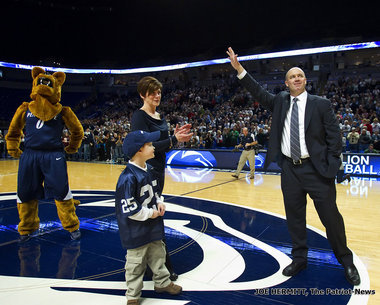 The last few months in State College have been unlike any other three-month stretch in college football history. They will have to deal with some losses on defense, the loss of an all-time legendary coach and by far worst of all, off-the-field allegations of pedophilia surrounding their program.
Whatever happens on the field, new coach Bill O'Brien will have his hands full dealing with all of the allegations. Will he be successful? Will the PSU fan base welcome him? Will he keep the team above water during these dark times? Will he be able to wipe the 2011 season from the mind of the general consensus?
All are questions going forward in 2012. He has one of the hardest futures ahead of him in coaching.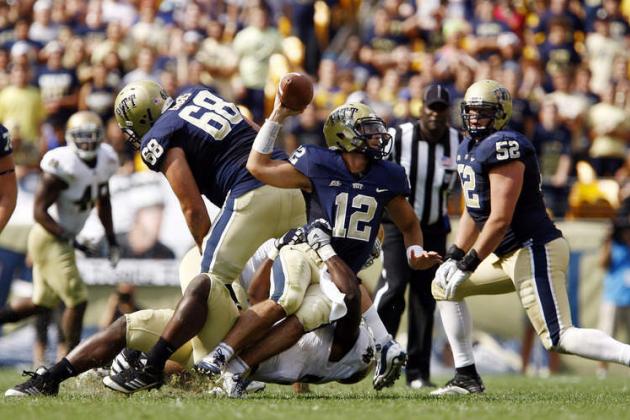 Pitt led the nation in sacks allowed this past season. By a wide margin, in fact. They allowed 63, just under five per game. The next worst team—Miami (OH)—allowed 47.
That means that the best chance Pitt has of being successful next season is to clean up the pass protection. They'll avoid images like this.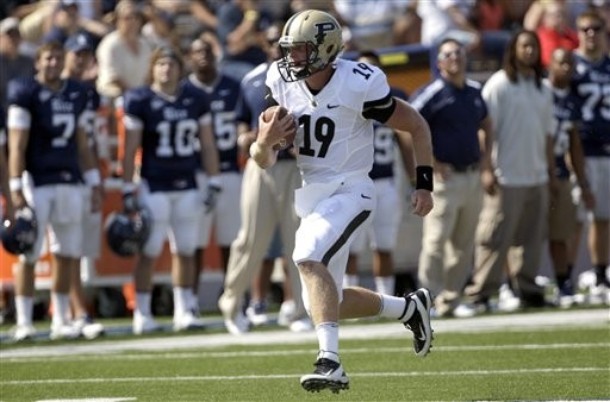 Purdue was the definition of a roller coaster in 2011, winning or losing consecutive games only twice all year. Next year they will have plenty of starters back and should be more consistent ... in a good way.
We all know that the team will be Caleb TerBush's next year. The junior was solid at times, leading the team to an upset over OSU and finishing with a 13-6 TD-INT ratio.
They don't ask TerBush to do too much, but he doesn't hurt the team. He is effective in his role and should be great again in 2012.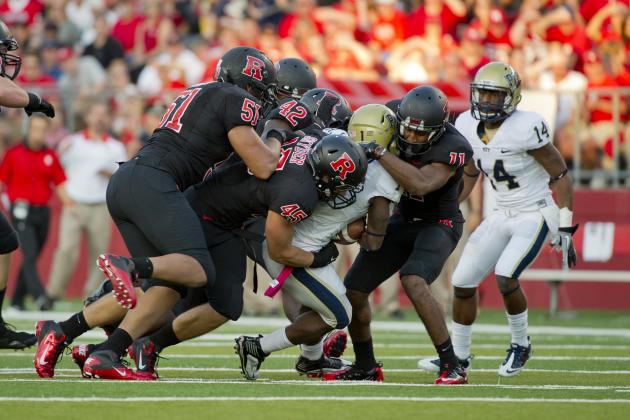 Rutgers was dealt a major blow with the departure of Greg Schiano. Schiano was responsible for turning the program around and making the team into a contender. Hopefully they can go forward without Schiano as strongly as they were with him.
The defense should help lessen the blow this season. Steve Beauharnais (No. 42) is one of the best kept secrets in the nation. They also return Logan Ryan (No. 11) and Kevin Snyder (No. 45). This will be a great defensive team next year.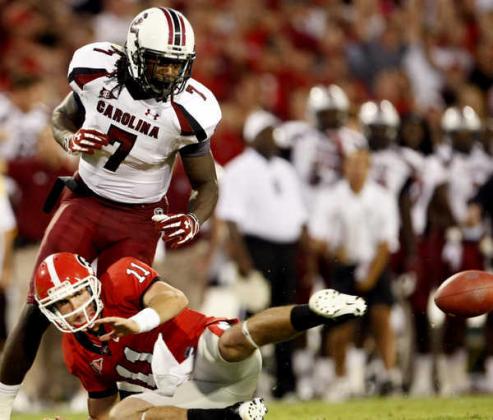 South Carolina was playing very good football down the stretch in 2011 despite the loss of key contributors. I have faith that they will be okay on offense next season with Connor Shaw, Marcus Lattimore and Brandon Wilds back.
The defensive side is going to have to suffer through the losses of Antonio Allen and Melvin Ingram. They will have Devin Taylor back, along with former No.1 recruit, Jadeveon Clowney (pictured).
Clowney posted great numbers as a freshman and should improve. He could develop into one of the nation's best defensive ends as a sophomore, something that would be a truly rare feat. If he and Taylor can own the defensive line, then South Carolina can compete for an SEC title.
B.J. Daniels is entering his fifth season at USF and his fourth as a starter. Therefore, forgive us if we feel as if Daniels has been at USF as long as they have been a FBS program.
The Bulls enter every season with high expectations. Every season they start strong and seem to be on their way to fulfilling those expectations and then, without much reason, they collapse, usually finishing close to .500.
Daniels is the quarterback of this team until further notice. He needs to bring his A-game every single week and lead the team so that they do not repeat the collapse they've had the past few seasons.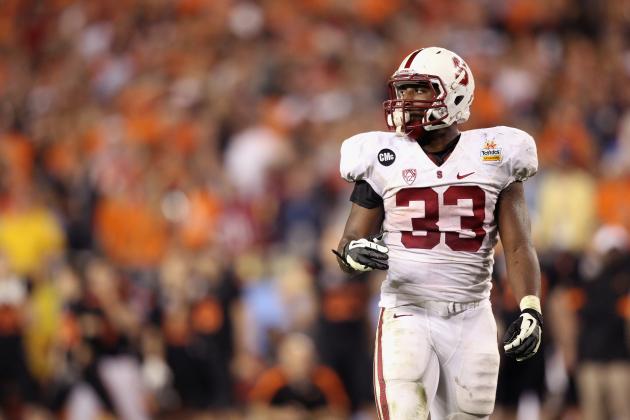 Christian Petersen/Getty Images

I'm sure you've heard by now, but Andrew Luck is leaving college to pursue glory in the NFL. Griff Whalen, Chris Owusu, Coby Fleener and Jonathan Martin are leaving as well.
Therefore, it's safe to say that the Cardinal will lean heavily on the talents of running back Stepfan Taylor early and often throughout the season. Taylor rushed for 1,330 yards and 10 touchdowns last season and will be more of a focal point this season. Stanford will have to continue to rush the ball well to be successful.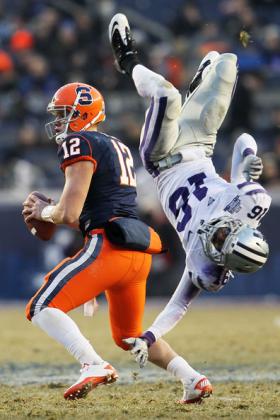 Ryan Nassib is back for Syracuse, but that's about it. They'll lose Antwon Bailey and five of their top six receivers. Wow!
The Orange offense wasn't great this past season, scoring only 24 points per game. If Nassib doesn't come up big next year, then those numbers will dip even more, spelling a rough season ahead for 'Cuse.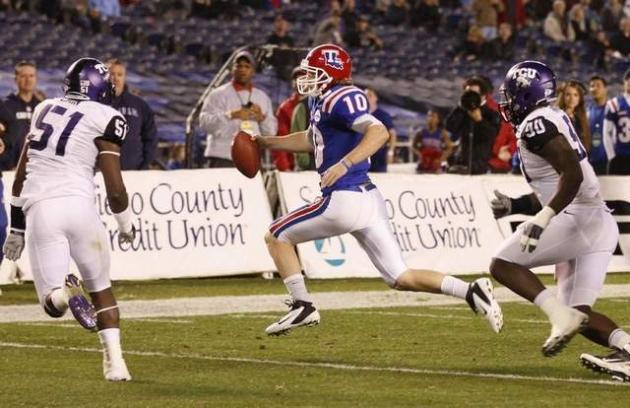 TCU's defense was un-TCU like in 2011, giving up 21.5 points per game. The offense should be great next season, but if they want to win the Big 12, the defense will have to get back to its stronger days.
Kenny Cain (left) and Stansly Maponga will both return on the defense next year. Cain led the team in tackles and Maponga led the team in sacks in 2011. They will have to be the leaders on that side of the ball.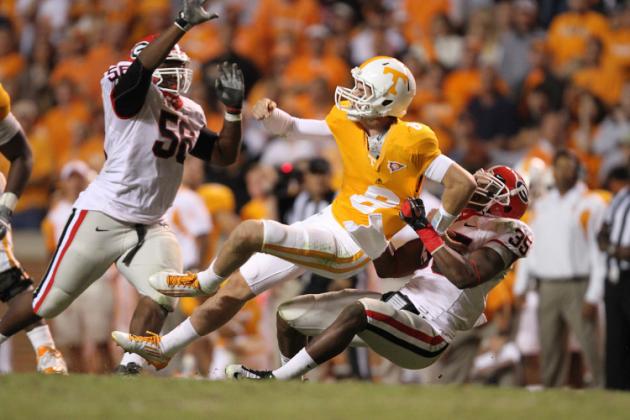 Tennessee looked great early in the season. Then a plethora of injuries occurred (most notably to QB Tyler Bray, seen here) and the Vols plummeted.
With some talent back, the Vols need to stay healthy next year if they want to get back to a bowl game.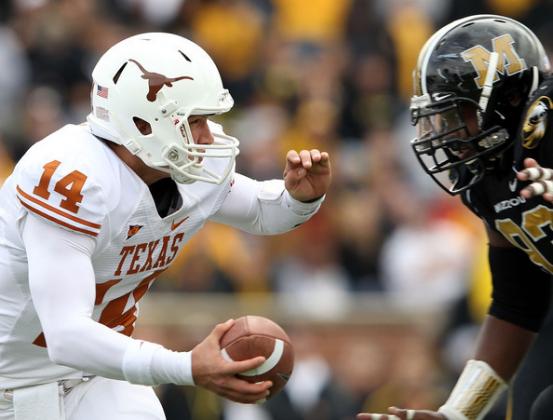 The Longhorns battled through injuries all season. This set them back quite a ways, especially at the quarterback position.
They have a stable of great running backs, but they will continue to struggle until the quarterback position is stabilized. Ash is the best option but needs to avoid injuries (avoiding head on collisions such as this would help his health).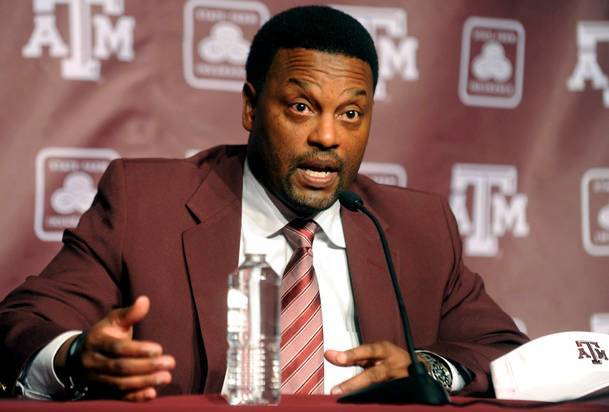 Texas A&M is going through the most change of any program in the nation. They are getting a new quarterback, a new running back, some new receivers, a new coach and a new conference! It sounds like something out of a bridal checklist.
There is one man who has to manage all of those changes: head coach Kevin Sumlin. He earned his position at Texas A&M and now has to deal with the change. No one should expect big things out of A&M this season, but any type of success will have to be attributed to Sumlin.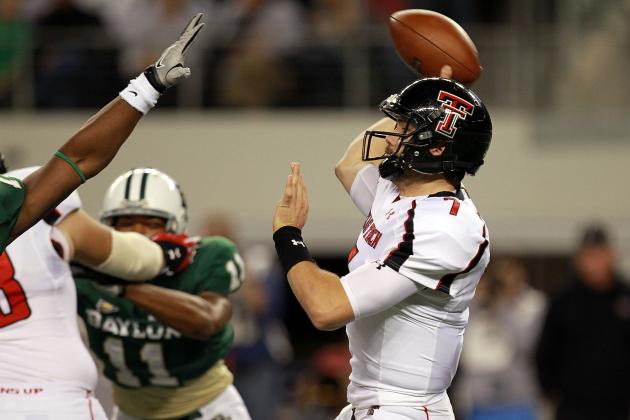 Ronald Martinez/Getty Images

Texas Tech suffered through massive amounts of injuries—according to Phil Steele, the Red Raiders have the second most returning starters of any team in the nation!
Despite switching from Mike Leach to Tommy Tuberville, the Red Raiders have remained a passing team. Seth Doege threw for just over 4,000 yards and 28 touchdowns last season.
He remains the most integral cog of the offense. The Red Raiders can really light up scoreboards last season (just ask Oklahoma), and Doege is the man directing it all.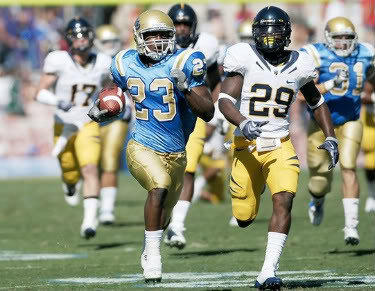 UCLA has had a quarterback controversy for years now. Usually they settle on Kevin Prince and unfortunately, he usually is injured, forcing backup Richard Brehaut into the mix.
Whoever is the quarterback, running back Johnathan Franklin remains the fallback option. He rushed for 976 yards last season (5.88 yards per carry).
I don't know what new head coach Jim Mora Jr. has in store for the offense, but it better include Mr. Franklin.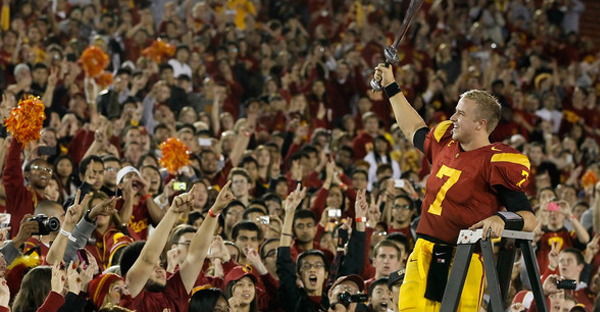 This pretty much sums it all up, no? Is USC back? If so, Matt Barkley is going to be the one that led them there.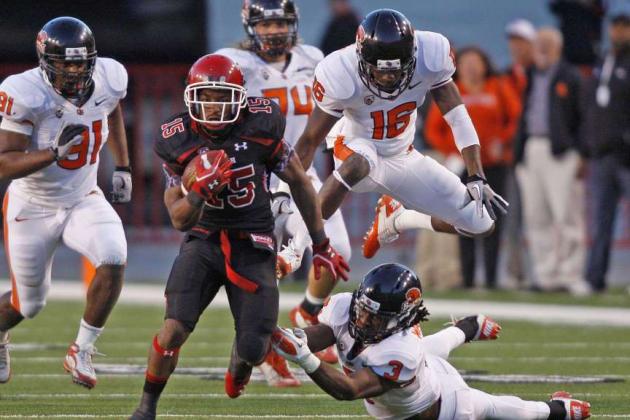 Utah improved down the stretch this past season because they developed a more consistent running game.
John White IV rushed for more than 100 yards in six of his last eight games (one of those he was lost early to injury). He's back, and if he can duplicate his 1,500 yard season, then the Utes could be a sleeper in the Pac-12.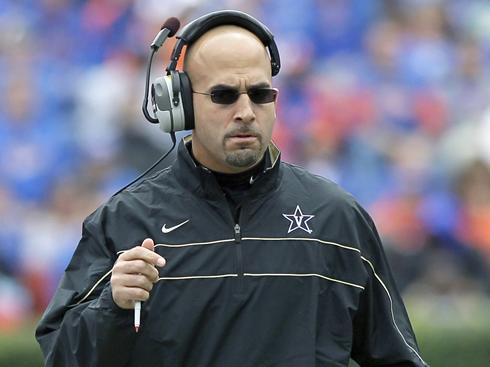 Vanderbilt was a surprise team this season, winning six games with close losses to Arkansas, Florida and Georgia.
First-year coach James Franklin is the man responsible. He has orchestrated a total turnaround for the attitude, personnel and expectations of the program. They have a solid core coming back and could continue to improve.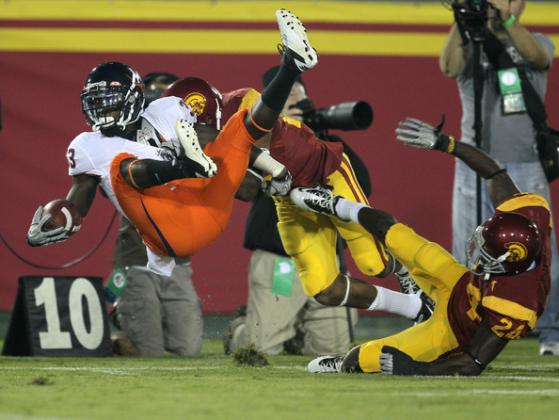 I love what Mike London did this past season. He turned the Cavs from a sub-.500 team into an eight-win team. I give him all the credit.
Perry Jones was the leading rusher and best player on the offense this past season. They will lose most of their top tacklers, meaning their strong defense of 2011 will need time to rebuild. I trust Jones to carry the load on offense.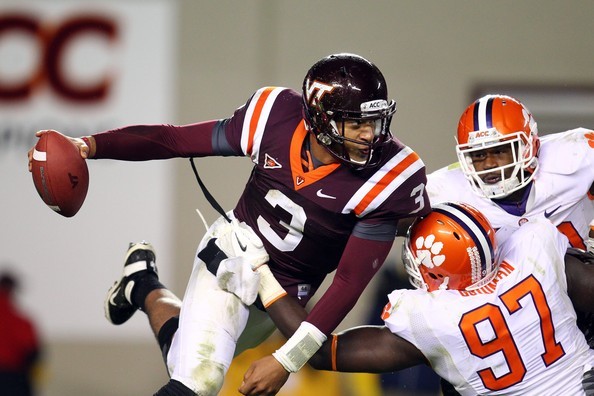 David Wilson is gone, and the Hokies have no rushing game to speak of. Logan Thomas (pictured) will have to do double duty next season for the Hokies to win the ACC.
They'll have to beat Clemson too ... at Clemson. They went 0-2 against the Tigers in 2011 with the games being played in Blacksburg and Charlotte.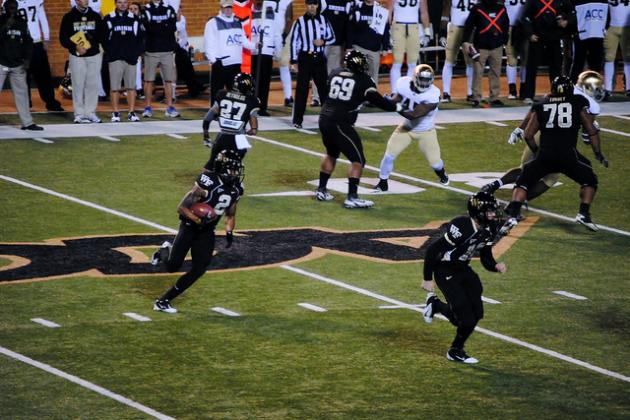 Wake Forest is going to lose their leading rusher in Brandon Pendergrass. Luckily, QB Tanner Price and leading receiver Chris Givens are coming back.
Here is Givens rushing behind the blocking of Price. It's odd, but it shows that Price will do whatever it takes to win. More often than not, Price will be delivering Givens.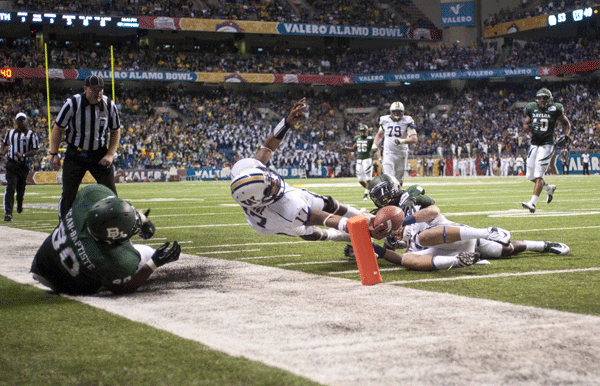 Keith Price had a fantastic Alamo Bowl and is garnering preseason Heisman buzz as a result.
He will need to be at his best if the Huskies are to compete for the Pac-12 title. They lose RB Chris Polk and their top two receivers. Price will have to make all the plays at the beginning, just like he did here.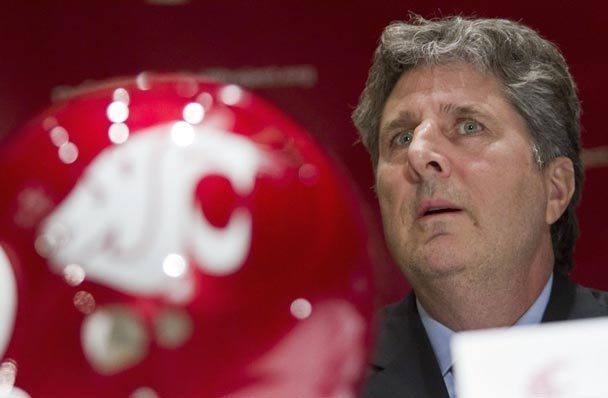 Mike Leach has re-entered the college ranks, electing to coach at Washington State.
"Why Washington State," you ask? Leach stated in his press conference that he heard the exact same question several times.
His response?
"Once I get past thinking in the back of my mind, 'Well that's a stupid question..."'
The comment garnered a loud round of applause from the Cougar faithful. Leach is there for the long haul and is capable of turning the program around.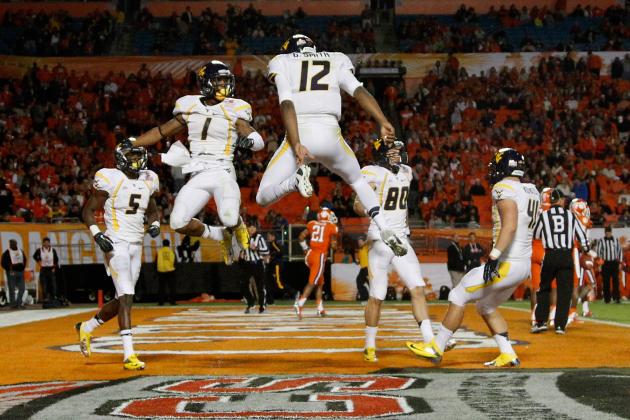 Mike Ehrmann/Getty Images

We all saw West Virginia put up 70 against Clemson in the Orange Bowl. That game easily exhibits the potential of Dana Holgorsen's offense.
QB Geno Smith (No. 12), Tavon Austin (No. 1) and Ivan McCartney (No. 5) all return. Not pictured is the Mountaineers' leading wide receiver, Stedmon Bailey, who will also return in 2012.
Expect plenty of celebrating in Morgantown.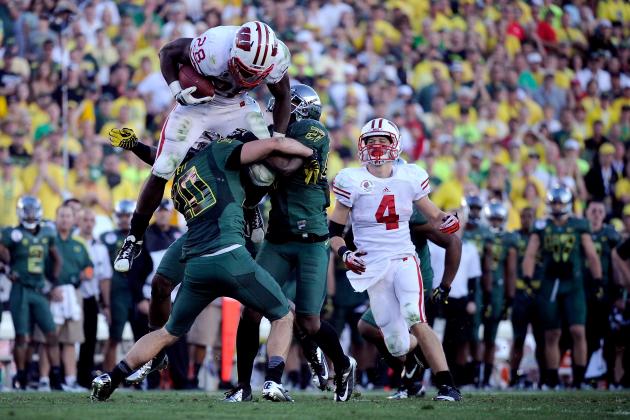 Kevork Djansezian/Getty Images

Montee Ball was the best player on Wisconsin this past season as a Heisman finalist. Here, he hurdles a Ducks defender in the Rose Bowl.
Wisconsin is losing quarterback Russell Wilson, so we should continue to see a familiar ground-and-pound game from the Badgers. Ball surprised some with his announcement to return, so we may see highlights similar to this again in 2012.