Michigan-Ohio State Rivalry: Why Hoke vs. Meyer Could Be Ten-Year War II
November 23, 2016
The very first thing you think of when you think Michigan vs. Ohio State is Bo versus Woody. These two men were icons not only representing Michigan and Ohio State, but all of college football.
After Michigan head coach Bump Elliot resigned after the 1968 season, Woody Hayes' former assistant at Ohio State, Bo Schembechler, was hired at Michigan, then it was all out war.
Schembechler made a statement to Hayes in his very first game against him. Nov. 22, 1969 is the day the Ohio State Buckeyes came into the Big House with their 22-game winning streak and were stunned by Schembechler's Wolverines 24-12.
Between 1970 and 1975, four times were the Wolverines and Buckeyes ranked in the top five of the AP poll right before their annual matchup. This was always a very heated, emotional game, pitting the best versus the best, because it was Bo's players versus Woody's players.
Both coaches were extremely passionate about their schools and their states, especially Hayes, always referencing Michigan as the team up north, or that state up north. Hayes is also known for his rant about refusing to put gas in an empty tank while in Michigan, proclaiming in some vulgar language that he'd go as far as to push his car to the Ohio line before he gave the state of Michigan a nickel of his money.
During the famous "Ten-Year War," Michigan and Ohio State shared the Big Ten title six times. Michigan went on to win "The Game" the last three years of the war between Schembechler and Hayes. At the end of the 1978 season, during the Gator Bowl, Hayes struck a player of the opposing team, leading to his termination. That ended the "Ten-Year War," with Schembechler having a 5-4-1 record against Hayes.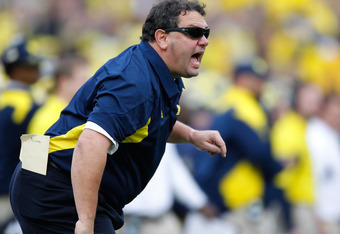 Gregory Shamus/Getty Images
Will the rivalry between Michigan's Brady Hoke and Ohio State's Urban Meyer be anything like this? It's certainly possible, just most likely without the striking players and proclaiming the hate for the other school.
Brady Hoke has had a fantastic career. He is best known for taking typically mediocre schools and turning them into something legitimate. This past season was no different, he took a Michigan team that was 15-22 in the last three seasons under Rich Rodriguez and turned them into an 11-2 team (2011 was only the fifth time Michigan has won 11 games in school history) with a BCS victory (the first since Tom Brady was in Ann Arbor). The future is looking bright for the Maize and Blue.
Urban Meyer is returning to coaching after a year off to spend more time with his family and restore his health. Meyer is a recruiting phenom and has done some great things, including two national championships at Florida (2006,2008). At the conclusion of the 2009 season, Meyer had the highest winning percentage among all active coaches (.842) with a minimum of five full seasons at an FBS football program.
Hoke and Meyer both have impressive resumes, and they have both proven that they can put together more than sufficient staffs, coach well and really hit the recruiting trail. Brady Hoke, after only his first season, has put together a likely top-five recruiting class for 2012, and one of the best recruiting classes the Wolverines have had in recent history. With eight starters returning for the Wolverines on both sides of the ball, along with four and five star recruits making an immediate impact, Michigan could be national title contenders in 2012.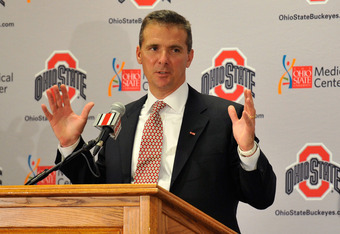 Jamie Sabau/Getty Images
Urban Meyer comes into Columbus after the Buckeyes finished 6-7 in 2011, losing to Meyer's old team, the Florida Gators, in the Gator Bowl. Ohio State showed some clear signs of improvement near the end of 2011, scoring 34 points on the Wolverines, the most Michigan had surrendered all season. Freshman quarterback Braxton Miller didn't blow anyone away with his numbers, but did show innate elusiveness while running and a great ability to escape the pocket.
The real battle that will take place between Hoke and Meyer before either team hits the field is recruiting. The NCAA recently placed a bowl ban on Ohio State for the 2012-'13 bowl season, so that is not going to help Urban Meyer's case in the recruiting grounds. It is unlikely that the Buckeyes finish better than the Wolverines in recruiting this year, as Michigan has already had commits from multiple four star athletes, and even a couple five star athletes; particularly Kyle Kalis, a 302-pound offensive lineman out of Lakewood, Ohio. Kalis originally committed to Ohio State, but backed out due to the recent turmoil surrounding the Buckeyes.
Regardless, Ohio State has a very bright future under Urban Meyer, and a sophomore quarterback that has shown flashes of greatness. Michigan is also very much on the rise with a strong recruiting class and one of the best defensive coordinators in the nation in Greg Mattison.
There will never be another Bo Schembechler or another Woody Hayes, but Brady Hoke and Urban Meyer have all the tools to start another war along the Michigan-Ohio border.