NCAA: The Top 25 Most Annoying Colleges in America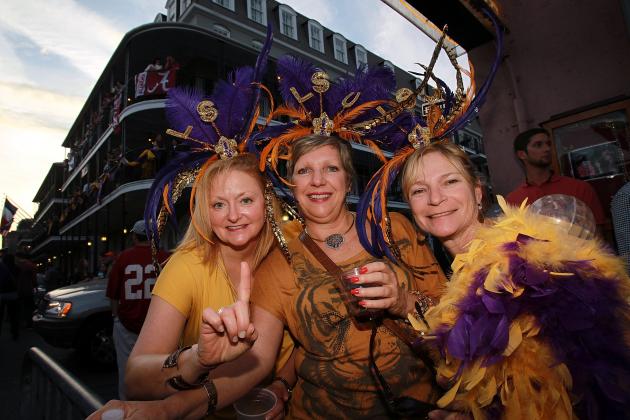 Ronald Martinez/Getty Images

The love for a college is developed one of two ways:
1. You look upon the collective four years you spent at your alma mater and consider it the greatest four years of your life. You wouldn't trade a single credit hour you earned there for anything in the world. From the second you received the acceptance letter until now, your love has only grown.
2. You love the college because your great-grandfather attended way back in the early 1900's. Your parents told you "son, you can go to any college in the world, but my money will only be paying your tuition at one." In short the colors of that school run through your veins, it is all you have ever known.
For some, they develop this love while quietly going about their business. They are proud of the school which they attend, but try not to be too boastful. They love their sports teams as most alumni do, but do not go out of their way to shove it down your throat. Everything is for the most part kept in house, and the casual sports fan never has to hear of anything going on with that university.
And then, there are those schools.
I have compiled a list of the 25 most annoying colleges in the nation today. Many different factors went into my decision such as fanbase, coaches, marketing, etc.
These schools can make the nation's eyes roll and their stomach's turn in sickness by just the mention of their name. They are the easiest to hate, and the most difficult to ignore. If you are a fan of a smaller market school, good luck getting any type of coverage over these media hogs. They just never seem to go away.
Let's begin.
Begin Slideshow

»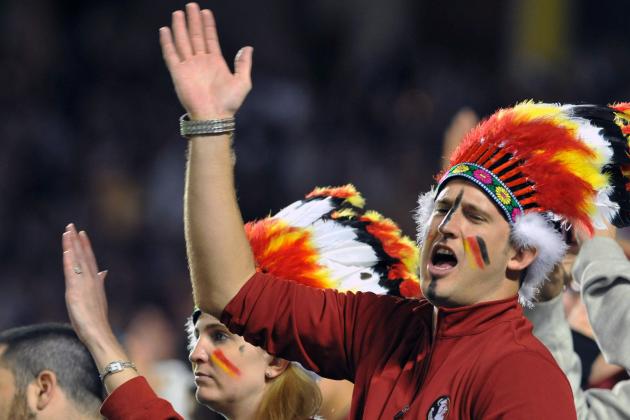 Al Messerschmidt/Getty Images

Here's a school full of proud students who were still enjoying their days in elementary the last time that Florida State was nationally relevant.
In fact, since their 1999 BCS National Championship, the Seminoles have lost four or more games in eight of the last 12 seasons. Not exactly dominant.
There is always the clamor from their fans that they deserve as much respect as Florida, although their days of relevance were long before any of their current players even had college on their mind
The 'Noles football program went winless in 2007 when multiple athletes cheated on an online music exam.
Maybe they should have paid more attention in music class, it could have helped them avoid having the most annoying fight song/war chant in the NCAA.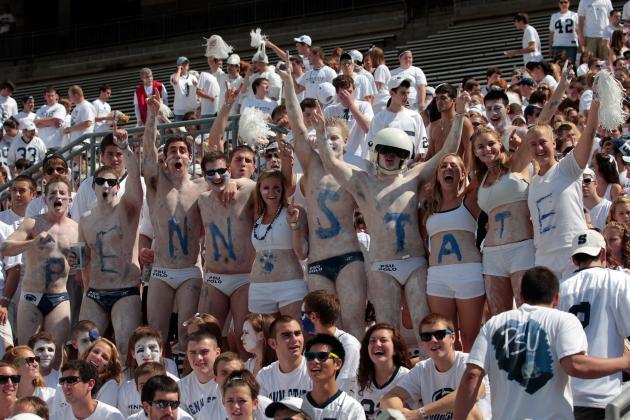 Rob Carr/Getty Images

You know when I lived at home with my parents, there was never a need to stand up and shout WE ARE…THE WHEELAND FAMILY!
So I, along with most, am extremely annoyed about constantly hearing WE ARE...PENN STATE, WE ARE...PENN STATE! As if I wasn't aware of what team I was watching on ESPN before their declaration.
Not to mention, they have commercials for their university on a ton of different networks. I can be watching sports or simply a late-night comedy and then the next thing I know, the chant has snuck up on me again.
Finally, I have been more than annoyed with the coverage of the entire Sandusky scandal.
At the peak of the media coverage you couldn't turn on ESPN without hearing anchors and analysts spout out the exact same information over and over for hours a day. The entire scandal and practical 24-hour coverage (regardless of your opinion on his morality in the situation) is what many believe ended Joe Paterno's life. That is a shame.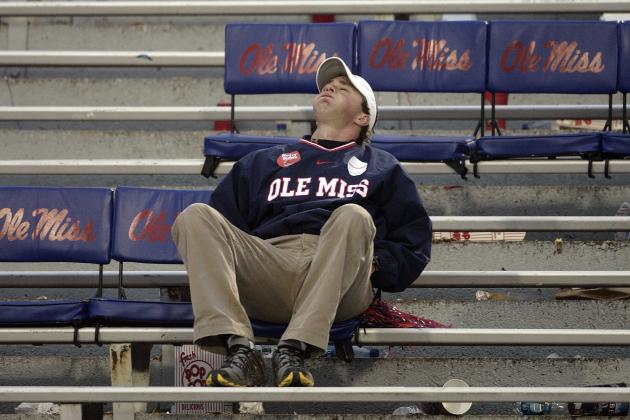 Dave Martin/Getty Images

This photo was taken in the second quarter of an Ole Miss game.
Okay, maybe that's a little bit of an exaggeration. In all actuality, however, Ole Miss fans rarely stay to cheer on their team for an entire game.
Concerned about their image and known for showing up to games being the best dressed, the Rebels don't seem to care too much for what happens on a field or court.
They are mostly spoiled products of rich parents and would rather consume alcohol under-aged instead of cheering as loud as possible for their team. At least the tailgate party was fun.
They should be less concerned about rival billboards and worry a little more about staying for a whole game.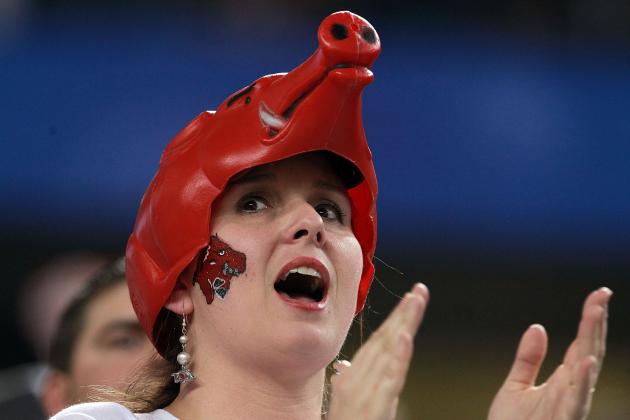 Ronald Martinez/Getty Images

Besides Bobby Petrino selling out on Atlanta to coach for the Razorbacks, there are really only a couple of things that really get under my skin when it comes to the boys in Arkansas.
I had family who lives in Arkansas and I have also spent quite a bit of time in Arkansas. I understood once I got older, but at a young age I had no idea why people at Walmart would shout "woo pig sue" to each other for no reason at all.
Now that I am older, I do understand. Razorbacks are completely annoying as a fanbase.
Also, they have an unearned sense of pride in the SEC. They have been to the SEC Championship three times in 19 seasons, one trip being given to them because Alabama was ineligible for postseason play, and have lost on all three occasions. In those games, they have been outscored, 102-34.
If you are going to be yelling your favorite school chant through the aisles of a store, at least have some relevant wins under your belt to back up that "woo pig suuuueee" yell.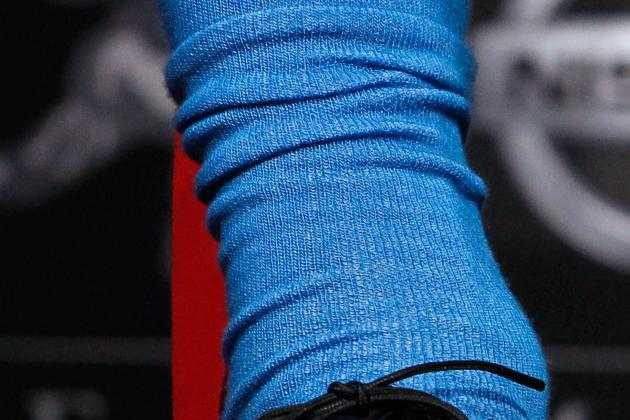 Jeff Zelevansky/Getty Images

I'm not exactly sure when Baylor decided it was a dominant force to be reckoned with, considering they never had an NCAA title in any sport until 2004.
Yet, while A&M attempted (successfully) to make their move to the SEC, the Bears from Waco did just about everything they could to stop it.
For someone who (with the exception of this year) dwells at the bottom of a conference, it probably isn't in your best interest to try and stir up a fight with the bigger names of college football.
Also, I respect when you have an athlete who excels more than most, and it's okay to be proud of him. But if I live in Houston, and I see a billboard bragging about Robert Griffin III winning a Heisman, I can't help but to roll my eyes.
The only thing super about Baylor was their QB, enjoy your return back to the bottom, Baylor. Maybe you'll stay a little more quiet now.
Thomas B. Shea/Getty Images

Congratulations Houston.
You dominated the top-notch ultra competitive Conference USA schedule (except the only game that mattered), re-wrote the offensive record books with your sixth-year QB calling the shots and made enough noise at the national level to have your coach bolt out the door for a job in the SEC.
To answer the sign holder's question: No, I do not respect you at all.
I live in Houston. I was accepted to go to the University of Houston. I was as close as you could be to becoming a Cougar before changing my mind to go elsewhere.
I'm so glad that I didn't. I can't stand how annoying that school is as a whole, and there are three fans of the Cougars that annoy me more than the rest of the fanbase put together.
Allow me to present to you Bun B, Paul Wall and Slim Thug as they perform the worst rap song I have ever heard in my entire life. If this song doesn't annoy you, I don't know what will.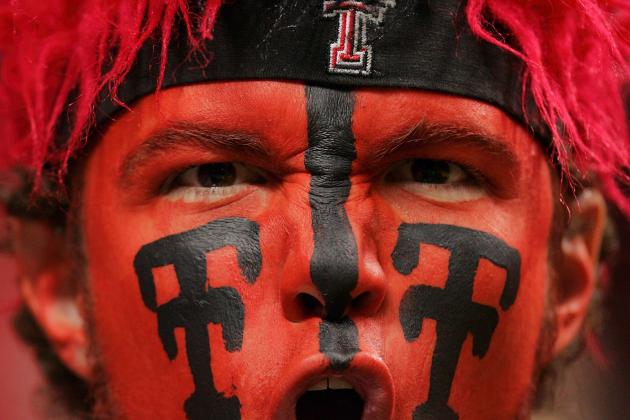 Ronald Martinez/Getty Images

Oh Tech…
Many Texans consider this campus as four extra years of high school, and most students there usually have the maturity of high school students.
Speaking of maturity, let's discuss two of their more recent coaches. There was Bob Knight, an amazing basketball coach who has won more games and thrown more chairs than most ever will.
There's also Mike Leach. If he isn't locking your child in a closet during practice, he's usually trying to find more ways to compare his football team to pirates. When I watched the movie Dodgeball and saw the character "Steve the Pirate," I thought it would be pretty hilarious if a person like that actually existed. Turns out, Mike Leach is just that.
This is one that I don't know whether to call them annoying, or just extremely easy to make fun of.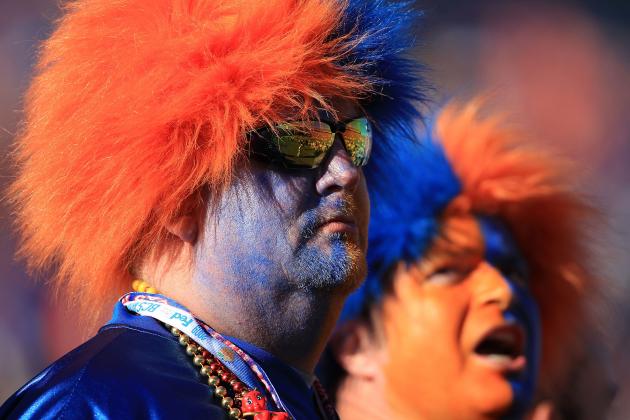 Scott Halleran/Getty Images

Maybe it's just me, but I consider "jorts" to quite possibly be the most awkward and annoying statement of fashion since MC Hammer's gigantic pants.
Florida students have got to be some of the most annoying supporters of any team. If I had a nickel for every time I heard the phrase Gator Bait (what Florida calls their opponents) I would have enough money to retire, and I am still in college.
Speaking of retirement, most that live in the Florida area have been enjoying their freedom from the work force for years now. When you go to Florida there are three types of people; those who are retired, the confused tourists and all those crazy Gator fans.
As for the rest of the fanbase, most can be found up North. There is nothing more annoying to me than a fan of a college who has no ties to the school other than thinking they are good at sports.
Sorry to say this Gator fans, but now that Tim Tebow and Urban Meyer are gone for good, it will be quite a while before you have anything to brag about.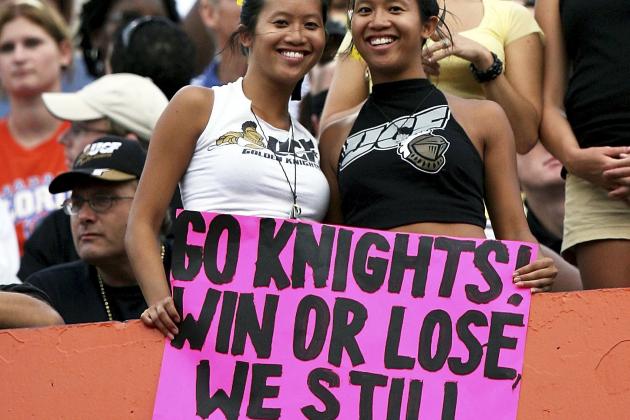 Doug Benc/Getty Images

Speaking of Florida schools without a reason to brag, let's discuss Central Florida.
Congratulations Golden Knights, you could not make it into the University of Florida, so you settled for a life of drunken nights and competitive mediocrity.
For a school who has an overall record of 194-183-1, you might find it a little odd that you have to hear about them so much during football season.
Fans from opposing schools hate to visit any home events at Central Florida, because they are full of drunk and obnoxious fans. There is nothing more annoying than a college student who can't handle their alcohol.
Maybe instead of so much partying, they should work a little harder on their performance on the field or court. ESPN, do us a favor and stop giving them so much coverage.
I bet the parents of the two lovely ladies up top sure are proud.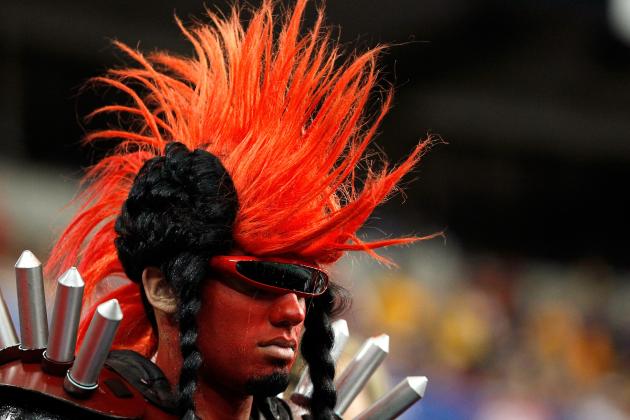 Kevin C. Cox/Getty Images

What have I learned from Georgia? I should never, ever wear a visor if I plan on watching the Dawgs.
Every school is proud of its athletes who went on to find success at the professional level, but I feel that Georgia considers Herschel Walker to be in his own category.
When Walker's name is mentioned around a Bulldog faithful, it's almost as if they were Napoleon Dynamite and Uncle Rico was the great football star as seen in this clip.
They sure are a proud bunch for a school who hasn't won a football National Championship in the last 30 years.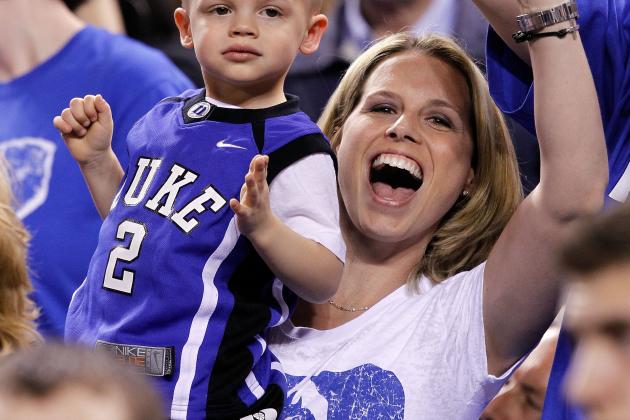 Jonathan Daniel/Getty Images

In a slideshow dominated mostly by football schools, it's impossible to talk about annoying schools without mentioning the Duke Blue Devils.
The child in the photo above will grow up to be just like all the others, extremely intelligent when it comes to the books, and a great big baby when it comes to sports.
When the Elite Eight was hosted in Houston in 2010, I was lucky enough to accompany a couple of my friends to watch Duke play from the second row.
Of course any game you watch in any sport features coaches and players getting upset at calls made by officials. Duke and Coach K take that to a whole new level.
The famous leader of the Blue Devils seemed to argue every call in their game against Baylor that didn't go his way, and I saw firsthand what a gigantic baby he was.
I can't say that he isn't one of the greatest to ever coach the game, but I can show evidence of just how annoying he is with every tournament loss.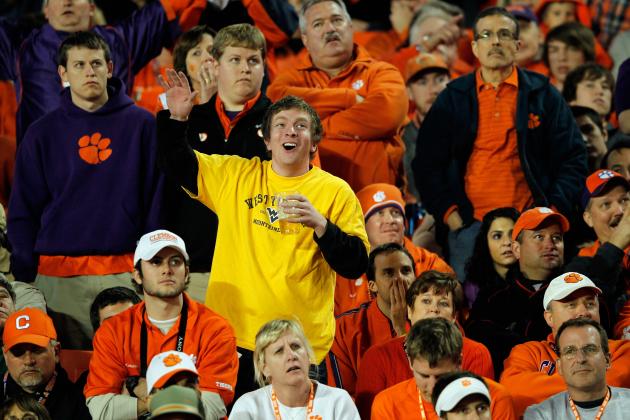 Mike Ehrmann/Getty Images

Are you sure you wouldn't rather brag about your Orange Bowl blowout against Clemson? The game you earned a spot to play in thanks to an automatic bid even though you had a terrible team.
I can't stand West Virginia. I was even more irritated when the Texans drafted their "star" running back, Steve Slaton, and forced me to actually hope for a Mountaineer to have success. Much like West Virginia's hopes for a national title, Steve Slaton's Texans career was rather short-lived.
What annoys me more than a fan with justified bragging rights is a fan who brags about a terrible team.
The Mountaineers have perfected that.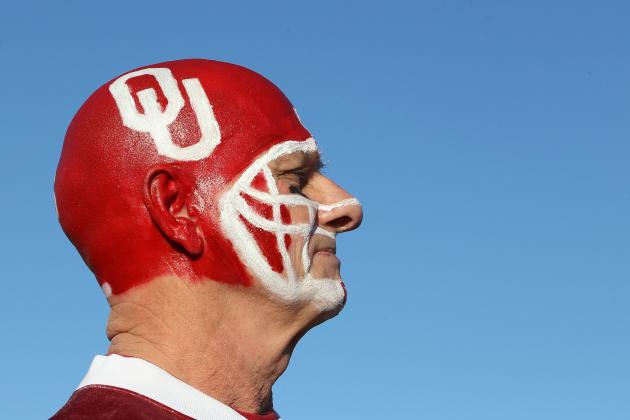 Christian Petersen/Getty Images

We are getting down to the part of the list which features the teams that I really can't stand.
There are Sooner fans crawling all over Texas, just like there are Texas athletes crawling all over Oklahoma's rosters.
When Oklahoma lands a star like Adrian Peterson or Blake Griffin, I cringe. That means until that athlete decides to grow pro, I have to hear about how great they are every single day until that point. Their fans are beyond annoying.
The funny thing about their fans, most don't even attend the school. I know Sooner fans from a lot of college, however, none of them can actually call themselves students of the school. If you have an undying love for a university, at least make sure you go there.
One thing the Sooners do have, however, is Matt Lynch, the person I consider to be the worst fan in America.
Here's to you Sooners, maybe your amazing QB Landry Jones can take you somewhere of relevance in the upcoming season.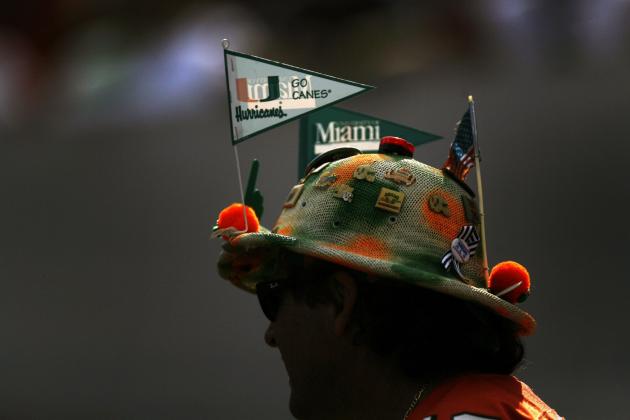 Eliot J. Schechter/Getty Images

The day I cheer for the Hurricanes will be the day that class in Miami is cancelled due to three feet of snow on the ground.
Plain and simple, the Hurricanes think they are God's gift to football.
I don't know how you could even be proud of this team, but Miami's fans find a way to do it. They are just another school in Florida too focused on partying and being obnoxious.
This year, they took a tremendous amount of offense when the Miami Dolphins honored Tim Tebow and the other Florida Gators for their recent National Championship. Here's an idea Miami, maybe if you could win a trophy, they would honor you too.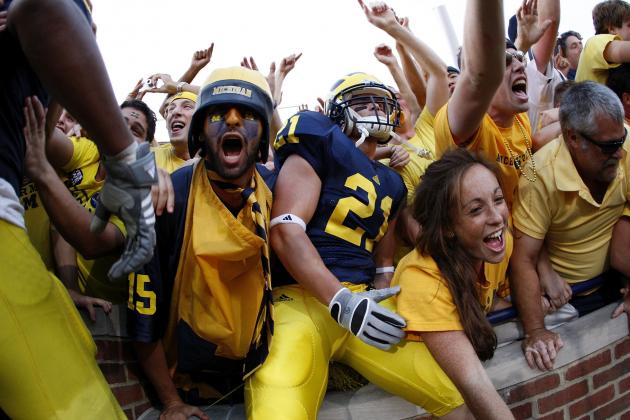 Gregory Shamus/Getty Images

I would put Michigan as the second biggest "Walmart" fans on this list.
They have a ton of Michigan apparel from shirts, hoodies, sweatpants and more. The only thing most of them lack is an actual diploma from the school.
I can understand why Auburn is proud of Cam Newton. He won them a National Championship and appears that he will have a monstrous career in Carolina.
I do not, however, understand why Michigan is so proud of Tom Brady and his sixth-round selection.
Even further on that point, I do not understand how a college can be so proud of the "Fab Five," the best basketball team to never actually exist.
One last thing, they have one of the most annoying fight songs in college sports today.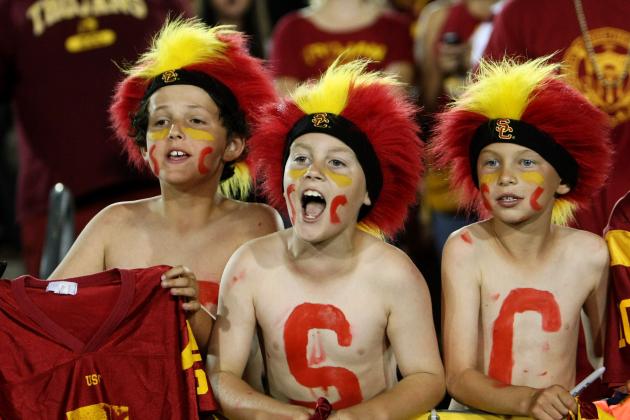 Stephen Dunn/Getty Images

I suppose one reason they annoy me is because I've never been offered a Cadillac by any of their boosters.
There is a good chance that one of the three children pictured above is already being recruited by USC, after all, they do start after their athletes at a very young age.
I'll admit that I'm almost positive every school is breaking NCAA rules with awarding improper benefits to players in some way.
USC has got to be the poster child for violations. While every school may be doing it, not every school can say they have had a Heisman taken away due to breaking the rules.
It also annoys me how much coverage they get from ESPN. They have put out some of the most overrated players in professional sports today, but every Trojan fan will swear to you that they are as good as it gets.
From Pete Carroll to Lane Kiffin, from Carson Palmer to Matt Barkley, Trojan athletes, coaches and fans can get under my skin like no other.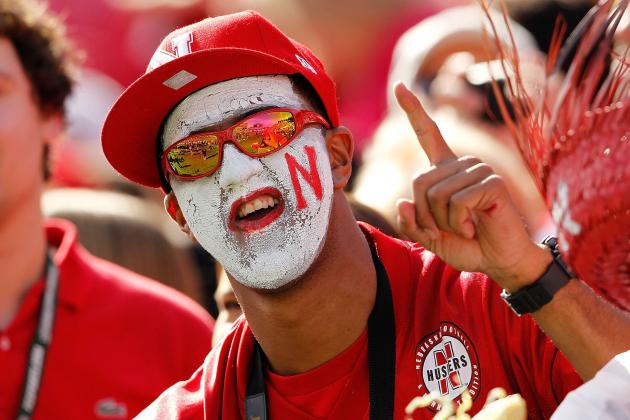 Mike Ehrmann/Getty Images

Nebraska may be the only fans outside of Detroit that still have respect for former star Ndamukong Suh.
You can't blame Suh for being a product of his university, however. Most Cornhuskers are pretty skilled when it comes to annoying you with their presence.
I've been around Nebraska fans, and they are a group that is quick to demand respect and call for you to bow down to their greatness.
That would be just fine, except for the fact they haven't won a football National Championship since 1997.
The most annoying thing about Nebraska? Head coach Bo Pelini. This video features just a few of Pelini's on field blowups.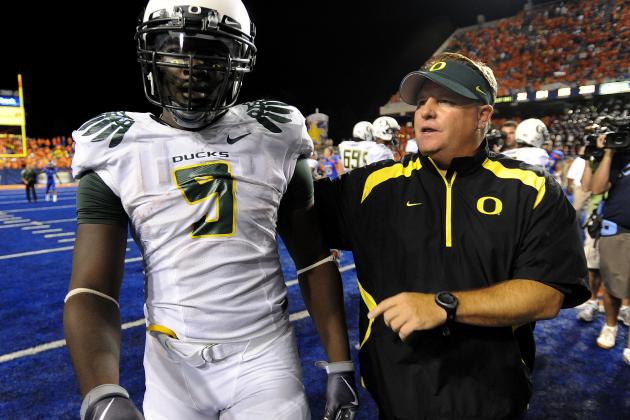 Steve Dykes/Getty Images

When the Oregon Ducks aren't causing problems on the field, chances are they are causing problems off of it.
If I did not make it clear during the Miami slide, something that really bothers me is student athletes who can't stay out of trouble.
Here is an article highlighting a list of a few players who have been arrested/been in trouble with the law since late 2009.
If they were to do another remake of the prison football classic "The Longest Yard" I feel like most of the Duck players could fit into the various rolls quite well.
I also can't stand the deal they have with Nike. Some uniforms they put out I will admit are pretty awesome, but most just look as if someone accidentally spilled yellow and green paint on the team shortly before they took the field.
Coach Chip Kelly probably should have bolted for the door when he had the chance.
Ethan Miller/Getty Images

I don't mean to throw you for a loop, but here is a picture of a Bronco fan complaining about the BCS. Shocker right?
The Boise State Broncos have been tearing up the prestigious Mountain West Conference (no really, it's a conference) since 2002 on the smurf turf.
This year, Boise State head coach Chris Peterson admitted himself that he voted in the best interest of his school in order to claim a BCS berth. That is the exact reason why coaches shouldn't be allowed to vote in the first place.
The only thing more certain than a BCS controversy every season, is that Boise State will always have their two cents to throw in.
As a side note, whatever you do, don't say anything bad about the Broncos. They might run you off Twitter.
Ronald Martinez/Getty Images

Notre Dame, the home of seven Heisman winners.
Just don't mention the fact that they haven't won one since 1987, or they'll become upset. And if there's one thing you don't want to do, it's upset the Fighting Irish.
You can usually find them towards the top of preseason polls, and towards the bottom of the final standings. They are too good to be part of a conference, and too proud to admit defeat.
The one thing that annoys me the most about the Irish?
When I was a freshman in high school, watching the movie Rudy was a requirement in the curriculum.
The truth? Yes, Rudy did play for Notre Dame. Yes, he was in on a sack. But no one chanted his name in the stadium and players never turned in their jerseys to earn him a spot on the field.
The movie just as Notre Dame's football program in recent memory, was wildly overhyped.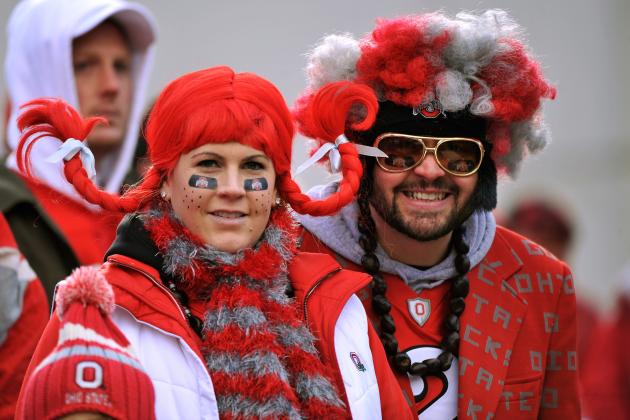 Jamie Sabau/Getty Images

At No. 5, I have Ohio State University.
Excuse me, I'm sorry. At No. 5, I have THE Ohio State University.
They are a great university, and their fans make sure you know that they are. However, when I think of Ohio State, I think of back-to-back losses in the National Championship Game. In 2008 they were defeated by LSU, while in 2007 they were obliterated by Florida, 41-14, as Terrell Pryor tried to bring the 12-step drop into the world of college football.
Now with Urban Meyer, the Buckeye fans are ready to have yet another shot at the national title in hopes that it all works out this time around.
Of course, thanks to sanctions from the era of the vest and free tattoos, it will take an extra year to see if the Buckeyes can reach that potential.
While Ohio State will be missing from this year's postseason, I can assure you that Buckeyes fans will still be running their mouths.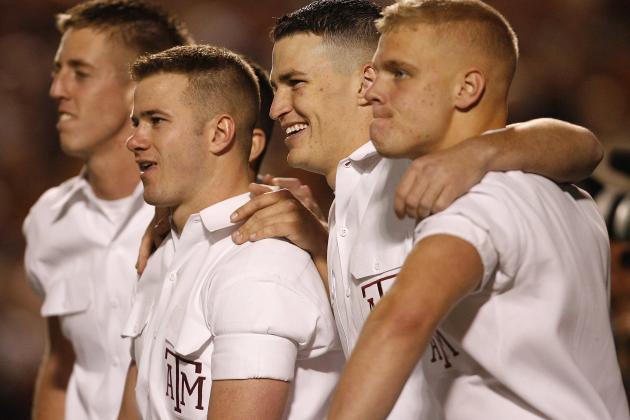 Aaron M. Sprecher/Getty Images

"From the outside looking in you can't understand it, and from the inside looking out you can't explain it."
The Aggies at Texas A&M use this phrase to explain just what it means to be an Aggie. I myself attend the university. However, the worst kind of writing is that of which is completely biased, and I know exactly how we are. And it is annoying.
For one, every single thing at the university has to be considered a tradition. There is a tradition for this and a tradition for that. If a visiting student started drinking every time a tradition was performed on campus, they would never wake up from the coma.
Every year the Aggies attempt to drum up national interest for their team, and every year they seem to turn in a record hovering around .500.
Next year when the Aggies go to the SEC, they will demand even more attention. If you aren't annoyed with the Aggies yet, you shouldn't have to wait for too much longer. The 12th man will be in full force, shouting "AAA" between every play of every game and taking commands from their "yell leaders."
After all, the Aggies don't need cheerleaders; they get no attention and are just annoying.
Come to think of it, that sounds a lot like the university as a whole.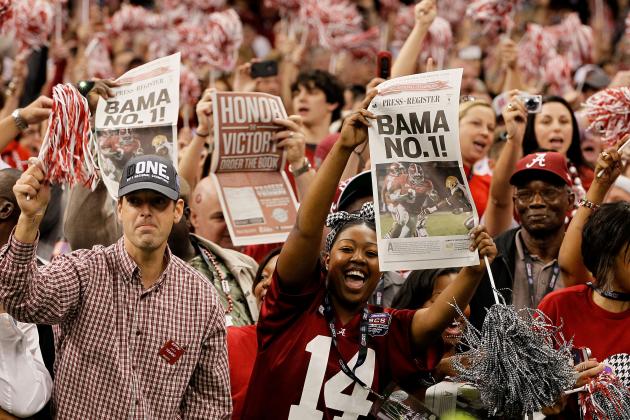 Kevin C. Cox/Getty Images

In many different polls and articles, Alabama is considered some of the rudest fans in the nation. While this isn't what I'm ranking, I feel that should at least be mentioned.
Do they annoy me because of the Rammer Jammer chant? Yes they do. Do they annoy me because they get so bitter over a loss to Auburn they actually go and kill Toomer's corner trees (trees which the Auburn Tigers hold in high regard)? Yes they do.
But what annoys me most about Alabama? They win, and it appears winning will become a habit.
Much like professional sports fan get annoyed by Yankees and Lakers fans, the Alabama Crimson Tide appear they are on the fast track to being held in that same class.
With Nick Saban at the helm (in college where he belongs) as his older athletes leave for the NFL, his new recruits will simply take their place.
Way to ruin other schools' hopes. We appreciate it.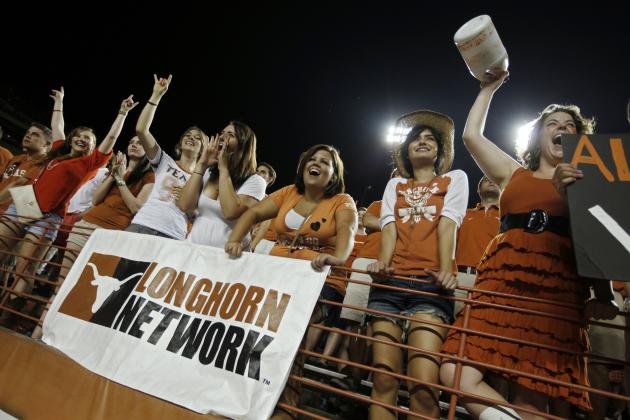 Erich Schlegel/Getty Images

Everywhere I go I see nothing but burnt orange.
Best Buy electronics store? Longhorn keyboards, Longhorn mouse pads, Longhorn headphones, Longhorn phone cases, etc.
Boat and fishing shows? Longhorn fishing poles, Longhorn tackle boxes, Longhorn paint schemes for boats, Longhorn grilling equipment, etc.
The Texas Longhorns are about as annoying as you can possibly be for a university. And they are so full of themselves. How is that TV Network working out for you guys?
With the combination of their athletic director, head coach Mack Brown and the fellows over at ESPN, the Texas Longhorns and their gigantic egos are just about the most annoying school in the United States of America.
Just about…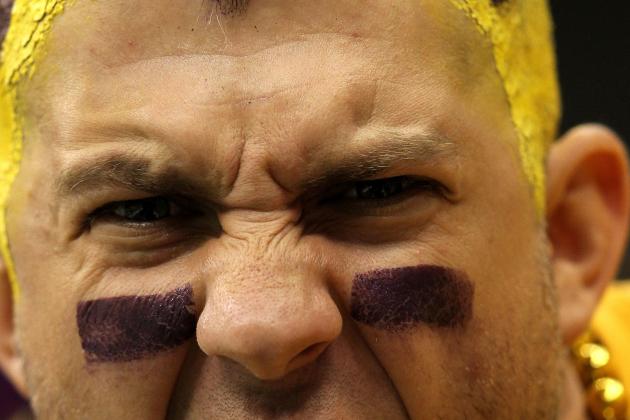 Andy Lyons/Getty Images

Eaux Neaux! LSU leauxst the National Championship?! Twenty-one-zereaux!? Neaux touchdowns? Only field geauxals? Do you see how annoying that is LSU faithful?
The LSU bandwagon has got to be the absolute largest in the entire nation, and is the most annoying college in the entire nation.
I can not stand Les Miles, I can not stand the "honey badger," I can not stand their lack of discipline or punishment and I can not stand the LSU Tiger fans.
Seeing the LSU Tigers lose the National Championship in front of thousands of their fans couldn't have made me happier. I was annoyed having to hear and read everything LSU had to say up until the National Championship Game, but I thoroughly enjoyed the absolute silence once the final whistle had been blown.
Next year, however, they will be at it again in full force. All over ESPN, as well as Twitter and Facebook, demanding their respect and letting everyone know that this is their year.
And as much as they annoy me, I'll be looking forward to the start of their season, because it will be that much closer to their demise.
Follow Brandon Wheeland on Twitter @BrandonWheeland