East-West Shrine Game 2012: 3 Players We're Most Excited to See in NFL
January 21, 2012
Otto Kitsinger III/Getty Images
In 2011, Tyrod Taylor of Virginia Tech and Delone Carter of Syracuse parlayed solid performances in the annual East-West Shrine game into NFL jobs. Taylor is a backup quarterback for the Baltimore Ravens and Carter is a running back who played in all 16 games this season for the Indianapolis Colts.
The game is an All-Star game for players whose schools are located in the Eastern and Western United States. It is also significant because it allows for players from Canadian universities to compete in front of NFL scouts.
Which players will stand out in 2012 and build momentum towards playing in the NFL this year? Here are the three players I'm most excited to see on the next level.
RB Davin Meggett—Maryland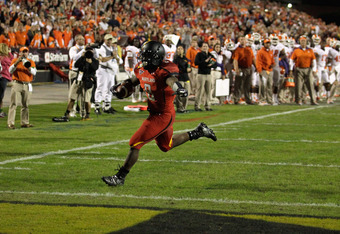 Rob Carr/Getty Images
Meggett is the son of former Giants' player Dave Meggett. He is built similar, and possesses similar athletic abilities. At 5'9" 215 pounds, he is short, with a low center of gravity, but he is quick, with very good speed.
He could be a second-day pick for a team looking to add a back who can play on third downs. Despite his dad's kick and punt return prowess, Davin never did return duty at Maryland. He did show decent versatility as a runner and receiver with 1,037 all-purpose yards in 2011.
DB Josh Norman—Coastal Carolina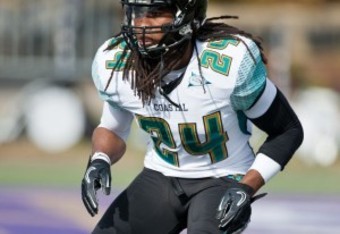 Norman should become the third player drafted in Coastal Carolina's history, after Tyler Thigpen and Jerome Simpson. Norman is a ball hawk. He picked off 12 passes in his collegiate career and has racked up the hardware throughout. This past year he was a third team All-American and All-Big South selection.
Norman has decent speed, with a 4.5-second 40 time, but he plays faster. He has very good size and strength for the position at 6'0" 200 pounds. Norman will be a starter in the NFL within two years
.
WR Tyler Shoemaker—Boise State
Shoemaker was a prolific pass catcher at Boise State. He has great hands, decent speed and goes up to meet the ball. He is 6'0" 214 pounds, so while he's a bit short for the outside, he seems perfectly suited for the slot.
Shoemaker would fit in nicely with the New Orleans Saints or Detroit Lions, and he could be productive early because of his experience in Brad Pease's pro-style offense. Shoemaker had 62 receptions, for 994 yards and 16 touchdowns in 2011.
Here is a list of the complete rosters for the 2012 East West Shrine Game
EAST
Coach: Bobby Ross
1 Jerrell Young, S, South Florida
2 Micah Pellerin, DB, Hampton
3 Tim Benford, WR, Tennessee Tech
4 Gary Gray, DB, Notre Dame
5 A.J. Jenkins, WR, Illinois
7 Nick Sukay, LB, Penn State
8 Tysyn Hartman, S, Kansas State
9 Chase Ford, TE, Miami
10 Shawn Loiseau, LB, Merrimack
11 R.J. Blanton, DB, Notre Dame
12 Austin Davis, QB, Southern Mississippi
13 Kevin Hardy, WR, Citadel
14 Charles Brown, DB, North Carolina
15 Davin Meggett, RB, Maryland
16 John Brantley, QB, Florida
17 LaRon Byrd, WR, Miami
18 Thomas Mayo, WR, California (Pa.)
19 BJ Coleman, QB, Chattanooga
20 Lance Lewis, WR, East Carolina
21 B.J. Cunningham, WR, Michigan State
26 Justin Bethel, DB, Presbyterian
28 Tauren Poole, RB, Tennessee
29 Steven Erzinger, LB, Army
31 Josh Norman, DB, Coastal Carolina
32 Alfred Morris, RB, Florida Atlantic
33 Christian Thompson, S, South Carolina State
35 Brandon Lindsey, LB, Pittsburgh
38 Emanuel Davis, DB, East Carolina
40 Matt Daniels, S, Duke
42 Najee Goode, LB, West Virginia
44 Emil Igwenagu, TE, Massachusetts
45 Shawn Powell, P, Florida State
48 Bruce Figgins, FB/TE, Georgia
50 Joshua Linam, LB, Central Florida
53 Quentin Saulsberry, C, Missisippi State
54 Micanor Regis, DL, Miami
55 Max Gruder, LB, Pittsburgh
57 Blair Walsh, PK, Georgia
63 Derek Dennis, G, Temple
65 Tyler Horn, C, Miami
70 Jeremiah Warren, G, South Florida
72 Lamar Holmes, OT, Southern Mississippi
73 Desmond Wynn, G, Rutgers
75 Rishaw Johnson, G, California (Pa.)
76 Jeff Adams, OT, Columbia
79 Joe Long, OT, Wayne State (Mich.)
78 Bradley Sowell, OT, Mississippi
88 Evan Rodriguez, TE, Temple
90 Nick Jean-Baptiste, DL, Baylor
92 Travian Robertson, DL, South Carolina
94 Matt Conrath, DL, Virginia
95 Kyle Wilber, DL, Wake Forest
97 Julian Miller, DL, West Virginia
98 Jabaree Tuani, DL, Navy
99 Akiem Hicks, DL, Regina
———
WEST
Coach: Brad Childress
2 Duke Ihenaho, S, San Jose State
3 Rodney McLeod, DB, Virginia
4 Jarius Wright, WR, Arkansas
5 Lennon Creer, RB, Louisana Tech
6 Matt Prewitt Punter Kentucky Christian
7 Aaron Henry, S, Wisconsin
8 Austin Cassidy, S, Nebraska
9 Tyler Hansen, QB, Colorado
10 Darius Hanks, WR, Alabama
11 Ronnie Thomton, LB, Southern Mississippi
12 Chandler Harnish, QB, Northern Illinois
13 Dale Moss, WR, South Dakota State
14 Dan Persa, QB, Northwestern
16 Greg Zuerlein, PK, Missouri Western
17 Brandon Hardin, DB, Oregon State
19 Bryan Anger Punter California
21 Blake Gideon, S, Texas
23 Keith Tandy, DB, West Virginia
24 Trevin Wade, DB, Arizona
25 Devon Wylie, WR, Fresno State
26 Marc Tyler, RB, Southern California
27 Chris Greenwood, DB, Albion
28 Shaun Prater, DB, Iowa
30 Bobby Rainey, RB, Western Kentucky
31 Kentrell Lockett, DL, Mississippi
33 Brandon Marshall, LB, Nevada
34 Jerry Franklin, LB, Arkansas
40 Tyrone Crawford, DL, Boise State
43 Tank Carder, LB, Texas Christian
45 Arnaud Nadon, DL, Laval
47 David Paulson, TE, Oregon
49 Kaniela Tuipulotu, DL, Hawaii
52 Steven Johnson, LB, Kansas
53 Markus Zusevics, G, Iowa
54 Moe Petrus, C, Connecticut
56 Brandon Brooks, G, Miami (Ohio)
58 Josh Kaddu, LB, Oregon
61 Ben Heenan, G, Saskatchewan
70 Matt Reynolds, OT, Brigham Young
73 Ryan Miller, OT, Colorado
75 Al Netter, OT, Northwestern
76 Tom Compton, OT, South Dakota
77 Josh LeRibeus, G, Southern Methodist
78 David Snow, C, Texas
79 Marcel Jones, OT, Nebraska
82 Junior Hemingway, WR, Michigan
84 George Bryan, TE, North Carolina State
85 Greg Childs, WR, Arkansas
86 Kevin Koger, TE, Michigan
87 Cory Harkey, TE, UCLA
89 Tyler Shoemaker, WR, Boise State
90 Dominique Hamilton, DL, Missouri
91 Justin Francis, DL, Rutgers
95 Vaughn Meatoga, DL, Hawaii
97 Dajohn Harris, DL, Southern California
Follow Brian Mazique on Twitter