Ohio State Football Schedule 2012: Game-by-Game Predictions for Meyer's 1st Year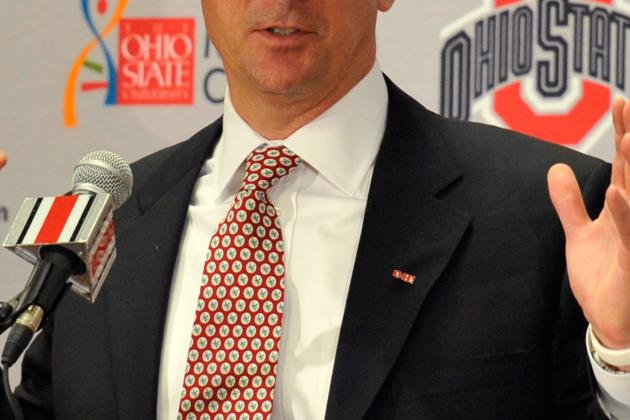 Jamie Sabau/Getty Images

The college football season is officially over and that means that we can begin predictions for the next season. Sure, it may be a little early as there are several things that will play out before the next season kicks off, but with the Big Ten schedule being released, it's never too soon to look it over.
The Ohio State Buckeyes had a very disappointing year last season, but things look to change with the hire of head coach Urban Meyer. They also have one of the best recruiting classes coming in as well.
They may be on probation this season after a scandal, but that doesn't mean they can't have a successful regular season.
Here are the early game-by-game predictions for the 2012 Ohio State Buckeyes season.
Begin Slideshow

»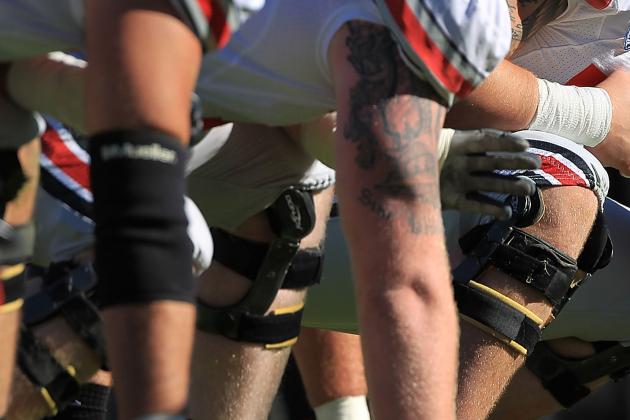 Scott Halleran/Getty Images

What an easy way for Urban Meyer to kick off his coaching career with a home game against the Red Hawks. This team couldn't find the end zone last season and only won four games—all of which were against below-average teams.
This game really doesn't need a breakdown as we all know which team has more talent and the better coach.
Buckeyes should win this game fairly easily and kick off Meyer's new career the right way.
Ohio State wins: 35-10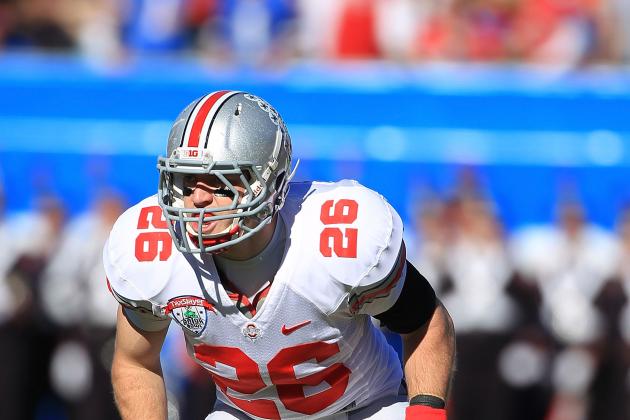 Scott Halleran/Getty Images

UCF is one of those Florida teams that's on the rise and only a few years away from becoming a team that the big boys will have to take seriously.
The majority of the Knights team is returning on both sides of the ball, but the inconsistency of their play makes you have to believe the Buckeyes will win this game. Although I do think the game will be a bit closer than many expect because of the defense from UCF.
Buckeyes win: 23-14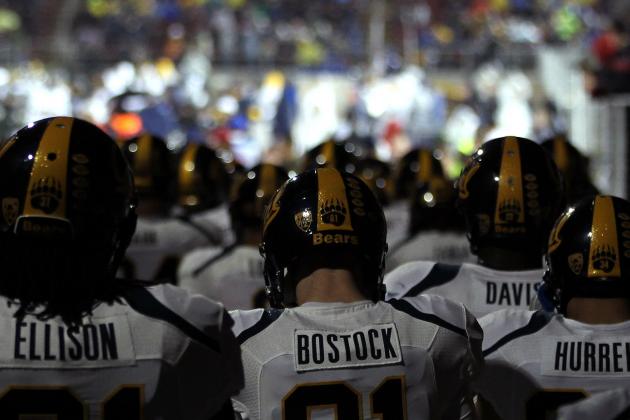 Ezra Shaw/Getty Images

Say what you want about the Pac-12, but this California team will surprise some people next year. This team is very talented, especially on the offensive side of the ball. They will be returning their starting quarterback, running backs and wide receivers—who both had 1,000 yard seasons last year.
They also have a ridiculous recruiting class coming in. Ohio State is 5-1 against the Golden Bears all time, but I do think this has upset written all over it.
This is a must-watch game early in the season for fans of both teams.
Golden Bears win: 35-28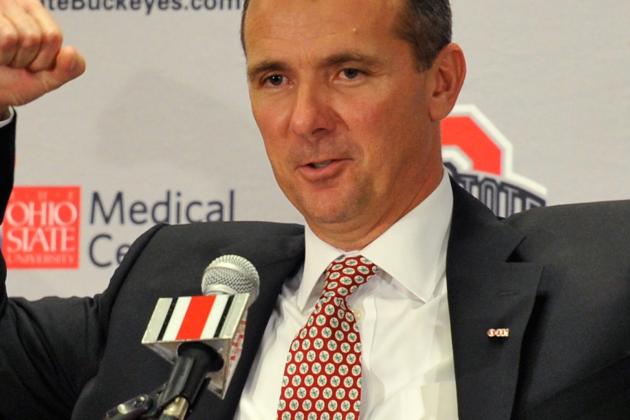 Jamie Sabau/Getty Images

This is just one of those games that doesn't need an explanation at all. UAB is a team that hasn't won more than five games since 2004. If the Buckeyes do in fact end up losing this game, there will probably be critics calling for Meyer's head right then and there.
Seriously, a loss to the Blazers would be that bad for this program.
Buckeyes win: 46-13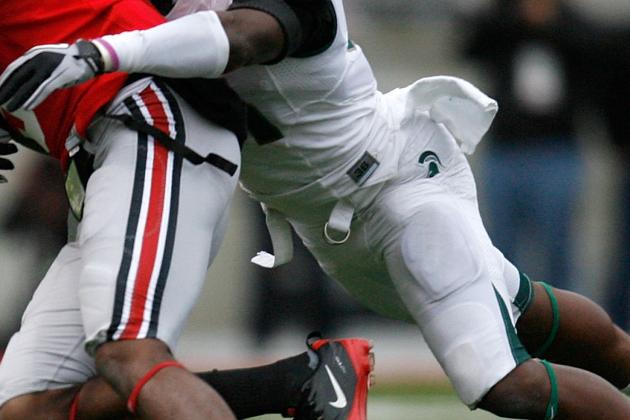 Kirk Irwin/Getty Images

When these two teams played last year, it was an ugly 10-7 loss for Ohio State. This game should be a lot better for Buckeye fans.
Sure, it will be tough going up against a great Spartan defense and it will be the first road game for Meyer's team, but starting quarterback Kirk Cousins is gone, along with the top four leading receivers from last year.
Needless to say, Michigan State's offense is going through the rebuilding stages and will take some time to get back on track.
Buckeyes win: 25-14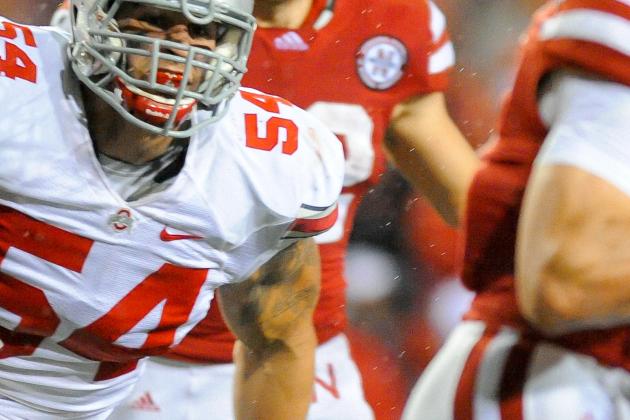 Eric Francis/Getty Images

This should be a great game, as both teams are about even on both sides of the ball. They both have the offensive weapons to succeed and have a good portion of their defense returning.
For me, this game will come down to the quarterback play and I think almost anybody will pick against Taylor Martinez when that's the case. Great athlete, but can't hit water if he fell out of a boat.
Not to mention the Buckeyes are at home, so that helps as well.
Buckeyes win: 31-25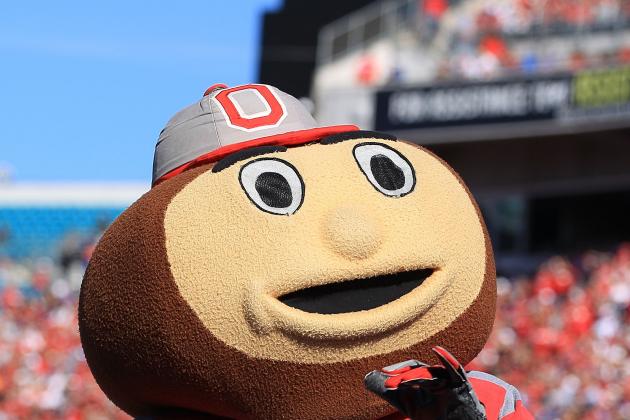 Scott Halleran/Getty Images

Much like the UAB game, this matchup doesn't need much explanation. The only thing the Hoosiers have going for them is the home-field advantage. Other than that, it's hard imagining a team that went 1-11 last season beating Ohio State.
Of course we've seen stranger things happen before, but I'm pretty comfortable predicting a Buckeye win here.
Buckeyes win: 41-13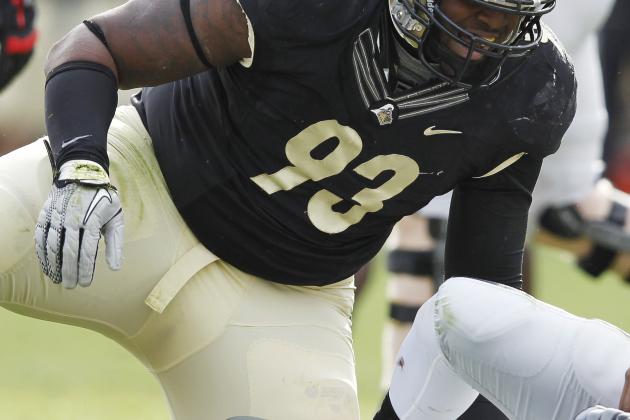 Joe Robbins/Getty Images

I think Purdue could be a surprise team next season in the Big Ten, but this game doesn't look good for them. They're playing on the road where they haven't won since 1988. The Boilermakers are also coming off a two-game stretch against Michigan and Wisconsin.
A trip to Ohio is going to be the last thing they want after those two monster tasks. Give me another Buckeye victory.
Buckeyes win: 32-21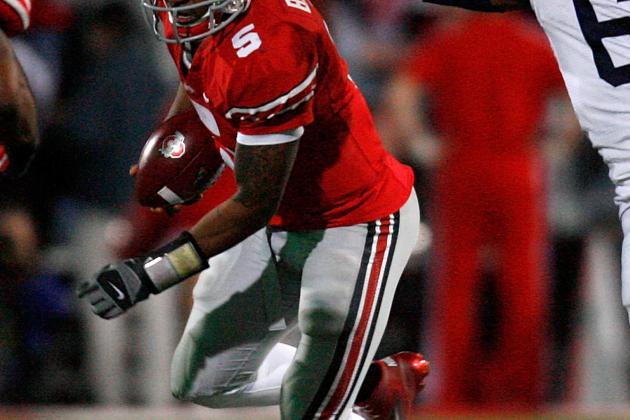 Kirk Irwin/Getty Images

Both of these teams have a good amount of players returning from last year.
If you look at the last matchup between these two teams, the Buckeyes probably deserved to win. Two turnovers cost them the game and the struggling of putting up points.
By now the offense should be comfortable with Urban Meyer's system and Braxton Miller should be able to lead the Buckeyes to another win. The Nittany Lions lack of offense will likely hurt them in this one.
Buckeyes win: 26-15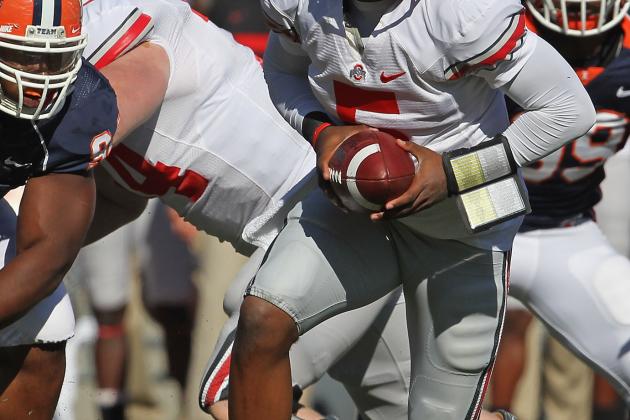 Jonathan Daniel/Getty Images

One of the most inconsistent teams in the Big Ten, on the road, with less talent and a new head coach. Illinois is also losing key playmakers on both sides of the ball, including leading wide receiver A.J. Jenkins.
I'll take my chances with the Buckeyes once again, considering Ohio State has also won the last four meetings against this team.
Buckeyes win: 29-13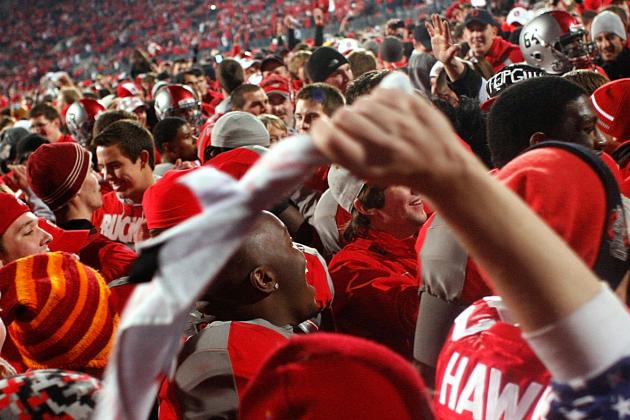 Kirk Irwin/Getty Images

It's amazing how different Wisconsin will look next year, as they'll go from a senior quarterback in Russell Wilson to a freshman in Joe Brennan. They're also losing players on the offensive line and leading wide receiver Nick Toon.
Good news is that running back Montee Ball is returning, but I'm not sure he'll be able to do it all against a tough Ohio State defense. Not to mention the Buckeyes have an extra week to prepare for this game.
I once again am picking Ohio State to win this game, but regardless of he outcome, let's just hope for a game as good as last year's.
Buckeyes win: 32-29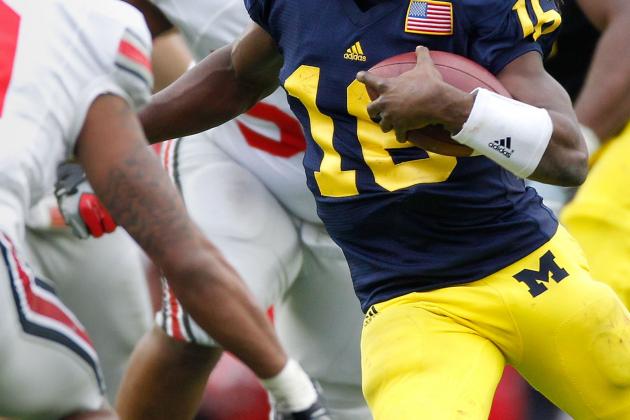 Gregory Shamus/Getty Images

Michigan is a team that's loaded and is returning the majority of their starters on both sides of the ball, including star quarterback Denard Robinson. Also coming back are their leading receivers and rusher Fitzgerald Toussaint, who turned it on at the end of the year.
This team is stacked and in position to make a great run for another BCS bowl. With that said, I believe that Ohio State is still another year away from competing with the big boys.
Michigan has already had a great year under Brady Hoke and with him returning nearly his entire team, there really isn't much drop-off. They also won't be going through the growing pains that Ohio State will at times.
You have to go with the Wolverines in this game because they're the more polished team. But even with two losses this year, it's not a bad first year for the new head coach Urban Meyer.
Wolverines win: 34-31

Randy Chambers is a B/R Featured Columnist that covers College Football and the NFL. You can contact him @Randy_Chambers or Randy.Chambers7@yahoo.com