The Top 50 Must-See Games of the 2012 College Football Season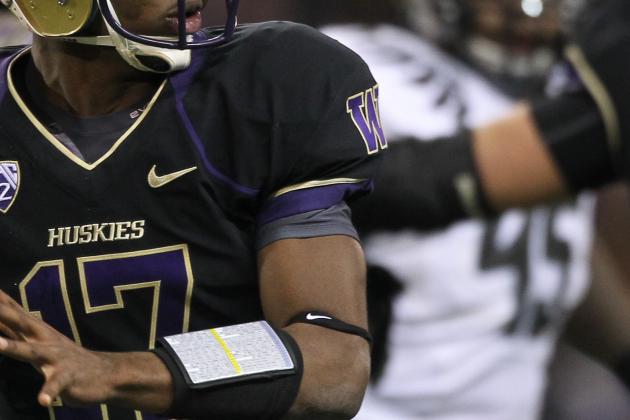 Otto Greule Jr/Getty Images

If you must choose only 50 college football games to watch during the 2012 regular season, these are your games.
So break out your planners and start planning.
Any weddings, parties, anniversary trips or other events of a questionable nature need to beware.
These games must be seen by any but the most casual fan.
This means you.
Begin Slideshow

»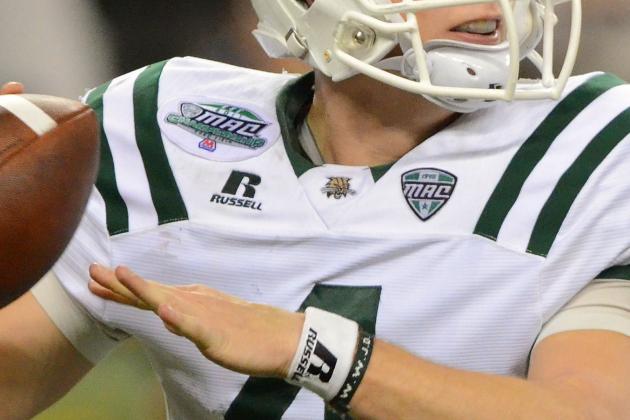 Mark A. Cunningham/Getty Images

This is one of those that might bear checking into simply for the play of one guy:
Tyler Tettleton.
The man is smooth.
He led Ohio to the MAC title game and then demonstrated cold-blooded efficiency in the Bobcats' bowl game, leading a game-winning scoring drive with the precision and coolness of a practiced veteran.
Basically, he is the antithesis of anyone that Penn State might use at the position.
Thomas B. Shea/Getty Images

Simply because June Jones somehow manages to have his quarterbacks put up big numbers every year.
The 'Stangs might make some noise in C-USA, but A&M is going to find some tough sledding in the SEC.
Should be interesting to see them battle it out in a rematch of this season's win by the Aggies.
Eric Francis/Getty Images

These two teams finished the season atop the Sun Belt standings, and the talent is returning to make them the favorites again this season.
Throw in the added interest created by Gus Malzahn's move to ASU, and we have a watchable contest.
Now if only the networks would broadcast it somewhere other than ESPN3.com...
Otto Kitsinger III/Getty Images

TCU is now part of the Big 12.
Interesting.
SMU is going to have a pretty solid squad, especially if June Jones has his quarterback of choice under center.
Let's see how Casey Pachall and friends handle a road trip in-state.
Harry How/Getty Images

This is turning into quite a fierce little rivalry.
The Buckeyes toppled the Badgers last season by virtue of a touchdown toss in the waning seconds of the game by Braxton Miller.
The Badgers don't lose often in Madison, but without Nick Toon, Russell Wilson and Peter Konz, it will be interesting to see how well their offense functions.
Scott Halleran/Getty Images

The simple question that just crossed your mind is probably, "Why?"
These teams combined for fewer wins than LSU in 2011, but stay with me—there is significance to this one.
This will be the first SEC game in which TAMU plays—and also the first in which it enters the second half leading by double digits, only to lose the game.
Jamie Squire/Getty Images

That's right—the SEC now has three teams using the nickname "Tigers" and two using "Bulldogs."
The better version of the Bulldogs takes on the worse version of the Tigers in Missouri's first SEC contest.
If you understood what I just said, you probably need to stop reading books.
Seriously, I heard it kills brain cells.
Sarah Glenn/Getty Images

"The Holy War" features two teams from out west that do not get much hype.
That said, BYU is going to come very close to 10 wins next season, while Utah has a shot at winning the Pac-12 South.
Oh wait, USC is off probation. Scratch that—the Utes have no shot whatsoever but should still be good for eight or nine wins.
Mike Ehrmann/Getty Images

It's in Chicago, which means the Hurricanes are doomed.
It seems any time they play where the temperature is below 60 degrees, the players have to sit in front of heaters to survive.
Given the whole global warming thing and the early October date, that might not be an issue.
Christian Petersen/Getty Images

The date for this game has yet to be announced, but really, does it matter?
You are probably going to watch it.
Those of you who are BCS apologists will be hoping to see TCU get smacked around.
The rest of us will be pulling for the Frogs.
Let the debate begin.
Al Messerschmidt/Getty Images

It's the "World's Largest Outdoor Cocktail Party," and the game is usually pretty entertaining as well.
Enough said.
On a side note, I would like to see Uga take on Albert and Alberta at midfield prior to kickoff.
Ezra Shaw/Getty Images

Really, the Irish should roll the Midshipmen in this one.
However, it's not every season you get to see the Fighting Irish play in Ireland.
Hopefully Brian Kelly doesn't embarrass us all with his antics on the sideline.
Jared Wickerham/Getty Images

Frank Beamer's Va. Tech team seems to wind up near the top of the ACC every season.
Pitt's new head coach, Paul Chryst, has a genius for offense but will have a difficult time against a Beamer-led team in his first season.
The Panthers have more talent to replace than the Hokies and a new system to get used to.
Otto Kitsinger III/Getty Images

Ah yes, TCU taking on another one of the "Big Boys" in the non-conference slate—not unusual.
However, the Frogs are now one of the aforementioned "Big Boys," and this matchup will help gauge how well they will fare in the Big 12 in 2012.
Jamie Squire/Getty Images

Todd Graham will be the new head coach of Arizona State in this one, and Missouri will be looking to avenge the overtime loss it suffered at the hands of the Sun Devils in 2011.
If it is half as entertaining as last season's edition of this game, it will be worth watching.
Chris Graythen/Getty Images

If the Aggies have not figured out how difficult it is to compete in the SEC by this point, this will be their wake-up call.
The Tide are losing some significant talent, true, but guys like Eddie Lacy are more than capable of stepping into those gaps.
The Tide roll, yet again, in this one.
Chris Graythen/Getty Images

This one will be a good gauge of how life after Zach Collaros will be for the Bearcats.
On a neutral field, this one will be close as Beamer and the Hokies attempt to remain undefeated in non-conference play.
Ezra Shaw/Getty Images

Any time you get a chance to watch Braxton Miller in action, take it.
Even if that means watching a less than mediocre Pac-12 team struggle to solve the Buckeye defense.
Bonus points if you keep track of the number of times we hear Miller compared to Terrelle Pryor.
Eric Francis/Getty Images

Wisconsin gave the Huskers a chilly reception to the B1G, pounding them 48-17 in Nebraska's inaugural conference bout.
With the plethora of talent the Badgers offense has lost, it's going to be difficult to go into Lincoln and come away with a "W."
That is, if Taylor Martinez can complete more passes to his team than he does to the opposition.
Scott Halleran/Getty Images

Penn State will still be trying to pick up the pieces after the emotional mess the players have been through, but a new head coach should go a long way toward helping them figure things out.
Silas Redd and Braxton Miller both have a good shot at competing for the B1G's offensive player of the year award and have an excellent chance to showcase their skills in this one.
Al Messerschmidt/Getty Images

Want a chance to watch the two premier independent programs clash?
This is it.
If not, I'm sure there will plenty of mediocre Big Ten teams playing at the same time that you may wish to view instead.
Harry How/Getty Images

These two teams could have the most explosive offensive weapons in the country.
De'Anthony Thomas demonstrated in the Rose Bowl how quick he is, and the Huskies have Keith Price, but star running back Chris Polk is going to be playing on Sundays.
This is one of those matchups that you likely won't hear much about but is worth taking a look at.
Sarah Glenn/Getty Images

This is intriguing.
Mack Brown's squad needs to get better if he is going to avoid rumors about his job security.
Gary Patterson's squad will be in the middle of its first season as one of the "Big Boys."
Texas lost one in-state rival—could TCU be an adequate replacement?
Al Messerschmidt/Getty Images

This matchup provided us with two of the most entertaining games of 2011.
The Spartans' "Hail Mary" to beat the Badgers early in the season was the stuff of legend, while Sconnie managed to eke out their revenge in the B1G title game, winning 42-39.
The two teams will look much the same on defense but have some drastic changes to their offenses.
Even so, this one will be a good way to spend a few hours.
Ronald Martinez/Getty Images

You might call K-State quarterback Collin Klein "Tebow Lite."
The kid has Tim's uncanny ability to score on the ground and huge limitations scoring the ball, but without the charisma.
And his team is going to be very good again in 2012.
Al Golden's squad is going to struggle for at least one more year before it reaches respectability again, but even so, this is a solid non-conference matchup to look forward to...or are they in the same conference now?
Mike Ehrmann/Getty Images

Looking at the teams in the Big 12, we could see the exact opposite in 2012 of what happened in 2011 in the Pac-12.
The two new teams in that conference struggled mightily.
The two new teams in the Big 12 both have a legit shot at the conference title.
WVU has an incredibly explosive offense and an adequate defense, and if this one is a home game for the Mountaineers, you can count on Oklahoma quarterback Landry Jones to throw a pick or two.
Could WVU win the conference in its first season?
Streeter Lecka/Getty Images

This will likely be a battle for SEC East supremacy.
Of course, that's like being the vice president.
So close to being the most powerful being on the planet, yet largely irrelevant to the majority of us.
As for these teams, SC will have some scary, scary performances on defense, and Georgia has some holes to fill on the O-line.
Gregory Shamus/Getty Images

The Huskers have their work cut out for them trying to keep up with the Michigan schools in the B1G.
If Taylor Martinez can show any sort of progression in his passing ability, the Huskers have a shot at taking the conference title.
If you really want to be entertained by this one, count the number of people wearing corn on their heads.
I promise, it's difficult.
Kevin C. Cox/Getty Images

This game will be interesting.
Gene Chizik's boys are a talented group, though young, and an added year of experience will help them be able to compete in the tough SEC West.
As for Clemson, it will likely still be trying to figure out how to stop Tavon Austin and Geno Smith when this one rolls around.
Stephen Dunn/Getty Images

This will be a battle between two Heisman contenders at quarterback.
Matt Barkley is coming back for his final season at USC and has plenty of weapons at his disposal.
Keith Price, Washington's QB, is one of the most exciting young players in the country and will have plenty of attention by this point in the season.
Do not miss this one—it will be one of the best games in the Pac-12 this season.
Mike Ehrmann/Getty Images

This is one of the most underrated, overlooked rivalries in the game, and this season it takes place in the sleepy college town of Clemson, South Carolina.
The original "Death Valley" will be rocking, and Tajh Boyd and friends will be trying to avenge the beating they took this season at the hands of the Gamecocks.
Dabo Swinney vs. Steve Spurrier, redux.
Chris Graythen/Getty Images

I know, I know—these two provided the two most boring games of the season at any level of the NCAA, and the offenses won't be much better next year.
However, it's Les Miles vs. Nick Saban.
Roll Tide vs. Geaux Tigers.
Honey Badger vs. A.J. McCarron.
Don't miss it.
Ronald Martinez/Getty Images

Brandon Weeden and Justin Blackmon will be gone.
Oklahoma will once again be favored.
Can Oklahoma State pull off the surprise win?
Stay tuned, if you enjoy games featuring no defense, to find out.
Christian Petersen/Getty Images

David Shaw and company have to replace Andrew Luck and two All-American-level offensive linemen.
Not an easy proposition.
This game will be our first good look at a Luckless club.
The defense should still be stout if it can stay healthy, but how will Shaw's squad perform without the best player in college football?
Wesley Hitt/Getty Images

The Hogs have a shot at making a big statement early in the season with a win here.
'Bama has some talent to replace, and if Tyler Wilson and company are going to make a move toward the top of the conference, this has to be the season.
Justin K. Aller/Getty Images

This one is going to get overlooked—I can tell you that right now.
Virginia, however, is becoming relevant in the ACC race again thanks to Mike London, while the Nittany Lions have as good a shot as anybody to win the Big Ten Leaders division.
This is going to be a battle between two teams that play punishing defense but have difficulty moving the ball.
Call it an "imitation" of the BCS title game, if you will.
Christian Petersen/Getty Images

Most likely, both of these teams will be in the upper half of the preseason rankings.
It's just as likely that they will both wind up being overrated.
Landry Jones cannot get over his penchant for making mistakes at crucial times, especially on the road, and Notre Dame is in the throes of a decade of mediocrity.
Even so, this game is interesting, if just for the fact that two programs with tons of tradition are meeting.
Reese Strickland/Getty Images

The Wolverines and Spartans should be the favorites to win the Big Ten next season, and this game will go a long way toward deciding who gets to lose the Rose Bowl next.
Even with Jerel Worthy leaving, the Spartans have tons of talent on defense, including Denicos Allen and William Gholston, just to name a couple.
Throw in the insertion of quarterback Andrew Maxwell into the offense, and this team is going to be nearly as good as last season's squad.
The Wolverines have not beaten Sparty in quite some time now and would like to wipe that streak out.
Kevin C. Cox/Getty Images

'Bama is losing some extremely talented players.
That said, it is still going to be at or near the top of the SEC West.
Auburn has the pieces in place to make some noise but will still be very young next season.
Even so, I expect to see Corey Lemonier wiping the 50-yard line with A.J. McCarron's jersey at some point during the game.
Jonathan Daniel/Getty Images

Last season's edition of this game delivered one of the most exciting games of the season, as the fighting Denards edged the Fighting Irish, 35-31, under the lights in Ann Arbor.
The Wolverines will be out to prove they are back where they belong near the top of the college football universe but face a stiff test in the Manti Te'o-led Irish defense.
Even more entertaining than the game, however, might be just having cameras zoomed in on both coaches throughout the contest.
Erich Schlegel/Getty Images

It will always be the Red River Shootout to me, but apparently that condones gun violence, so now we know it as the Red River Rivalry.
How nobody has noticed this condones competition yet is beyond me.
Anyway, the Longhorns will be out for revenge in this one, as they have lost the last two meetings by a combined score of 83-37.
Mike Ehrmann/Getty Images

Florida State is going to be looking for some redemption after its dumpster fire of a season.
West Virginia is not the greatest opponent to host in this situation.
The Mountaineers finished off the 2011 season by scoring 70 points in the Orange Bowl, and with another year to master Dana Holgorsen's offense, will be even more explosive.
The Seminoles couldn't possibly get any worse with that much talent, however, could they?
Streeter Lecka/Getty Images

The Dana Bowl.
Whatever the over/under is on this one, take the over.
Holgorsen was the architect behind Okie Lite's offense and now brings his current squad to the same conference as the 'Pokes to do battle.
Even without Brandon Weeden and Justin Blackmon, the Cowboys are going to put up points.
Kevin C. Cox/Getty Images

Urban Meyer takes over as the head coach at OSU next season, and the Buckeyes have a postseason ban.
So this game will receive all of their attention.
The Wolverines finally won this season for the first time in eight tries and will be looking to keep that momentum rolling.
Should Denard Robinson and Brady Hoke somehow fail to win this one, their names will go down in this rivalry's lore, much like Shawn Crable's.
Al Messerschmidt/Getty Images

This will be a chance for the Irish to exact some measure of revenge on the Trojans for their loss in 2011.
I don't expect them to take advantage of it.
USC should be a Top 10 team in 2012, while the Irish have yet to find a capable quarterback, and the options aren't that great.
Even so, if you watch one of Notre Dame's games this season, and only one, make it this one, as at least one good team will be on the field.
Wesley Hitt/Getty Images

Let's not overlook Arkansas in 2012.
With all the current frenzy surrounding the Alabama and LSU football programs, it's sometimes easy to forget about Bobby Petrino's squad.
But Tyler Wilson will be back, Knile Davis should be healthy and the defense just keeps getting better.
I'm not predicting a win for the Hogs here, but on their home turf it is a very real possibility.
Ethan Miller/Getty Images

Even without Kellen Moore, the Broncos have to be the favorite to win the Mountain West now that TCU is gone.
However, don't expect them to pull off another win against a BCS team in this one.
Even with Moore, this would have been a tough proposition against the MSU defense in East Lansing.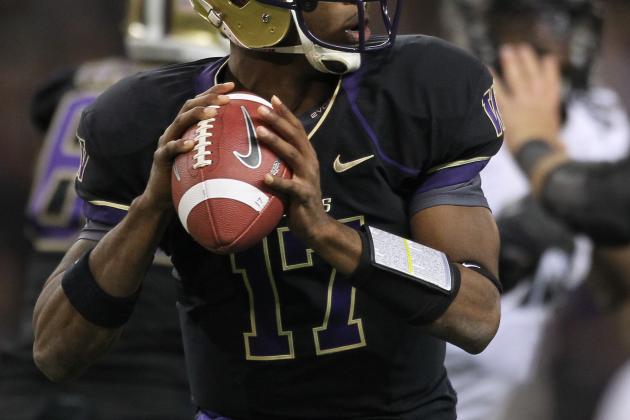 Otto Greule Jr/Getty Images

This is another one of those non-conference matchups that has to be watched.
LSU's defense will be salivating for a shot at stopping UW's star quarterback, Keith Price.
The man outplayed Robert Griffin III in the Alamo Bowl and has tons of talent.
Since this one is at Tiger Stadium, pick LSU, but Price and co. will keep it interesting.
Rob Carr/Getty Images

The history behind this game, as well as the fact that the game is played by some very dedicated young men, makes this one special.
Patriotism is at a high, Bill the Goat is in attendance and the game is always entertaining.
Besides that, there are rarely any other games played this weekend, so you will need a fix, and this is it.
Al Messerschmidt/Getty Images

Don't miss this one.
The winner of this game will have made a case for itself in the BCS title hunt, and this matchup is by far the premier non-conference bout of the season.
The two most storied programs in the sport will square off on a neutral field, and both will be in the Top 10—what a way to start the season.
If A.J. McCarron continues to evolve into John Elway before our eyes, the Wolverines are going to be in trouble.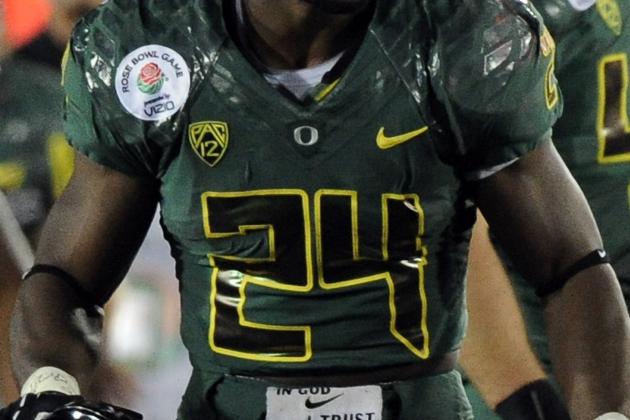 Harry How/Getty Images

Alright already.
I know I left this one out, my bad.
The Ducks, even without Darron Thomas and LaMichael James, are still going to be the class of the Pac-12 North.
We are probably going to see this game twice this season, and last season's edition was great.
This one is sure to keep us entertained.