Wisconsin Badgers: Was Russell Wilson Experiment a Failure or Success?
January 11, 2012
Kevork Djansezian/Getty Images
That this is even a question speaks to how unique a situation the 2011 Wisconsin Badgers found themselves in, and the weight of the expectations that comes along with a transfer of that magnitude.
Before we go too far, it is important just to get everything out of the way.  Russell Wilson's statistical production was unmatched in the Big Ten this year. While his raw production lagged behind the wide-open passing offenses of the Big 12, the fact that it was Wilson who set the single-season pass efficiency record over Heisman winner Robert Griffin III further confirms that on an individual level Wilson had one of the best seasons a quarterback has had in at least the past decade in the Big Ten.
Wilson passed for more than 3,000 yards while completing over 72 percent of his passes.  In 14 games he threw 33 touchdowns to just four interceptions—not even an average of one interception every three games.  His yards-per-attempt average for the season was more than 10 and nearly two yards better than anyone else in the Big Ten.  Throw in more than 300 rushing yards and six rushing touchdowns, and Wilson was easily the most productive offensive player on the most prolific offense in the Big Ten.
But individual production was never a question.  While still at North Carolina State, Wilson was passing for and running for just as many yards and touchdowns, but his team never won double-digit games, its own conference and was only 1-1 in mid-level bowl games.
When judged against that, it's hard to deny that the season was a success.  Eleven wins, a Big Ten championship, a Rose Bowl berth, two Hail Marys short of a perfect regular season and two seconds short of a chance to take the most powerful spread offense in the country to overtime in the Rose Bowl.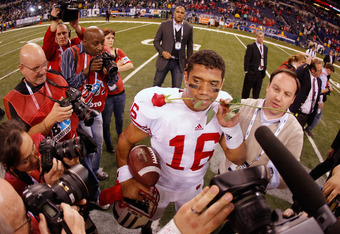 Gregory Shamus/Getty Images
And therein lies the disappointment.  It was never about just getting there; the Badgers had seen all of this before: an 11-win season, a conference championship and a trip to the Rose Bowl—and that was done with prototypical Wisconsin quarterback Scott Tolzien still taking snaps.
Objectively, it is hard to classify what Russell Wilson did in his one year at Wisconsin as anything short of a rousing success.  College football is a cruel, strange mistress that can turn heel at any minute and crush your dreams—just ask Les Miles and LSU. 
Oklahoma State's title dream was snapped by a .500 ISU team on a Friday night after a plane crash killed a handful of people from the OSU athletic department.  Stanford was derailed when Andrew Luck couldn't overcome a reeling Oregon secondary.  That same Oregon team was the first of LSU's victims only to turn around and be USC and Matt Barkley's 2012 coming out party.  Alabama got its second chance at a title despite missing four kicks in the Game of the Century (Part I).
This game we love is torturous.  There are 120 teams, of which around half have the resources available to compete at the highest level, and a quarter of those actually manage to do it.  On top of that, the game is played by a group of kids barely out of high school, and games routinely come down to do-or-die plays on the shoulders of kickers or quarterbacks or cornerbacks or long snappers barely old enough to legally drink their sorrows away after the game.
What Wisconsin was able to accomplish for the second year in a row is incredible under these circumstances.
But it still isn't enough.
This was a team that had almost everything.  A prolific offense was returning to join up with a solid defense in a conference that was down across the board.  The non-conference schedule set up perfectly for an undefeated start to conference play, and a newly minted championship game would provide the Badgers with a final boost before the final BCS decision.  Russell Wilson was supposed to be the final piece of the puzzle.
In the end there is no good answer.  Wilson was able to lead the Badgers a mere handful of plays away from a shot at the national championship, and the defining play in each loss occurred after he had already held up his end of the bargain by leading last-minute comebacks to tie or take the lead.
In the end it is hard to say that any of it matters.  This is, at its heart, a results-based society, and at the end of the day the results didn't live up to expectations.
It sure was one helluva ride, though.